Jake Locker Invited to NYC in 2010?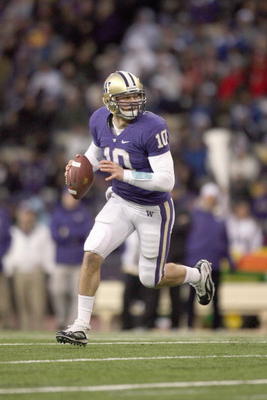 Since his commitment to the University of Washington, the idea of Jake Locker attending the Heisman Trophy presentation has been on the minds of Husky Fans. "Montlake Jake", after all, is arguably the most athletic quarterback to take a snap at Husky Stadium.
His dual threat abilities have sparked comparisons to past Husky Greats such as Marquis Tuiasaspo. Going into the 2010 season, Locker's career has not lived up to expectations, as his Huskies have not gone to a bowl game during his college career.
This season a lot will ride on Locker's shoulders. He has been expected to lead the program back to glory days, but thus far has had a career full of amazing highlights and a lot of disappointment.
2009 was a huge step in the right direction for the program as a whole and for Locker personally. Steve Sarkisian finally sees Locker as the centerpiece of the offense and not THE offense, so Locker is in the best position of his career to lead UW back to the top half of the PAC-10.
Jake has received a lot of attention this season on a 5-7 team, so if Washington produces a winning record, do not be surprised if you see him invited to NYC at the end of the season.
For this to happen, Locker will need some help. Let's take a look at who needs to step up for the Heisman hype to come to fruition.
Offensive Line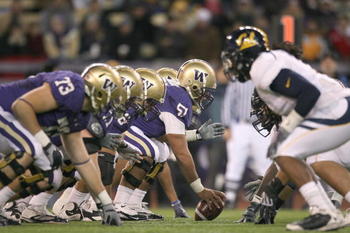 The biggest factor for any offense is the offensive line. They are not the flashiest group of guys - they leave that up to the skill players - but without a solid offensive line, an offense is going nowhere.
During the current decade, Washington has produced two 1000 yard rushers but has yet to make a bowl game since 2003. The running game, which had long been a trademark for the Huskies, had given way to a passing heavy attack under Rick Neuheisal.
The offensive line is a not a position you can just bring in a lot of freshman and have an instant impact either. It is a position that involves experience and depth.
In the past, Locker's dual threat ability was able to cover up for some of the offensive line's struggles, but because Locker has focused on developing as a drop back passer, Sarkisian forced his offensive line to both pass and run block in the 2009 season.
The results were up and down, but in the end Chris Polk had rushed for over 1000 yards and Locker had his best season as a passer. Going into 2010, the Huskies lose one starter and bring in seven recruits to build depth.
If Locker and the Huskies are going bowling this year, it will be because the offensive line stepped up and continued its progress from a year ago.
Chris Polk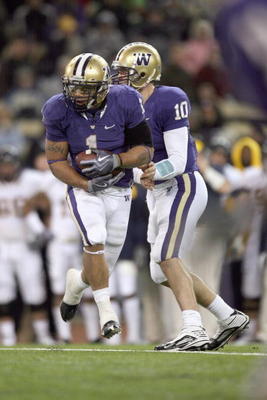 Chris Polk managed to become the first 1000 yard rusher during the 2009 season since Louis Rankin. Rankin had the benefit of a 1000 yard rushing year from Locker, which Polk did not have. Defenses were able to focus on Polk as the running threat for the Huskies, and he still managed to pull through with a 1000+ yard effort.
Going into 2010, Polk will need to continue his effort, and with another year of experience (he is only a sophomore), the future looks bright for UW's running attack, which is going to be a key to take the pressure off of Locker.
Receivers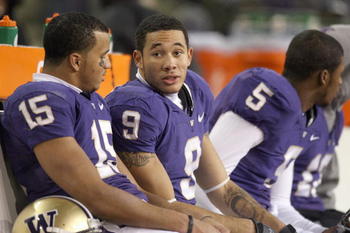 As Locker grew as a pocket passer, so did his incredibly young group of wide receivers. As the season progressed, Locker and his receivers developed an excellent repoire, and this unit has shown the ability to be both explosive and productive.
In 2009, the top five pass catchers all posted over 200 yards receiving, and all five of them return for the 2010 season. Jermaine Kearse led the team with 50 catches for 866 yards, leading the group into the new season.
Locker's ability to get the ball to the talented group of receivers depends on the offensive line and a threat of running the ball, so the pieces are in place for this group to have a monster year, no doubt propelling Locker into the Heisman talks in 2010.
Doug Nussmeier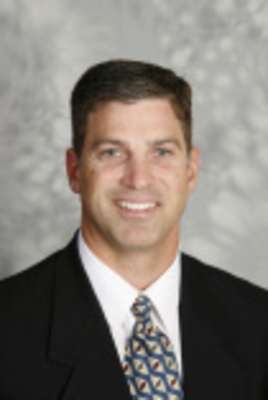 Steve Sarkisian is known as the QB guru, but with an entire program to run, a lot of the attention has to be given to his Offensive Coordinator/Quarterback Coach, Doug Nussmeier. During the 2009 season he helped Locker produce the third highest passing total in Husky History and watched his offensive produced nearly double the amount of points at 26 per game as the previous year.
With the return of pretty much all the skill players and starting linemen, Nussmeier is going to be expected to make strides once again with this offensive. Since Locker went from a career sub 50 percent completion to 58 percent in the first season coached by this staff, the future looks bright for 2010.
Steve Sarkisian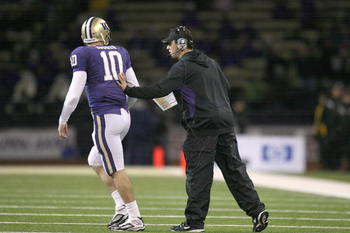 Last but certainly not least in the list of people who need to step up to help Locker get to NYC is the head man Steve Sarkisian. Sarkisian already has a competent offensive coordinator and QB coach, but he takes a fairly hands on approach with his offense, calling the plays, and with his star QB Locker.
Sarkisian deserves a lot of credit for sticking with the plan of developing Locker's confidence and level of comfort in the pocket, instead of just letting him take off when his first option wasn't open.
The results were rough for a while, but by the end of the year, Locker looked impressive as ever and appeared to really grasp when to use his amazing athletic ability and when to use his cannon for his arm.
There was talk that Locker would be a top 10 pick in the 2009 draft, very impressive considering that prior to the 2009 season Locker was just as likely to make the NFL in a different position than QB because of his athletic ability.
Impressive enough to be, dare we say it, a Heisman finalist in 2010.
Keep Reading

Washington Huskies Football: Like this team?