Wrestling News and Notes for the Day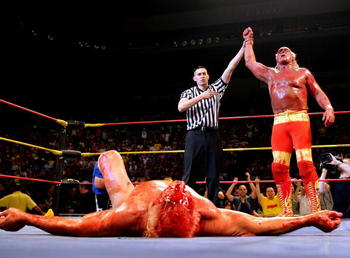 I thought I'd do my first slide show by posting some news I haven't covered that I find interesting and decent news in the business. I decided to use the Flair/Hogan match from their tour as it is big news that they will be back in the ring. However, since I've covered it already, I'll leave it at the picture and move on. Hope you all enjoy.
Bill Goldberg in TNA?
Bill Goldberg posted the following note on his Twitter account concerning apparent rumors that TNA has offered him a contract:
"Let's get the record straight...From my lips......TNA has not contacted me. Period. No B.S."
Hopefully this will put to rest once and for all any rumors of TNA ever getting in contact with the one time big time wrestler and we can forgot all about him. I, for one, was never a big fan of his and felt he grew way too big of a head for the business and thought he was better than the guys that worked their ass off to get to where they are at.
Jeff Hardy and Bubba the Love Sponge Update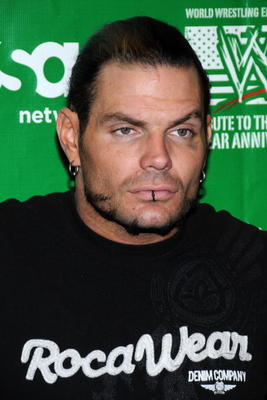 According to PWInsider.com, Jeff Hardy apparently has a TNA deal waiting for him once he clears up his legal issues. He's scheduled to go to trial on 3/17.
Bubba the Love Sponge was backstage working at Tuesday night's TNA Impact taping so he's not done with the company at this point.
Good for TNA to not showcase Jeff and allow him to focus on his trial. I can understand TNA wanting to use Jeff right away for that Jan 4th debut, but it seems like a big letdown since they never talked about him since nor did they allow Homicide to hype what happened. Though, no reports have said so, but part of me would not be shocked that he leaves TNA high and dry likes years before and heads back to WWE after his legal stuff is behind him.
As for Bubba, I don't understand. He is always bashing the company, he doesn't know if he is still with the company or not, they do not support Awesome Kong who helped the Knockout Division, and he's still being used. I don't know in what capacity, but still, just so strange. Why have a man who bashes your company on his radio show to continue to work for you?
TNA Returns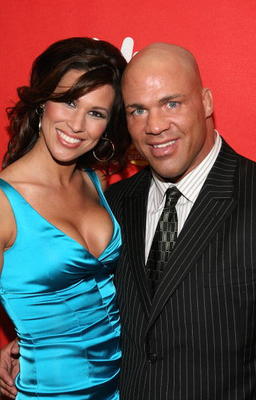 According to ProWrestling.net, a number of wrestling stars were backstage at the TNA Impact tapings last night.
According to the report, Awesome Kong was backstage. Also, Karen Angle was backstage with Jeff Jarrett.
Jeremy Borash also noted on his Twitter page that Meng (aka Haku) was also backstage at the taping.
Seems like Kong is back with the company. Don't know what the deal is with her as I would have taken my ball and gone home. Kim left because of money, Flash is gone, and Kong knows she deserves better and the Knockouts deserve a pay raise, but TNA doesn't listen to her and walks all over her. Get out of there while you still have some dignity girl.
Shocked to hear about Karen Angle. Talks of having her be a on screen character have started a while ago, but reports say she isn't supposed to be on camera. To me, I would love it, just because I think Karen Angle is a beautiful woman and Jeff is a lucky man to get that rebound.
I wonder how her and Kurt react with one another and how the tension is backstage between himself and Jarrett. You already got guys paranoid about losing their spot and job since Hogan came on board, so is it smart to keep adding more fire?
Good to hear a Meng mention. I was a fan of his during the day. His character was unique and one of a kind. Would be an interesting match to see him against Jay Lethal had Jay been continuing the legend gimmick.
Orlando Jordan Push?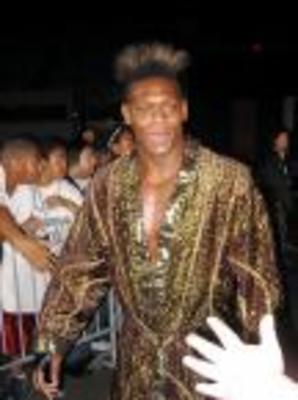 F4WOnline.com reports that Eric Bischoff is said to be very high on TNA newcomer Orlando Jordan. Jordan, who is openly bisexual, is having his character based around his bisexuality.
This character, I believe, is supposed to appear this week. He tried to get this pushed in the WWE with Trinity and one of his friends who isn't a wrestler, but WWE was against it (thank God). But it seems like Vince Russo, probably a big Adam Lambert fan, seems to want to push it and Eric isn't against it. I don't know what they see in Jordan as my fondest memory of him is getting his butt handed to him by Warrior, being JBL's lackey, and let us not forget about Chris Benoit destroying him for the United States Championship.
This, however, will explain why he went over Pope a few weeks ago and, well, I'll let you all watch the upcoming Impacts to see for yourself. I don't know if he is supposed to be heel or face, but I find it a damn shame to see him go over guys who have way more talent than this guy. But WWE's trash is TNA's gold, isn't it? Well, at least in this case, it is. I, for one, would become very sick to my stomach if he goes anywhere near the TNA World Championship.
RVD to TNA?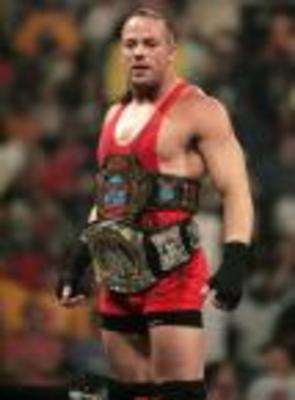 We hear this all the time, but it seems more and more likely that RVD will sign a TNA contract. RVD was on the Right After Wrestling Sirius XM Radio Show this past Monday to discuss his options with WWE and TNA.
RVD: "I feel fairly optimistic because I know TNA is trying really hard to make a good deal for me and that's basically where we're at. Everything is worth putting on the table to consider, but when it comes time to consider going back to that full-time travel schedule with WWE, that's not something that I'm wanting to do right now. The schedule with TNA and also probably their appreciation for RVD might also be a benefit over WWE. WWE would love to have me come back on a full-time basis, but as you know by pointing out that Hogan called into my radio show and stayed on for about an hour, they have been very pro-active and trying to acquire RVD. That leads me to believe I would have a good spot if things do work out there. We'll see. WWE had me so burnt out because my contract said I would get a weekend off every month and I never did and they wouldn't give it to me. When I would tell them I'm so burnt out I don't want to be here and I'm resenting traveling and coming to work every day, they would double-book me. So, that's how it went down."
Jim Ross had this to say about RVD:
"Speaking of ECW, of the many top hands that made their mark in ECW, none were more uniquely talented than Rob Van Dam who is one of the hottest 'free agents' available right now. It would seem to me that RVD would be a high priority to any wrestling organization and that facilitating a travel schedule to his liking should be attainable. RVD is a one of a kind talent who connects with his fan base and Rob's in ring work is singularly his which would be a breath of fresh air to many TV broadcasts."
Seems like RVD is leaning towards TNA because of their push for him. You won't see HHH calling RVD to try to get him to sign back nor is Vince keen on the idea to have wrestlers decide about house shows (Booker T and Sting). It seems only the guys Vince made and the guys that give him a lot of money (Taker and Michaels) can decide about house shows and like we've seen with Michaels, no house shows, no World Title. As much as wrestling fans want RVD to return to the big E, it isn't likely to happen as RVD is a free spirit and wants to wrestle on his term. I expect, by the time summer comes, if not sooner (March 8th, maybe?) we will see RVD in a TNA ring.
Vince Russo doesn't want a wrestling show?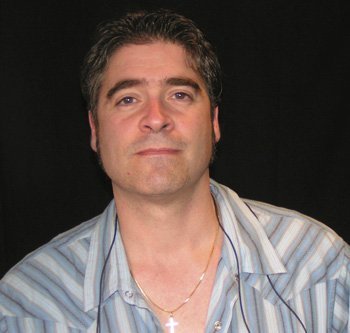 Thanks to PWTorch.com for the quotes.
TNA writer Vince Russo appeared on the "Right After Wrestling" radio show on Sirius last night and here are a few highlights from the interview:
"The key is try to write the type of show that the masses are going to watch. By the masses, I mean men, women, children of all age groups," Russo said. "The key is to have a little something for everybody that has comedy, drama, romance, or action. If you can have a part of your show that everybody likes, then that is the key."
Russo also tried to present an argument that a straight "wrestling show" does not appeal to the masses compared to his philosophy of a variety show.
"Starting about 2000, 2001, it went back to 'wrestling' and there's nothing wrong with 'wrestling,' but the problem with that is that if you're going to write strictly a wrestling show, then your audience is a lot smaller because the fanbase for a traditional wrestling show is a lot smaller than a mass audience," Russo said. "So, to me, I don't think anything has changed. I think the key is to get as many eyeballs to watch your show."
If you have read my past postings, you would know I am not a Russo fan. For once, I agree with him, though. However, with that said, I do not agree that TNA should go away from creating a wrestling show. They want to be different, want fans to cross the line, and proclaim this to be wrestling, well, show us wrestling. Don't give us these fancy tag lines and not deliver. Don't hype wrestling on the show and call yourself a wrestling company if you are not, in fact, getting behind wrestling. You don't hear Vince McMahon or anyone in WWE call themselves professional wrestlers anymore and there is a good reason for it. They are sports entertainers who not only wrestle, but give us entertainment in acting roles. Let's end the wrestling tag lines you give the company if you aren't going to deliver wrestling. Lastly, if you are positive that people don't want wrestling, just know that you are in a losing battle. You will not win a war against Vince McMahon battling what he created. If you want to go to war with him over wrestling, you have a shot. You want to go with Vince McMahon over sports entertainment, his dream child, might as well start digging your grave TNA.
DDP Giving Randy Orton a Blessing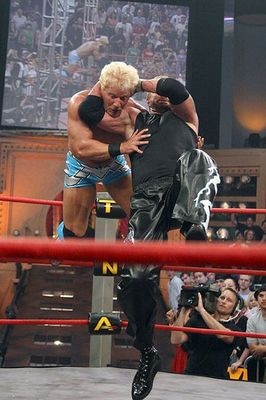 Thanks to nodq.com for this:
Dallas Page appeared on the "Busted Open" radio show and recalled giving Randy Orton his blessing to use the Diamond Cutter finishing move, which became The RKO. "Randy and I are boys," Page said. "I called Randy up when I knew I was retiring from WWE. I loved his old man big time. His old man taught me a lot. I said, 'Bro, I want you to use this.' He was so respectful, he said, 'Diamond, I can't do that. You made that up.' I said, 'Dude, take it to another level.'
"I tell you what, if Randy wanted to hit that Diamond Cutter out of nowhere, he would. You know how fast he'd be a babyface? That fast. So he can't do it. People say, 'Oh, he doesn't do it like you.' No, he's doing his own thing. I'm flattered, honest to God, that he's going a version of what I've done. I think it's cool."
This is a GREAT story. Too many times in wrestling you got guys stealing moves and using them for themselves without any contact to the other people who made that move famous. The biggest criminals I can think of is John Morrison, Michelle McCool, and Maryse stealing other people's moves/signature attacks and not getting permission to do it. That's a HUGE no no in this business and can get you quite the backlash. Good to hear Orton, who has had his name ran through the dirt for a good while, respecting the business and getting the ok. Maybe give some credit to his father and grandfather to input the business rules into his head. But still, at the end of the day, it is Randy's call and glad to see the man respect the rules of the business.
Stone Cold News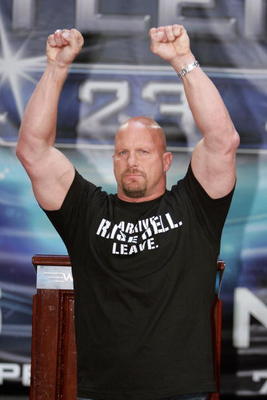 In an interview with WWE Magazine's special 2010 Wrestlemania 26 Almanac, WWE Hall of Famer "Stone Cold" Steve Austin says he still has no interest in fighting Hulk Hogan, despite WWE's repeated attempts to make the match happen at the past few Wrestlemanias.
"After I retired, for two or three years, they asked me, 'Do you want to wrestle Hogan this year? Do you want to wrestle Hogan? And the answer is: No, I don't. "I don't care to wrestle Hulk Hogan. I don't think it would live up to fans's expectations."
Austin says his match with Dwayne "The Rock" Dwayne Johnson at Wrestlemania 19 in 2003 was his "retirement match." Austin isn't looking for one last rematch, because he doesn't think it could be as good as their past classics.
"That was my last match, and I'm not looking for a re-match. I don't it would be as good as what we've done before because we've both been out of the ring for some time. Could it be done? Of course. But there's no use talking about it. ... I definitely do not have any interest in delivering anything that would be second-best to what I've done before."
When asked about his favorite Wrestlemania match, Austin his Wrestlemania 17 main event match against The Rock, but admits that turning heel and aligning himself with Mr. McMahon that night was a bad idea looking back.
"Looking back, it wasn't the best thing we ever did," Austin said. "Now, if I could go back, as soon as that match ended, when Vince walked up to me, I would have shaken his hand and said, 'Watch the Stunner,' and dropped him right there in the middle of the ring. That's hindsight being 20/20!"
Good to see Austin being smart. The match will be a HUGE payday, but would it be worth watching and for fans to fork over that kind of money to see it? No. Not at all. Don't get me wrong, it would be a dream to see the two go at it, but it is also a dream to see Kurt Angle go against Bret Hart. Their bodies cannot take it, though. Huge money maker, but glad to see Austin isn't about the money.
Good to see him trash his heel turn also. That was one of the most talked about things of that time period and how it was the wrong move to do. It didn't make sense and wasn't a good draw. Probably one of the reasons why Cena isn't turning heel because the money isn't there for that turn to happen. How many fans would have popped to see Austin screw over Vince right in the middle of the ring in the greatest stage of them all? Would have been classic.
Chris Jericho a Wanted Man?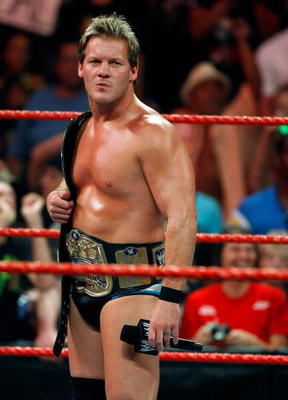 According to Cincinnati, Ohio's WCPO television station, a bench warrant has been issued for WWE star Chris Jericho (real name Chris Irvine) after he failed to appear at a court hearing this morning in Kenton County, Kentucky. A "failure to show" citation for $253 was also issued. Today's hearing was to follow up on his arrest last month involving fellow WWE star Gregory Helms. For more, visit WCPO.com.
Shortly after news broke, courtesy WCPO in Kentucky, that a warrant had allegedly been issued for Chris Jericho's arrest, the WWE Superstar reportedly resolved the issue.
Outlets said a bench warrant was issued Tuesday after Jericho supposedly no-showed his court hearing related to a January public intoxication charge. Fellow WWE Superstar Gregory Helms, who was arrested alongside Jericho on the same charge, paid his $159 fine in a timely fashion.
According to TMZ, Jericho called into the court early Tuesday afternoon and agreed to pay the fine, so the arrest warrant is no longer in effect.
In a Twitter update Tuesday afternoon, Jericho denies he encountered any issue with the court: "Paid my fine on time and never had a court date. I'm free to walk the streets...Sorry, TMZ, wrong again."
Not really news worthy, just something funny I figured I would post since no one talked about it. I mean, once Jericho and Helms got arrested, it was everywhere on the site and people talked about Helms getting let go by the WWE. TMZ wouldn't let the story die and even now they are making something out of nothing. Got to feel bad for Jericho, though, as it must be tiresome to have to go online and read this slander about himself or his family reading this. The life of a sports entertainer/rock star must be tough.
Playboy back with WWE?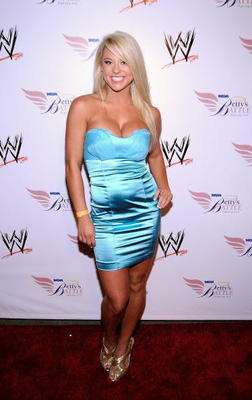 ECW General Manager Tiffany appears in Playboy's latest special lingerie issue under her real name, Taryn Terrell.
Terrell, who has posed for the publication in the past, did indeed partake in an all new shoot. Additionally, she briefly touched upon her burgeoning wrestling career with the magazine.
"Since you last saw me: I competed for a spot as a WWE Diva and ended up signing a developmental contract with them. I am now with Extreme Championship Wrestling, a division of the WWE, where I'm the general manager," Terrell. "I'm passionate about: Raising money for abused and abandoned children. Fun fact: I'm a vegan and choose not to eat anything with a face."
I actually heard those pictures are old, but whatever the case, Tiffany is quite the looker. Big old Drew is a damn lucky man to have caught a catch like her. And that spear she gave on Tuesday night was damn vicious. She was really entertaining during that ECW Title match. Hopefully WWE has a role for her so we can continue to see her week in and week out. And if you are of legal age to check out the pictures, I urge you to google her and see this country girl in action (there are playboy videos of her out there as well as photos).
Bret Hart/JR Friendship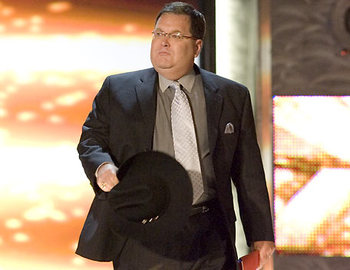 Bret Hart posted a message on his Facebook page and said there's one big missing piece from his current program on WWE TV with Vince McMahon - Jim Ross calling the action.
"As far as the WWE goes, all I can say is where the heck is Jim Ross? With everything that has transpired in my three appearances on Raw, it's too bad he hasn't been there to call it. There's nobody that calls it the way Jim Ross calls it and that's the bottom line because I say so."
Jim Ross has updated his blog over at JRsBarBQ.com. Below is a highlight:
"Bret Hart has a Facebook page and he said some mighty nice things about yours truly recently. My relationship with Bret has been built from day one on respect. One of the best nights I've had in my career, off the clock, was at the Cauliflower Alley Club sitting at the hotel bar and shooting the breeze and telling stories with Bret and Steve Austin until about 6 a.m. I've often said that those types of pairings would make for some awesome DVD releases because of the talents' chemistry and the fact that there is so much archived footage that can be utilized."
I think we can all agree that it isn't the same with JR to blast Vince during this feud. Bret isn't the only one missing good ole JR. That's respect right there, folks. And I think we can all hope that JR continues to recover and is back on our TVs in a quick and timely manner. One could only wonder the fun times that Austin/JR/Hart had together. To be one of the boys...
That's All Folks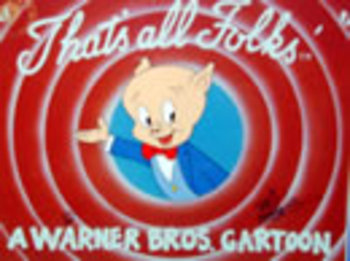 Hope you all enjoy the news. I know we can all find this kind of stuff on our favorite wrestling websites, but hopefully we will be able to come on here and comment about the recent happenings with other wrestling fans and talk about the small things that are happening. That's what I hope to have accomplished with this and I am looking forward to talk about these or any other events you wish to speak upon.
Keep Reading