The 10 Most Underrated College Football Recruiting Classes of 2010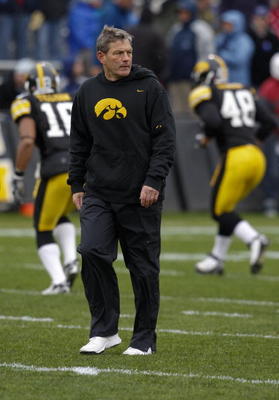 We've heard plenty about the record-setting recruiting classes of the already-rich schools. Evidently, Florida and USC will play each other for the national championship for the next four years. Book your flights now, baby!
But what about those forgotten recruiting classes? The ones that came in with little fanfare, that are stocked with undiscovered gems, or that just fell behind the bookshelf until Kirk Ferentz's mother came through to vacuum his one-bedroom apartment?
This article is dedicated to you, underrated recruiting classes of 2010. May your shirts be as red as the setting sun next year.
Maryland Terrapins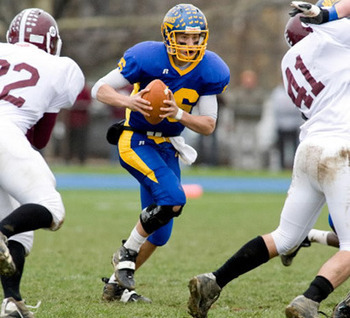 The Terps landed one of the most underrated quarterbacks in Tyler Smith (pictured), a 6'4" pocket slinger with a cannon for an arm who might even be able to contribute immediately (although it looks like his early enrollment effort fell through).
The Terps also locked down the top talent from the DC area in Javarie Johnson—a linebacker who held offers from many of the country's top defensive schools—as well as the No. 9 safety in the country, Titus Till.
Add to that a top JUCO defensive end, David Mackall, and you have yourself a pretty good 1-2-3 punch on defense.
Of this group, Mackall and Johnson will enroll early, which should help Johnson immensely—he's a little under an LB's target weight.
In all, the Terps landed 10 of their 21 commitments along the lines, which is an easy way to get into my good graces being the line junkie that I am.
DE Clarence Murphy and OL Nathaniel Clarke will be two more talents to watch—Michigan was really after Murphy, and Clarke was the second best prospect in the DC area and a top guard nationally.
Coach Ralph Friedgen might not have saved his job—he'll probably ride off into the sunset after this or next season, and already has his successor picked out.
But Friedgen did something even better: he put his team in position to succeed a few years down the road by bringing in great foundational talent to build off of.
You know the one about the Terrapin and the Hare, right? Tell me how that ends again...
North Carolina Tar Heels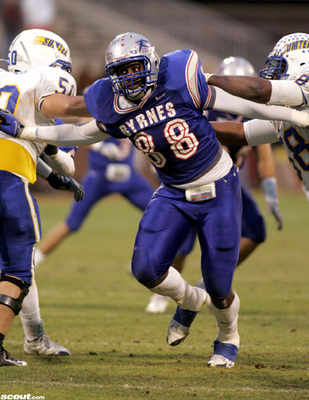 I've already predicted North Carolina's defense to blow up in 2010.
But like Ralph Friedgen, Butch Davis is also winning the slow-and-steady race. He stocked this class with top offensive and defensive line talent.
OTs James Hurst and TJ Leifheit are both monster prospects who will anchor the Tar Heels along the edges for the next four-to-five years. Nick Appel and Russell Bodine add depth to those two impact players.
On defense, the Tar Heels whisked away Brandon Willis (pictured) after the Kiffin fiasco—he's one of this class's top strongside ends and enrolled early—and Davis also added Kareem Martin, Carlos Gray, and Tim Jackson for good measure.
No quarterbacks always makes a class feel incomplete, and that could explain why this class is underrated. But Davis added a top running back prospect in Giovanni Bernard, a former Notre Dame commit under Charlie Weis, and also brought in some perimeter speed in WRs Sean Tapley and Brenden Felder.
The offense won't be suffering, and will be well protected.
UNC already has their 2011 QB in Everett Golson, so weep not for one missed year. This is a terrific, if basic, class that we should see production from immediately and down the road.
BYU Cougars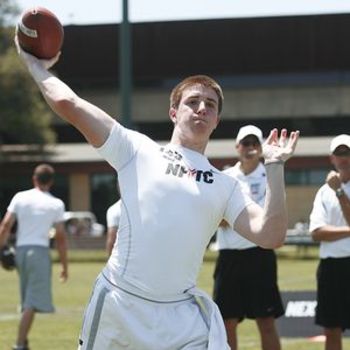 Can you bring in the country's top quarterback prospect and still be considered underrated?
When you're BYU, of course you can! (Just ask any of my B/R colleagues who pull for the Cougs.)
Whether or not this was a so-so class for quarterbacks, there's no underestimating Jake Heaps' immediate impact for the Cougs. Their depth chart is begging for the next big BYU quarterback, and Heaps (pictured), who enrolled early, fits the bill.
I remember watching the Las Vegas Bowl and marveling at the number of seniors on BYU's defense, which, despite the win, can be a mixed blessing. But the Cougs also landed great defensive prospects for 2010 in DE Bronson Kaufusi, a Provo kid and Rivals' ninth-best strongside end; MLB Zac Stout, Scout's eighth best player at the position; and OLB/DE Alani Fua, a great edge linebacker who just needs to work on his size.
And don't forget four-star OG Graham Rowley, or WR Ross Apo, Scout's No. 14 receiver and a blazing talent out of Texas.
When you're BYU, you're always going to be underrated. But anyone ignoring this class does so at their peril.
Pittsburgh Panthers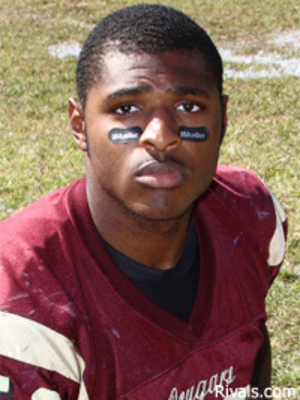 In the course of researching for this recruiting rivalries article (because yes, sometimes I do research), I stumbled across Pitt's unsung class, which had wrapped up at 24 commits before Christmas, and suffered no late-season defections or drama.
The question is, will Pitt's coaching staff make these unsung players great (like they did with two-star DE Greg Romeus)? Or did Pitt's coaches find diamonds in the rough, kids no one else was recruiting (like RB Dion Lewis)?
Either way, there's plenty of talent to test Pitt's chicken-and-egg conundrum.
The stud recruit for Pitt's 2010 class is DE TJ Clemmings (pictured), the top prospect in New Jersey, and the nation's sixth-best strongside end. He won't be immediately necessary what with Greg Romeus deciding to return, but if he's good enough, he'll see the field.
Brandon Ifill is a solid, if undersized, safety prospect who will hit hard once he gets his weight up. The QBs, Mark Myers and Anthony Gonzalez, caused disagreement between Scout and Rivals over the better prospect, but they're both great players with different skill sets who will provide needed depth.
Add in Todd Thomas, a JUCO WR and a big-bodied kid who will give Pitt another threat on the outside to draw coverage away from Jonathon Baldwin, and you've got interesting talent across the board.
Pitt's class isn't entirely unsung—it came in at or near the top 25 mark for most recruiting services–but the fanfare has been pretty absent.
That's probably how Dave Wannstedt and company prefer it—high expectations sometimes haven't panned out for the Panthers. In that case, resume ignoring them...now.
Mississippi State Bulldogs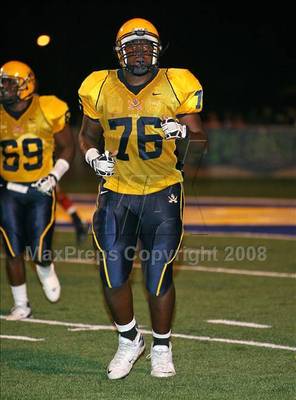 As far as recruiting goes, former Gator OC and current Mississippi State coach Dan Mullen learned from the best.
Even if they came up short, Mississippi State fans had to be thrilled to be in No. 1 JUCO prospect Cameron Newton's final three—he ended up choosing Auburn, but the Bulldogs and the Oklahoma Sooners were runners-up. That's some pretty elite company.
More importantly, the Bulldogs went toe-to-toe with Ole Miss for many of the top in-state products, and landed several, including monster OT prospect Damien Robinson (pictured), DE Kaled Eulls, WR Robert Johnson, and S/ATH Michael Carr.
DT James Carmon is a Terrence Cody-sized JUCO transfer who will hopefully follow in the latter's footsteps at developing the techniques to complement his rare and valuable size.
But in this class, you predominantly see speed. Many of MSU's prospects have been clocked under 4.8 in their 40s, regardless of their position.
Mullen evidently understands that athleticism and change of direction skills are as crucial as anything else to surviving in the SEC, and he's recruiting the raw but speedy athletes that he and his staff can then mold into aggressive linebackers, hard-hitting strong safeties and explosive pitchmen.
They can't all be Ronald Powells—but if the raw talent is there, who cares if it's being underestimated? Doubt could end up being what fuels these prospects to be great.
In any case, coach Mullen is proving his worth in a big way.
Iowa Hawkeyes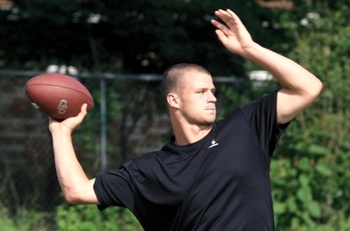 While everyone is arguing about Michigan, Ohio State and Penn State's recruiting class, Iowa, as usual, is content with what it has.
And what it has is surely underrated.
One of the "standouts" is CJ Fiedorowicz, a top-five tight end (he's Scout's No. 2) who decommitted from Illinois in favor of the hometown Hawkeyes.
CJ will need to work on his blocking skills and his physicality before he sees the field.
But Iowa is surely one of the nation's best schools at developing tight ends, historically and in the modern day. All-Big Ten TE Tony Moeaki is only the most recent example.
The other standout is ATH AJ Derby (pictured). Scout likes him as a QB, but Rivals thinks he makes a better athlete. He was the top prospect in the state of Iowa, and enrolled early. Iowa fans think he'll start off at quarterback, but like WR Marvin McNutt, he could move to wide receiver if QB doesn't pan out.
OT Andrew Donnal will need a redshirt, but the potential is there for him to be a top tackle filling in on the blind side.
RB Marcus Coker will remind Iowa fans of a slightly taller Shonn Greene. He's a big back with deceptive speed.
And I like all four of Iowa's recruits at linebacker: Austin Gray, Jim Morris, Jim Poggi and Christian Kirksey. All four are big, adept players who will fit well in Norm Parker's scheme.
Like Pitt, Iowa seems to get the most out of what appears to be mid-level talent. With most of Iowa's team returning intact, these recruits won't be rushed onto the field, and will instead get to study Ken O'Keefe and Norm Parker's systems, respectively.
Any gambler will tell you: never bet against Iowa.
Oklahoma State Cowboys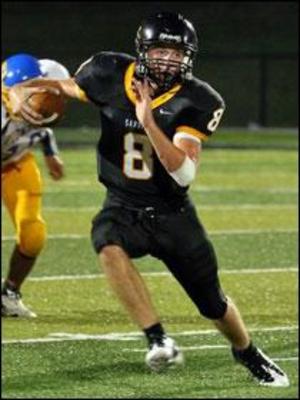 Oklahoma State's class got a major boost after lifting OT Javius Townsend from Texas Tech. Replacing all-conference tackle Russell Okung won't be easy, and the Cowboys need all the help they can get. (OT Dan Koenig will also help here.)
In fact, there's a lot to replace for OSU, starting with quarterback. Zac Robinson's departure could give dual-threat QBs Johnny Deaton (pictured) and Nate Sorensen something to fight over this fall.
(New offensive coordinator Dana Holgerson, the brains behind Case Keenum's numbers, must be relishing two great athletes to tutor in the Airraid with Motion/QB Draw system he's pioneering).
Elsewhere, look for a lot of production from LB Shaun Lewis, a fast outside linebacker who plays well in coverage; DB Malcolm Murray, a four-star JUCO corner and early enrollee who will help the Cowboys' inconsistent secondary; ATH/CD Justin Gilbert, another four-star player at defensive back; and RB Joseph Randle, who will help OSU's prospects in the run game, still an integral part of Mike Gundy's playcalling.
I suspect the so-so feelings around OSU's class had a lot to do with losing DT Calvin Barnett to Arkansas on signing day.
But now that the boo-boos have healed, this is still a very solid class. If it doesn't make the Cowboys an immediate contender, it should at least help them challenge the big boys in the Big 12 South once it takes root.
Louisville Cardinals
The star power might not be there, but Charlie Strong's first class addresses well Louisville's serious attrition issue by restocking the general bare-cupboardedness of the Louisville roster.
Ex-coach Steve Kragthorpe recruited like he was secretly a Kentucky fan and also did a poor job establishing relationships with many of Bobby Petrino's commitments, resulting in many of the defections. The result was a revolving door of talent that has left the program gutted.
Strong can only do so much, but kicking off with a fully-stocked 27-man class is an enormous help. The Cardinals need warm bodies and got a few good ones in ATH/QB Dominique Brown (pictured), an impact player on offense who could be a great Wildcat threat, and WR Michaelee Harris, a great route-runner with clamps for hands.
Louisville also "borrowed" OLB Deon Rogers from Georgia late in the recruiting season. That kind of steal is something the Cardinals will need to do often, seated as they are at the way station of much of the nation's top talent areas.
Getting players interested in Louisville again was Strong's first and most pressing goal, and he did that by holding on to most of Kragthorpe's committed recruits and signing a boatload of his own. In all, 15 of the 27 prospects signed on after Strong took the top job, many before signing day—evidence of his magnetic personality.
How these kids will fare in the short term is unclear. There's not a lot of immediate impact talent here save for Brown, Harris, and maybe some of the better defensive linemen.
But large classes like this one are essential to combating the cancer eating at Louisville's roster. It'll take a few years, but this is a terrific start.
Arizona State Sun Devils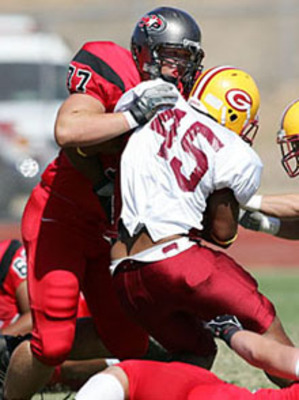 Arizona State's 2009 class amounted to middle linebacker Vontaze Burfict and everybody else.
This year, the opposite is true. No one commitment stands out, but the Sun Devils added depth at many different positions, particularly much-needed talent on offense.
The Devils signed four wide receivers, led by JUCO transfer and big-bodied burner George Bell, who should contribute immediately; four running backs, led by undersized speedster Deantre Lewis; and six offensive linemen, headed up by JUCO monster tackle Brice Schwab.
JUCO might be the name of the game for ASU next year. The Sun Devils' defense played well, but their offense struggled to produce any points in crucial losses to USC, UCLA, and Stanford.
On defense, Nduka Onyeali will make a terrific strongside end. But as I mentioned, defense really wasn't the main problem.
With ASU's quarterback situation hopefully figuring itself out for the better, I think the infusion of older, wiser, but nonetheless explosive talent will help the Sun Devils immensely as far as scoring points.
His name is Brock Osweiler, and he was sent to this earth to throw forty touchdowns in a single season.
Virginia Tech Hokies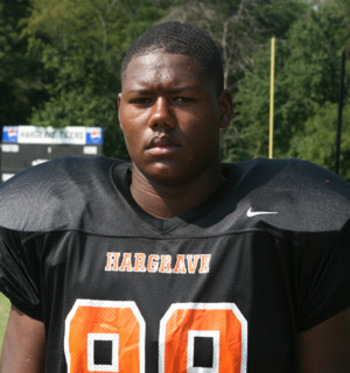 Despite returning conference breakout RB Ryan Williams and QB Tyrod Taylor, the Hokies lost OT Ed Wang and OG Sergio Render, two NFL talents.
Though it wasn't gaudy, VT addressed its needs on the offensive line well, signing Academy OG Laurence Gibson (pictured), OG Caleb Faris, OT Mark Shuman, OG Matt Arkema, and OT/DT Nick Acree.
On defense, the Hokies restocked at middle linebacker, signing Scout's No. 23 inside defender, Chase Williams. They added some big-play defensive linemen in Acree (who could end up playing either position), DT De'Andre Rhodes and DE Zack McCray, Rivals' eighth-best weakside end.
They also bolstered some iffy secondary play by adding DB Nick Dew, a burner in the secondary and Rivals' No. 15 safety overall.
They also showed foresight in signing two quarterbacks, Mark Leal and Ricardo Young. Both players will redshirt before competing for Taylor's empty spot next year.
It wasn't gaudy by any stretch, but it's safe, staggered classes like this one that keep the Hokies consistent and competitive in the ACC.
Keep Reading