2010 Winter Olympics, Men's Hockey: Team USA Young, But Seasoned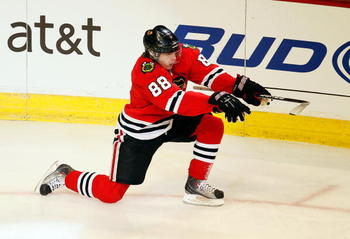 The majority of the players on the the U.S. men's hockey team in Vancouver, are making their Olympic debuts.
Although they are young and inexperienced as far as the Olympics are concerned, they are no strangers to International play.
Several of the players not only have a decent amount of World experience, but they have experience playing with each other as teammates.
Two-thirds of Team USA's top line, was one of the most dominant lines at the 2008 World Championships, combining for 44 percent of the team's scoring.
Zach Parise—Left Wing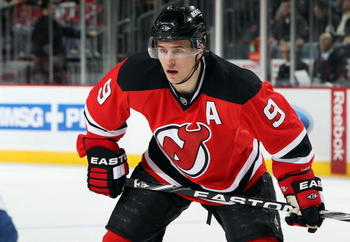 Putting the Devils' Zach Parise on the top line was a no-brainer for head coach Ron Wilson.
Outside of his linemate, Patrick Kane, he is arguably the most dynamic offensive player on the team.
The former first-round draft pick, has played in three World Championships and two World Junior Championships for Team USA.
During the 2007-08 WC, Parise, along with Kane, were part of a trio that resulted in 44 percent of the entire teams scoring through seven games.
Parise recorded five goals and three assists in seven games during that tournament.
Although off-pace for last year's breakout numbers (45G, 49A), Parise is still putting up decent production this season tallying 28 goals and 33 assists through 60 games.
Patrick Kane—Right Wing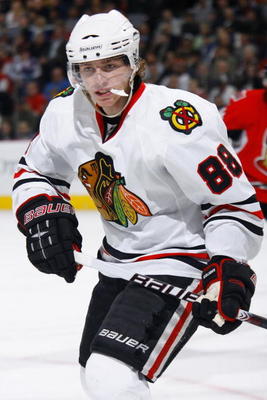 Like I said in the previous slide, Chicago's Patrick Kane is the bread and butter of Team USA's offense.
He might not have the goal totals that Parise has, but boy can he ever make magic with the puck.
Kane, a former first-overall pick, is the youngest player on the U.S. roster at the ripe age of 21.
He is only the sixth American to be chosen first overall.
Kane, as a part of that dominant World Championships line, scored three goals and seven assists during the tournament. He also scored five goals and four assists on the Bronze medal 18U WJC team in 2007.
Kane currently holds the U.S. National Development Team record for points in a single-season with 102.
This season with the Blackhawks, who are one of the top-three teams in the NHL, Kane has 25 goals and 42 assists through 61 games. He is on pace to shatter his career high in goals (25) and assists (51).
Paul Stastny—Center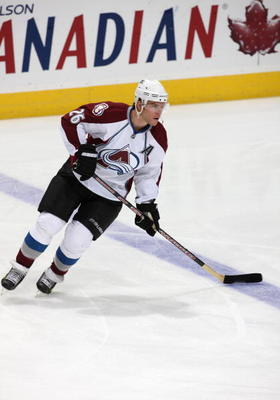 Colorado's Paul Stastny is the only newcomer to the Kane-Parise pairing from the 2008 World Championships.
Phil Kessel, who is also on the Olympic team, was the final part of that lethal trio, but will be replaced on the top line by Stastny this year...for now.
Stastny, who last played Internationally for the U.S. in the 2006-07 World Championships, recorded four goals and four assists in seven games during that tournament.
Stastny, although bitten by the injury bug so far into his career, has gained the reputation as one of the game's most prolific set-up men.
In his rookie season, Stastny recorded 50 assists and 28 goals. His numbers have been off due to injuries, such as a bout with appendicitis, a broken arm, a foot injury, and knee injury, but the talent is absolutely still there.
Through 61 games this season, Stastny has only recorded 12 goals, but he's on pace to shatter his previous high in assists already marking 42 on the season with 21 games to go.
Phil Kessel—The Wild Card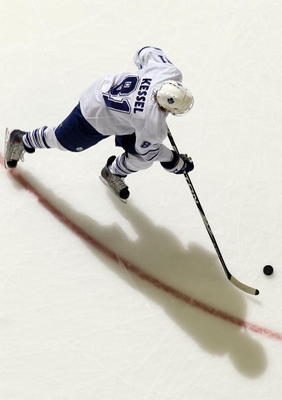 Like I said, that dominant line in the 2007-08 WC tournament included Toronto's Phil Kessel down the middle.
Although Ron Wilson, who happens to be Kessel's NHL coach with the Maple Leafs, has slotted Stastny between Kane and Parise, I wouldn't be surprised to see Kessel bounce in there should things start slow.
Kessel will most likely find himself in the middle of the Duck's Bobby Ryan and Tampa Bay's Ryan Malone.
Kessel's six goals during that tournament led the team.
This season, his first with Toronto, has been kind of an up-and-down for Kessel. He is being relied on so heavily for offensive production, that the pressure might be getting to him, especially in the hockey-crazed Toronto media, where everything is scrutinized.
Kessel, after being traded from Boston, signed a five-year deal with the Maple Leafs, but missed the first 12 games of the season recovering from shoulder surgery.
Through 49 games, 21 goals, and 20 assists.
Keep Reading