BYU Will Win the Mountain West in 2010...If These Five Cougars Step Up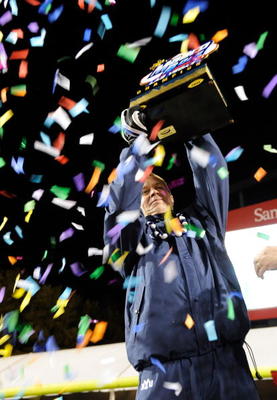 BYU head coach Bronco Mendenhall doesn't know the meaning of the term "rebuilding."
No matter how much turnover the team undergoes, expectations among the Cougar faithful will always be lofty. A Mountain West Conference championship is the bare minimum for most seasons to be considered successful.
Few would call any MWC championship by BYU a surprise, but predicting one in 2010 might raise some eyebrows, especially in the Lone Star State.
TCU will return 16 starters next season: nine on offense, seven on defense. Most have the Horned Frogs pegged as a top-10 team once again, and for good reason.
While BYU may not be used to the underdog role, Mendenhall will use it to full advantage to motivate his team to the top. These five Cougars must capitalize on this motivation in order to step their game and their team up.
Pick a Tight End. ANY Tight End.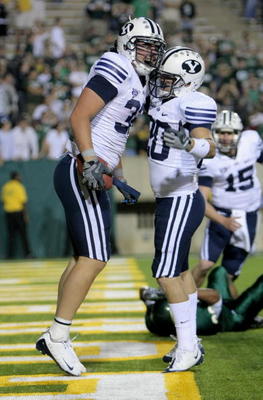 Dennis Pitta is not walking through that door.
Andrew George is not walking through that door.
Rick Pitino-style rhetoric aside, the tight end has always been a key cog in the BYU offensive machine. Having both senior tight ends leave at once leaves a gaping hole next to the offensive line.
Whoever wins BYU's starting quarterback job will need multiple safety valves while adjusting to the position and the tight end is certainly that.
Besides good hands, this year's edition of the BYU tight end must also be ready to create seam after seam for Harvey Unga.
Only three tight ends are listed on BYU's current roster, and one (Devin Mahina) is a freshman who doubles as a defensive end. That leaves scout team veteran Matthew Edwards and redshirt freshman Mike Muehlmann as the current void-fillers.
Muehlmann (6'4", 227) was named First Team All-Utah in his senior year at American Fork High, and returned from his LDS mission in the San Antonio area before last season began. Look for him to make the most of the education he received from Pitta and George.
Jordan Pendleton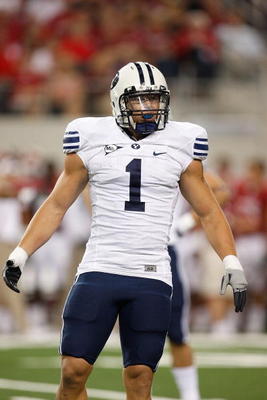 With Jan Jorgensen and Coleby Clawson gone, this is Pendleton's defense now.
As a sophomore, 2009 was productive for Pendleton: 52 tackles, including six for loss, three sacks, a fumble recovery, and an interception.
There's nothing in the box score or the stat sheet for leadership, but that must be Pendleton's most important contribution to the team this season.
While vocal leadership will win over coaches and teammates, hard hits and on-field communication will endear him to Cougar fans everywhere.
In short, the BYU defense in 2010 will only be as good as Pendleton wills it to be.
O'Neill Chambers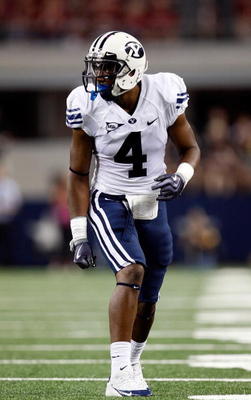 Every Cougar fan ought to know Dennis Pitta led BYU in receptions last season with 62.
Second place, however, may be a shocker: O'Neill Chambers with 32.
Why the shock? Probably because Chambers only averaged 11.8 yards per catch and hauled in just one touchdown. J.J. DiLuigi and Manase Tonga each caught four touchdowns out of the backfield, for pity's sake.
Without a sure option at tight end just yet, the much-ballyhooed Chambers and his fellow receivers will be heavily called upon. If Chambers doesn't reach at least 500 yards and four touchdowns, it will be a disappointment.
Beyond his play as a receiver, Chambers has yet to fulfill his promise of returning a kickoff for a touchdown, something BYU hasn't done in 144 straight games.
If Chambers can be the first since Mike Rigell in 1998 to accomplish the feat, much will be forgiven in Cougar Town.
Brian Logan
Most people would not imagine a 5'6" man as one of the nation's best pass defenders. Brian Logan would like to have a word with them.
Logan was arguably BYU's biggest breakout star in 2009, finishing in a tie for second nationally with 1.31 passed defended per game (14 break-ups and three interceptions over 13 games).
Opposing quarterbacks picked on Logan more and more as last season progressed, and an increase in targets his way is inevitable.
Logan must make the most of these opportunities if he wants to hear his name resonate from LaVell Edwards Stadium once again.
Harvey Unga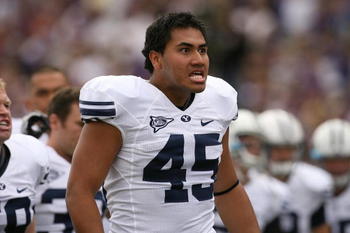 When Unga made the decision to return to BYU for his senior season, he became the most important and valuable player on the roster. Period.
Regardless of who wins the starting quarterback job, Unga will be called upon early and often while the new guy gets his feet wet.
Every other team in the MWC knows this, of course, which means Unga must once again exceed expectations and do his best to stay healthy.
Asking a guy who's rushed over 1,000 yards in each of the last three seasons to step up may not seem necessary, but Unga's numbers must go up even more if BYU wants to shock the MWC.
How high must the numbers go? About 1,500 yards and 15 touchdowns sounds like it fits right in Unga's wheelhouse.
Keep Reading

BYU Football: Like this team?