Hock's Take: Vikings Mailbag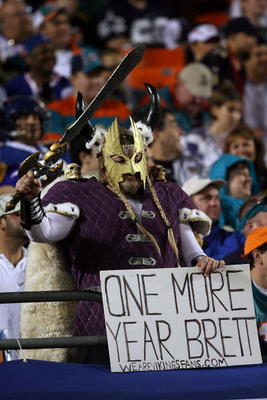 We're in that lull between the Super Bowl and the Combine, and there's not really that much to talk about in terms of football that isn't idle speculation.
And even idle speculation will get you in trouble, God forbid you bring up the name Tim Tebow, and suddenly people show up offering up Michael Vick as a suitable, lovely compromise at quarterback.
For what it's worth, I even offered at the beginning of the column that I didn't want the Vikings to draft Tebow. But my mail bag blew up anyway.
But in going through the e-mails that I got, I found a couple of really curious questions that I thought I would tackle in today's column.
I Want to Be a Quarterback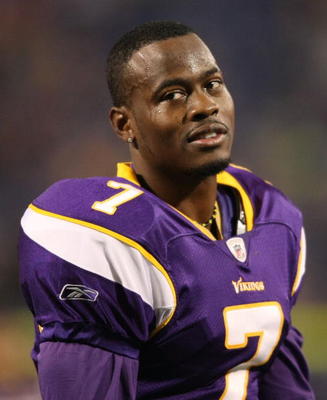 Why do you always have to be so mean to me? I can too be a quarterback in the NFL!
-T. Jackson
I love you, T-Jack, but you're just not a starting quality quarterback. Not right now, anyway.
For all that your "athletics" are touted, you're a terrible running quarterback. You run too straight up and aren't elusive enough to run out of the pocket, even with good speed. So all running is doing is getting you hit. A lot. And that's gotten you injured.
Throwing-wise, I'll admit, you've gotten a lot better. You still need more touch on your throws, but you're doing a much better job of hitting receivers in stride.
The big thing with that, however, is that you tend to throw off your back foot way too much, which alters the trajectory of the ball and makes it impossible for a quarterback with already mediocre accuracy to complete any passes.
I think you've improved working with Brett Favre this season (the king of unorthodox throwing styles anyway), but not enough that you could be considered the QB of the anything but the immediate future for this team.
What Should I Do?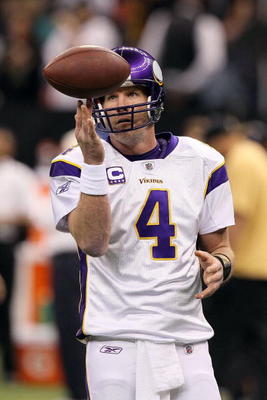 I'm thinking about coming back. But maybe not. What should I do?
-B. Favre
It's the ultimate question, isn't it, and the one that's hanging over the Vikings and all their fans. But it's one that you're going to have to weigh out for yourself.
Of course, the players and fans would love to see you back, and why wouldn't you come back? It's a bit odd to end your career at 19 seasons instead of 20, and you can obviously still play the game.
And the Vikings have good offensive weapons to build on, as good as you've ever had in your career. If you have any inkling of wanting to play in a Super Bowl again, you have to come back and it has to be on the Vikings, because there isn't a team that's anywhere near is good that needs a quarterback.
That said, you played that last game in New Orleans. The offensive line just gave up on even pretending to block for you there after a while. Can you handle that for another full season? At 41?
Maybe it's just best that you stay at home with all that farm equipment. That seams much safer.
Leave Me Alone!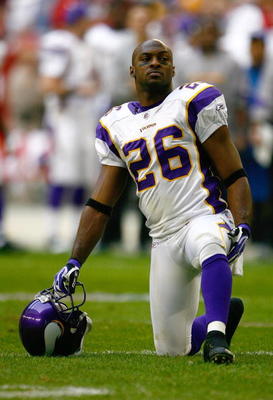 Why the insistence I become a safety? I love being a cornerback!
-A. Winfield
I take full responsibility, because I'd love for you to come back and play corner too! Especially with Cedric Griffin questionable for the first part of the season while he recovers from that torn ACL.
So hopefully you can come back strong from this foot injury and prove me wrong. But the problem is that you were struggling a bit even before that injury. Your best attributes have been reading the play and making hits.
That sounds an awful lot like a safety, a job that would be a lot less demanding for a guy coming off an injury which slowed you down. Speed was never your biggest asset anyway.
That said, Tyrell Johnson and Maddieu Williams played well during the playoffs, so maybe they've got they've got things figured out. So I hope you're ready to be a corner again at the start of training camp.
Would Glue Help?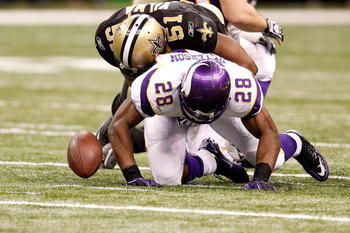 Why can't I hold onto the football?
-A. Peterson
We all know that you run straight, make impact, and try to fight for yards, but we also all know that you run with your arm swinging free from your body.
The quick fix would seem to be to take the Tiki Barber approach of holding the ball with both hands, tight to your body, but that's going to take away from your quickness and ability to break out of the pack.
There are two things you can do, however. Firstly, petition Brad Childress and Darell Bevell to stop running you up the gut right into nine defenders. I've never understood the tactic, since your biggest asset is your acceleration, and running straight ahead effectively cuts that off.
Secondly, quit trying to take off guy's heads. It's pretty impressive, yes. It's fun to watch, yes. And occasionally, it even works. But then there's the times when you try to make contact and you end up getting popped in the hand by a helmet.
Don't be afraid to take a five yard run. Not everything is going to be a thirty yard pop, man.
Get Me Out of Here!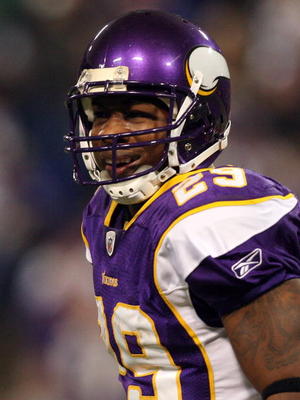 I'm tired of being the "quality backup." Again. Where should I go this off-season?
-C. Taylor
I feel your pain. After years of sitting on the bench in Baltimore, you signed to be the Viking's starting running back and suddenly there's Adrian Peterson.
There's still a place for you on the Vikings roster, and you know that. But now, Adrian Peterson is part of the screen game, and your playing time would be even lower next year.
The most likely destination for you would be New England, which seems to collect your type of quality backups, and really needs a running back capable of carrying the load for a full season, which you can.
Another possibility is Indianapolis, which would be nice, coming off a Super Bowl and all. Neither Joseph Addai or Donald Brown really have much of a lock on the starting job, and your pass catching and running abilities would really compliment Peyton Manning.
Detroit is not as an attractive option, but Kevin Smith is no Adrian Peterson, and it's a job you would be able to compete for. But, it's still Detroit.
There are other possibilities, of course, Washington, Seattle, Houston, even Chicago maybe, but seriously, you might just be better off taking a nice pay raise and napping on the sidelines in Minnesota than playing in most of these places.
I Don't Want to Have Another 15 Catch Season
How do I avoid the junior slump, especially if my quarterback doesn't come back?
-S. Rice
You played to the peak of your professional career, and it was one really impressive peak. I don't know if I can recall in the past several years a player who changed his game as much, and as successfully, as you in such a short period of time. Maybe Cedric Benson, but that's it.
Here comes the tricky part, however. Now teams' cornerbacks are going to be gunning for you, and you have to be prepared to play the exact same game you did this year, but twist it up just enough that you can outplay them.
You have all the right tools to physically outmatch all but a handful of corners in the league, now you just have to work on making your route running more concise and making those quick cuts that you struggled with at a times this year.
Of course having Brett back would speed your development, but honestly I think he becomes a bit of a crutch sometimes. Maybe working with Tarvaris would be just the thing the two of you need to speed along your developments.
I Still Get My Pro-Bowl Bonus Though, Right?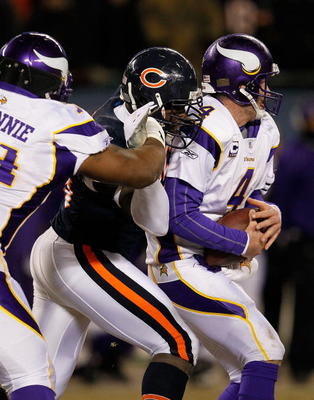 Where did it all go wrong (P.S. Know any good clubs in Hawaii)?
-B. McKinnie
Let's face facts, you've always been pretty lazy, big guy. But, at least a few years ago you were a pretty decent run blocker.
But now, if a guy beats you with his first move, you don't even try to recover, you just let your quarterback or running back get trounced while you lean back a little further into your stance.
It's not unreasonable, actually. A guy your age and size is bound to be a little bit creaky, and you've suffered a myriad of injuries over the past couple seasons, but that doesn't excuse your lack of effort on the field.
While you're not wholly accountable for Favre getting blown up in the Carolina and New Orleans games (that honor is shared with your fellow linemen), as the veteran of the group and one of the leaders of this team you need to step up this year or look for another job.
(I don't think you'll have to worry about the clubs.)
Business in the Front, Partay in the Back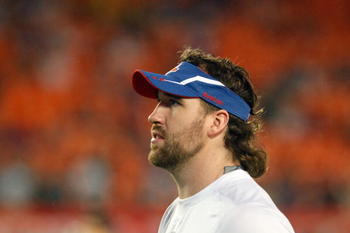 I have to admit, I wasn't a big fan at first, but the mullet has grown on me. Not, like, literally, but as a hairstyle, nay a way of life for you, it fits.
What isn't pretty sweet is how little pressure your line was getting there in the second half of the season. Take out the Dallas and New York games, and there wasn't much to like about the defensive line play.
They can't double team everybody, and your line needs to start playing smarter. I've lost count of how many times I've watched you run ten yards up field because a lineman beat you with his first step, trying to run around him and back to the QB.
If you don't win coming out of the gates, keep driving, but don't put yourself out of the play. An NFL quarterback isn't going to wait ten seconds until you come back to him. Hell Matt Hasselbeck cost you the game of your life by not giving you any time to come back to him.
There's aggressive and there's overly aggressive. In Kansas City, you effectively walked that fine line, but playing with a much more talented defense, you've kind of let yourself slip a little bit. You're too comfortable.
Just keep the hair.
Can I Get DPS Added on My Football Card?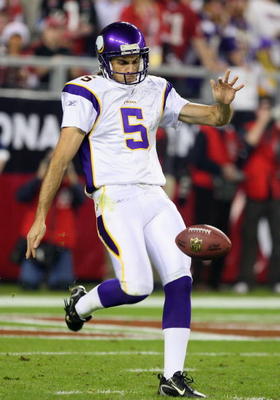 Now that the season is over, I'm behind in my raiding. ToC gear isn't what it used to be. Any tips on what to do now that my guild is running ICC without me?
-C. Kluwe
Well, first of all, the new Randoms and lower level 5-mans will put you in some Icecrown welfare epics in no time, which will gear you up well enough that you shouldn't have much trouble pushing DPS against most of the bosses in Icecrown.
But if you still can't latch on with your guild or (shudder) PuG, you should try to get through as much of the old world content as possible.
With Cataclysm dropping in November, this is likely your last chance to get the original Loremaster achievement, pick up a Frostsaber or raid Southshore.
Or maybe work on your punting.
I'll Even Lay the Foundation Myself!
How in the world am I going to get a new stadium?
-Z. Wilf
It made sense for the Twins to get a stadium, because the Metrodome is a terrible baseball venue and besides they're a bunch of clean cut, home town guys, if perception is to be believed. And the Gophers got one because not having them on campus was stupid.
But the Vikings have been a tough sell because NFL football stadiums are really expensive, and, let's be honest here, the Dome is actually a just fine football stadium.
This might be a tough pill to swallow, but the best way to get a new stadium in Minnesota is if there's a labor stoppage in 2011. I know that's not what you want to hear, after all you won't generate much revenue with no games being played, but it actually is the quickest way to get the issue pushed through.
I already know what you're thinking, how does not playing improve my position?
If you stop playing in the Dome for even a year, the stadium will be unable to generate revenue. A couple college baseball games and monster truck shows per year can't make the building profitable. Now they're leaning on you guys to make any money.
A new stadium, at least for the first few years, will generate a lot of extra revenue with concerts, shows, and other special events. Things that are going to TCF Bank Stadium and Target Field now and studiously avoiding the Dome.
Short of putting another team in there temporarily, like the Wild ownership did with their lacrosse team in the Xcel, you'll put the state in a tough position where it's going to be much easier to justify the expense of building a new revenue generator.
Not that I'm suggesting that you and the other owners let it come to that, but it's going to be a long haul otherwise.
Keep Reading

Minnesota Vikings: Like this team?