Top 10 Footballers Likely To Win Ballon d'Or 2010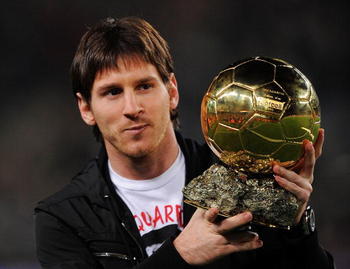 FIFA World Player of the Year might be a global award that recognises the finest footballer on the planet, however the Ballon d'Or, given to the best in Europe is generally held at the higher accord, with the finest players entertaining on European soil.
At the beginning of the season, everyone starts equal, some more equal than others, and as the season progresses, we start to see why it is so. So who might walk away with the most coveted and arguably the best looking individual trophy in football this December?
10. Gonzalo Higuaín (Argentina) - Real Madrid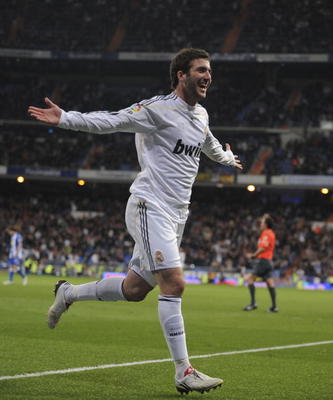 El Pipita was the best player in the Real Madrid squad that was second best in Spain last season and he continues to show why he is important to the Real Madrid setup.
However he has had to work his way up with the arrival of the new attacking stars Cristiano Ronaldo, Kaka, Karim Benzema. A great leader on the pitch, he has become an indispensable player at the Bernabeu.
At 22, he has the speed, the strength, the skill, and finishing (my goodness can this man finish) and charisma to be a candidate for the Ballon d'Or.
9. David Villa (Spain) - Valencia CF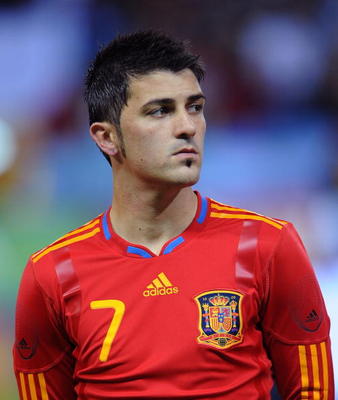 Arguably the best natural striker in the world, he has the tenacity, pace, skill, finishing and creativity of any deadly striker. He is currently second in La Liga top scorer charts with 15 goals in 21 appearances and part of a Spanish setup that is perhaps the deepest and best on the planet.
If he can help Valencia to a champions league spot and help Spain go as far as possible in the world cup (as they are expected to), he could be one of the names to look out for at the end of the year.
8. Andrés Iniesta (Spain) - FC Barcelona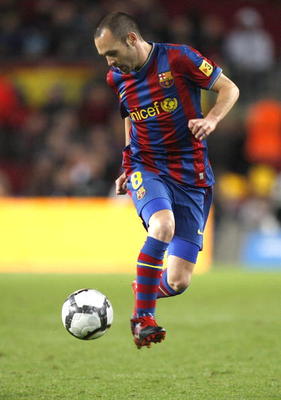 San Andres may not have scored a goal for Barcelona this season, but he continues to be an integral part of the Barcelona team, who have only lost once (this past weekend) in this league campaign. An attacking playmaker inherently, he is versatile to any position in the opposition's half.
He has unbelievable dribbling skills which he has continually used to tremendous corollary along with his needle-eye passes, partnering his compatriot Xavi in the best midfield in the Europe.
The 25 year old came in fourth last season Golden ball standings, and if he can get a couple of goals, and perform well in the world cup, he could not only maintain that spot, but perhaps improve on it.
7. Didier Drogba (Côte d'Ivoire) - Chelsea FC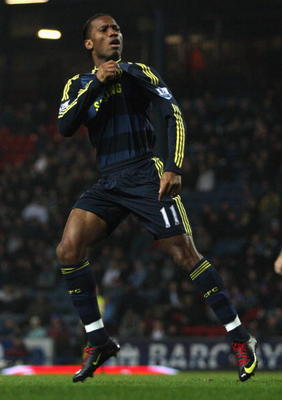 2009/2010 is going very well for the massive Ivorian, 23 goals in 28 appearances is a ridiculous statistic that is worthy of serious acknowledgment. At the very ripe (well, perhaps past the ripe phase) age of 31, he is still a serious force to be reckoned with.
Ivory Coast might have crashed out of the 2010 African Cup of Nations disappointingly after being labeled as overwhelming favourites, but come June, they, and particularly Drogba have a chance to redeem themselves. He is currently BBC African footballer of the year, and can perhaps be a threat to the 'automatic' favourites of the Ballon d'Or (we know who they are).
6. Cesc Fàbregas (Spain) - Arsenal FC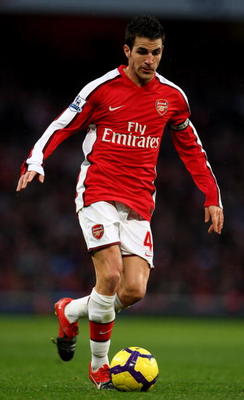 Cesc (22) might be making bold headlines for potentially making a transfer this coming window to a certain Catalonian club, but there's no doubt he is having an amazing season on a personal level for The Gunners.
Having already eclipsed his personal best goal tally in a season with 14 so far and an staggering 17 assists, he is definitely a playmaker of supreme potential. If Arsenal are to lose him at the end of the season, they might not have only lost a protagonist at The Emirates, but a talent that could be crowned as Europe's finest one of the good days.
5. Kaká (Brazil) - Real Madrid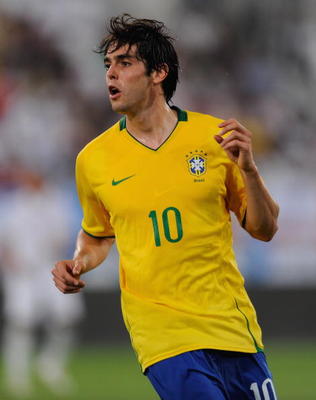 The inclusion of Ricardo Kaka in the latest FIFA World Player of the year top five might have caused a slight ripple of controversy but there is simply no doubt he is one of the elite talents to entertain in the latter half of the previous decade... and still is.
He started a bit slowly for 'Los nuevos galacticos' but he has slowly risen to his very best and is currently operating at one of his higher gears.
With the current form possibly running into the FIFA World Cup 2010 in South Africa, do not count this Brazilian off from being honoured by France Magazine for the second time.
4. Cristiano Ronaldo (Portugal) - Real Madrid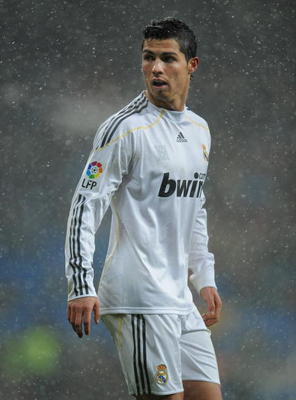 Another one of the new influx of talent into the Bernabeu; The 94 milion Euro man from Madeira, Portugal, has literally already made his intentions clear as he wants achieve a feat that is of high magnitude—going down as the finest in the history of Real Madrid. Well that is a topic for another day.
Cristiano Ronaldo made a quick settlement at the Bernabeu, scoring in each of his first four (4) league appearances, thus breaking a club record. He has since scored six champions League goals already bringing the total to a phenomenal 17 in 17 games.
He definitely is to scoring as a vampire is to blood. If he can stay fit and provide great performances in June, he will be on that list, where on it...you do the math.
3. Xavi Hernandez (Spain) - FC Barcelona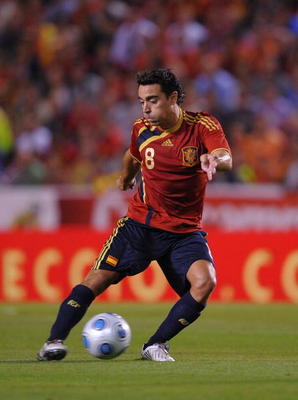 The current and previous IFFHS world best playmaker, is perhaps statistically not having as good a year as he had in 2009, but after winning (six) 6 titles in a year, it would indeed be difficult to top that. However, Xavi is still conducting the orchestra at FC Barcelona, and to phenomenal effect.
One of the things that make him stand out is his consistency on both club and international level, where he is the undisputed focus of play in the Spanish Selection.
FC Barcelona are still en route to perhaps winning La Liga and UEFA Champions League, while Spain can safely be considered as favourites to win FIFA World cup; that can count to Xavi's favour when the votes are counted towards the end of November.
2. Wayne Rooney (England) - Manchester United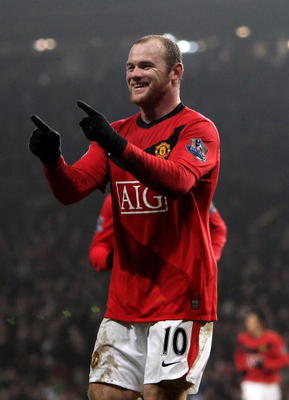 Following the departure of CR7 (now CR9), it was inevitable that Rooney would have the spotlight shone on him, whilst Manchester United looked a little shaken in the beginning, they have since grown stronger as a team, and if one man can be accredited with such a change is Wayne Rooney.
Currently sitting on 23 goals for the season in 'red'—equal to his his best in a season—Wayne is so hot right now, he seems like scoring anytime he is in the area, or approaching it.
Roon's abilities, shots, passing, work rate and general selfless plays are currently placing him as an almost obvious winner of the PFA Player of the year at this point and a display of this in South Africa might propel him to where few have gone - to pick up the Ballon d'Or.
1. Lionel Messi (Argentina) - FC Barcelona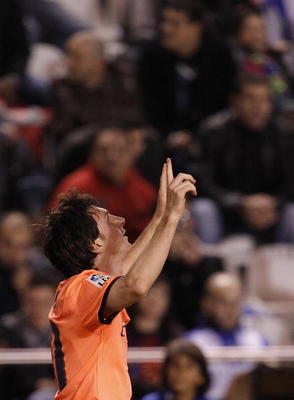 With every game that goes by, it is perhaps becoming less and less of an opinion to say Lionel Messi (22) has no equals in the world football at this point in time.
There seems to be gum at the tip of those Adidas F50i boots as the ball won't let go as he dribbles past players, his creativity in setting up goals rivals some fine playmakers and he has a great shot, whether placing or blasting, with his latest goal against Getafe at the Nou Camp showing the harmony between the two.
Having netted 38 times with 18 assists for FC Barcelona in 2008/2009, it would seem insane that Leo would level that performance or even exceed it in this campaign, but he is the leading scorer in Spain (16 La Liga goals in 19 appearances) and a total of 23 goals so far. He is also leading the league assist charts with eight.
His national performances are ones that have, of late made headlines for the wrong reasons as the closing matches of the qualifiers have seen Leo hit low, low form on the national stage.
However La Pulga's past performances have given Argentina U-18 World Cup in 2005, Runner-up in Copa America 2007 and a gold medal at Beijing 2008. So if his form in big competitions continues to impress in the FIFA 2010 world cup, Ballon d'Or 2010 might have an overwhelming favourite in El Mesias by July 11.
Keep Reading