Five Olympic Hockey Players with the Most Pressure On Their Shoulders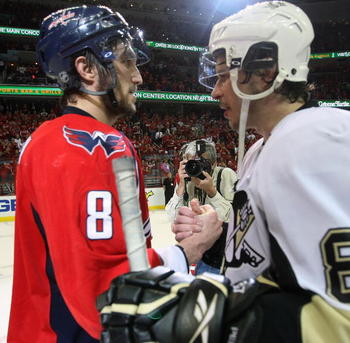 Before I start, I saw a poll on ESPN.com that asked, "Are goaltenders who participate in the Olympics putting themselves at a disadvantage for the NHL's regular season?
40 percent said "yes," and you can guess what the other 60 percent said.
I just found it funny because about 40 percent of the goalies in the NHL—that's not an exact percentage—are headed to the Olympics. So I think you can guess which fans voted "yes" and which ones voted "no."
Anyway, with men's hockey starting today at 3 PM EST, the anticipation is at an all-time high—even I am all giddy with excitement.
There are a lot of players, new and old, being focused on in this tournament. Many of the participating countries have high expectations and that puts a lot of pressure on these players' shoulders.
But which player will be dealing with the most pressure?
5. Teemu Selanne, Finland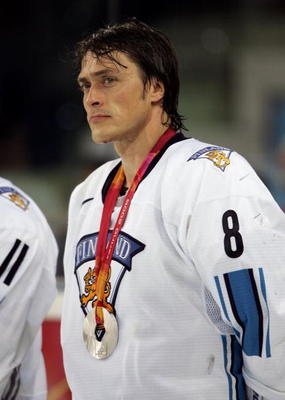 In what will more than likely be his last Olympic Games, Selanne would love nothing more than to go out with his country's first gold medal.
The 2010 games marks Selanne's fifth trip to the Winter Olympics.
Selanne was the leading-scorer in the 2006 Winter Olympics in Turin, marking the second time he has led the Olympics in scoring. He is also the Olympics' active leading scorer.
But having such an impressive resume just means that the 39-year-old native of Helsinki has a lot to live up to this year in Vancouver.
The Finnish roster is comprised of a lot of veterans, but Selanne—the team's alternate captain—is its core.
While Finland is not one of the favorites to win the gold, it wasn't one of the favorites back in 2006 either when it nearly defeated Sweden in the championship game.
The Finns should win their first two games, but it won't be easy after that.
Not known as a high-scoring hockey team, Finland is going to heavily rely on Selanne in its third game and the medal rounds. Finland's third game is a rematch of the 2006 gold medal game against Sweden.
Regardless of where the Finnish finish—I couldn't help myself—keep your eye on Selanne at all times.
4. Henrik Lundqvist, Sweeden
The one word on the mind of every hockey fan in Sweden: "Repeat."
In 2006, "King" Henrik—in his first Olympic games—led Sweden to the goal medal over the previously-mentioned Finnish team.
Lundqvist went 5-1 with a 2.33 GAA and a .907 save percentage in Turin. Since winning the gold, Lundqvist's resume has only grown, and now a lot more is expected from the young Rangers' goaltender.
Lundqvist was nominated for the Vezina Trophy for three consecutive seasons from 2006-2008. He also participated in his first NHL All-Star Game in 2009.
Even with an extremely balanced attack and veteran leadership that most teams would kill for, Lundqvist is going to have to be even better than he was in 2006 if Sweden wants to repeat.
In Lundqvist's first Olympic game, he was lit up for five goals by the opposing Russian team. However, after working out all of the "jitters," he settled down and let up just seven goals over the remaining five games he played in—including a 24-save effort in a 2-1 win over the United States.
Lundqvist's backups will probably not be able to handle the workload if the "King" has a meltdown—needless to say, his country's hopes will be resting on his pads.
3. Alexander Ovechkin, Russia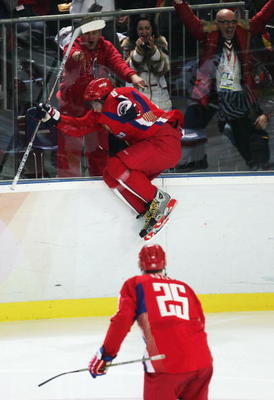 What better way to get back at Sid "The Kid" than to win a gold medal in his backyard?
Ovie is foaming at the mouth to take the heated rivalry to the next level—not to mention he would probably love to shut Don Cherry up.
Not enough can be said about what an amazing player Alexander "The Great" has become—but in 2006, he was a different player.
In his rookie season, Ovechkin didn't realize the stage he was playing on in Turin, as he had just five points in his first Olympics—all of which were goals. It is obvious that the expectations for the reigning two-time MVP have risen considerably since his last Olympic showing.
On a team that will be shooting first and asking questions later, Ovechkin will be expected to produce at a record pace.
If you think the Russian fans want a gold medal worse than Ovechkin, you are mistaken. The most pressure will be coming from Ovie himself.
Anyone remember when he lost to Canada in 2005 World Junior Ice Hockey Championship? Watching the tears stream down his face really showed the commitment and expectations he has for not only himself, but his country—so you better believe he is ready for gold.
2. Ryan Miller, United States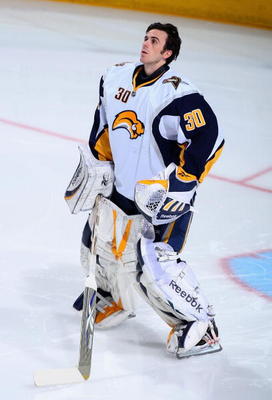 At the beginning of the NHL season, it appeared that reigning Vezina Trophy-winner Tim Thomas would be starting in net for the United States, but after playing the best hockey of his career, Buffalo's Ryan Miller has catapulted himself into the starting position.
With his 2.16 GAA and .930 save percentage, Miller has been among the goaltending leaders all season and is being considered as the lead-candidate for this year's Vezina Trophy by many critics—myself included...for the moment.
GM Brian Burke has put together a club that he feels is built for a gold medal. The roster is filled with inexperienced talent with the potential to place.
While Miller has looked slightly shaky as of late, he redeemed himself Saturday night with a 27-save effort in a 3-1 win over the Western Conference-leading San Jose Sharks.
The pressure on Miller comes from the fact that if he has one lousy game, there are two more than capable goaltenders champing at the bit for the starting position.
The U.S. will have its first challenge in its first game against a very underrated Swiss team. Miller will have to out-duel another fantastic goalie in Jonas Hiller if the United States does not want to start on a sour note.
1. Sidney Crosby, Canada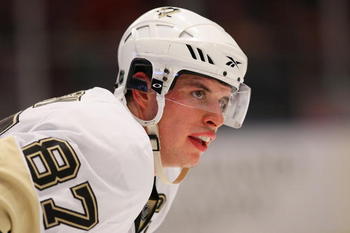 No surprise here. All eyes are on Sid "The Kid."
He is playing in his first Winter Olympics, in his home country, against the world's best players—I dare you to find a bigger stage to play on.
It's been said that if Canada does not win the gold, the country will implode. Okay, that's a lie, but I've seen Canadian hockey fans in action and this is a very important two weeks for the country, and Crosby definitely understands that.
After finishing 2006 in an embarrassing seventh place, executive director Steve Yzerman took no chances and built a team that is "stacked" to the full definition of the word—two MVPs, two Norris Trophy-winners, and the best goalie of all-time.
With such an incredible roster it is tough for one player to have so much pressure on his shoulders—but Crosby does.
After being named the league MVP in 2007 and winning the Stanley Cup last season, Crosby has developed into Canada's poster child.
He did not play in 2006 because "the powers that be" felt he was not ready. In retrospect, they may have been wrong.
But Crosby is out to show everyone that he is no longer "The Kid," and he wants a gold medal to prove it.
Keep Reading