NCAA Football: Top Players Returning From Injury in 2010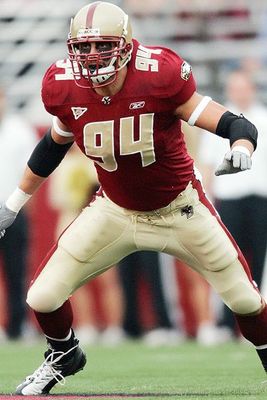 2010 will be the proving ground for a few of NCAA football's top athletes. 2009 saw the promise of greatness cut short for Darren Evans, Christian Ponder, Sam Bradford, Robert Griffin, and Eric Decker.
Both Decker and Bradford had to exit stage left with a bad taste in their mouths as they will not have the shot at redemption that their fellow collegians will have in 2010.
Players like Mark Herzlich (pictured), of the Boston College Eagles, had an unconventional injury keep him off the field last season. He battled back from cancer and will return to the field in 2010—poised to be better than ever and, even more importantly, cancer free.
However, the opportunity for redemption does not necessarily guarantee a positive result. Injuries have been known to shake the confidence of a player. Sometimes the very nature of the injury causes a shift in the way a player approaches the game—he plays more cautiously.
So, even after the following guys are given the official go-ahead, questions are still likely to remain. The two most important ones being: Will they be able to return to their former glory or will they find that their game is permanently altered—and not necessarily for the better?
QB—Dayne Crist, Notre Dame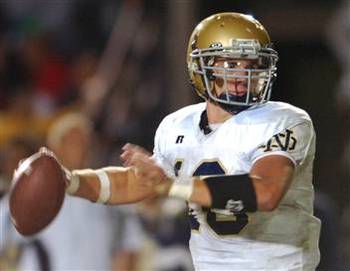 Dayne Crist was supposed to be the heir-apparent to the Jimmy Claussen throne at Notre Dame. The second straight such recruiting jewel of the Charlie Weis Era. Crist had the size, the arm, the intellect, and confidence of a guy who wasn't going to be intimidated by the South Bend glare. He thought highly of himself as a quarterback and wasn't afraid to tell you so:
"I can make all the throws. I'm gonna do what it takes to win, whether that is making plays with my feet or my arm, I'll do it. I'm very intense, competitive and physical."
Well, as the 2009 season came to a close, Crist's grit was met with an unfortunate ACL injury on a non-contact play against Washington State late in the season.
2010 offers a ray of hope for him, however, as he is said to be "on schedule" and is anticipated to be ready by spring for everything except contact drills.
Crist's ability to be at his best is critical for the Irish who will not only be breaking in a new quarterback but a new coach and a new system as well.
Crist had surgery in mid-November and was expected to need four to six months of recovery time before he would be able to come back. How good will he be? I think he will be fine. He didn't suffer any secondary damage to his knee and that bodes well for his overall prognosis.
He will have some setbacks but most of those will be due to new coach, Brian Kelly's, installation of the spread offense. Aside from that, Crist's biggest hurdle will be mental—he may be more tentative about running the ball unnecessarily now that he has suffered through this type of injury and that could slightly change his approach to playing the game.
That said, he should still be very good next season and the spread offense may be just what the doctor ordered for Crist's big arm and nimble legs once he's comfortable in the pocket again.

2010 Prediction: Every Bit As Good As Before
RB—Darren Evans, Virginia Tech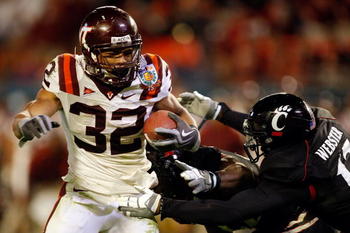 Evans tore his ACL during a practice drill prior to the first game of the season. It was a devastating blow to the Hokie nation, at the time, as Evans was the teams leading rusher in 2008 with 1,265 yards and 11 touchdowns on the year.
His surgery went well and by bowl season he was in good enough shape that many would not have been surprised to see him suit up for the game against Tennessee. Of course, that didn't happen, but it speaks volumes as to how much better he will be by fall.
The main issue for Evans isn't health, it's competition. Last season, he was the most experienced, most prolific, and most trusted option at the tailback position. However, no one likely thought that redshirt freshman, Ryan Williams, would emerge as quickly and with as much success as he did in 2009.
Evans will be back at full-strength in 2010 but don't expect to see him being the dominant force that he was in 2008. He will likely share carries and start the season as the second best option for the Hokies.
2010 Prediction: Solid Contributor, But, Not The Same
QB—Robert Griffin, Baylor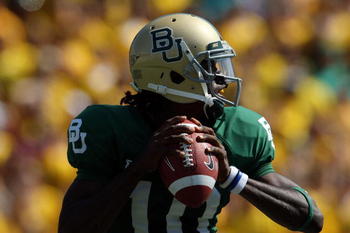 Robert Griffin was a beast in 2008. He made so much of an impression on the Big 12 that year that some were predicting that Baylor might actually have a legitimate shot at going bowling in 2009—something they had not done since 1994.
Any hopes of that were dashed when Griffin went down in the third game of the season with an isolated tear in the ACL of his right knee. The injury was initially downplayed as minor and Griffin even expressed thoughts that he would be fine the following week.
The opposite turned out to be true and the Baylor Bears struggled the rest of the way, winning only two games, as the promise of a bowl season was dashed yet again.
As 2010 beckons, the prognosis for Griffin looks promising. Still, though, the training staff is being cautious with its star and not allowing him to participate in any contact drills while he continues to get stronger.
The main question for Griffin will be how effective he will be as a ball carrier. The arm rust should shed with more reps but a good portion of his game is in his mobility. If he doesn't have the confidence to go full-speed, he won't be nearly as big of a threat as he has been in the past.
I see him taking a step back in 2010 as a runner as he focuses more on passing the ball. He will gain more confidence as the season progresses but expect him to play a bit more tentatively in the early-going in order to protect himself.
2010 Prediction: Still A Difference Maker But Less Dynamic
QB—Terrelle Pryor, Ohio State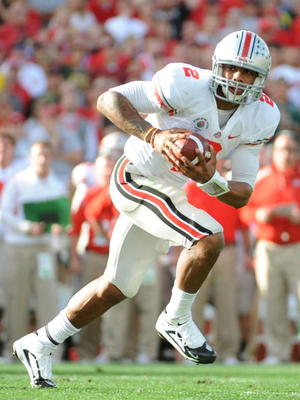 Pryor made significant strides throughout the season and his growth as a quarterback seemed to culminate in the Buckeye's Rose Bowl win over the Oregon Ducks.
So, the news of Pryor's knee surgery a few days back had to make the collective hearts of the Columbus faithful skip a couple beats.
Have no fear; however, the surgery was minor and Pryor is expected to return to full-speed before the start of spring drills on Apr. 1.
If Pryor takes his rehab seriously, which there is no reason to believe that he wouldn't, then he should heal without any lasting impact to his overall game—making him a good bet to be even better in 2010.
2010 Prediction: Better Than Ever
LB—Dont'a Hightower, Alabama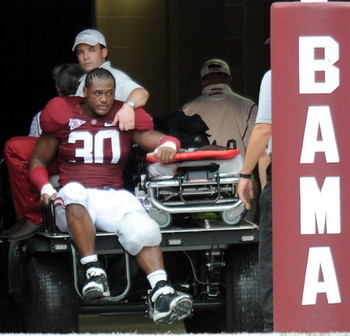 Hightower was the Tide's freshman sensation at linebacker in 2008—earning All-American honors for the season. His stock was clearly on the rise as he entered his sophomore season in 2009.
The year started out well for the young phenom but ended prematurely after he tore his ACL, MCL, and Meniscus in a game against the Razorbacks.
The injury was serious and the prognosis for recovery was a daunting one as Hightower faced a long, strenuous, rehab, as well as the arduous task of getting back into football shape once he completely healed.
Nearly six-months removed from his injury, Hightower appears to be on-track for a full-return next season. His presence will be a welcome one as the Tide lost their star linebacker, Rolando McClain, to the NFL.
Dont'a will be counted on not only as a player but as a leader—even still, he will need to be aware of both Nico Johnson and Courtney Upshaw if he's not at full-strength. Both players did a nice job in his absence and will only be better come spring with reps and experience under their belt.
Expect to see Hightower ease his way back into the game as his timing and instincts return gradually. He should be a force again with time but will need to get accustomed to playing on his newly-reconstructed knee before he is the player that 2008 promised him to be.
2010 Prediction: Slow Progression But Still Solid
QB—Matt Barkley, USC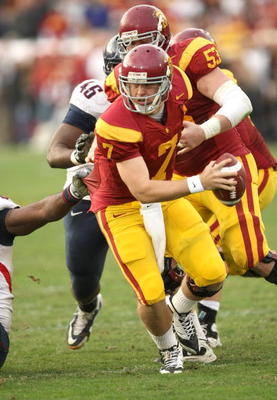 Barkley had "minor" wrist surgery after the season and is expected to be fine by spring. He is the projected starter for the Trojans in 2010—barring any unforeseen setbacks.
Here's the thing, where a quarterback is concerned, there is nothing "minor" about having surgery—particularly when that surgery has anything to do with correcting or improving the velocity/trajectory of your release.
Barkley showed a lot of moxie last season by leading the Trojans into Columbus and securing the victory for his team. However, he also paid for the win with his body as the injury he sustained in that game was the very one that he had to have corrected later.
There is little margin for error in Barkley's case as Mitch Mustain is likely itching to supplant him at first opportunity—he will have to be ready and able to stake his claim to the starter's job if he expects his success to continue.
Can he do that? I say he can. Barkley is nothing if not resilient and he very well knows the importance of coming back with a vengeance—expect him to shine brighter in 2010.
2010 Prediction: Better Than Ever
WR—Andre Debose, Florida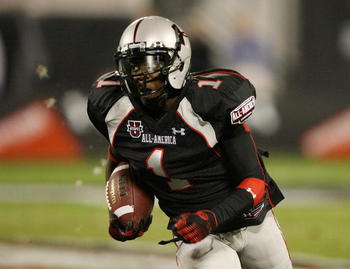 Andre Debose was supposed to be the guy to make the sting of losing Percy Harvin for the 2009 season go away. He was supposed to be the dynamic, do-everything player, that the Gators needed to sustain their reign as BCS champions.
It was not meant to be as Debose struggled with a lingering hamstring injury that, eventually, required surgery.
At present time, the redshirt phenom is expected to return in time for spring practice. A debut that couldn't come at a better time now that both Aaron Hernandez and Riley Cooper have bid adieu.
The Gators will always have talent on the depth chart at wide receiver but look for Debose to get the first-nod at the starting job as he has been there the longest and is the most familiar with the offense.
How he will recover is anybody's guess. Hamstring injuries seem to crop up at any given moment and the fact that Andre has had this issue so frequently does not bode well for his future. We will just have to wait and see how much it affects his approach over time.
2010 Predicition: Good, Not Great
QB—Christian Ponder, Florida State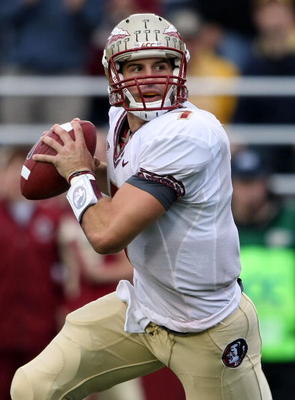 You could never accuse Ponder of not being tough. The senior quarterback of the 2009 Seminoles lost the remainder of his impressive season when he took off to deliver a hit to Clemson DB, DeAndre McDaniel.
Instead of knocking his intercepted ball loose from him, however, he ended up with a separated shoulder—effectively ending his otherwise impressive season.
Ponder is expected to make a full and on-time recovery and is the likely starter in 2010 for new head coach, Jimbo Fisher. Expect to see a more determined and more disciplined Ponder on the field as he makes a silent move towards ACC legitimacy.
He will have some new targets to throw to and a more diverse offense to work within as Fisher has some new tricks up his sleeve. Ponder could well be a serious sleeper candidate for the Heisman next year.
2010 Prediction: Better Than Ever
LT—Trinton Sturdivant, Georgia
2007 was the last time that Georgia Bulldog fans saw Trinton Sturdivant play any significant football. It was his freshman year and what he accomplished on the field in that season offered a ton of promise for 2008.
2008 saw him tear his ACL before the first game of the year and, as a result, he missed all of 2008.
Enter 2009, and, second verse,same as the first. Sturdivant again tears his ACL—again in the left knee—and the Georgia Bulldog faithful begin to wonder if they will ever see him play significant football again.
As with 2009, the 2010 season gives hope that he can recover and be a solid contributor on the offensive line. His presence would bolster the passing game which, for the second season in a row, will see an inexperienced signal-caller standing under center.
The biggest hurdle for Trinton will be his confidence. Can he mentally rebound from two ACL injuries, to the same knee, in back-to-back seasons? The prognosis does not look as good as it did at the start of 2009 but, physically, he has been given the go-ahead for 2010 and it is hoped that he will be able to find his way back to being the dominant force that he was in 2007.
2010 Prediction: Verdict Is Still Out
Keep Reading