Top 5 (Mostly Non-Football) Reasons Texas Is A Bad Fit For Big Ten Expansion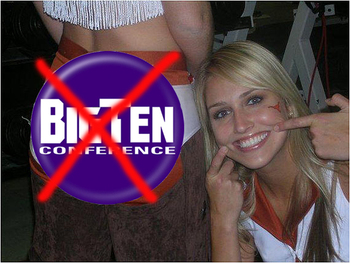 To be honest, I can't believe I'm even writing this article.
Where does the Big Ten get off? Texas? Of all the fish in the expansion pond, the Big Ten goes for the most difficult catch?
As far as I'm concerned, the second the Lawrence Journal-World & News reported last week that the Big Ten was making "overtures" toward the University of Texas, this story became a dead issue. And others seem to agree.
A high-ranking Texas official told the Austin American-Statesman last Friday that a Texas move to the Big Ten "ain't going to happen."
There's myriad reasons why the Longhorns would (or, should I say "will") spurn the Big Ten's invitation, some of which have absolutely nothing to do with football—as you'll soon see.
And, if you're a fan of the conference who's clinging to the prospect of Texas actually becoming that elusive 12th member, take your seat somewhere in the depths of hell while you wait for it to freeze over and for monkeys to come spiraling out of Satan's ass.
On, we go...
5. The Football Reasons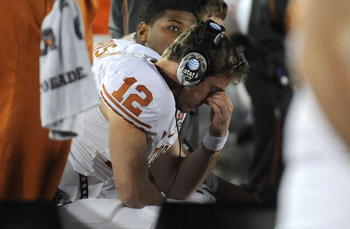 Depending on who you ask, you'll hear a set of wide-ranging reasons why Texas should turn a cold shoulder toward the Big Ten's advances.
But no matter who you ask, one of those top reasons will in some way, shape, or form involve the Texas football program.
A departure to the Big Ten may make sense academically. If you broke down the numbers thoroughly enough, it may even make sense financially. But when you consider those components that ultimately make up a successful program, it becomes clear Texas is best left where it's at.
The following three slides will attempt to illustrate some of those components.
Photo credit: Getty Images
5(c). Recruiting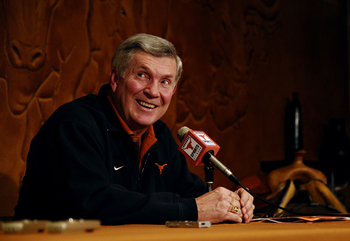 As far as the meat and potatoes of this story go, Texas has every reason in the world to give the Big Ten a big thumbs-down.
Any college football fan knows that the end-all, be-all key to sustaining a successful program is effective recruiting.
If the Longhorns defect, what sort of message will that send to the members of the country's largest pool of Division I talent?
Nobody recruits like Texas, especially within state borders, but a move to a different conference may force high school players to at least take a second look at other schools when being a Longhorn means traveling some 1,000 miles or so to play a road game in Pennsylvania or Michigan.
As things are now, Texas has it made. The Longhorns, arguably the preeminent football program in the nation, are afforded the luxury of hand-picking recruits.
Kids are big on giving their families the ability to watch them play, and Texas, as a member of the Big 12, plays nearly three-fourths of its divisional games within the state.
However, what happens if that convenience factor is taken away? Do recruits all of a sudden change allegiance to a Texas Tech, Texas A&M, or Baylor so parents and siblings aren't stuck with a trek half-way across the country several times each fall?
And what of recruiting efforts elsewhere for Texas? The Longhorns typically top recruiting rankings each year because of what they obtain from their home state, as well as areas in states like Oklahoma and regions in the Southeast.
To compensate for whatever losses Texas may incur in terms of in-state recruiting, would the Longhorn brand prove powerful enough to land players in traditional Big Ten states?
Photo credit: The Daily Texan
5(b). Rivalries Lost (Any Gained?)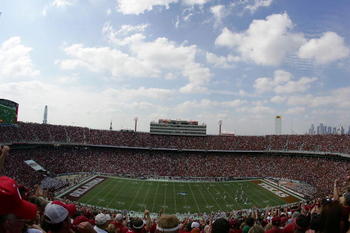 Less tangible than dollars and cents is the loss of the many rivalries that dot Texas' football schedule each season.
If the Longhorns were to bolt for the Big Ten, you can say goodbye to the Red River Rivalry, which is arguably the best college football game every year. And you can forget about Texas' annual battles with in-state rivals Texas A&M, Texas Tech, and Baylor.
Because the denser schedule allows for more flexibility, it's likely UT could salvage many, if not all, of its rivalries when it came to the hardwood. But in football? Forget it.
If they tried, the Longhorns may be able to talk OU into upholding the annual showdown, but the early-October onset of conference play would surely put a tight squeeze on the prospects of fitting the Aggies, Red Raiders, or Bears into the schedule each season.
Plus, what team would forgo playing an FCS cupcake in September in favor of an upper-tier team from the Big 12, especially when one loss is all it takes nowadays to end any hopes of a national title?
With that being said, as a member of the Big Ten, what school(s) would Texas seek out as a natural rival?
Geography aside, which is a major factor to begin with, it wouldn't look promising.
According to my count on Texas' main athletics Web site, since the birth of the football program in 1893, the Longhorns have played only 19 games against teams currently from the Big Ten, including nine against the big three of Michigan, Ohio State, and Penn State.
Granted, yearly battles between the Longhorns and any one of the programs from that trio would be interesting, but how long would it take to reach the status of a rivalry, where a delicate balance of mutual hatred and respect is required between both sides?
5(a). Money, Money, Money
Let's face it: The Big Ten insists its reasons for expansion involve more than just football—and, thus, money—but we're not stupid.
Adding a school like Texas, though it is one of the few Big 12 schools that boast membership in the prestigious Association of American Universities, doesn't exactly do much for the Big Ten's reputation for academic excellence.
No, Big Ten officials want the 'Horns for their football—nothing more, nothing less. You could certainly make an argument several other sports including hoops, but as is the case at any other school, football is king in Austin.
Unlike a Missouri or an Iowa State, who each could be easily wooed to join the Big Ten because of the conference's significantly higher revenue pool, Texas doesn't need the money. In fact, if the Longhorns were to join the Big Ten, it's likely the athletic department wouldn't see much of a benefit, if at all.
According to a report in Forbes released late last year, Texas' football team is the most valuable team in all of college athletics, worth a reported $119 million.
All said and done, because of that astronomical worth, which is calculated based on dividend dollars, the Longhorn football program turned a profit of $59 million, in excess of $10 million more than second-place Notre Dame.
Realistically, when you're already on top, how much farther can you push it? Especially when a majority of your revenue comes from two sources that will likely remain unaffected by a switch in conferences: ticket sales and alumni donations.
The main selling point for any expansion candidate is the Big Ten's considerable revenue numbers, which are primarily driven by the conference's television network and shared equally among the member schools.
Yes, Texas, with its enormous fan base, would give the Big Ten more reach and open up new and exciting revenue streams, and the television benefits alone would be astronomical.
But in the case of Texas, which has the clout to step in and immediately be the conference's top dog, do the Longhorns really want to be obligated to share profits with a school like Northwestern or Indiana? Probably not.
As things stand now, Texas reaps what it sows in the Big 12's capitalistic revenue model, which requires teams to share only bowl payouts and portions of television profits.
As the conference's key member, Texas is televised more than any other school in the Big 12, and given the state of its two money programs—football and basketball—that will not change anytime soon.
And Texas is such a financial and athletic juggernaut that it has the capability to offset the inferiority of the Big 12's television contracts, which pale in comparison to those of the Big Ten and SEC.
Though likely to be completed later than sooner, if at all, talks concerning Texas creating its own television network have taken place. In late 2008, reports surfaced that the school was attempting to team up with several cable providers in an attempt to construct a network that would broadcast UT athletics 24 hours a day, seven days a week, becoming the first such network of its kind in college sports.
As of now, it seems those talks have settled somewhat, but the fact Texas is considering the unprecedented feat shows it doesn't need the television dollars of a conference like the Big Ten to get by.
4. The Steer Belongs In The Big 12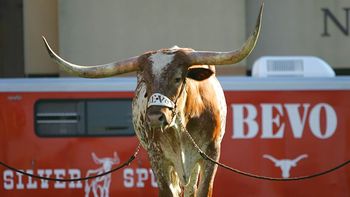 It could just be me, but for my own personal taste, a creature as rustic and as symbolic of the open plains of our nation's Heartland as a steer need not be tampered with.
With its majestic horns and laid-back demeanor, the steer should remain right where it's at. As the natural ring leader of his species, Bevo is one of the more recognizable mascots in all of college football, and he has become synonymous with the pageantry of Big 12 football.
Longhorns, Sooners, Cowboys, Red Raiders, Aggies: it all ties in. If Texas moves to the Big Ten, the theme is disturbed.
How unnatural would it be to group a bull with a wolverine, badger, or gopher, all of which are diminutive woodland creatures that wouldn't know what to do outside of the forests of the northern U.S.?
Same goes for the boilermaker, Hoosier, and Spartan—all fine men but totally inept when it comes to understanding the daily needs of a member of the cattle family.
And if I knew what a buckeye was, I'm sure I could come up with a reason it, too, wouldn't mesh well with Bevo and his bovine brethren.
Photo credit: ESPN.com
3. Texas Fans Aren't Used To Traveling Above The Mason-Dixon Line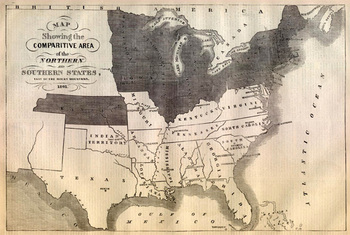 Please don't misconstrue this as an attack on Texas' loyal fan base; rather it is a rudimentary geography lesson to hopefully supplement my anti-Big Ten argument for Texas.
Formerly a member of the old Southwest Conference, which consisted of nine schools from the Lone Star state, Texas hasn't experienced much upheaval in terms of transportation within the Big 12.
Travel for Texas fans is often light. With the exception of the occasional non-conference road game or trip to play a North Division opponent, Longhorn faithful rarely have to trek any further than the neighboring state of Oklahoma, although I imagine getting from one side of Texas to the other can be a laborious chore.
The most radical journeys take place after the regular season has ended, when UT fans are forced to endure the harsh conditions of Pasadena or Miami for a BCS game in January.
Given this, you can imagine the outrage that would follow when fans all across Texas found out they would have to go to parts unknown to see their beloved Longhorns take on Big Ten opponents.
Using the provided map as a very, very, very crude model, you'll see that the states shaded in gray are nearly identical to those never visited by a single Texas fan for a football game.
Notice anything strange?
To achieve the same effect, start at the eastern-most edge of the Mason-Dixon Line—which demarcates borders between Pennsylvania, Delaware, West Virginia, and Maryland—and draw a straight line across the U.S. until you hit, say, the western edge of Iowa.
See it yet? Yep. Every one of those states to the North of that line is part of Big Ten country, a virtual wasteland of run-oriented offenses and cool temperatures that Longhorn fanatics prefer not tread.
Photo credit: sonofthesouth.net
2. No Big 12, No Matthew McConaughey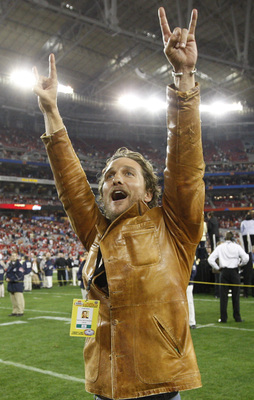 Yeah, I know I'm reaching, but I needed to interject some humor somewhere, and writer's block can be a real bitch to work with.
First off, I don't pretend to know McConaughey's level of commitment to his alma mater. All I know is that he is a fixture at high-profile bowl games, which leaves me suspicious as to whether he really gives a damn or actually uses the Longhorns' BCS appearances as a means to be photographed while being fully-clothed.
Whatever the case may be, whether he attends eight games a season or one, I highly doubt McConaughey, who was a Longhorn in the days of the Southwest Conference, would get behind a move as dramatic, bogus, and non-traditional as moving Texas to the Big Ten.
If there's any question regarding McConaughey's fandom, use the picture provided to find some answers.
For one, nothing screams "upstanding, down-home, wholesome Texas lifer" like bypassing the "cheap" seats at the 50 and then flashing the signature "Hook 'em, Horns" hand gesture while being snapped at field-level at the Fiesta Bowl.
Not only that, it speaks to Wooderson's character as a true Texan that he would agree to wear that five-pound mega-badge despite his lofty celebrity status.
(If you're 20 or older, you should've gotten my "Dazed and Confused" reference.)
Furthermore, what blue-collar, hard-working, red-blooded American male rooting for Texas would be caught dead at a college football game without his burnt-orange leather jacket and designer magnetic therapy arthritis bracelet.
A memo to all Texas school officials: This is no package deal. It's either the Big Ten or McConaughey.
Photo credit: celebrity-gossip.net
1. You Can't Teach An Old Coed Hottie New Tricks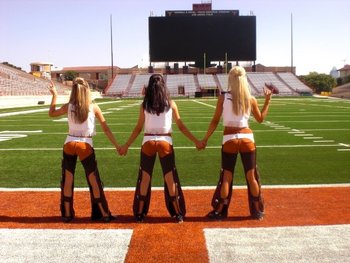 I usually don't find time in my articles to fit in the sort of content that would be relevant for the "Barely Sports" section of Bleacher Report, but in my final slide, I thought I'd defend the case of those who would be most affected by a marriage between the Big Ten and Texas.
Young ladies of Longhorn Nation, beware of the utter chaos a conference switch would cause in your lives as a female football fan.
If the Texas brass were to ever prove to be so dumb as to go along with the Big Ten, not only would your girlie gameday rituals get beat to a pulp, but the way in which you prove your Longhorn loyalty on a daily basis would suffer.
No longer will you be able to adorn your favorite tank top with rhinestones and glitter that spell out phrases like "OSU Cowboys Don't Have The Long Horn I Need" or "Oklahoma: Where Failure Happens 'Sooner' Than Later."
With the Longhorns in the Big Ten, you'll have to learn all new catchphrases, all new ways of female-to-female trash-talking, and innovative methods of adapting to new opponents while still keeping intact the mantra of "I'm a Texas gal, which means I don't take any smack from a school that runs a pro-style offense."
Also, what fun is it to have your UT stripper Halloween costume, complete with child-small Colt McCoy jersey, if none of your sorority sisters are able to find the Michigan equivalent as a playful rival?
And think about the poor girls who cheer on the team as a genuine extracurricular activity. The cheerleaders will have to evolve to handle the rigors of traveling to new cities. Plus, how well would those bottomless chaps go over on the visitors' sideline in a town like Columbus?
And guys, don't assume you won't be affected as well. Just when you think your sweetie has finally soaked in all of the gridiron knowledge you have spent the last few years imparting to her, here comes a whole wave of strange players, coaches, and teams that need an introduction.
Which also means she's liable to find three or four more quarterbacks she thinks are better looking than you.
And, finally, there's the small matter of explaining why Big Ten schools only throw the ball 20 times a game.
Photo credit: doubleextrapoint.com
Keep Reading

Texas Longhorns Football: Like this team?