SEC Power Rankings: The Top 12 Running Backs for 2010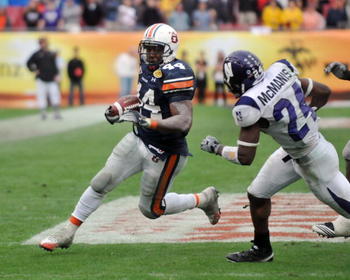 At the end of the 2009 college football season, SEC fans waved goodbye to an extremely talented group of running backs.
Auburn's Ben Tate, Mississippi's Dexter McCluster, Mississippi State's Anthony Dixon, and Tennessee's Montario Hardesty all put a nice finishing touch on their careers by each rushing for more than 1,100 yards in their senior season.
Those four added to a ridiculously deep and talented running back corps in the SEC. The amazing thing is that the guy who won the Heisman has at least one more season to go for an SEC school.
SEC running backs in 2010 will be a young, but incredibly talented, lot.
Among those is a Heisman winner, a former Rivals No. 1 overall recruit, this year's No. 11 and No. 19 overall prospects, and four of the SEC top rushers from '09.
Here's how they rank:
No. 1—Mark Ingram, Alabama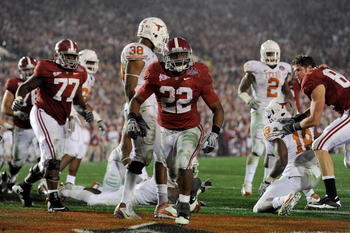 First thought here would be: Duh!
He ran all over Florida in the SEC Championship Game, won the Heisman, and was the MVP of the BCS National Title game.
He did all of that as a sophomore, just one season removed from his Freshman All-SEC running back selection.
Alabama will be ranked No. 1 in the preseason and Mark Ingram will probably be a favorite for the Heisman again midway through the season.
My, how the rich get richer.
No. 2—Trent Richardson, Alabama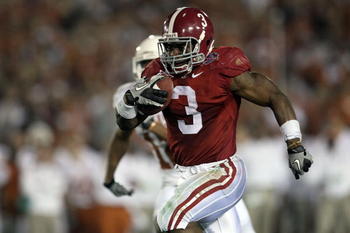 Speaking of riches, or rather, the embarrassment of said riches.
Trent Richardson was just a freshman in 2009—a freshman who backed up the Heisman winner with 751 yards on just 145 attempts.
Seemingly every time this kid touched the ball something big happened.
His 109 yards in the BCS National Title game included a 49-yard back-breaking touchdown run. (Highlight included below)
That's just one example of what this kid can do with the ball in his arms.
Expect even bigger things in 2010.
No. 3—Derrick Locke, Kentucky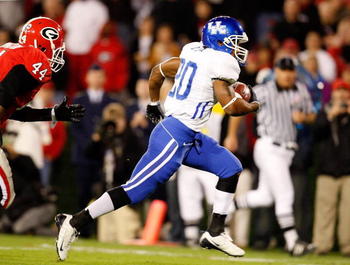 Locke is one of the most underrated backs in the SEC. Blame that on the program he plays for. Well, not necessarily on that program, but on the media's lack of coverage of that program.
Kentucky has silently built a nice program behind Rich Brooks over the past half-decade and Locke has been around for much of the most successful stretch of Kentucky football since Bear Bryant coached the Wildcats.
Amassing 907 yards rushing in his junior year, one season removed from a wicked torn ACL and MCL, Locke proved that he belongs in the SEC's upper echelon of running backs.
With Kentucky's best shot at finishing second or better in the SEC East in 2010, Locke will certainly be counted on early and often.
No. 4—Washaun Ealey, Georgia
Perhaps best known as "the dude who had his eye gouged by Florida's Brandon Spikes", Washaun Ealey had a very quiet, yet successful, season for the Georgia Bulldogs.
As a true freshman in '09, Ealey did not play a single down in the season's first four games, yet he finished the season with 717 yards rushing on 125 attempts.
Georgia's "next big thing" at running back was supposed to be Caleb King, but when injuries continued to plague the bruising back, Ealey stepped in and became the No. 1 option in the 'Dawgs backfield.
King will contribute plenty in 2010, but he will be utilized mostly as a change-up to Ealey.
With a freshman signal-caller in 2010, Georgia will likely rely on Ealey for the bulk of the offense.
No. 5—Jeff Demps, Florida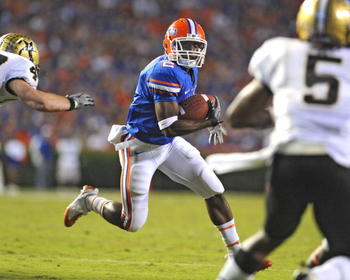 Demps is another high-electricity, long-ball threat. His numbers have not been overwhelmingly great because he's taken a back seat since some kid named Tebow did most of the rushing.
Also cutting into Demps carries have been Chris Rainey and Emmanuel Moody.
But 2010 will prove to be Demps' breakout season, in my humble opinion.
As far as pure talent and speed, there might not be a better back in the conference.
His 745 yards on 99 carries in '09 led all Gator RBs.
With a Tebow-less offense and a greater reliability on traditional running/passing, Demps is a sure bet for 1,200 yards in 2010 despite his nasty broken forearm injury in the Sugar Bowl.
No. 6—Onterio McCalebb, Auburn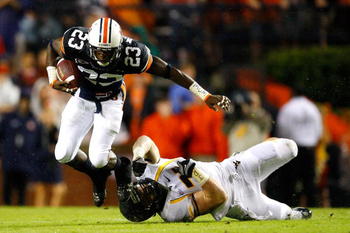 This guy could be the wild card of the whole bunch.
McCalebb spent '09 as the yin to Ben Tate's yang.
The freshman showed glimpses of greatness in more than one game for the Tigers.
He rushed for 565 yards despite backing up one of the top running backs in the conference. It's hard to imagine what the kid will do if he's given the majority of the running plays in 2010.
He will have some competition.
Auburn signed one of the top running backs in the nation in Michael Dyer. Dyer is expected to compete for a spot right away.
But in Gus Malzahn's offense, there should be plenty of room for both.
No. 7—Warren Norman, Vanderbilt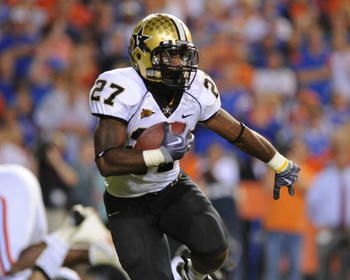 I know what you are thinking.
"How in the world (or any random expletive) can this guy rank a Vanderbilt running back in the top seven SEC RB's!?!"
Don't think I didn't ask myself the very same question.
The bottom line, however, is that this Vanderbilt RB was one of the SEC's top rushers in '09 despite playing for the worst team in the conference.
Norman is expected to do even bigger things as a sophomore in 2010. His speed and agility make this Commodore an easy selection as one of the top RBs in the conference.
No. 8—Broderick Green, Arkansas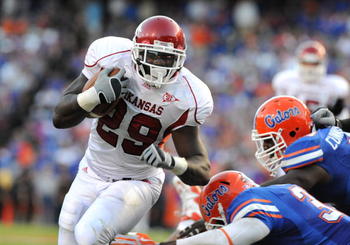 The USC transfer Green steadily and silently built a solid foundation during his first season for the Hogs.
Green is huge compared to the top seven on this list. At 6'2", 248 lbs, the bruiser is set to make Arkansas the chic pick to sneak up on Alabama and take the SEC West in 2010 (QB Ryan Mallett greatly helps that cause as well).
In 104 attempts in '09, Green had 442 yards.
The junior will most likely split some of his carries with sophomore Knile Davis, but Green will definitely be the workhorse of this group.
No. 9—Brandon Bolden, Ole Miss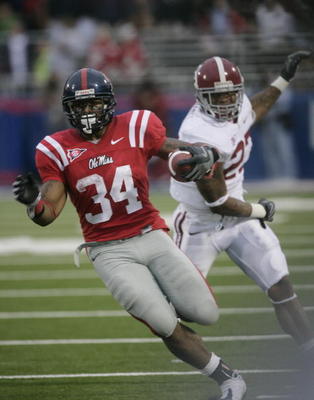 You probably didn't hear much about this guy in '09. There was a reason for that: Dexter McCluster.
In 2010, Bolden will take up much of the burden in the Rebels backfield.
His 220-pound frame was the perfect complement to the lightning-quick McCluster. Bolden racked up 614 yards in '09.
Rebels fans will tell you that his potential is enormous, and they would be correct in that evaluation.
If he realizes even half of that potential in 2010, Bolden will shoot up this list as quickly as McCluster will shoot up NFL draft boards in April.
*Unfortunately there were no highlight films of Bolden available at this time.
No. 10—Marcus Lattimore, South Carolina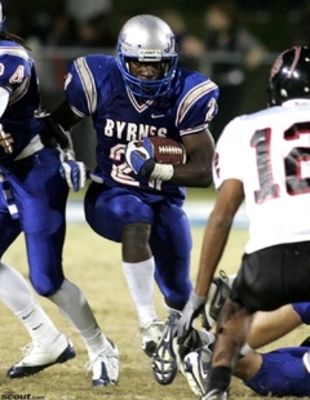 This one might be the most controversial of my picks. That is a sentiment I can certainly understand, as Lattimore hasn't even graduated high school yet.
One of the most decorated running backs in recent South Carolina high school history, Lattimore chose his home-state school over Auburn in a "pick-the-hat-press-conference" that rivaled a team accepting a championship trophy at the 50-yard-line.
At 6'0", 207 lbs, Lattimore's combination of size and speed make him the prototypical do-everything back. Not only can he run the ball with authority, he is also considered a top threat to sneak out of the backfield and reel in a big pass or two at times.
With last year's running back du jour, Jarvis Giles, in the doghouse after a discipline problem and some nagging injuries, Lattimore could step right in and become all the rage in the SEC.
With the hype surrounding Steve Spurrier's best team in Columbia, Lattimore's coming out party could be national news come November.
No. 11—Bryce Brown, Tennessee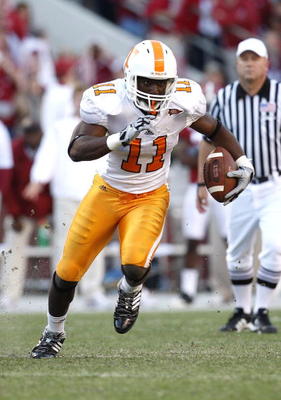 No. 11 Tennessee's Bryce Brown was the No. 1 overall recruit in '09. He ended up spending much of his freshman season watching Montario Hardesty rack up his best season as a Vol.
With Hardesty graduating, the time for Brown to shine is right now. A big spring for the highly-touted running back will go a long way to ensuring his chances to break the top 10 in 2010.
There were rumors of a possible transfer in the works for Brown with Lane Kiffin's sudden departure last month, but those rumors have proven to be unfounded, or at the least squashed by those "in the know" around the program.
If those rumors prove true, just replace Brown with fellow sophomore David Oku at this slot.
No. 12—Chris Rainey, Florida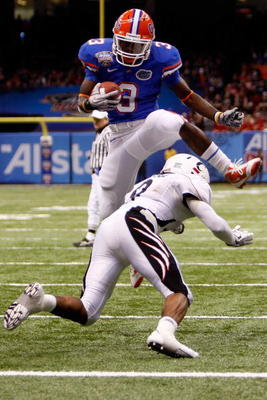 Jeff Demps will be the primary back in Gainesville, but do not think for one minute that precludes Chris Rainey from the discussion.
Rainey rushed for 575 yards in '09 and is another of those dual-threat guys that can make opposing defensive coordinators chew through an entire pack of Rolaids during a film session.
The smallish back will be counted on as part of a three-headed monster of a backfield for Florida in 2010.
Trying to Crack the Top 12
The LSU tandem of Richard Murphy and Stevan Ridley will fight for a spot this spring. Murphy missed most of '09 with an injury. Ridley was a fullback until senior Charles Scott went down with a season ending injury.
Now that Scott and Keiland Williams have graduated, the Tigers will count heavily on the largely unproven duo of Murphy and Ridley.
Mississippi State will count on junior Robert Elliott now that Anthony Dixon is gone. His 62 yards on seven carries versus Arkansas stand as his signature moment in two seasons at Starkville.
Caleb King could crack the top 12 if he provides a consistent, injury-free force for Georgia in 2010.
David Oku, Tauren Poole, and Toney Williams will push Bryce Brown to be his best at Tennessee. Expect Oku to split major minutes with Brown and possibly land here as well.
Keep Reading

Alabama Crimson Tide Football: Like this team?