2010 Boston Red Sox Preview: Will This Be Clay Buchholz' Breakout Season?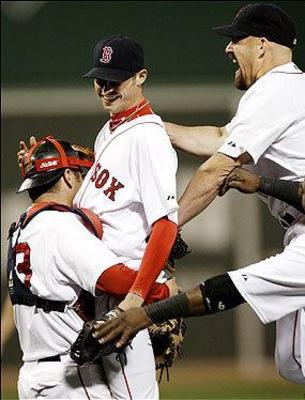 Many baseball observers believe that hitters most often have their breakout season at 27 years-of-age while pitchers have their breakout season at 26 years-of-age. Clay Buchholz will turn 26 years old on August 14, 2010.
As we enter a new season, an old question persists: will this be the year Buchholz establishes himself as one of the best pitchers in the game?
A Low-Mid-90s Fastball And A 68-MPH Changeup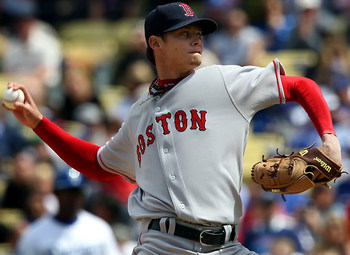 In my opinion, there's no doubt the young right-hander from Nederland, TX, has the tools to be one of the best pitchers in the game, but there is a lot more to pitching in the big leagues than just physical ability. He has struggled while learning how to pitch and how to execute what he's learned.
When I interviewed him in the summer of 2007, he said the ballclub was working with him to become a pitcher, as opposed to a thrower. His physical abilities had always been head and shoulders above the competition and, as a result, he had never experienced failure. The Sox knew that talent alone would not lead to success in the big leagues. The challenge was to learn how to translate the talent into on-field performance.
Consistently Inconsistent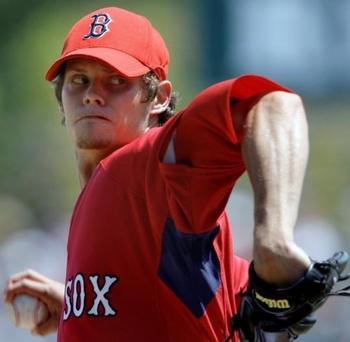 The learning curve has been steep. Buchholz has had trouble repeating his mechanics on a consistent basis, which has led to consistently inconsistent pitch location, which has led to a consistent crisis of confidence. There are indicators that he may finally be on the verge of a breakout season, but there are other indicators that he may not be there quite yet.
The only thing that has been consistent thus far in his career has been his consistent inconsistency.
Learning To Pitch To Contact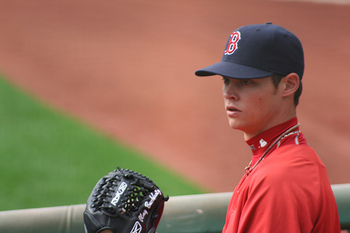 Even the aforementioned indicators provide us with an inconsistent sense of what the future holds for the mercurial right-hander. On one hand, his strikeout rate has declined each year, from 10.2 K/9 in 2007 to 6.8 K/9 last season. His walk rate increased significantly between 2007 to 2008, but was much-improved last year, especially in September and October (when he walked only nine batters in his last 37 2/3 innings pitched). He walked only one batter in his start in the ALDS (5 IP).
Some pundits would argue that the decreased strikeout rate is a harbinger of bad tidings. But while he pitched more to contact last year, he converted the majority of those lost strikeouts (and a bunch of line drives and fly balls) into ground balls. His ground ball ratio increased from 38% in 2007, to 48% in 2008, to 54% in 2009. So while more opposing batters are putting the ball in play against him, they'll do it on the ground… and that tends to be a good thing.
A Change In His Arm Slot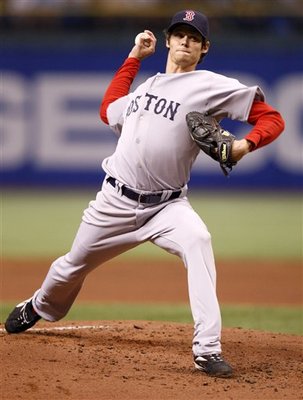 The decrease in his strikeouts and increase in his ground ball rate is owing to a change in his arm slot, which was purposely moved lower to reduce the strain on his shoulder. As a result of the change, he has lost a little velocity but gained quite a bit in terms of movement on his pitches. Fewer strikeouts. More ground balls. But he has struggled to be consistent with the new slotting.
More than any other Red Sox starter, it's likely Buchholz will benefit from the new and improved infield defense that has been assembled [no other Sox starter compiled a ground ball rate of more than 47% last season (Beckett)].
First And Subsequent Failures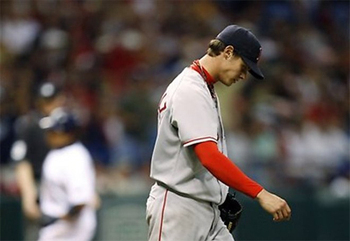 By the time I interviewed him again late last summer, Clay had finally experienced his first failure, and subsequent failures. Throughout 2008 he experienced failure again and again. He lost himself. He told me: "There were times (in 2008) when I didn't think my fastball was good enough to get hitters out (so I stopped pitching off my fastball). I went to the changeup, and if that wasn't working I went to the curve ball. (It) was terrible, but I learned an awful lot from it. I learned a lot about going through adversity and how to deal with it. I learned not to get too high or too low."
Pitching Off His Fastball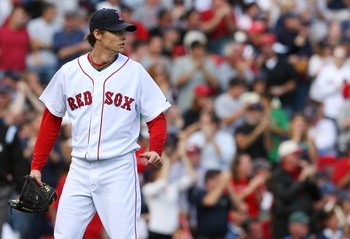 The 2010 Hardball Times Annual tells us a couple of things about his performance during the first two-plus years of his career:
1) The fastball has been his most effective pitch in terms of recording outs, followed by the slider, changeup, and curve ball
2) The majority of his pitches were fastballs in both 2007 (52.9%) and 2009 (54.8%), but less than half of his pitches were fastballs when he struggled in 2008 (just 47.4%)
3) In 2009, he threw far fewer curve balls (his least effective pitch) and threw more fastballs and sliders (his two most effective pitches).
Left-Handed Hitters Hammer His Changeup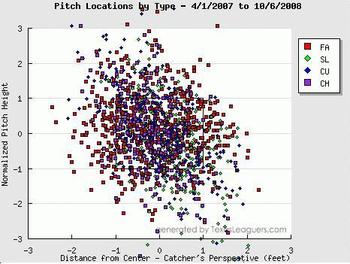 And then there is the matter of his struggles against left-hand hitters, which I believe can be traced to the inconsistency of the location of his changeup (see chart). It tails back over the middle of the plate, often ending up in the middle of the left-hander's hitting zone. In 2009, lefties hit .284 against him, with a .354 OBP.
Last year he told me: "I stopped going to the mound believing in my pitches and throwing each pitch with conviction and commanding the game… I started pitching defensively, to not let them score rather than to get batters out."
When he stopped believing in the fastball, he relied on the changeup. Hitters stooped looking for the fastball, and waited for him to leave one of those changeup over the middle of the plate. When they got it, they hammered it.
Finding His Stride
At some point last summer, the game seems to have slowed down for him. Everything seems to have started clicking. It may have been during his August 29th start against Toronto (8.1 IP, 3 H, 2 BB, 1 ER). From that point forward, he strung together six outstanding outings before finally faltering in his last two starts. Before his start in Game Three of the ALDS, Red Sox Nation worried about how those last couple of (brutal) starts would affect him. They didn't. He faced adversity and stared it down, he left the game with a 5-1 lead.
Of the ALDS start, pitching coach John Farrell says: "I think it helped him immensely. That game came close to getting away from him during the first couple of innings but he stemmed the tide. He kept the game in check and gave us an opportunity to win. I think he proved to himself that he could meet the hype and the build-up to a game, and then go out and execute as he had done for the two-and-a-half months prior to that."
Spring Training Will Be Critical To His Continued Development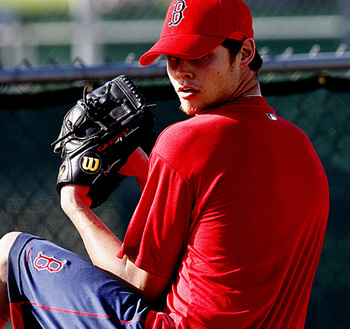 So, what does all of this mean? It means spring training will be critical. He'll be under pressure to be consistent with his arm slot and, consequently, to be consistent with pitch location, notably with the changeup. He'll be pressed to pitch off his fastball and to use his curve ball sparingly. The coaching staff will almost certainly harp on pitch sequencing - not just fastball, slider & change, but also in, out, up and down. Like every other pitcher in the game, he will be told to throw strikes.
At this point it will be about getting his work in and getting used to the new arm slot. Innings pitched. Muscle memory. Repetition. Consistency. Throwing strikes in good locations within the strike zone.
Which Projections To Use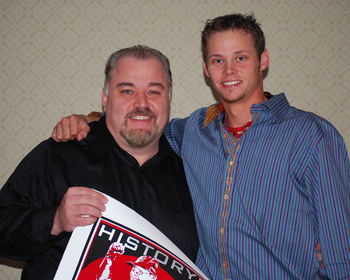 What kind of numbers will he put up in 2010? As I've mentioned previously in this series, I am not a devotee of the most widely-used projection systems: CHONE, Bill James and PECOTA. They all have problems. CHONE projections tend to be strong for hitters but weak for pitchers. The PECOTA system has the opposite problem — it is strong for pitchers, but weak for hitters. And while Bill James is well-known and an employee of the Red Sox, his annual projections are consistently overly-optimistic.
I prefer the work done by Ron Shandler (who is the godfather of 'fanalytics') and Mike Podhorzer (the new kid on the block).
Shandler's Baseball Forecaster is must-reading for any baseball fan, especially if he/she is a fantasy baseball aficionado. Shandler and his minions do great work. They can be found at BaseballHeadquarters.com.
Podhorzer's predictions at fantasypros911.com went 42-0 when compared head-to-head with other projection systems last year. Seriously, folks, if you don't know about fantasypros911.com, it's time that you take a look. Great stuff!
What The Projections Call For In 2010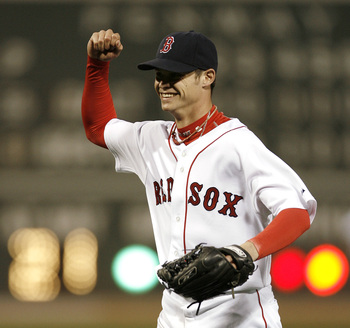 So what do these two systems project for Buchholz for the upcoming season?
Shandler: 13-9, 3.87 ERA, 1.34 WHIP… 181 IP, 153 K
Podhorzer: 13 wins, 3.71 ERA, 1.30 WHIP… 170 IP, 151 K
I'm comfortable with these numbers. I think it's quite possible he could end up with a couple more wins as he'll frequently pitch against the opposing #4 and #5 starters early in the season), so I'll say he is in a position to garner as many as 15 wins.
Keep Reading

Boston Red Sox: Like this team?