Outfits and Fun Facts: Olympic Pairs Figure Skating Overview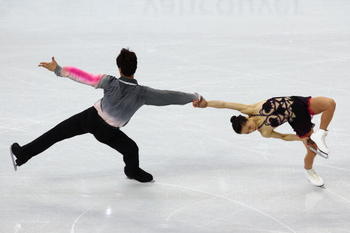 After an exciting Valentine's Day Pairs Short Program in Vancouver, China's Shen Xue and Zhao Hongbo take the lead followed closely by Germany's Savchenko and Szolkowy, and Russia's Kavaguti and Smirnov are trailing in third.
This slideshow includes scores from the program as well as some of the outfits the skaters wore and a few fun facts about a few of the skaters.
Shen and Zhao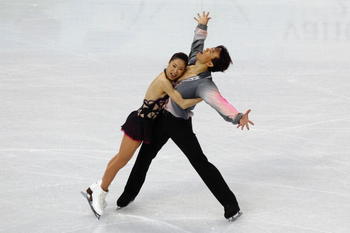 China's Shen and Zhao performed first in the pairs short program, which proved to work wonders for them because they remained in first place for the entire program. They nailed their triple twist and were graceful throughout the routine.
Score: 76.66
Outfit: Dark purple, black, a little bit of pink—boring
Fun Fact: Zhao ruptured his achilles tendon in 2005 and was out until the 2006 Winter Olympics but has not let this injury stop him.
Savchenko and Szolkowy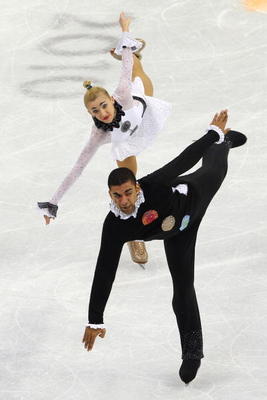 Germany's Savchenko and Szolkowy are currently in second place, and they completed a beautiful triple flip throw during their performance.
Score: 75.96
Outfit: Clown-like, very theatrical with teardrops on faces and heavy makeup—fun
Fun Fact: Savchenko suffered from a bad case of the flu in December/early January which made training more difficult for her.
Kavaguti and Smirnov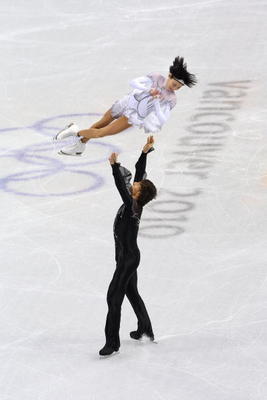 Russia's Kavaguti and Smirnov had a solid performance and both completed a lovely side by side triple toe loop.
Score: 74.16
Outfit: Black and white—not very exciting, did not catch my attention
Fun Fact: Kavaguti is from Japan, but she became a Russian citizen in 2009 in order to fulfill her dream of competing in the Olympics.
Dube and Davison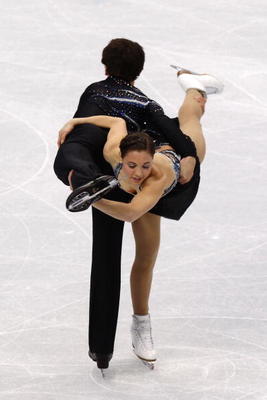 Canada's Dube and Davison started out with a shaky performace when Jessica Dube slipped during her first jump. Even though this jump was disastrous, Dube and Davison were able to finish with a great amount of poise.
Score: 65.36
Outfit: Black and white—Dube had stars on her outfit which were a nice touch
Fun Fact: In the past, Davison's blade caught Dube in the face and sliced her cheek which caused her to get 80 stitches and immediate plastic surgery that night. Davison felt so awful he did not want to compete any longer, but he was able to get back on his horse and compete again with Dube. Dube still looks beautiful despite this unfortunate accident.
Evora and Ladwig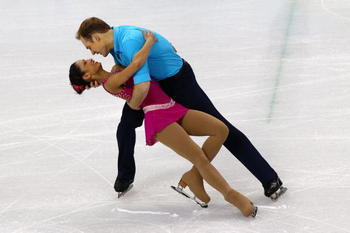 The United States' Evora and Ladwig performed the best they possibly could and gave it their all in this short program. They executed their side-by-side jumps beautifully and had pretty music.
Score: 57.86
Outfit: Fuchsia and bright blue, my favorite outfits out of everyone—Evora's outfit caught my eye and was gorgeous
Fun Fact: This is Evora and Ladwig's Olympic debut.
Denney and Barrett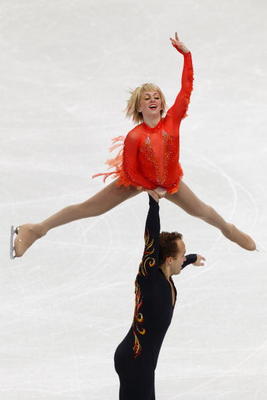 The United States' 2010 pairs champion Denney and Barrett have only been skating together for 18 months. In the beginning of their routine, Denney completed a double toe loop when it was supposed to be a triple which was costly, but they still managed to be in perfect unison during their spins.
Score: 53.26
Outfit: Black and red, caught my attention—Denney had red in her hair to match her outfit which was a clever addition.
Fun Fact: Barrett has a scar on his face because when he was a child his dog bit him in the face. His parents insisted on putting the dog down, but Barrett refused saying he loved the dog too much to let him go.
An Eventful Pairs Short Program Ends But Excitement Is Still To Come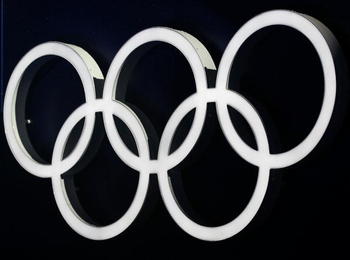 This was an extremely entertaining pairs short program. I am anxious to see if anyone will be able to surpass Shen and Zhao and take the lead for the quest for gold.
Keep Reading