Projecting the Most Successful New Jersey Devils at the Olympics
Today marks the last day the NHL will conduct any games until March 1, with the next two weeks or so dedicated to the 2010 Winter Olympic Games in Vancouver.
The Devils will have five participants on the world stage this time around: Martin Brodeur (Canada), Patrik Elias (Cz. Republic), Ilya Kovalchuk (Russia), Jamie Langenbrunner (USA), and Zach Parise (USA). With all five of these premier players on extremely talented teams, expect at least one to bring some gold back to Newark, and you can even expect a few others to bring back some silver or bronze as well. But which Devil will fare better off than the others?
5. Patrik Elias: Czech Republic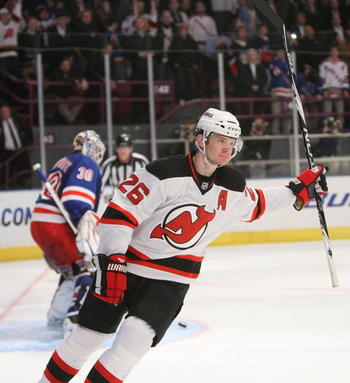 The Czech captain leads a very dangerous overlooked team into Vancouver. Elias is number five on this list not for a lack of talent, because we ALL know he has talent, but the talent that surrounds him is questionable, to put it nicely. The goaltending behind Vokoun is shaky at best, and while the offense is surely nothing to ignore if you're an opponent, every team at the Olympics will be able to score. It's going to come down to the goaltending that separates teams from coming home with medals and coming home empty handed, and the Czechs fall short in that category. Expect Elias to come back to Jersey with a bronze medal at best. Sorry, Patty. Still love ya.
4. Zach Parise: USA
Alternate captain Zach Parise is just one of the several young superstars that hope to lead the USA to Olympic hockey glory. Parise leads all US forwards with 28 goals on the 09-10 NHL season, so he will certainly be looked upon to score important goals when needed.
Parise is number four on this list because for as talented and as exciting as the USA team looks to be, they are just as inexperienced. Only Brian Rafalski and Chris Drury were on the Olympic squad in 2006, so this team has been completely revamped in hopes of reacquiring the gold that has escaped the USA's grasp since the miracle year of 1980.
Parise will have a major say in how the USA team does this time around. With more talented and experienced Olympic squads in Canada and Russia, the bronze medal will probably be within the reasonable reach of the American squad. Silver or even gold would need the same word associated with the 1980 team: miracle. Only not as drastic of a miracle as 30 years ago this time.
3. Jamie Langenbrunner: USA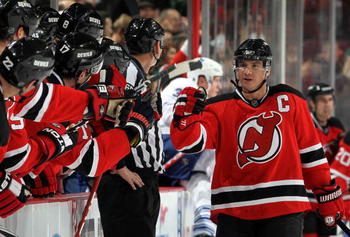 If the USA somehow manages to win a silver or gold medal, you can thank the captain. Wearing the "C" for the States, Langenbrunner recently told ESPN.com he is going into Vancouver "expecting to win the gold". That's certainly the right attitude, as it's very hard to win if you aren't expecting to. And that's why Langenbrunner is the captain of this hockey team. If he shows the same leadership he shows in New Jersey, America, you'll be in good hands.
But is it expecting too much? On paper, quite likely. But this is the reason they play the games. I, along with the rest of America, will be watching and hoping that the paper is wrong.
2. Ilya Kovalchuk: Russia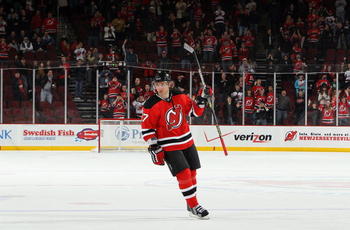 The newest Devil ranks number two on this list. Kovalchuk is just one of the many big-name forwards on the Russian team that includes Evgeni Malkin and Alexander Ovechkin, which seems to be a neck-and-neck favorite with the Canadian team to win the gold.
I ranked Kovalchuk number two on this list because I am a firm believer at the moment that Team Canada is ever so slightly better than Team Russia, and will overcome them in the final. I will not at all be surprised if Russia wins the gold, but I WILL be surprised if they don't win the silver. This Russian squad is a Top 2 team, however I think they are better fitted in the No. 2 slot as of now. But Kovalchuk coming back to "The Rock" with a silver medal around his neck is nothing to be ashamed of.
1. Martin Brodeur: Canada
The greatest goalie of all-time (if you go by those measly numbers called statistics) is my projected Devil to be the most successful at the Olympics. Brodeur is still an elite goalie, and he is surrounded by one damn elite team. They're carrying seven defensemen you could make a case are the best seven in the NHL right now, three goalies who are in the top-10 category, and every single one of their forwards is in the top-25 or 30 discussion.
There's been talk this Canada team might be the best Olympic team ever assembled. To not expect gold, or at the VERY least silver, out of this team is pure insanity. Out of all the Devils, Brodeur is the most likely to come home with gold around his neck and is almost a lock to come home with some kind of medal.
Keep Reading

New Jersey Devils: Like this team?