The Best Point Guards in America Not Named John Wall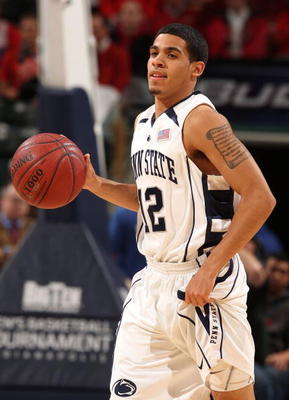 We all know about John Wall by now.

The Kentucky guard has grabbed all the headlines and ESPN highlights, and by now it is apparent to everybody that he will be the No. 1 pick in the NBA draft this year barring injury; but what about everyone else?
Beyond Wall, there are a dozen other guards out there who are just as talented but perhaps a little less developed or spoken about.
Today we'll explore all those diamonds whose shine has been obscured in a shadow cast by the Kentucky Wall.
Sherron Collins—Kansas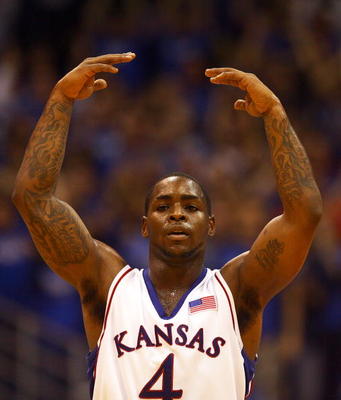 Perhaps the only other point guard people consider on the same plateau as John Wall is Kansas' Sherron Collins.
In his second year with Kansas, Collins helped the Jayhawks defeat Memphis in the National Title game 75-68 in 2008.
The following year, Collins averaged nearly 19 points and three assists and solidified himself in becoming one of college basketball's brightest stars.
This year, Collins has Kansas poised for their second national title in three years, as the Jayhawks are 24-1 and look to be the favorites as tournament time draws near.
Collins leads his team in points and assists this year with 15.6 and 4.3, respectively.
The Kansas guard has not always been the headliner, as he has nearly doubled his point production from his freshman year to now.
The only thing left for this point guard after school is the NBA Draft.
Kalin Lucas—Michigan State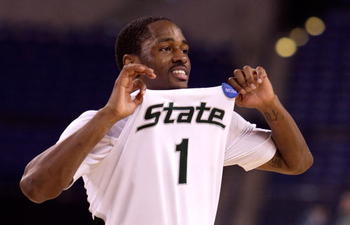 Last season, Kalin Lucas helped Michigan State shock the world by making the NCAA Championship. Although they couldn't deny UNC of a National Title, Lucas helped put himself and Michigan State on the map.
This season, Lucas has Michigan State in the position of the favorite rather than the underdog.
The Spartan guard is averaging 15.4 points and 3.8 assists per game. Lucas is also shooting .800 from the free throw line and has scored in double digits every game this season but one.
Devan Downey—South Carolina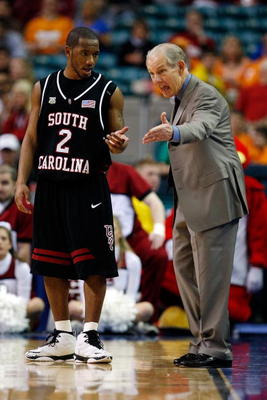 Point guards who can bring something other than court vision and scoring are a huge plus come draft day, and South Carolina's Devan Downey has that and more.
Downey is a special player who is ranked in the top five in the nation in both points per game and steals.
The senior guard is fourth in the country in points per game with 22.8 and has scored 30 points or more six times this season. His 182 field goals rank him 10th in the country and have him poised for a solid run at the NBA Draft.
Adding to his impressive resume, Downey is also second in the nation in steals per game with three, which equates to 69 overall on the season.
Talor Battle—Penn State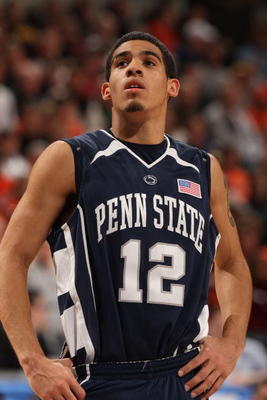 Coming off an improbable 2009 season that saw Penn State capture the NIT Championship, the Nittany Lions are having a dreadful year, full of disappointment and upsets.
Although Penn State may be struggling, junior point guard Talor Battle is once again making his case for All-Big Ten First Team.
In his third year, Battle is exploding on the offensive side of the court, averaging 19.5 points per game, including an amazing 30-point performance against Kalin Lucas and Michigan State.
Battle has already recorded four games of 30 or more points, and is averaging nearly four assists per game.
The one bright spot in Happy Valley is averaging a team-best 5.3 rebounds and 3.9 assists per game.
Demetri McCamey—Illinois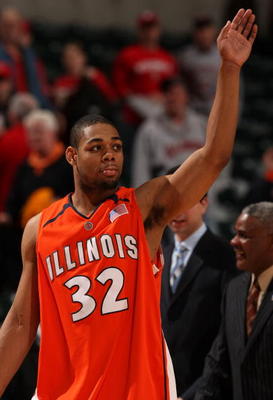 A major reason why Illinois is ranked among the top teams in the Big Ten Conference this year is veteran point guard Demetri McCamey.
The junior leads his team in points, averaging nearly 16 a game and is fifth in the country in assists per game with 6.4.
McCamey is coming off a 27-point seven assist performance against a stingy Wisconsin defense who was ranked 13 in the country before the loss to Illinois.
Jimmer Fredette—BYU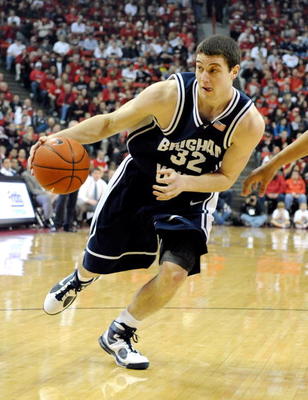 Perhaps the most unappreciated and unknown guard on the list, Jimmer Fredette is quietly becoming one of the nation's best players.
Although BYU may not play the highest quality of opponents, Fredette is averaging 20.9 points per game, and is shooting an amazing 89.8 percent from the free-throw line.
Fredette is also an outstanding three point shooter, and at 47.7 percent from beyond the arc, he ranks 19 in the country.
In his most impressive game this year, Fredette nearly dropped a triple double on Arizona, scoring 49 points, while grabbing seven rebounds and nine assists.
As the tournament approaches, remember guard play wins in March, and remember Fredette is one of the best around.
Jon Scheyer—Duke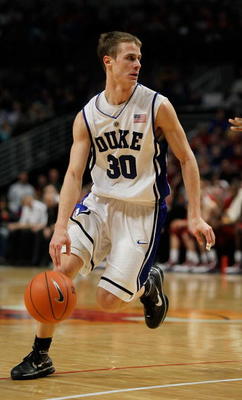 Duke's multi-talented guard has played both point and shooting guard this season, and although he has had trouble breaking down defenses, senior Jon Scheyer is averaging 5.4 assists per game.
The Duke star is also scoring a team best 19.2 points per game and has an uncanny ability to hit the three at any given time. Scheyer has knocked down 70 three-pointers this season, and he is shooting .412 from beyond the arc.
Whether he is more suited for point or shooting guard duty is still debatable, but the Duke star is definitely making his case for All-ACC First Team once again, regardless of position.
Trevon Hughes—Wisconsin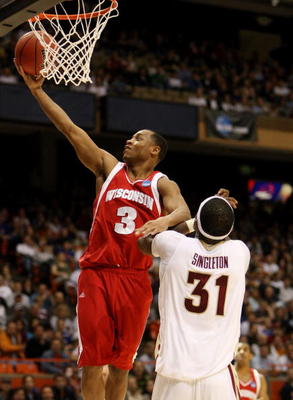 Another Big Ten point guard finds his way onto the list amongst the nation's top point guards, as Trevon Hughes continues to deliver for his Badgers.
The Queens native is a 6-foot guard who plays bigger than his size, averaging 4.7 rebounds per game. Hughes also leads his team in scoring with 15.4 points and 1.6 steals per game.
Jerome Randle—California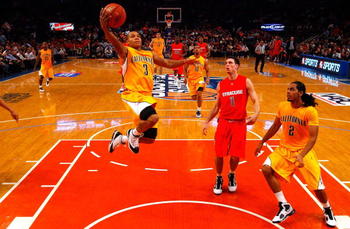 Out west there are a few point guards who are making some noise as well, and one of them is Jerome Randle.
Randle is ranked 26th in the country in three-pointers made with 72 and is shooting a whopping 91.9 percent at the free-throw line, ranking him fourth in the nation.
The California guard leads the Golden Bears in points and assists per game with 19.8 and 4.6, respectively.
In a game against Washington State earlier this year, Randle dropped 39 points and dished off nine times to help defeat the Cougars 93-88.
Nic Wise—Arizona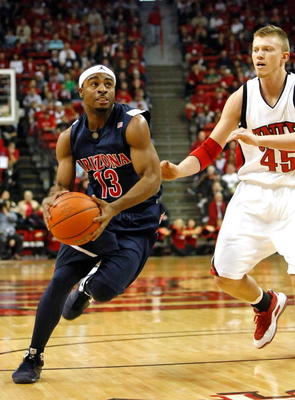 Not to be outdone, the other sheriff out west is Arizona's Nic Wise.
Wise, who is also shooting an outstanding 90.6 percent from the charity strip, bested Pac-10 counterpart Jerome Randle in a 76-72 victory.
Wise scored 30 points, doubling Randle's 15, and added three steals in the win.
The Wildcats guard is averaging 14.9 points per game and 3.4 assists.
Tweety Carter—Baylor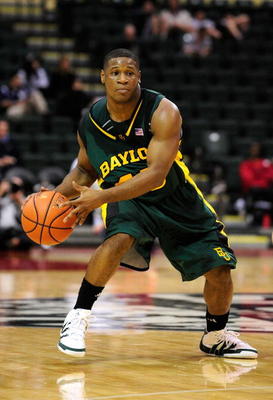 The man with a unique name and game is one of the nation's best point guards because of excellent court vision and uncanny ability to score.
Carter is averaging 16.1 points per game, and his 6.1 assists per game ties him for eighth in the country.
Although he missed the first four games this season, Carter has scored at-least 27 points four times since, and he has recorded two double-doubles, including an 18 point, 10 assist performance against Oklahoma.

Malcolm Delaney—Virginia Tech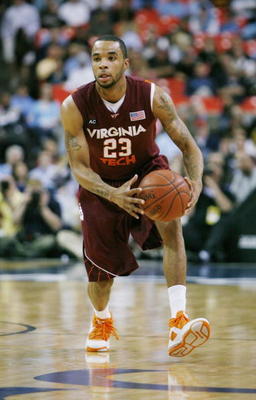 Malcolm Delaney is the guy who never seems to disappoint in the big games.
Averaging a team-best 19.7 points per game, Delaney scored 32 against Temple, dropped 21 on UNC, and recently had his way with the Clemson defense for 30.
Delaney is ranks 29th in the country in scoring and is the main reason why his Hokies are 20-4 overall.
Keep Reading

Kentucky Wildcats Basketball: Like this team?