Top 10 Tight Ends in 2010 NFL Draft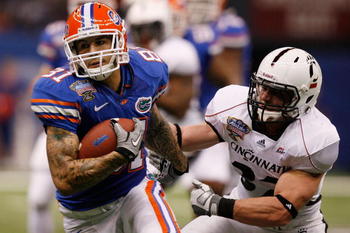 One of the deeper positions this year happens to be one of the more unsung in football. For some of the more successful NFL franchises, the tight end is an invaluable asset, and safety valve, for its quarterback.
Present-day quarterbacks like Peyton Manning, Tony Romo, Philip Rivers and even Brett Favre are just a few of the prominent players equipped with a big, reliable target capable of moving the chains or stretching the field.
Talented tight ends not only add an extra dimension for defensive coordinators to plan for, they might also help draw away extra coverage on any of their skill-position teammates.
The rankings within this list might surprise some people, or at least rile them up, but until a couple of these guys actually prove worthy of the praise showered upon them in other draft preview articles, here are the Top 10 Tight Ends in the 2010 NFL Draft:,
10. Tony Moeaki – Iowa (6-3, 255)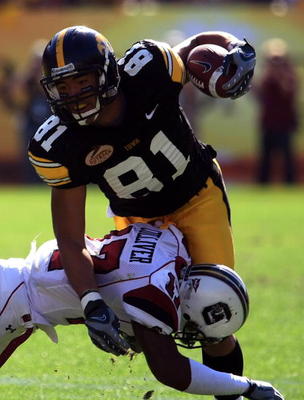 When you're bigger than most linebackers and you play tight end in a rough-and-tumble conference like the Big Ten, something has to give. In Moeaki's case it was usually whoever was in his path.
He's rated much higher than this across the majority of scouting reports. However, his seasonal average during four seasons in Iowa City was a paltry 11.5 receptions each year, with 14 catches standing out as his career-high.
So what's all this Moeaki-love about? For starters, he was snake bitten with major injuries. He also played for a very pedestrian-like offense requiring his contributions to come in the run-blocking game rather than the stat sheet.
Even Big Ten coaches seem to be enamored with his game as they voted the Tongan-descendant Mormon to the All-Big Ten First Team.
Round: Late 5th / Early 6th
(Note: You won't find Moeaki projected near this late in most mock drafts. Call me a skeptic but until a player can demonstrate anything about his game that's not average [size, production, speed, etc.], I'm holding tight on his projection as a special teams player and career backup.)
9. Nate Byham – Pittsburgh (6-4, 267)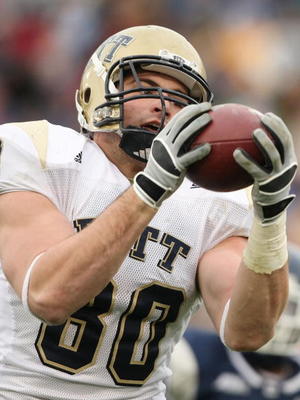 It wasn't long ago Byham was mentioned in the same sentence along with the top tight ends in college football.
For whatever reason, Coach Dave Wannstedt decided to turn him into the primary blocking tight end while using the 6-1, 220 pound fullback, Dorin Dickerson, as the main receiving target.
Even though Byham made multiple lists as a potential candidate for the Mackey Award, he accepted his new role in stride, according to team reports.
Not once did he bitch about his unglamorous assignment in the trenches and shadows of the spotlight which then shined brightly on his teammate after Dickerson grabbed 10 touchdowns this year, most of those originally slated to go Nate's way.
A two time All Big East First-Team honoree, Byham is a very strong and reliable receiver who excels in the blocking game. Reviewing his body of work and watching highlights its obvious Byham is an old-school player just waiting for his chance to prove he originally deserved the hype.
Round: Late 4th
8. Colin Peek – Alabama (6-6, 250)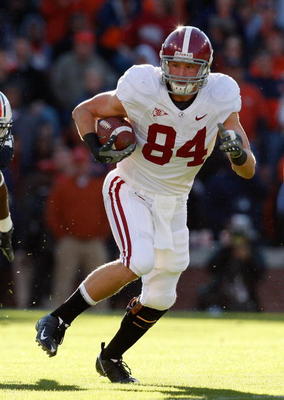 Paul Johnson's gain as new coach of the Georgia Tech program was Peek's loss, since the former Navy coach and Hawaii offensive coordinator doesn't utilize a tight end much—if at all.
Peek transferred to Alabama and established himself as a hard worker and very good blocker. For the most part he seemed to be a dependable target but there were a number of occasions where he failed to make the easy catch. Blessed with ideal size, Peek could have a long career as a steady, not spectacular, tight end in the NFL.
Those with a raging passion for Crimson Tide football and to a lesser extent, the teenage demographic watching MTV, recognize Peek by his stage name, "Holla McGhee".
With a couple Academic All-SEC honors to his name, Colin Peek is a pretty sharp—and quick-witted—character. He must be to have made a name for himself on "Yo Momma", an MTV show pitting the best in the business at blasting "Yo Mamma" jokes at each other.
You can't make this stuff up!
Round: Early 4th
7. Dennis Pitta – BYU (6-5, 250)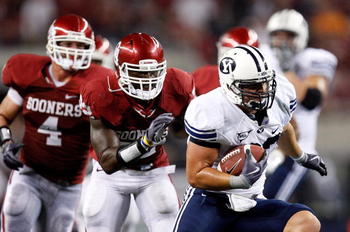 Another highly productive and low-risk option is the 2009 AP Second Team All-American from Brigham Young University.
Pitta's approximately 2,900 receiving yards are an NCAA record for tight ends. His 2008 season alone was one of the best from his position in decades—83 catches, about 1,100 yards and 13 touchdowns.
Pitta's the best route-runner in the group likely because of considerable time spent at wide receiver.
Dangerous after the catch, he looks very quick on film for a player his size and efficiently finds open spots on the field.
With speed in the 4.6 range, he's one of the better all-around prospects at his position but a gimmicky offense is holding back more glowing reviews about this very intelligent and, by all accounts, mature football player who spent two years at a church mission.
Round: Mid 3rd
6. Anthony McCoy – USC (6-5, 250)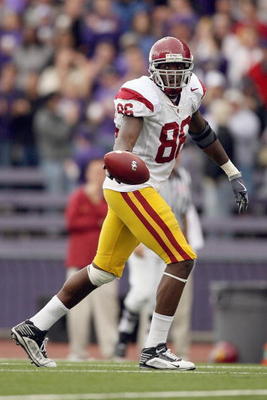 McCoy was a Sporting News All-American even though he was underutilized in the Trojan offense.
His two best traits are catching almost everything thrown in his direction and blocking. Because of his brute strength, McCoy is one of the best drive-blockers in his class.
Any NFL team looking to shore up a weak side of their offensive line might strongly consider him.
Round: Early 3rd
5. Jimmy Graham – Miami-FL (6-7, 260)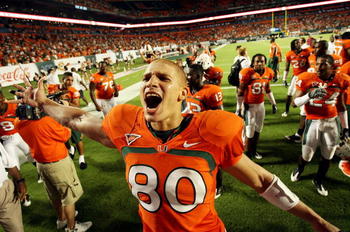 Admittedly a high listing for the Hurricane newcomer, Graham's one of the more intriguing prospects in the NFL draft, let alone the tight end class.
He was playing for Coach Frank Haith and the Hurricanes basketball team before deciding to give it up in hopes of pursuing his dream of playing football.
It's safe to say his dream became a reality as he's one of the fastest-rising tight-end prospects in the nation.
With Graham's size, athleticism, 39-inch vertical and passion to learn, many teams will target him simply on potential.
Descriptions of his game being "fluid" are impressive considering he hadn't even played organized football since his freshman year...of high school.
With such a high ceiling and only one year of competitive football under his belt, Graham is the quintessential "sleeper".
Round: Late 2nd/ Early 3rd
4. Ed Dickson – Oregon (6-4, 245)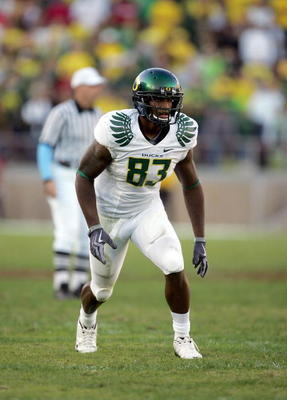 A couple things working against Dickson's position in this list are actually going to work in favor of one lucky team.
He was juggled all over the field—including defensive end and wide receiver—before coaches settled on deciding tight end was the best spot to expose his remarkably athletic instincts.
To simply label him a late-bloomer doesn't really do him justice because he didn't even begin learning the position until recently.
The other issue which restricted his popularity was Oregon's relatively weak production out of their quarterbacks from a passing sense.
Dickson allegedly bench presses over 400 pounds making him one of the Ducks strongest players in recent memory.
I'm predicting Dickson's name to be called in the latter stages of round two,
dependent on a strong showing at the combine.
Round: Late 2nd
3. Aaron Hernandez – Florida (6-2, 245)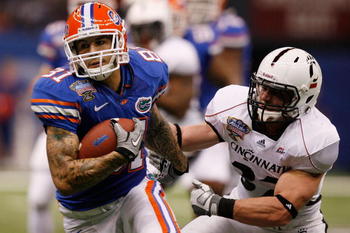 Teams might prefer their tight end stand a few inches taller than the sticky-handed 2009 Mackey Award-winner.
Hernandez's best trait might be his ability to gain yards after the catch. He wasn't asked to block too often in Urban Meyer's offense but his stoutness and strength will help him develop that part of his game in the NFL.
Round: Mid 2nd
2. Rob Gronkowski – Arizona (6-6, 270)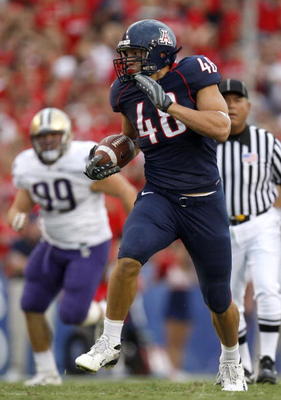 Gronkowski is extremely tough and almost impossible to be brought down by just one defender. His hands are as dependable as any other in this class.
An early-entry prospect, "Gronk" missed the entire 2009 season while recovering from back surgery.
Gronkowski is extremely strong but his hiring of agent Drew Rosenhaus is enough to give interested teams a headache.
Another knock on the big, fleet-footed Wildcat is a tendency to be inconsistent with blocking assignments.
Round: Late 1st / Early 2nd
1. Jermaine Gresham – Oklahoma (6-6 265)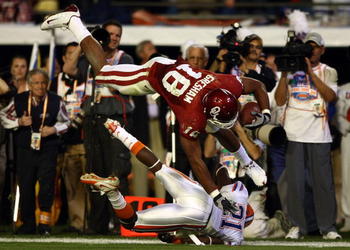 With what appears to be a record number of underclassmen entering the 2010 draft, it's refreshing when a player of Gresham's caliber decides to return for his senior season despite a probable first-day selection in the '09 draft.
That's why many felt that much worse for the talented Sooner tight end.
He's the best all-around talent in this group and could've been a Top 20 pick last year.
A trustworthy target in the end zone, Gresham led the Sooners in touchdown receptions in 2007 and 2008, hauling in 11 and 14 scores respectively.
If he passes the physical examinations and team doctors' inspections, he's likely a no-brainer first-round pick.
Round: Late 1st
Keep Reading