59 Days To Go, Offseason Issue Numero Uno: Fausto Carmona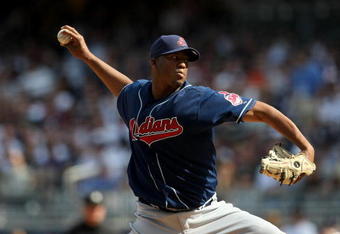 Nick Laham/Getty Images
The 2010 Cleveland Indians pitching staff, for lack of better words, is going to be interesting. From the experienced pitcher, to the pitcher who hasn't set foot on a Major League field, the Tribe has their work cut out for them in terms of the inexperienced. However, the roster includes two prominent figures, arguably both with their careers on the line. Jake Westbrook, well over a year removed from Tommy John surgery, is looking to return to his once consistent form. Aimed to be the Indians opening day starter, Westbrook has battled back from an injury that is not only a setback, but a huge wake-up call. The second pitcher? None other than Fausto Carmona.
After a disasterous turn for the worst in 2006, Carmona ended the season with a very dismal 1-10 record. Forced into the closer role after Bob Wickman was traded in July, Carmona lost his touch. In a seven day stretch, Carmona blew three games for the Tribe, as well as recording four losses in that time period. By the end of the season, Carmona became a starter once again, ending his year with a 5.42 ERA.
2007 was just a bit different. Seemingly out of the blue, Carmona worked his way back to the top and regained the use of his extensive repetoire. His nasty curveball sank, his fastball blew past the opposition, and domination was once again in his reach. Ending the season with a 19-8 record, and a 3.06 ERA, he fell fourth in the Cy Young voting, losing to teammate CC Sabathia. With 137 strikeouts and batters hitting a dismal .248 against him, 2007 was not only Carmona's highlight for his short career, but unfortunately the only highlight up until the 2010 season.
2008 and 2009 came and went, including a huge detour in his career. During the 2009 season, with control seemingly lost, the Indians organization sent him deep down into the farm system. AAA? No. AA? No. Single A?!?. Nope. He was demoted, all the way to the Arizona League. Why? This was described as an attempt for Carmona to regain contol, and more importantly, his thoughts. He returned to the Indians major league club in the second-half of the season. Unfortunately, the demotion did not work out for the best, as he finished the year 3-6 with a 5.29 ERA.
The 2010 season is looming, therefore, an issue that is evident for the Indians this spring training, and article number one of my feature, is my opinion on Fausto Carmona.
With Cliff Lee long gone, the Indians will rely on Carmona to put himself back on track and re-establish his career. It may seem like a feat, but with any pitcher, there is a pattern. I have full faith in Carmona. I do not want to see the man fail. With every ounce in my body, I feel that he can turn himself around and gain control once again. The Indians are relying fully on this man to help the young arms. Yes, this brings pressure. After the 2006 season, however, he made adjustments. As I mentioned, the adjustments were made and I feel he can make the changes once again that are needed. He has too good of an arm to be wasted. His talent cannot be wasted. By the end of the 2010 season, I intend to see that the '07 season was no fluke. His personality took a sharp hit the past two seasons, and that is understandable. I have full faith that he will relax, and realize his potential. Second-chances are handed out freely in this world, so why can't Carmona have one?
This article is
What is the duplicate article?
Why is this article offensive?
Where is this article plagiarized from?
Why is this article poorly edited?

Cleveland Indians: Like this team?