Rutgers Pursuing Fourth Win in Five Games, Clash with the Hoyas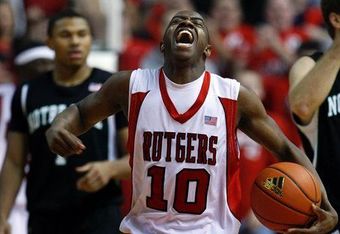 Georgetown Hoyas @ Rutgers Scarlet Knights
4:00PM ET, February 14, 2010
Louis Brown Athletic Center
Piscataway, NJ
Three weeks ago the Scarlet Knights (12-12, 2-9) visited the Nation's Capital, only to be run around and humiliated by #8 Georgetown (18-5, 8-4). Rutgers looks to make up for that loss tomorrow when the two teams face off again at the RAC.
Mike Rosario and company are coming off an embarrassing win versus tiny Division II Caldwell College . Yes, you read that correctly. Rutgers should have easily dismantled the small school from Caldwell, NJ. Rather, the Scarlet Knights allowed the Cougars to stay close the entire game, barley managing to pull away with an eight point victory.
Meanwhile, Georgetown is on a two game winning streak and it doesn't seem like it will be ending soon. After a disturbing loss to South Florida in D.C., the Hoyas handed Villanova its first Big East defeat of the season and then handled the Providence Friars in Rhode Island.
Last month when these two teams clashed, Rutgers attempted to minimize the Hoyas Greg Monroe's opportunities with a zone, but it just lead to easy three pointers for Georgetown. Mike Rosario was covered closely the entire afternoon, preventing the Scarlet Knights top player from taking over the game.
Georgetown shot 63 percent from the floor and 56.3 percent from behind the three, while Rutgers was left in the dust. Monroe was phenomenal the entire game, hitting his first eight shots, on way to 10 of 12 shooting with 21 points, 14 rebounds and 6 assists. Jonathan Mitchell led the Scarlet Knights with 21 points.
Greg Monroe has been one of many bright spots fueling the Hoyas this season. After watching film on the lefty big man from Louisiana, I came to the realization that this guy is the real deal.
For a guy his size, he gets up and the down the court with relative ease, has the skill set to face up and put the ball on the floor or post up his opponents. Against Providence, he handed out 12 assists—a 6'10" power forward with 12 assists?, ask anyone that's pretty impressive—which illustrates his great passing skills, amazing vision and ability to find open and keep them involved.
His smooth shooting stroke is just another piece to his game, but he doesn't always take advantage of it. Georgetown's Princeton style offense makes him the key ingredient and the Hoyas adapt to his style of play.
Georgetown started using the Princeton style offense when John Thompson III became head coach in 2004; he had this to say about it:
"The "system" is more about how you see the game than about plays. It's about adjusting and adapting to your own skills and strengths, and the skills and strengths of your opponent.

If you look at the Sacramento Kings, Washington Wizards, Northwestern, Richmond or Princeton, they obviously aren't the exact same style of ball. But the principles they play are the same—movement, reads, sharing patience, and precision. You take the skills and personality of your team and tweak the system accordingly."
The Scarlet Knights haven't defeated Georgetown since February 11, 2003. If Rutgers shows up tomorrow playing like they did Tuesday night, the Hoyas will destroy them even worse than they did in January.
You can find this article and all of my other contributions at: moxieTODAY.com
This article is
What is the duplicate article?
Why is this article offensive?
Where is this article plagiarized from?
Why is this article poorly edited?