Cincinnati Bengals' 2010 Mock Draft and More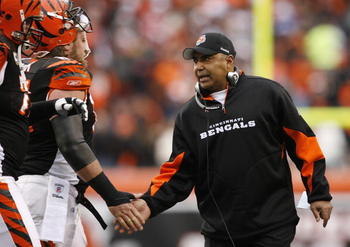 What is it about an NFL mock draft that makes many a men marvel?

Like snow, no two mock drafts for any team will be identical, and that is what makes the time frame of after the Super Bowl to late April so riveting.
Discussion is dilated, banter is brightened, and time might move slower than ever.
As a Cincinnati Bengals' follower, my Internet history is full of trips to different mock draft sites and ESPN articles. I stick to their mock drafts like white on rice.
And seeing as I am not the only one, why not leak my own draft scheme into this ocean of opinions.
Paging Mike Brown, all I want for an early Christmas is:
First Round-Jermaine Gresham TE, Oklahoma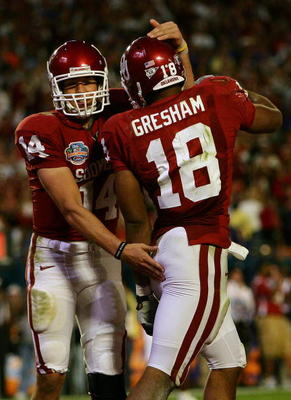 If not for a season-long injury, Gresham's talent could have made himself a top 10 draft pick.
His ogre-esque 6'6", 260-pound frame combined with deceiving speed makes him a sure-handed threat over the middle of the field. Plus he comes from a pro-style offense, so his blocking skills are more developed than an Aaron Hernandez or Chase Coffman.
Sure he missed a whole year due to an injury, but with great risk comes great reward (if you consider one injury to be a risk).
Second Round-DeMaryius Thomas WR, Georgia Tech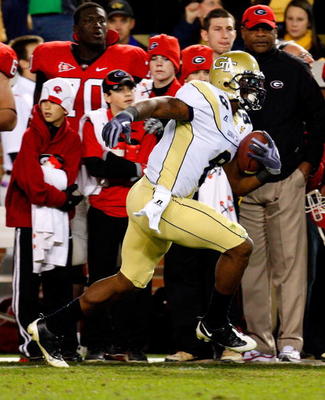 Despite the Matt Jones signing (blown out of proportion at this point), drafting Thomas would really bolster the receiving corps.
He did come from a triple-option offense, but still flourished. If Thomas would have played in more of a pass-happy offense, his skills would be sharpened and he would not be as much of a project.
Thomas reminds me of Chris Henry: great size, quick burst, and strong. Some may consider this a reach just because of where he comes from, yet I feel he is worth it.
Third Round (plus comp. pick)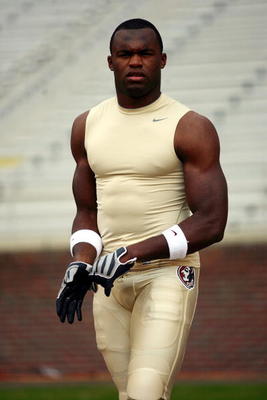 Myron Rolle (pictured) S, Florida State:
On a team that likes to bring in the troubled and convicted, Rolle's character and wit would rub off on others.
Rolle has great intangibles, has great lineage, and was a sure-fire first day pick had he not accepted the Rhodes' scholarship. At this point in the draft, if a better safety is available, take him. But nonetheless, Rolle might just be a steal here.
Comp. Pick: Javier Arenas CB, Alabama or Akwasi Owusu-Ansah CB, Indiana (PA)
Both are game changers, would go right into the nickel spot (pending Pacman Jones), and would bolster the return game. If still available, Arenas would surely be preferred because of the competition he has faced. Still, either is a solid fit for a secondary that allowed Bruce Gradkowski and Co. to come down the field and win.
Fourth Round- John Jerry OG, Ole Miss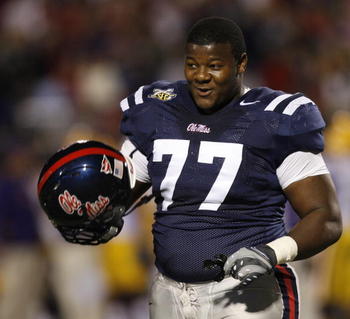 I was tempted to put Mike Johnson, the guard from Alabama, but I feel that he may be picked up earlier in the round.
Both are mammoths and road grinders. Jerry, who is 6'5" and a few biscuits shy of 355 pounds, would provide good depth to an aging Bobbie Williams.
Fifth Round (plus comp. pick)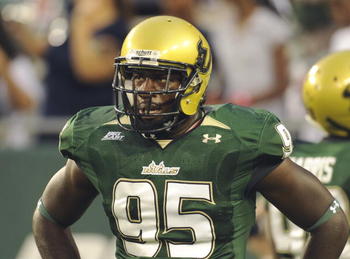 George Selvie DE, South Florida:
This is the one I had the hardest time with.
His production slightly decreased each year, but mostly because of his teammates picking up the slack when he got double-teamed.
Selvie very well could be a reach. He could go as early as the late third round, but as I have heard, his stock has been slipping. Antwan Odom's health is always in question, so Selvie would surely add good depth to the line.
Comp. Pick: Roddrick Muckelroy LB, Texas or Dekota Watson LB, Florida State
It may depend who is available, but either would help the Bengals' linebacking corps. Both have big-game experience, and if I had to pick, it would be more likely that Watson would be available.
Sixth Round- Brandon Carter OG, Texas Tech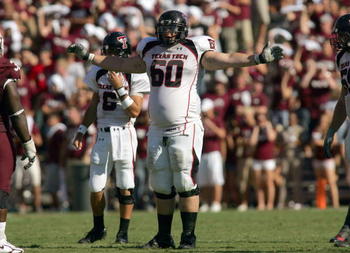 Another beast for Paul Alexander to mold.
Carter certainly brings physical power, and is certainly emotional (painted his face on game days).
He protected in a spread offense, yet was part of some of the best offensive lines in college football.
Seventh Round- Jamme Kirlew DE, Indiana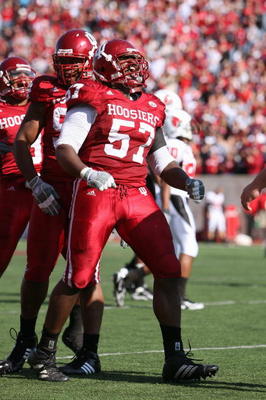 If Selvie is definitely off the board by the fifth round, the Bengals should definitely look at Kirlew.
He and Greg Middleton were one of the most underrated book ends in college football, and actually either would work for the Bengals.
Rookie Free Agents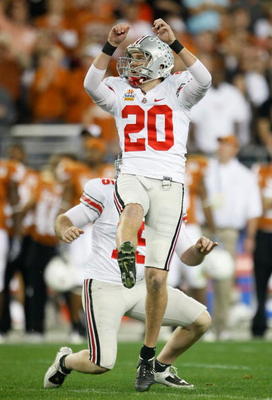 Aaron Pettrey K, Ohio State (pictured)
Mickey Shuler TE, Penn State
Naaman Roosevelt WR, Buffalo
Ryan D'Imperio LB, Rutgers
Rest of the Offseason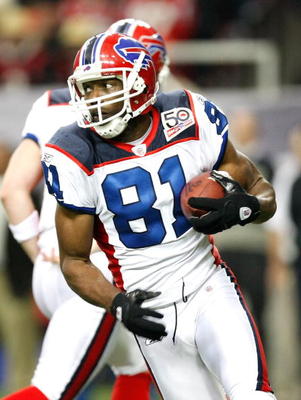 This time frame could definitely change the draft, but here are some suggestions:
If someone like a Terrell Owens (pictured), Malcolm Floyd, Steve Breaston, etc. is signed, release Laverneus Coles and Jerome Simpson.
I still am not willing to give up on Coles, but if bigger and better things are pursued, it is best from a depth and money standpoint.
Simpson has not done jack since he was horribly reached for.
Picking up a tight end like Tony Scheffler would also affect the team's draft plans.
That is the beauty of mock drafts.
Keep Reading

Cincinnati Bengals: Like this team?