Five Underrated 2010 NFL Draft Prospects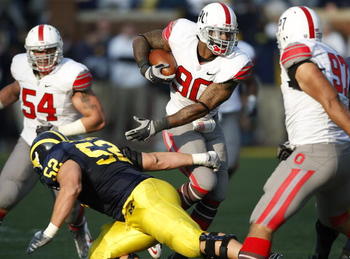 If you have been reading my work, you know I have been doing a lot on the NFL draft of recent. This list is of five prospects who I believe are underrated. They are players that you may be thinking, "How did this guy fall this late?"
I hope you like this list. I have been doing a lot of research on the whole draft, so please take a look at some of my other articles if you like what you see.
Also, please feel free to comment, argue, like, or even dislike anything you read. I would love to know everyone's opinion on the draft to broaden my knowledge even more. Thanks!
Enjoy!
Jon Asamoah: Guard, Illinois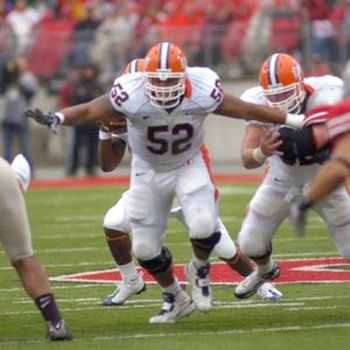 Jon Asamoah—6'4" 300 lbs., Second or Third Round Pick
Pros: Does not fit the typical mold of offensive linemen. He is very fast and physically fit. He has been rumored to run his 40 time in the low 5.0s. This would make him on of the fastest offensive linemen in the country. Plays very smart and started for three years at Illinois.
Cons: Some scouts doubt his toughness as an NFL player. Asamoah did not help his draft status by coming to the Senior Bowl weighing only 300 pounds—15 pounds less than his listed 315 pound weight. Asamoah also had to leave the Senior Bowl early with an undisclosed shoulder injury. His draft stock may fall a lot depending on how serious the injury is.
Scouts Take: Asamoah is a great pass blocker, who needs to improve being a consistent run blocker. He is a very intelligent person, and he proves that by playing a very smart game of football. Asamoah is very athletic and a good 40 time could potentially boost his stock to the No. 1 guard in the draft.
Thaddeus Gibson: DE/OLB, Ohio State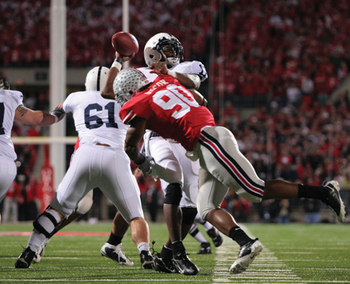 Thaddeus Gibson—6'2" 240 lbs., Third Round Pick
Pros: Gibson is an excellent athlete. He recorded three sacks in one game, and he will be a very versatile player in the NFL. The former Buckeye has the opportunity to play either a 4-3 standard outside linebacker or a 3-4 pass rush outside linebacker. Gibson—who red-shirted his freshman year—will be foregoing his fifth year of eligibility.
Cons: Gibson is not a very big player, and scouts have started to take notice. He is listed at 240 lbs. but many people believe he is closer to 230. At either 230 or 240 would make him a very small 3-4 outside linebacker—a position that Gibson would be much more suited for. Gibson came to Ohio State at 205, so adding more weight probably not happen.
Scouts Take: Thaddeus Gibson plays with a very high motor and despite mediocre stats—four sacks in 2009—he was constantly applying pressure. Gibson also had the privilege of playing for Ohio State. There, Gibson received top-notched coaching, which will give him a great advantage come interview time.
Pat Angerer: ILB, Iowa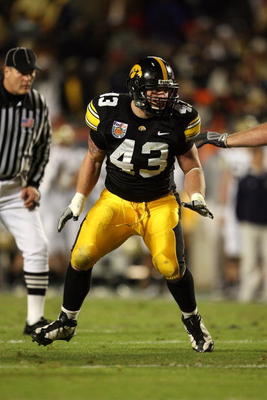 Pat Angerer—6'1" 235 lbs., Third to Fifth Round Pick
Pros: A very instinctive player, who will try harder than anyone on the field. Angerer ranked in the top five for tackles in 2009, which landed him a spot on the All-American Second Team. Angerer has underrated game speed, along with above average pass coverage. He should make a very good special teams player in the NFL, possibly getting a chance to start in the middle with more experience.
Cons: Angerer lacks elite size for an NFL middle linebacker—6'0" 235 lbs. He probably will not impress anyone in the running exercises at the Combine. Recorded less than 10 tackles his first two years at Iowa, so his consistency is still not fully proven.
Scouts Take: Pat Angerer was a great college linebacker, but greatness in college does not equate to greatness in the pros. This being said, Angerer will still get many opportunities to succeed. He works so hard on and off the field, which will surely reward him with success in the NFL. Pat Angerer will provide any team with toughness and a desire to win.
Donovan Warren: CB, Michigan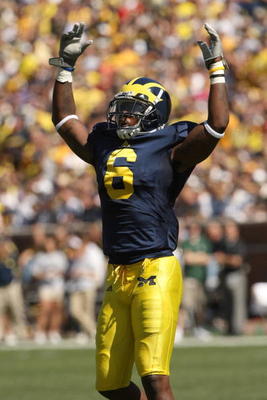 Donovan Warren—6'0" 185 lbs., Second Round Pick
Pros: Warren came to Ann Arbor with a ton of hype. He has a ton of talent that was finally seen his junior season. Warren is leaving Michigan after only three years. This will make him a very young player that NFL teams would love to have. He has good, not great, speed, but he makes up for it with smooth movements. He earned All-Big 10 honors in 2009, and he looks to improve even more at the next level.
Cons: Many scouts are questioning if Donovan Warren is as good as he thinks he is. Warren has the confidence of an elite corner back, but he does not always back that swagger up on the field. While he showed great improvement his junior season, a good senior campaign could have bolstered his stock to first round status.
Scouts Take: Talent cannot be taught, and Donovan Warren has plenty of this. If he can live up to the high school hype and continue on his excellent junior season, he will be an excellent NFL cornerback. He should improve his draft stock at the Combine by showing off his excellent athleticism and talent.
Amari Spievey: CB, Iowa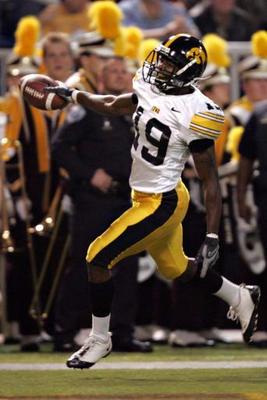 Amari Spievey—6'1" 192 lbs., Second or Third Round Pick
Pros: Spievey was a true shut-down cornerback in college. He consistently put up great numbers, and defensive coordinator Norm Park said he may be the best defensive back he has ever coached. Spievey is a very physical corner back, who would probably best succeed in a zone coverage system. He is a great tackler and great in bump and run coverage.
Cons: Spievey had major discipline issues at Iowa. He got kicked off the team his freshman season for failing classes. Spievey then had to go to Iowa Central Community College before Coach Ferentz allowed him back on the team. This will be a major turn off to some teams, who judge character as much as talent.
Scouts Take: Spievey has the talent to succeed in the NFL, but will his prior off-field issues ever arise again? This chance of relapse will cost him a lot in the draft, but if he maintains committed to football, he should still be a very good NFL cornerback. Spievey should have a good combine too. He could potentially be the strongest cornerback coming out this year.
Want to Read More?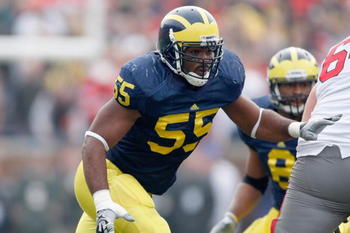 http://bleacherreport.com/articles/312918-ten-underrated-draft-prospects
http://bleacherreport.com/articles/333070-nfl-draft-big-board-1-10
http://bleacherreport.com/users/152741-kevin-hatfield
Thanks everyone!
Keep Reading