NFL Draftees: The Alabama Edition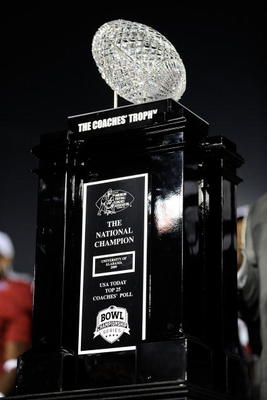 The Alabama Crimson Tide ended their season with a 13th National Championship Title and 10 quality players heading into the 2010 NFL Draft.
In previous past years, Alabama has sent players into the NFL that have gone on to win more than a few Super Bowl titles. I can safely say that many of these athletes will go on to have prosperous careers as professional players.
Here are the top five Alabama NFL draftees for 2010.
Rolando McClain: LB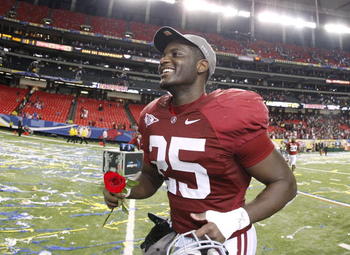 Arguably the best linebacker in the country, Rolando McClain showed that he deserves to join his teammates in the 2010 NFL Draft.
Not only does he now have a National Championship ring of his own, but he won the Butkus Award, which is given to the best linebacker of the season.
McClain decided to leave Alabama after his junior year, which both he and Coach Nick Saban agreed would be a smart move given his talent and skill on defense.
He led the team with more than 100 tackles and 15 stops for losses. McClain especially proved himself to be the top linebacker in the country from his contributions in the SEC Championship game against the Florida Gators.
He is projected as a first round pick.
Terrence Cody: DT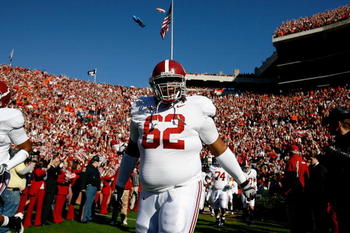 The day the earth moves is when the big man stomps on to the field.
Terrence Cody is no doubt a valuable asset to the Alabama defense. Weighing in at 375 lbs, this defensive tackle is even scary to look at.
Cody played in the Senior Bowl in Mobile, Alabama this year and was also a finalist for the Lombardi Award which given to the top defensive player in the country.
His height and his ability to run players over makes him the mean machine he is known for. CBS Sports calls him a "massive defender with rare strength."
Cody is known throughout college football for being one of the strongest players at his position. He is projected to be a second round pick.
Kareem Jackson: CB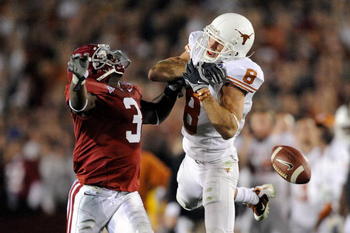 On Jan. 15, Kareem Jackson announced he would enter the 2010 NFL Draft.
Jackson is one of 53 new players given special eligibility to enter the NFL draft as a junior.
In his college career, Jackson started in 38 games and finished sixth on the team in tackles. As a junior, he ended the season with 45 tackles, three interceptions, and broke up 10 passes.
He is projected as a second round pick.
Colin Peek: TE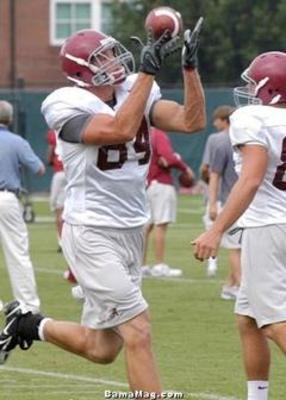 Colin Peek is ranked No. 8 out of 45 tight ends in the country. He played a key role throughout his college football career as a "clutch player," who scored for his team in the most needed times.
Other than his talents as a tight end who can run the ball with force, he is also famous for his "yo momma" jokes. The star was given the chance to be cast on the MTV show "Yo Momma" but turned them down.
Although they play two different positions, Peek reminds me of Patriots' wide receiver Wes Welker, with his strength and endurance.
Peek is projected as a third round pick.
(Image Courtesy of: blog.al.com)
Javier Arenas: CB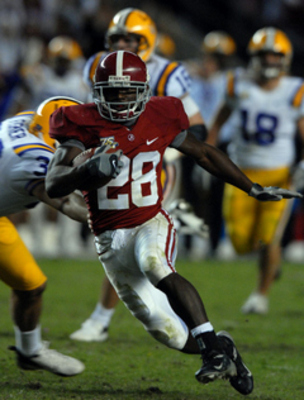 Javier Arenas has shown that he is one of Alabama's many powerhouse players.
He is a duel player, serving as a cornerback on defense, and a kick-off returner. In both positions, he is known as a strong and skilled player.
When he returns kicks, many are stopped in opponents' territory. His average kick return is 24.1 yards per carry, making him a game-changer for any team. Arenas also holds the record in the SEC for seven kick-off returns for touchdowns.
In his cornerback position, he is one of the shortest in the draft with a height of 5'9" and weighing 195 lbs, and being one of the most skilled cornerbacks in the 2010 NFL Draft.
In his junior year, he made five sacks and 66 tackles.
Arenas is projected as a third or fourth round pick.
(Image Courtesy of: blog.al.com)
Keep Reading

Alabama Crimson Tide Football: Like this team?