SEC Power Rankings: Ranking the 2010 Starting Quarterbacks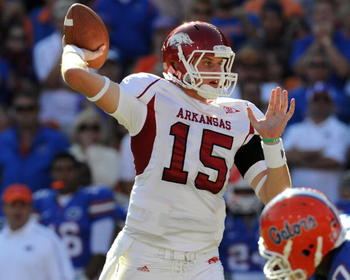 2009 was another banner year for the SEC as usual, and this class produced some great quarterbacks who enjoyed enormous amounts of success in the conference.
Tim Tebow, arguably the greatest college quarterback to ever play the game, has moved on and graduated from Florida. So has 2009 preseason Heisman candidate Jevan Snead of Ole Miss, though he had a down year compared to his 2008 season.
Battle tested quarterbacks Chris Todd of Auburn and Jonathan Crompton of Tennessee have also graduated, and this leaves a significant void at these four schools.
Other schools such as MSU, UGA, and UK are also searching for consistent quarterback play.
While it's hard to rank the Top 12 quarterbacks in the league since depth charts haven't been released or probable starters named, this list contains B/R's Top 12 quarterbacks in the SEC based on talent, experience, and how many tools these QBs will have to work with around them.
Take it with a grain of salt, as we know in the SEC, nothing is final until kickoff.
12: Nathan Stanley, Ole Miss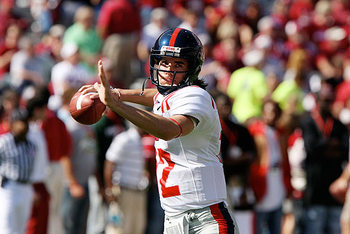 Possibly the biggest question mark amongst SEC QBs for 2010 is the Ole Miss race.
Nathan Stanley seems like the probable starter, as he was the only passer to see significant action other than Jevan Snead last season.
Gone are offensive machines Shay Hodge and Dexter McCluster, so Stanley will have to step up this season, or Houston Nutt could be looking at a long year for the Rebels.
11: Logan Gray, Georgia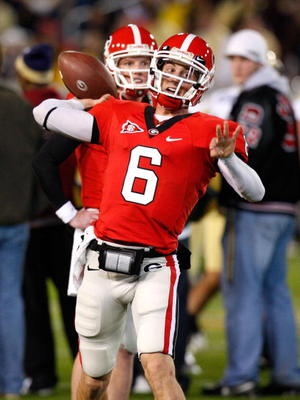 Many called for senior Joe Cox's head at times last season, in hopes of getting Logan Gray onto the field for the Bulldogs. UGA fans never got that wish to come true, but they will in 2010.
It's never good for a coach who's on the hot seat to have an untested QB, but Gray is a dual threat quarterback who actually returned punts his freshman season in Athens and got some reps as a backup in 2009.
Though he looked shaky under center in 2009, he'll have to win quickly for the Dawgs, as they desperately need production from him immediately.
Ealey and King represent one of the best running back tandems in the SEC, and AJ Greene is one of best receivers in the conference, so Gray should be able to lead the Bulldogs with at least as much efficiency as the occasionally inept Joe Cox did last season.
And for Richt's sake, he better hope it's much more efficient.
If not, look for former top QB recruits Aaron Murray or Zach Mettenberger to step in for UGA.
10: Larry Smith, Vanderbilt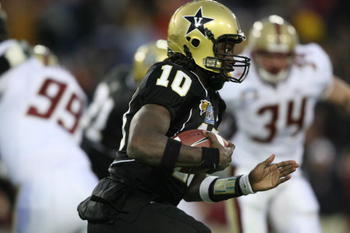 It's hard to be an exciting player on a team that didn't win an SEC game all year, but Vandy's Larry Smith is attempting to bring that excitement with both his feet and arm.
While he'll have to improve his completion percentage from last season, Smith will be the go to guy after splitting time with Mackenzi Adams last year.
With RB Warren Norman in the Dore's backfield, look for some improvement in 2010, especially on the offensive side of the ball with Smith under center full time.
9: Nick Stephens, Tennessee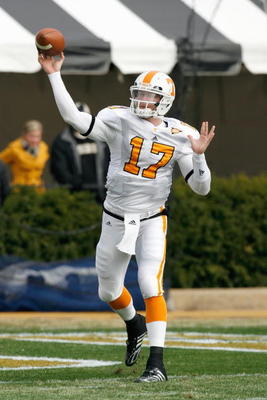 Once a UT starter, Nick Stephens would seem like the logical choice to start for new head coach Derek Dooley in 2010.
Stephens threw for 840 yards in his 2008 sophomore campaign, but he only saw action against Western Kentucky and Memphis in 2009.
With SEC action under his belt, Stephens should have no problem stepping into Jonathan Crompton's shoes. Look for production out of Stephens next season. He might be a pleasant surprise for Volunteer fans.
8: Chris Relf, Mississippi State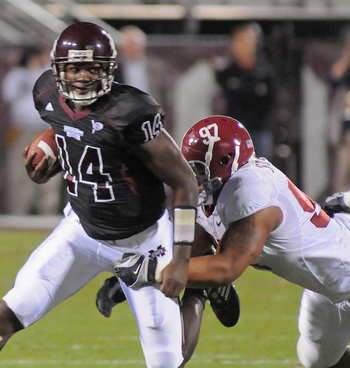 Tyson Lee started 12 games for MSU in 2009, and to be frank, his numbers were abysmal. His 14 INT to four TD ratio is enough to make one wince.
As a sophomore, Chris Relf often split time with Lee and knows the Dan Mullen system pretty well. He looks like he fits in with the offense Mullen would like to run and showed he was capable at times last season.
Gone is Anthony Dixon, one of the SEC's top rushers, so Relf will have to step up into his own this season. Relf still managed to toss more TDs than Lee, so clearly Relf is set to have more success in 2010 than Lee did last season.
7: Morgan Newton, Kentucky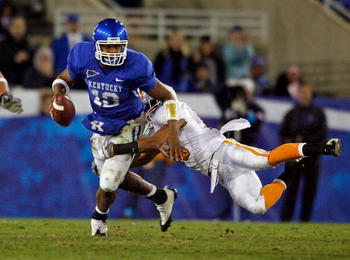 Mike Hartline's chances are done, and in comes playmaking sophomore Morgan Newton.
Eventually, Newton will develop into one of the most athletic QBs in the SEC, you can bank on that. Already drawing comparisons to former UK QB Andre Woodson, Newton saw plenty of action last season, and new head coach Joker Phillips actually brought in some talent in order to provide the young Newton a few weapons on the Wildcat offense.
Derrick Locke and Randall Cobb are returning, and one of the nation's top TEs has been recruited, which should take a lot of the pressure off of Newton. Joker Phillips is hoping that he can turn around the UK program with Newton in the next two years.
6: Cameron Newton, Auburn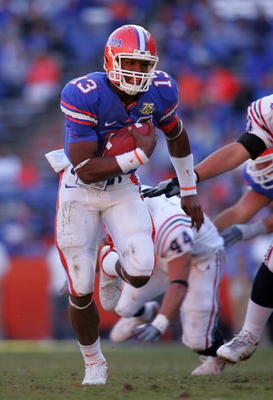 Though he's not been named the official starter, former Florida Gator Cameron Newton spent the 2009 season at Blinn (TX) Junior College winning a national championship and putting up blistering numbers - 3400 yards and 38 TDs combined on the air and ground.
One thing that sticks out about Newton is the fact that he knows how to win. Even though he was a backup at Florida in 2007, Newton brought home a ring.
He went through a bit of legal trouble, but charges were eventually dropped, and he landed at Blinn, where he once again won a national title.
The Auburn offense was extremely attractive to Newton, leading to his sudden signing with the Tigers. He's the perfect quarterback for Auburn OC Gus Malzahn's system, and enrolling early can only help Newton as he looks to improve his efficiency, which is the only question mark about his game.
He's no doubt an SEC level QB. Newton has been there before, and he's back again, and while no one is expecting Auburn to win a national title in 2010, things just got much more interesting in the SEC West, as Newton helms an offense that includes a healthy dose of both newcomers and veterans.
5: Jordan Jefferson, LSU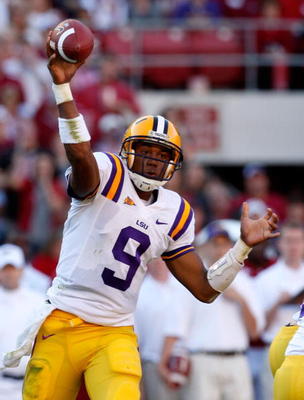 Jordan Jefferson has the ability to emerge as one the top playmakers in the SEC, and coming out of Destrehan HS in LA in 2007, many thought he would do that immediately.
After taking over the Bengal Tigers' starting job in late 2008, Jefferson dealt with the inconsistencies that sometimes plague young quarterbacks. Fortunately for Jefferson, LSU has had a stable of capable running backs his first two seasons, so the load didn't fall solely on his back.
Jefferson threw efficiently this past season, completing 62 percent of his passes, but LSU's offense showed an extreme lack of discipline late in games, which gave Jefferson a bit of a bad rap.
I fully expect him to rebound this year and show that he's one of the top QBs in the SEC, as he looks to lead LSU back to SEC West prominence.
4: John Brantley, Florida
Sure, Tim Tebow is gone, but the only thing the Gators have to worry about at the quarterback position is how they will make up for what Tebow could do with his legs.
John Brantley was one the top quarterbacks in the country coming out of high school and will have no problem stepping in to run Meyer's offense, though he's much more of an NFL style passer compared to Tim Tebow, who has been destroyed by NFL scouts in recent weeks.
Tebow actually led the SEC in passing efficiency in 2009, but it's been said that Brantley is already a better passer.
With Jeff Demps and Chris Rainey returning, Brantley will have plenty of speed around him, but there will be new faces. Losing some linemen, as well as leading receivers Riley Cooper and Aaron Hernandez, Brantley will need senior WR Deonte Thompson to emerge as his leading target to help the Gator offense stay on the pace of the past few seasons.
3: Greg McElroy, Alabama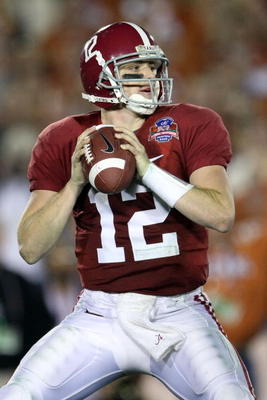 It's hard to imagine a quarterback better than one who gets to hoist up the crystal ball at the end of the 2009 season, but national champion Greg McElroy still isn't quite amongst the cream of the crop in SEC quarterbacks.
Alabama was obviously known for a rushing attack that produced Heisman winner Mark Ingram, even though the offense was extremely vanilla at times. With a QB like McElroy, that can work.
He rarely makes a mistake, throwing 17 TDs to only four picks, but he doesn't put up huge numbers through the air. One thing he does do is win. As a matter of fact, he's never lost a game as a starter.
Expect McElroy to build off of his numbers in 2010, as Alabama looks to repeat its national title run.
2: Stephen Garcia, South Carolina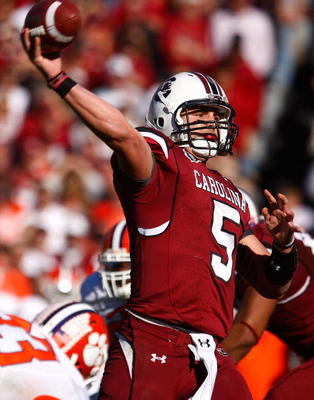 As a sophomore in 2009, Garcia was labeled inconsistent at times but showed flashes of brightness, as he led the SEC in passes completed per game. A year of maturity could do a lot for Garcia, and I expect him to improve greatly in 2010.
Though he will he have one of the top freshman RBs in the country in Marcus Lattimore, he loses one of his top receivers from last season, Moe Brown, to graduation.
The good news is, he has two of the top sophomore receivers in the SEC, Alshon Jeffery and Tori Gurley, who should help Garcia put up even better numbers, as the Gamecocks try to make some noise in the East.
1: Ryan Mallett, Arkansas
Ryan Mallett was a surprise for the Razorbacks last year, putting up massive numbers and leading the SEC in passing yards and TDs, while proving to be one of the Top 10 most efficient quarterbacks in the NCAA.
Petrino's boys have a lot of talent coming back on the offensive side of the ball with a young set of playmaking receivers in Greg Childs and Jarius Wright, but they have yet to find a running back to carry the consistent load, as the Razorback's look to contend for the West in 2010.
With Mallett at the helm, Arkansas not only has a quarterback capable of taking over the game with his arm, but they have a top quarterback prospect in the country for 2010.
Keep Reading