Big Ten 2010: 11 Bold Predictions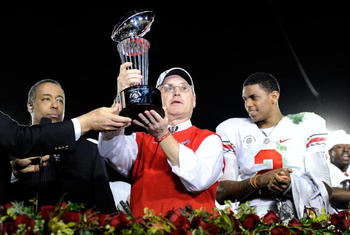 It's only been a month since the college football season ended, but talks about the 2010 season are already under way. After a solid bowl season that included two BCS wins, the Big Ten is suddenly back in the national title picture and has three or four teams that could potentially compete for a spot in Glendale next season.
While things can definitely change from now until September, here are my bold predictions for Big Ten football next season.
Offensive Player of the Year: Terrelle Pryor, Ohio State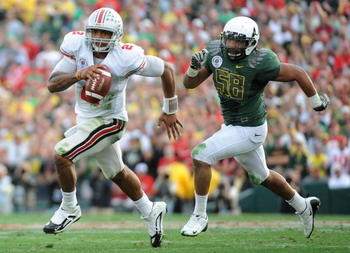 After a mediocre start to the season and my fans calling for him to be benched, Terrelle Pryor turned Ohio State's season around and led the Buckeyes to a Rose Bowl win. His performance against Oregon in Pasadena solidified his reputation as one of the best quarterbacks in the Big Ten and proved that he deserved all of the hype he received in the recruiting process.
Pryor will lead an experienced Buckeyes offense and has the chance to take his team to the National Championship, which would forever fulfill his legacy at Ohio State. His unique combination of outstanding speed and a strong arm will help him lead a dynamic offense and possibly get him some attention for the Heisman Trophy.
Defensive Player of the Year: Adrian Clayborn, Iowa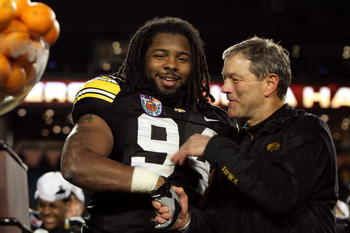 Michigan State fans will complain that Greg Jones should be here, but no defensive player in the Big Ten was more dominant in 2009 than Adrian Clayborn.
From blocking a punt and scoring the go-ahead touchdown against Penn State, to terrorizing Michigan quarterback Tate Forcier, to manhandling the Georgia Tech triple option in the Orange Bowl, Clayborn was a one man wrecking crew last season.
Look for Clayborn to improve even more in 2010 as the leader of one of the best defensive lines in the country. His combination of size, speed, and explosiveness will make him one of the best defensive linemen in the country next season, and ESPN draft guru Mel Kiper agrees, ranking him the top defensive end in the 2011 NFL Draft.
Ohio State center Jim Cordle agreed as well. When asked who was the best defensive lineman he faced last season, he answered, "Everson Griffin was good, Brandon Graham was better, but this year Adrian Clayborn was by far the toughest head-to-head matchup. Next year he will be this year's Ndamukong Suh."
The high praise will continue to roll in for Clayborn, who will be a force to be reckoned with in the Big Ten and on the national scene.
Team That Will Surprise: Northwestern Wildcats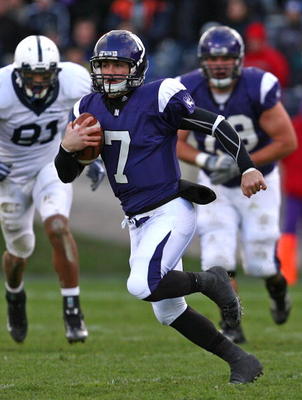 Pat Fitzgerald has built a very good program at Northwestern, leading the Wildcats to the Outback Bowl last year. NU does lose some good players, but it is always well disciplined and will still make some noise in the Big Ten. Quarterback Dan Persa looks like a solid replacement for Mike Kafka and should lead a very dynamic offense.
So will Northwestern compete for a Big Ten title? No. But look for the Wildcats to make some noise and, possibly, reach a January bowl for the second straight year. They might even do the unthinkable—win a bowl game.
Team That Will Disappoint: Michigan State Spartans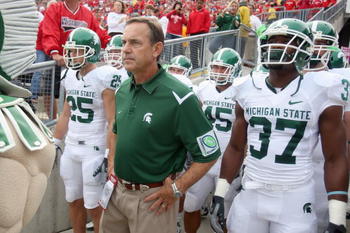 After a 9-3 season and a Capital One Bowl berth in 2008, expectations were high for Michigan State heading into 2009. But the Spartans failed to live up to the hype, finishing 6-6 and losing to Texas Tech in the Alamo Bowl.
Expect more of the same this year, as the Spartans will again fail to capitalize on their talent. MSU fans love coach Mark Dantonio, but he hasn't made his team a consistent contender in the Big Ten—even with good recruiting classes. Expect another mediocre season and a meaningless bowl game for Michigan State come December.
Coach of the Year: Jim Tressel, Ohio State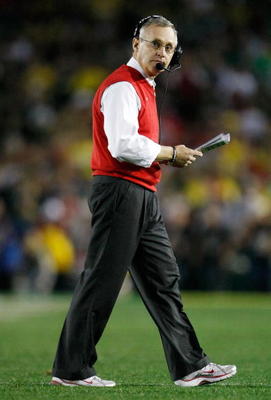 After three National Championship appearances (one win) and complete domination of the Big Ten over the past decade, it's hard to believe that Jim Tressel has never been the Coach of the Year in the Big Ten. But this year his time will come, whether Ohio State wins the Big Ten or not. Tressel is a proven winner and, while his conservative play-calling isn't always a hit with fans, he is one of the best coaches in the conference every year. The only possible challengers this year are Kirk Ferentz, Pat Fitzgerald, and Bret Bielema, but it should be Tressel's time to shine.
Coach on the Hot Seat: Ron Zook, Illinois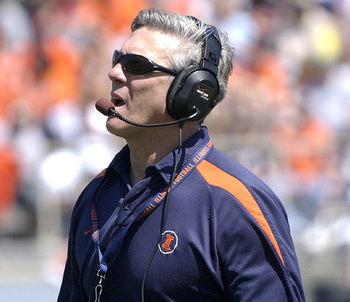 Illinois' off-season has been anything but quiet, as the Illini cleaned house on their assistants—presumably the last step before firing their head coach. After bringing his team to the Rose Bowl in 2007, Ron Zook has consistently underachieved and gotten very little out of an abundance of talent. Zook is a recruiter, not a talent developer and, with a relatively weak recruiting class this year, look for another bad season for Illinois and a possible change of head coach in Champaign.
Game of the Year: Iowa vs. Ohio State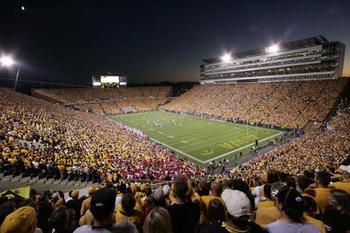 This one is a no-brainer. It's reasonable to believe that both of the two conference favorites will be undefeated at this point, turning the game into not only a battle for the conference championship, but also a battle for a spot in the National Championship.
Last year, Iowa freshman quarterback James Vandenberg made his first career college start at the Horseshoe and almost came out with a win for the Hawkeyes, leading Iowa into overtime and an eventual loss.
Iowa will be hungry for a win in 2010 with quarterback Ricky Stanzi back under center, and Ohio State will try to beat the Hawkeyes for the second year in a row. But Iowa City is a tough place to play, and this game has the makings to be a classic.
Top Impact Freshman: Demar Dorsey, Michigan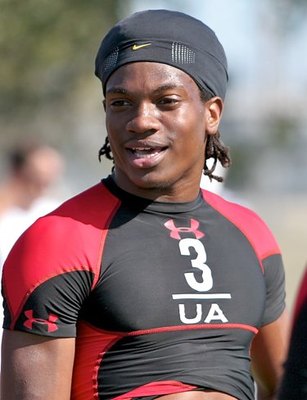 After last year's second half disaster, Michigan finished a dismal 5-7 and much of that was due to poor defense. The offense sure wasn't a big help but, defensively, the Wolverines were one of the Big Ten's worst teams. The two best players, defensive end Brandon Graham and cornerback Donavan Warren, both bolted to the NFL, leaving a big question mark on the Michigan defense.
Picking up defensive back Demar Dorsey on National Signing Day was huge and gives the Wolverines a solid player on defense. Dorsey will have to be a big contributor right away if Michigan wants to regain its usual form and reach the postseason for the first time in three years.
Player on the Hot Seat: Tate Forcier, Michigan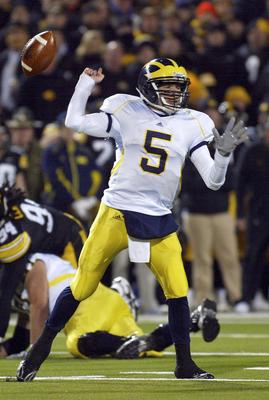 When Tate Forcier started in Ann Arbor, he looked like a Heisman Trophy candidate who could resurrect the once proud Michigan football program. His late game heroics made every game exciting, but also turned him into an extremely cocky player. After playing a miserable game against Iowa, Forcier's confidence level dropped and he was never able to regain his early season form. His success is crucial to his team's record, and he needs to improve if Michigan wants to improve in 2010.
Conference Champion: Iowa Hawkeyes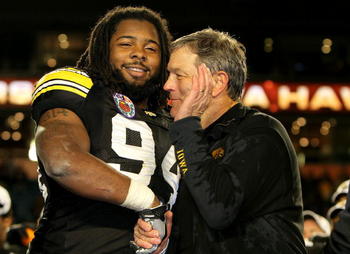 The Big Ten will likely be a two team race in 2010, as both Iowa and Ohio State have legitimate chances to win the conference, go undefeated, and make it to a National Championship. Sure, Wisconsin could be a contender, but I don't think they're on the same level as Iowa or Ohio State.
Iowa returns quarterback Ricky Stanzi and its best receiving duo in years in Marvin McNutt and Derrell Johnson-Koulianos. The offensive line needs work, but both running backs Adam Robinson and Brandon Wegher are back. So is Jewel Hampton, who sat out last season, but rushed for almost 500 yards in 2008 behind Shonn Greene.
The defense will be one of the best in the country—especially the defensive line, which returns all of its starters from a unit that was arguably the best in the Big Ten last season. The Hawkeyes lose linebackers Pat Angerer and AJ Edds, but have a lot of depth at that position. The secondary will be outstanding again, even with the loss of cornerback Amari Spievey.
Ultimately, the conference championship will likely come down to the Iowa-Ohio State game in Iowa City. Ohio State won last year in the Horseshoe, and I like Iowa to come away with a win this year at Kinnick.
Conference Standings and Bowl Projections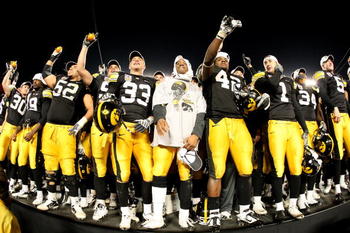 1. Iowa
2. Ohio State
3. Wisconsin
4. Penn State
5. Northwestern
6. Michigan State
7. Purdue
8. Michigan
9. Indiana
10. Minnesota
11. Illinois
BCS National Championship/Rose Bowl: Iowa Hawkeyes
BCS At-Large: Ohio State Buckeyes
Capital One Bowl: Penn State Nittany Lions
Outback Bowl: Wisconsin Badgers
Champs Sports Bowl: Northwestern Wildcats
Alamo Bowl: Michigan Wolverines
Insight Bowl: Purdue Boilermakers
Little Caesars Pizza Bowl: Michigan State Spartans
Keep Reading

Iowa Hawkeyes Football: Like this team?