My Top 10 Favorite Wrestlers of All-Time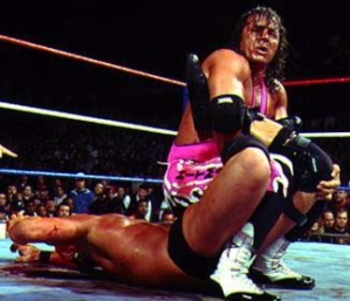 This is my top 10 list based on moments, ability, and what the wrestler has done for me in an overall sense.
I hope you enjoy and I wish for feedback. Maybe exchange our lists and share our memories. This list is according to the greatness scale I have for wrestlers. Of course everyone's is different. So...enjoy.
Honorable Mentions: "Macho Man" Randy Savage, Edge, Triple H, "The Million Dollar Man" Ted DiBiase, Chris Benoit, British Bulldog, and Razor Ramon.
10. Mick Foley (Mankind)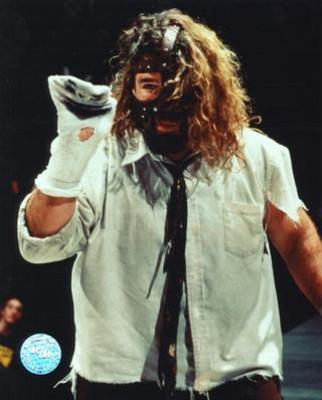 I think anyone who has seen what this man has gone through has to respect him. I sure do. No one has put their body through more hell than Mick Foley.
Beyond that he's a great man, and his gimmick of Mankind is still one of the funniest and most original of all time.
His feuds with The Rock in 1999 and Triple H in 2000 produced some of the best matches and moments of the Attitude Era.
So to Mick Foley, Mankind, Mr. Socko, and heck...even Yurple: Thanks for the memories, Mick. Have a nice day!!
9. The Undertaker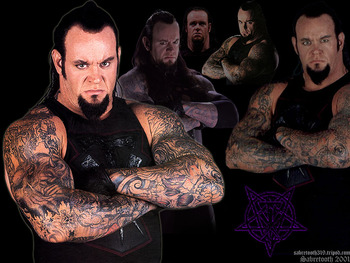 What can I say about this guy? He has the gimmick above all gimmicks. I remember seeing him live for the first time and just being awestruck.
He is (to me) still the best big man in the company's history. He has had great matches when he has been given the proper talent (not you, Giant Gonzalez).
Nobody has had to fight more awful wrestlers than this man. It just goes to show you the type of guy and performer he really is.
The Ministry, the Stephanie abduction, his 1994 comeback, his ring entrance, the music, and his 2009 epic at WM25 with HBK are all reasons why "The Phenom" is in my top 10.
8. "Mr. Perfect" Curt Hennig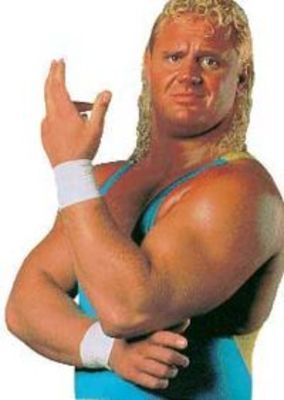 I have a lot to say about this guy, but i will try and keep it short.
From the moment his awesome theme hit and he would flip the towel and flick his gum in mid-air, you knew you were watching perfection.
Once the match started, things got even better. His in-ring ability is still top five all-time in my book. Look no further than his matches with Bret Hart (more on him later).
He had the charm and wit that nobody at that time had. He may very well be the greatest performer never to win the WWE Title.
He was a fine IC champ and I will never forget how every time I saw him, I saw perfection.
R.I.P.
7. Kurt Angle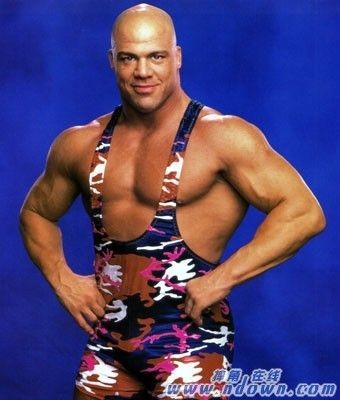 Kurt Angle. I've said it before and I'll say it again: He's the 2K version of Bret Hart. He's the best technician in the industry today (as Bret was in his prime) and he has an amazing match with anyone.
He has it all: The look, the mic skills, and most of all the freakish in-ring ability. Kurt holds a special place in my heart due to his huge influence during the Attitude Era and also for my all-time favorite crowd chant "YOU SUCK" during his entrance theme.
Man, I miss that. So I feel Kurt has earned his No. 7 spot on my list. Oh, it's true!
6. Chris Jericho
Welcome to...The Top 10 ISSSSS JERICHOOO!!!!!!
This man has managed to not only stay on my list, but move higher and higher up on it as the years have passed. Not only is he the best in the business right now, but he has been one of the best since his spine-chilling (and yet to be topped) WWE debut in 1999.
Chris Jericho has a great match every time out. Whether he's a heel or face, I will always love watching him perform. I will also never, EVVVERRRRR, forget in April 2000 when he "won" the title on Raw against Triple H (it got overturned due to a fast count).
The crowd reaction to him is something that still gives me chills to this day. He was so over with the crowd and that moment proved it.
Other than The Rock, I haven't seen someone with such a natural talent on the microphone. He is energetic, funny, smart, and most of all, amazingly talented.
Any time we see Jericho on TV, we should thank our lucky stars he's still there. It's going to be a sad day when he isn't.
5. Owen Hart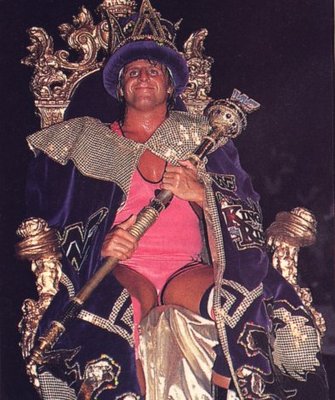 This is always a tough guy for me to think and write about normally. After what happened to him in 1999, I always try to remember the person and wrestler that he was.
He was such a dynamic and amazing personality that he could pull off any type of role that he saw fit, but it was as the "King of Harts" in 1994 that he truly was allowed to flourish.
His memorable feud with his older brother Bret is something I got to witness live and something that keeps me reminded of why I love wrestling and why I fell in love with it in the first place.
One of the greatest heel turns in WWE history by one of its greatest technicians and people. Thank you for being the first heel I ever truly "hated."
You were that convincing with the element of realism you and Bret gave to the storyline. You were truly amazing.
Owen, you deserved better and I hope you are getting better now. Thank you. You truly were and still are the "King of Harts."
Rest In Peace.
4. Stone Cold Steve Austin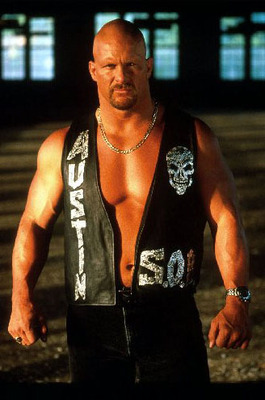 If you think Stone Cold made the WWF(E) what it is today gimme a HELL YEAH!!!..."HELL YEAH!!!!"
**Glass shatters** and the crowd goes crazy. Never has the first two seconds of a wrestler's theme song made people go crazy quite like the Texas Rattlesnakes. His rebellious attitude and foul mouth made him an instant fan favorite.
The greatest merchandise pusher in company history, Stone Cold was (in my opinion) the biggest reason WWE won the Monday Night War over WCW. It's hard to sum up why Austin is so amazing.
I can give two examples: The first would be Wrestlemania 13 (nuff said) and the second would have to be Backlash 2000.
His return and impact on that PPV was amazing. The crowd pop he received at Backlash has to be one of the greatest ever. Stone Cold was exciting, funny, rebellious, and sort of the unconventional hero.
He stood up to the crooked boss and was the toughest S.O.B. like he said he was. His matches at WM 13 and WM 14 might go down as the two most important matches ever.
What would the Attitude Era have been without Stone Cold Steve Austin? Luckily, we never have to know. What? I said we never have to know. What?
3. Shawn Michaels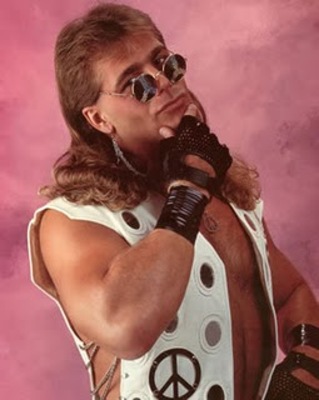 OH..OH...SHAWN!!!!
When I began my love affair with the WWE (WWF at the time) there were two guys I marked out for: 1. Bret Hart and 2. "The Heartbreak Kid" Shawn Michaels.
He had that catchy theme and the cockiness that you were supposed to hate but grew to love.
From his days in The Rockers, to his reigns as IC Champ and WWE Champ, nobody has quite the highlight reel of amazing five-star matches quite like Shawn Michaels.
As gifted as they come, his God-given ability made him stand out and shot him straight to the top.
He calls himself "Mr. WrestleMania" and it's pretty darn hard, if not impossible, to prove that statement wrong.
His Ladder Match with Razor at WM10, the Iron Man Match with Bret at WM 12, his match with Kurt Angle at WM21, and last year at WM25 with The Undertaker, are all five-star matches.
He was a great talker, walker, performer, and made everyone that he worked with better. Thanks Shawn for showing how it should be done.
When you do call it quits, I just may shed a tear.
2. The Rock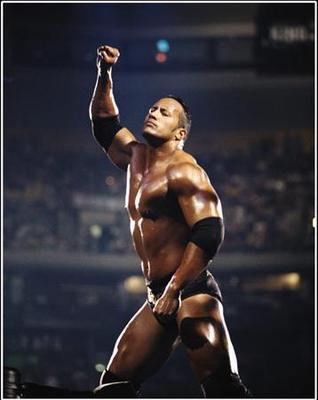 FINALLY.....
If any man has made me laugh, shut up and pay attention, it's The Rock. In my eyes, he's easily the funniest, most charismatic, entertaining, and most original superstar in WWE or pro wrestling history.
It was tough to put him at No. 2 because he easily could be a tie for No. 1 or at least 1A. His second-to-none promos, his music, his facials, his $500 shirts. He had it all.
Nobody had the crowd eating out of the palm of his hand quite like "The Great One."
From the first time he ever cut a promo, people (including myself) knew this guy was special. I think of what the Attitude Era provided and I think of The Rock.
He not only entertained on the mic like no one before or since (or probably ever again), but he had pretty darn good matches too.
His feud with Stone Cold Steve Austin is what made the Attitude Era. WM17 was the greatest WrestleMania (and PPV) ever and it's due in large part to the story those two guys told that night.
Any feud he had from around 1998-2003 was fantastic and captivating. I was his biggest fan and seemed to always favor him over Austin (weird, huh??).
I just attached to his persona. He made me laugh all the time. He made me enjoy his matches, his personality, his chram, his eyebrow, and of course, PIE!!
A huge thank you goes out to The Rock for making me fall in love with the industry even deeper.
Nobody will ever excite me quite like you did. I always smelled what you were cookin' and I will always be one of the millions and millions who will forever chant your name.
No. 1 - Bret "The Hitman" Hart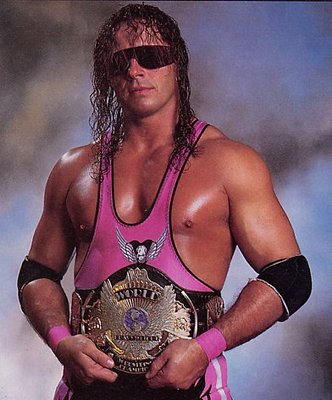 Bret Hart. The Hitman. The Excellence of Execution. The Best There Is, The Best There...okay, you get where I'm going here. Bret has been my favorite ever since I fell in love with wrestling in 1991.
His ring attire, theme song, nicknames, morals, rivalries, matches, ability, charm, and being the ultimate "good guy" are the reasons I love wrestling. I owe it all to Bret.
I made sure to tell him that when I finally had the honor of meeting him in 2008. Without Bret, I have no idea what type of wrestling fan I would be.
If I would even be one at all. I always imitated his moves, his ring enterance, and tried to put so many people in the Sharpshooter, and dreamed of one day being the lucky kid who got his sunglasses.
He made wrestling feel real and made it exciting. He gave it something that it had been lacking and that was quality matches all the time. Regardless of the product or the opponent, Bret made them look amazing and in the process proved he was indeed the best at what he did.
He sold better than anyone I ever watched, he was the greatest story teller in the history of the industry and he made me see wrestling for what it really could be, and that was an art form.
Then there's WrestleMania 13. Austin-Bret. It took place in my hometown of Chicago (well Rosemont, actually) and to me, it's the greatest match to ever take place. It has no flaws at all.
I will never forget the Figure Four on the ring post, or the bell to Austin's head, Stone Cold hitting the Stunner on Bret, and of course the most iconic moment of the match, the Sharpshooter that made Stone Cold Steve Austin a full fledged star.
I see the replay of the blood and anguish on his face and I get goosebumps.
I then watch his refusal to give up and Bret's determination to win and I become a kid all over again.
Not only was it the best match I've ever seen but the best story ever told in wrestling history.
The good guy feeling turned against, and the guy who was supposed to be the heel, never giving up and winning the fans affection and respect. The double turn of Bret to a heel and Austin to a face was done so perfectly.
It's a testament to Bret and Austin. Bret's heel turn would go on to become one of the best ever and made me love him for a whole new set of reasons.
His matches with British Bulldog, Owen Hart, Shawn Michaels, Mr. Perfect, Razor Ramon, Diesel, The Undertaker, and of course Stone Cold, are why I will always love this man above all others.
He never took a night off. He was dedicated to being the best and giving the best to the fans night in and night out. For that, I can only say thank you, but I think anyone who loves the Hitman knows there could be more to say.
It's just tough to be able to say it. Thank you for being a huge part of why I had a great childhood and for giving me the love for wrestling that I have to this day.
I'm so glad to see you back in 2010 and ending your career the way you deserve to. You are a true champion and legend.
To The Best There Is, The Best There Was, and The Best There Ever Will Be,
Thank you.
Keep Reading