NBA Trade Rumors: Is It the Right Time for the N.Y. Knicks and Tracy McGrady?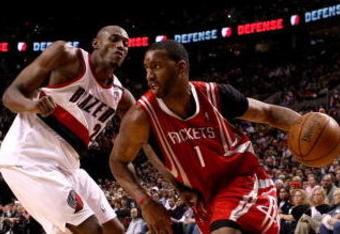 Jonathan Ferrey/Getty Images
When the Knicks entered the new year, it was a team filled with playoff hopes and dreams of Tracy McGrady leading the way.
Now, entering All-Star Weekend, the only hopes the Knicks hold for T-Mac are out of desperation.
The Knicks are six games out of the final playoff spot in the East, but Donnie Walsh is still being aggressive, having attended a T-Mac workout in Chicago and holding conversations with Houston and Washington regarding a three team trade. The proposed deal would bring McGrady to New York, and send Caron Butler and Brendan Haywood to Houston and Al Harrington to Washington. To make the deal work financially, the Knicks would also have to include Larry Hughes or Darko Milicic.
Call me crazy, but this deal may not be worth the long wait. Does it make sense for the Knicks to trade away Al Harrington, the NBA's second leading bench scorer, for a potentially rusty McGrady?
It does to Mike D'Antoni, who feels Harrington is stunting the growth of Jordan Hill and Danilo Gallinari.
Gallinari is scheduled to play in the Rookie-Sophomore game as well as the Three Point Contest in Dallas during All-Star Weekend, as he leads the NBA in three point field goals.
Gallinari looks good to me.
If you remove Harrington and insert Hill, you may risk disruption in the lineup. The one valid point D'Antoni alludes to is that Hill is not developed, but given the Knicks lack of big men, playing him more down the stretch could be a major mistake.
Trading away Harrington and his 18 points per game would also put more pressure on McGrady. It's easy to understand that the goal is for McGrady to score, but if he were to crack under the pressure, it could be costly for both himself and the Knicks.
McGrady should come into a situation where he can take his time and then evolve into a leading man again. He hasn't been the leader in quite some time, and it may no longer prove to be an easy adjustment for him given his history the last couple seasons.
If the Knicks were able to keep Harrington, paired up with David Lee, the two could provide McGrady with an easier transition.
Even if McGrady were to average, say, 18 points, would he be doing so while elevating the team to another level, or simply replacing Harrington's presence?
Going out on a limb, one would say there is still hope for the Knicks to make the playoffs this season. Although McGrady and Harrington both have expiring contracts, Walsh has the playoffs at stake.
The cruel reality is that a Tracy McGrady experiment may not work if it meant breaking up the core group this late in the season.
Understandably so, however, not much can be credited as "working" right now for the Knicks.
The alternate route would be waiting to see if the Rockets are unsuccessful in finding a suitor and subsequently waive McGrady. New York is his "preferred destination." If the Knicks don't improve their inconsistent play, it may just be too late. At least then, however, McGrady would be added to the core group of players without subtracting a crucial piece (Harrington).
While it would be nice to add McGrady and see D'Antoni and the Knicks be credited with rejuvenating his career, it should not take priority of making the playoffs this season.
Although the Knicks were considered a sure shot for the lottery once again, the playoffs would provide an up and coming team with more credibility than one individual player.
This article is
What is the duplicate article?
Why is this article offensive?
Where is this article plagiarized from?
Why is this article poorly edited?

New York Knicks: Like this team?