NASCAR May Tweak The Green White Checker Rule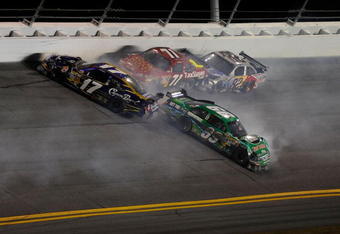 John Harrelson/Getty Images
NASCAR told all three series in Wednesday morning's safety meeting that the sanctioning body is looking at redefining the green-white-checker rule to finish races. In the past, when a caution occurred in the closing laps of a race, the field made one attempt at a green-white-checkered flag finish. Under the new rule, NASCAR will make sure the track is clean, run multiple green laps before waving the white and finally the checkered flag. Robin Pemberton, Vice President of Competition for NASCAR, used the analogy of Saturday night's multi-car wreck [in the Bud Shootout] in Turn 3 where the leaders came around to the white flag and Kevin Harvick led the field around to the track for the final lap. Pemberton said, "At least with the new rule they're going to race (one full lap of green) and then go on the white if we do this." The rule could go into effect for all three series as early as Thursday's qualifying races for the Daytona 500.(FoxSports)(2-10-2010) (VIA www.jayski's.com)
My Thoughts:
Well this is a rule that has really made racing fans excited since it was first introduced into the Craftsman Truck Series in 1995 so its no suprise to see that NASCAR has found a huge flaw in this rule. I know that the green white checkered rule means that they may only have one shot at this but now with this rule, we could see ten restarts before we have a winner. I am still on the fence with this idea because if you try to fix something that isn't broken, well then it turns out worse than before. NASCAR maybe doing the right thing with this rule but they will have to prove it to me when we get to these situations which could happen this Sunday if there is a caution with a few laps left.
This article is
What is the duplicate article?
Why is this article offensive?
Where is this article plagiarized from?
Why is this article poorly edited?