Ranking the Big 12's Starting Quarterbacks for 2010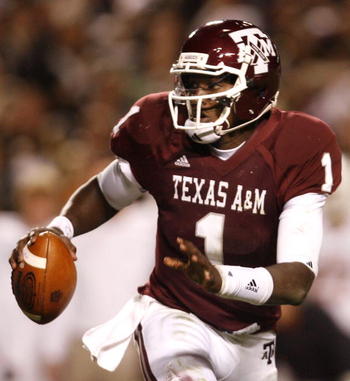 The Big 12 Conference, over the past decade or so, has produced an endless stream of very successful college quarterbacks.
Will that trend continue in 2010?
There are plenty of questionable quarterback situations out there, especially around the Big 12 North, but the conference still looks poised to produce yet another quality crop of signal callers.
Let's take a look at the Big 12's best quarterbacks and, in some cases, the Big 12's worst quarterback situations for 2010.
No. 12: Carson Coffman, Kansas State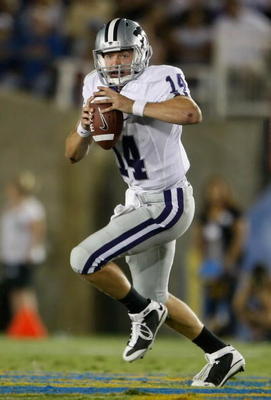 Carson Coffman gets this job by default, for the moment.
Sophomore Collin Klein is also on the list, and I've heard freshman commit Billy Cosh can play a little ball, too. Regardless, the job is still Coffman's to lose.
Coffman has the physical tools to be successful, and has a few decent pieces around him including most of an offensive line, Lamark Brown, and Daniel Thomas.
He simply needs to utilize his experience, create more plays, and make better decisions if the Wildcats hope to be more than mediocre this season.
No. 11: Tyler Hansen, Colorado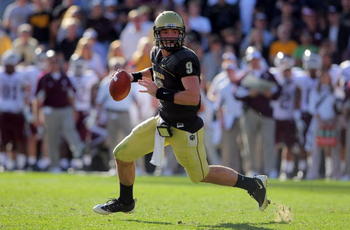 Colorado's problem is simply sticking with a quarterback.
Dan Hawkins needs to let Hansen take the bulk of the snaps all offseason and show the same confidence in the junior as he did in his son. The added experience Hansen gained won't hurt, either.
Hansen even has the potential and weapons around him (Rodney Stewart, Scotty McKnight) to move a little higher on this list.
If both Hawkins and Hansen struggle, though, it wouldn't hurt to see what redshirt freshman Clark Evans or even true freshman Nick Hirschman can do.
No. 10: Austen Arnaud, Iowa State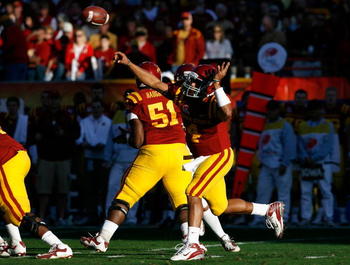 Austen Arnaud is vastly underrated as a leader, but stats are usually pretty honest and the Iowa State generals just aren't very pretty.
I don't believe that Jerome Tiller is any threat to Arnaud at this point, but he must progress if the Cyclones are to improve as a whole.
Arnaud regressed statistically last season, partially due to his own injury and injuries around him. Most importantly, he fell completely apart in a few games, something the best leaders never do.
A little accuracy work and better decision-making against more talented defenses would go a long way for this signal caller.
No. 9: Kale Pick, Kansas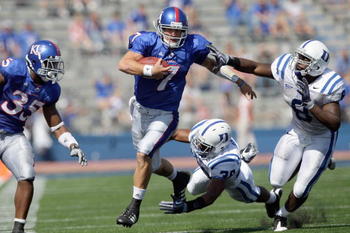 It's tough to rank a guy this highly who is still in a wide-open quarterback competition, but hear me out...
Kale Pick has the only Division-1 experience of the four main quarterback competitors, and he reminds me quite a bit of new head coach Turner Gill himself.
Pick also flashed a lot of ability with his legs last season despite miserable play calling. As far as an arm is concerned, Mark Mangino always said Pick was perfectly capable. Mangino is gone, but he's no dummy.
I will be surprised if Pick doesn't become a consistent weapon under the tutelage of Gill and Chuck Long this season. The Jayhawk field general is my quarterback "surprise of the season" candidate.
No. 8: Brandon Weeden, Oklahoma State
Most people seemed to like what they saw out of Brandon Weeden filling in for Zac Robinson last season. Most importantly, Mike Gundy seemed to like what he saw.
Unless true freshman Nathan Sorenson is spectacular, I think this job is Weeden's all the way.
Still, whether Gundy and Cowboy fans agree, 2010 should be a rebuilding year for Oklahoma State. At least Kendall Hunter at full strength will ease Weeden's transition into the full-time role and perhaps poise him for a more promising 2011 campaign.
Image Courtesy: Rivals.com
No. 7: Garrett Gilbert, Texas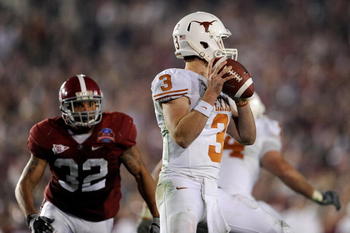 It's a shame that the most we saw of this kid last season was in the National Championship game against the most physically imposing defense in the NCAA as a true freshman.
Texas fans are praying that Garrett Gilbert learns from that performance and doesn't let it sting him.
Gilbert has as much potential, if not more, than any other quarterback on this list. Unfortunately, most of his offensive line and his top receiving target went the same place as his mentor, Colt McCoy.
This year could prove to be a little rough on the young gun.
Fortunately, Texas rarely comes up empty-handed when digging for linemen and weapons. Gilbert should get much stronger, as should the entire offense, as the season progresses.
No. 6: Zac Lee, Nebraska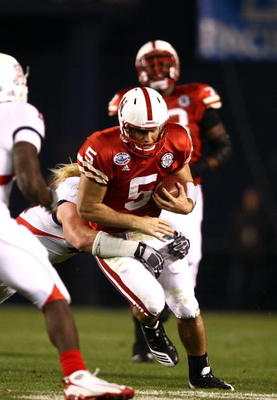 Nebraska's situation under center is usually exaggerated by Husker-haters, but I don't personally think it's awful.
Still, going by pure quarterback quality, I would have Lee much closer to the double-digit ranks of the article.
On the other hand, when a team returns 10 starters on offense and its signal caller has a full year of experience (including some big-stage games) under his belt, things usually get easier.
Much easier. For that reason, I give Lee the big benefit of the doubt.
(Don't forget, he'll be matched, for five games at least, against Big 12 North defenses.)
I have high hopes for Cody Green, too, but unless Cornhusker fans know something I don't know, the job is Lee's to lose.
No. 5: Taylor Potts, Texas Tech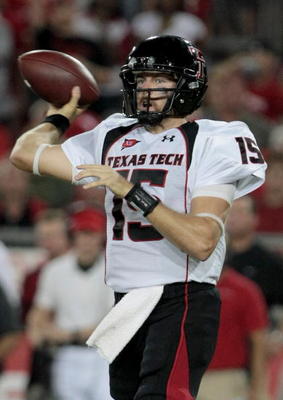 As far as individual quarterbacks go, Taylor Potts didn't quite meet expectations last season.
As quarterback crews go, though, Tommy Tuberville has to be ecstatic about his depth chart. Steven Sheffield played well last season, Jacob Karam is a talented redshirt freshman, and of course Taylor Potts is still there too.
Like Mangino with Pick, I don't care where Mike Leach is now. If he says Taylor Potts is good, Taylor Potts is probably good.
I worry about transitioning to a new coach, but with the spread offense intact, someone out of this group will probably post gaudy numbers.
No. 4: Robert Griffin, Baylor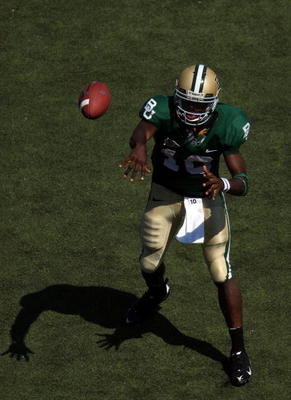 We all know how dangerous Robert Griffin is when healthy. However, lingering effects from injuries always scare me, and I'm not sure about his supporting cast either.
At least if he gets injured again, Nick Florence will have some experience to build off of this season.
No quarterback is as meaningful to his team as Robert Griffin, something the Bears discovered going through last season without him.
Don't get injured again (and deprive us of the joy we get from watching you), refine your air game a touch, and this spot is yours to keep.
No. 3: Landry Jones, Oklahoma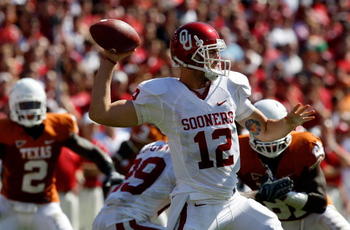 In what was by far the toughest tie to break, I decided to place Landry Jones at third.
Jones has a little experience, some talent surrounding him, and a great coaching staff to work under.
In fact, I like this particular field general more than most people probably do. Other than a little inconsistency, I don't think anything is stopping Jones from being the next renowned Sooner signal-caller.
There's not much else to say about Jones other than that if both he and his offense take steps forward, the Big 12 should look out.
No. 2: Blaine Gabbert, Missouri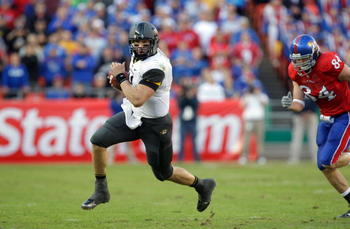 On the other side of that tie is Blaine Gabbert.
I'm taking Gabbert because of his great physical potential, his sure-to-be-better offensive line, and because I think he means more to his team.
Oklahoma is more balanced, deeper, and has more overall talent on offense than Missouri by far, in my opinion. Gabbert, on the other hand, will probably be the biggest single factor in the Tigers' success next year.
Gabbert will either step up big-time and place this team on his shoulders (that means in big games, too), or he will make me look like a huge Sooner-hater.
It's definitely a gamble, especially coming off of a rather pitiful bowl-performance against the Navy. I'm not sure why, but I just have a good feeling that Gabbert is going to do big things for Mizzou in 2010.
No. 1: Jerrod Johnson, Texas A&M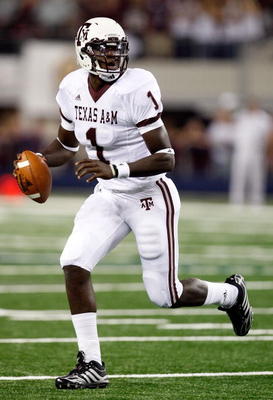 I'm not sure what kind of debate is actually out there concerning who the best Big 12 quarterback of 2010 will be, but in my eyes there is none.
Jerrod Johnson has taken consistent steps forward each year he's touched the field, and will have a good combination of quality veterans and talented youth surrounding him next season.
In fact, my only concern about Johnson at all is I expected him to show the entire nation how talented he truly is in the 2009 postseason against Georgia.
He didn't let me down completely, but it wasn't his best work, either.
Here's to hoping, for the sake of the Aggies and athletic quarterback fans everywhere, that Johnson was simply saving his best work for 2010. If he has, we spectators are in for a real treat.
Until he plays our teams, of course.
Keep Reading