The Top 10 NBA Prospects in College Basketball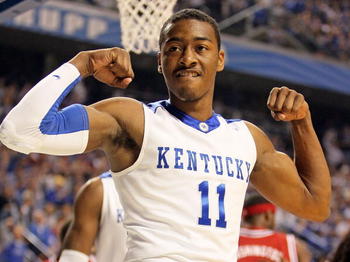 Though March has not even come yet, it is still time to start thinking about June's NBA draft. This draft class looks to be one of the best we have had in a while—thanks to the freshman class.
It boasts some of the best big men the NBA has seen in a while, and a couple of can't miss play-making guards. In my opinion, these are the top players that college basketball has to offer.
No. 10: Xavier Henry, SG, Kansas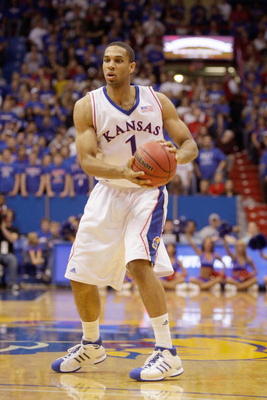 Xavier Henry—6'6" 220 lbs., Freshman
Xavier Henry is an ideal NBA shooting guard. He is already more built than most NBA players and his ability to shoot the three, drive to the basket, and handle the ball are pro-ready.
Henry will need to work on his consistency night in and night out, but this will come through more practice and professional coaching. There is a strong chance that Henry will be a one-and-done player, but there is still a slight chance of him staying. If he does decide to come out, look for him to go somewhere between picks seven and 10.
Comparable NBA players: J.R. Smith, Michael Redd, Jerry Stackhouse
No. 9: Cole Aldrich, PF/C, Kansas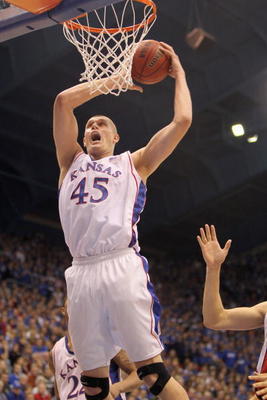 Cole Aldrich—6'11" 245 lbs., Junior
Another Jayhawk, Aldrich is a very fundamentally sound big man with great footwork and what appear to be effortless finishes. He is a very strong player down low who should only get better as the 2010 season moves along.
Aldrich will have to work on his explosiveness if he wants to hang with NBA big men. He sometimes seems a little slow compared to other, more athletic big men. Aldrich will also have to work on extending his range. He is limited to staying close to the basket right now in his career.
Aldrich is a very coachable player who should definitely succeed in the NBA. His draft stock weighs heavily with how Kansas does in the tournament. A National Championship could be the difference between going in the top five and falling out of the top ten.
Comparable NBA players: Tim Duncan, Brook Lopez
No. 8: Ed Davis, PF, North Carolina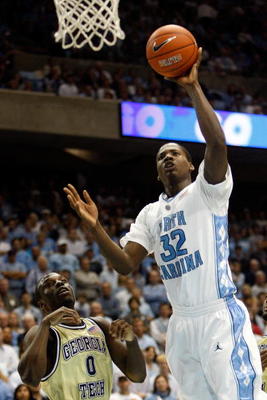 Ed Davis—6'9" 225 lbs., Sophomore
Davis is a very smart player who has off-the-chart potential. The 6'9" Davis has an unnatural 7'2" wingspan that he will have to utilize more often. Davis should turn into a very good role player in the NBA because of his love for the game and his ability to accept roles.
Davis's stock has taken quite a hit this year because of the poor play from North Carolina. He was once considered a lock to be a top-five pick, but now he is struggling to stay in the top 10. Davis needs to work at finishing above the rim and becoming more consistent with his jump hook. Both will come with more confidence and experience.
Davis has great potential—it will just be a struggle to get it all out of him. He will probably become a very solid second or third best player on a team, but he will probably never blossom into a star. Look for Davis to go anywhere from No. 5 to No. 10.
Comparable NBA players: Udonis Haslem, Luis Scola
No. 7: Wesley Johnson, G/F, Syracuse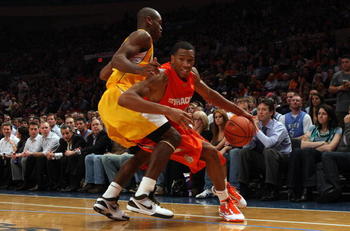 Wesley Johnson—6'7" 205 lbs., Junior
Johnson is a great shooter who is not afraid to take over a game. He is also blessed with a 7'0" wingspan, along with above-average athleticism. Johnson should develop into a very good NBA player because of his short memory. He can miss 10 shots in a row, but he will still not give up.
Many teams are nervous about Johnson's age. He is much older than many of the players he goes up against each night, and scouts are wondering how he would do against people his own age. Johnson will also have to work on his finishing around the rim if he wishes to stay at the SF position.
Johnson is a very good player who will improve any team with his shooting. He has also become a leader for that Syracuse squad, so look for general managers to take notice of this. Look for Johnson to go between second and sixth when he comes out.
Comparable NBA players: Stephen Jackson, Paul Pierce
No. 6: Al-Farouq Aminu, G/F, Wake Forest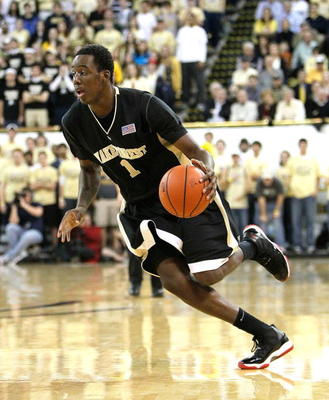 Al-Farouq Aminu—6'9" 220 lbs., Sophomore
Aminu is an amazing athlete with little holes in his game. He looks to become a very good NBA SF. He has three-point range to go along with a very good post game. Aminu is another player in this draft class with a 7'0" wingspan, only he really knows how to use it. Most scouts agree that Aminu has A+ potential, and most think he could become an All-Star one day.
Aminu has really benefited from staying another year in college. He was already young for his age, and the chance to stay has really helped him physically. Still, he will have to improve his upper body strength in order to not get bullied by stronger NBA players. He will also have to work on his overall consistency from outside.
The Wake Forest star should develop into a very good NBA player. He has star potential but would probably be better suited as a No. 2 player. Look for Aminu to go anywhere between fourth and eighth.
Comparable NBA players: Luol Deng, Carmelo Anthony, Gerald Wallace
No. 5: DeMarcus Cousins, PF/C, Kentucky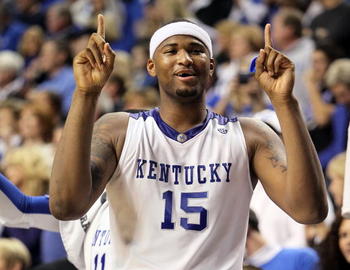 DeMarcus Cousins—6'11" 280 lbs., Freshman
Cousins is a physical specimen down low. He has bullied and overpowered every big man he has gone up against so far. Cousins has also shown off his very soft hands and his fairly polished foot work.
He will look to only get better in these departments, while working on his touch from 12-to-15 feet out. Cousins has also proven to be a fiend on the boards. His double-double stats should carry over into the NBA.
The big man needs to work on his attitude before going to the NBA. He is just as good at whining as he is at playing the game. I would say this would hurt him, but in fact, it will probably just make him fit in more in the NBA. Cousins does have to work on getting in better condition; losing a couple pounds would not hurt him.
Cousins is a terrific player, but he still has a lot to prove. There have been a lot of players similar to him—Kendrick Perkins, James Lang, Kwame Brown—who have failed before him. Hopefully Cousins can continue to improve and work on improving his attitude. If he does, look for Cousins to become a consistent double-double threat. He should go anywhere from second to sixth.
Comparable NBA players: Kendrick Perkins, Carlos Boozer
No. 4: Greg Monroe, PF/C, Georgetown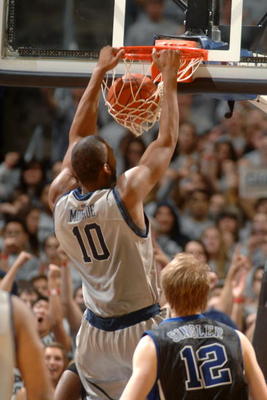 Greg Monroe—6'11" 250 lbs., Sophomore
Greg Monroe is a very interesting player. In terms of talent, there may be no one better in the country. It seems like he does not care to use it half the time, though. Monroe has the ability to run the floor, pass like a guard, and shoot from the outside. There are not many big men even in the NBA that can say this. Monroe also excels as an athlete. He constantly finishes above the rim with authority.
Where Monroe loses me is his post game. He sometimes looks out of place playing down low. He virtually has no moves yet, and poor footwork at best. Monroe has completely relied on his athleticism to survive underneath so far in college. In order to succeed in the pros, Monroe will need to become more assertive with his talent, and he will need to work on getting some moves down low.
Despite his awful post game, Monroe should still be okay. He is a very smart kid, and he should be able to adapt in the NBA. Some teams may even try to move Monroe to a SF role to take advantage of his speed and size. Look for Monroe to go anywhere from second to tenth.
Comparable NBA players: Pau Gasol, Kevin Garnett, Chris Webber
No. 3: Evan Turner, SG, Ohio State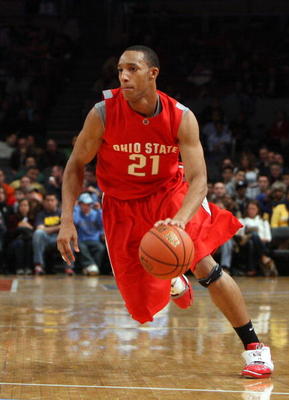 Evan Turner—6'6" 205 lbs., Junior
Turner has proved himself to be one of the best players in the country. He exhibited a ton of toughness coming back so quickly from an awful back injury, and toughness goes a long way in in pros. Turner is one of the most well-rounded guards to play in a while. He is an average shooter, but makes up for it with great dribble penetration along with great vision and amazing rebounding.
Turner is pretty NBA-ready right now, but he still needs to work on becoming a consistent outside option. His three-point game is in for a lot of work, and it will help him become completely well-rounded. Turner is also sometimes too worried about controlling the game at his pace. He will need to learn to take the back seat every once in a while and let the game come to him.
Any team that lands Turner will be getting a very well-rounded player who can step in and take starter's minutes immediately. He is probably the most NBA-ready player in the draft, which will cause him to go anywhere between fourth and eighth.
Comparable NBA players: Brandon Roy, Tyreke Evans, Scottie Pippen
No. 2: Derrick Favors, PF, Georgia Tech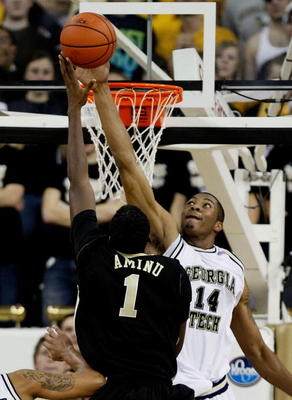 Derrick Favors—6'9" 250 lbs., Freshman
Derrick Favors was one of the most recruited players in 2009, and he has definitely shown why so far at Georgia Tech. He is one of the most athletic big men in college basketball and his enormous reach makes up for only being 6'9". Favors attacks the basket with a will to score, and he usually finishes above the rim with a dunk. Mix that with decent ball-handling and an improved post game, and you have one of the most desirable players in the country.
Favors is another one of these amazing freshman who have mainly made a living using their gift of superior athleticism. He will need to greatly improve his post moves, along with his footwork to become a great NBA player.
Favors also needs to work on his conditioning. He has a very big frame, and a great chance to put on a lot of muscle. The ball is in his court—let's see if he takes it.
Favors has the potential to become a great NBA player. He has unmatched athleticism, and if he decides to put the effort into the game, he can potentially reach star status. Favors just has to avoid falling like the stars that never were: Darius Miles, Kwame Brown, Demaar Johnson—the list goes on. Look for Favors to go between second and fifth.
Comparable NBA players: Emeka Okafor, Chris Bosh, Amare Stoudemire
No. 1: John Wall, PG, Kentucky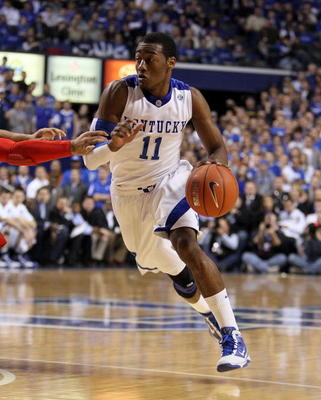 John Wall—6'4" 200 lbs., Freshman
This pick is obviously no surprise. Wall has graced college for one season and has given the fans of all schools quite a show. Wall has amazing quickness, size, and athleticism. He has an amazing amount of potential, and he will surely shine in the NBA.
Wall has so many positives that people often forget that he is still a very raw player. Wall really needs to work on his control of a game. He often is a little out of control, which causes him to turn the ball over quite a bit. A little more coaching and practice on his jump shot wouldn't hurt either. He is very inconsistent in this department, and he will need more than athleticism to survive in the NBA.
Wall is almost a lock at the No. 1 pick, even this far away from the draft. Barring a major injury or the reemergence of a young Michael Jordan, Wall will be the first named called. He is such an explosive player, and also a player you can build a team around. To me, he is what Rajon Rondo would be in super hero form.
Comparable NBA players: Rajon Rondo, Derrick Rose, Dwayne Wade
Keep Reading