The Five Can't Miss Hockey Games at the 2010 Winter Olympics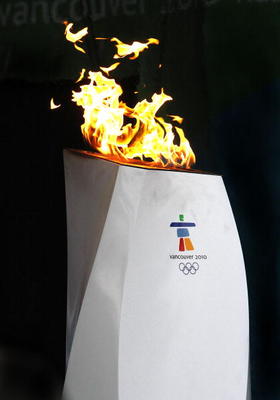 The Winter Olympics are upon us once again. This time in Vancouver, British Columbia. The excitement has been building for weeks and will be nonstop for the next 16 days.
Hockey is once again in the Olympics, and this will be the first time the event is held in an NHL arena. The defending champions, Sweden, look to be strong once again and will be looking to become the first team to repeat since Russia did it in 1984 and 1988.
They will face some stiff competition from Canda and Russia who look to be loaded once again. If they want to repeat they are going to have to win some big games in the round robin. So without further adieu, here are the five can't miss games of the 2010 Hockey Winter Olympics.
Canada vs USA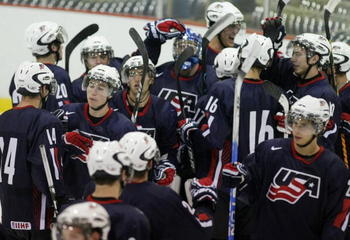 This is easily the biggest game in Group A. Team USA is coming off a disappointing showing at the 2006 games where they finished in eighth place. Canada is also coming off of a bad showing, finishing just one spot ahead of the US in seventh place.
Canada looks to be the favorite coming into the tournament. They roll four lines deep, and have the best goalies in the game today led by Martin Brodeur. If he was to get injured they don't have much to worry about with Roberto Luongo, and Marc-André Fleury waiting right behind him.
The USA on the other hand is limping into the tournament. Mike Komaserik had to have season-ending surgery that ruined his chance to play at the Olympics, and Paul Martin was forced to bow out due to an arm injury.
The USA certainly isn't out of it, but they are hurting. They will have to rely on their speed to win games, and hope that Ryan Miller can stand on his head a couple of times.
The winner of this game will mostly likely win Group A and get the bye in the playoffs. This will be key for teams if they want to be rested as the tournament goes on. Team Canada looks like they will win this game, but it may be closer than some might think.
Russia vs Czech Republic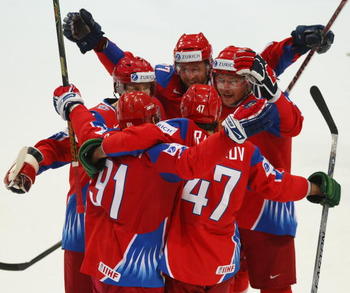 Russia is currently ranked number one in the world by the IIHF. They have who many consider to be the best player in the NHL right now in Alexander Ovechkin, and couple of pretty good goalies in Evgeni Nabakov and Ilya Bryzgalov.
The Russians are coming off a bad end to the 2006 Olympics where they finished fifth. They have yet to win a Gold Medal since the USSR disbanded, with their best finish coming in 1998 when they captured the Silver Medal.
The Czechs on the other hand are coming off a good showing winning the bronze medal in 2006. They will be led by their captain Patrik Elias and Martin Havalt.
If the Czechs can pull of an upset here they may be able to capture first place in Group B. Other wise they will probably be fighing for second place along with Slovakia.
The last time these two met was in the 2006 Bronze Medal game where the Czech Republic beat Russia easily 3-0. The Russians will be looking for revenge which will make for a great game.
Finland vs Sweden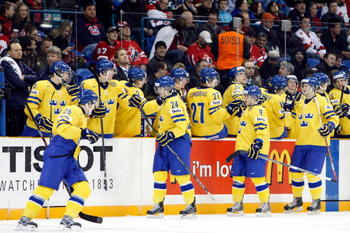 Finland vs Sweden is the must watch game of Group C. The winer of this game will most likely go on to win Group C.
Sweden is looking to repeat Gold again after winning it all in Tornino in 2006. They are led by the Sedin twins who have been tearing it up in the NHL, and by a couple of Red Wings players you might have heard of, Niklas Lidstrom and Henrik Zetterberg.
The Swedes are loaded with talent, but will need Henrik Lundqvist to be on the top of his game to win the Gold again. Lundqvist is one of the best goalies in the NHL, and has played great in the Olympics before and will look to do so again.
Finland will be looking for revenge against Sweden. The Swedes defeated Finland to win the Gold Medal in 2006 by a score of 3-2. They are looking to win their first ever Gold Medal at the Olympics.
Only four players from Finland don't play in the NHL which should help them greatly in their quest for Gold. They also have a great goaltending tandem in Mikka Kiprusoff and Nicklas Backstrom.
This game may just end up being a preview of the Gold Medal game once again and will be a game that you can't possibly miss.
Slovakia vs Czech Republic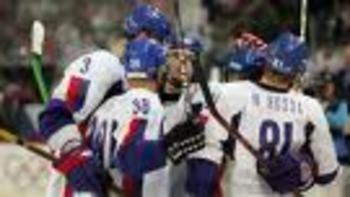 This game will most likely end up deciding who finishes second in Group B.
Slovakia has never medaled at the Olympics. Their best finish was in 2006 where they placed in fifth.
Slovakia is led by the biggest man to ever play in the NHL, Zdeno Chara, along with Marian Hossa, and one of the league's scoring leaders, Marian Gaborik. Gaborik is questionable after being cut in the knee by teammate Henrik Lundqvist's skate.
If Slovakia loses Gaborik, their hopes at winning Gold may be lost as well.
The Czech Republic is looking to medal once again, but they are hoping that it is better than a Bronze. This is the opening round game for both teams, and a fast start for each will go a long way in determining how they do the rest of the tournament.
This is also a rematch of the quarterfinal game from the 2006 Olympics that the Czech Republic won, 3-1.
Finland vs Germany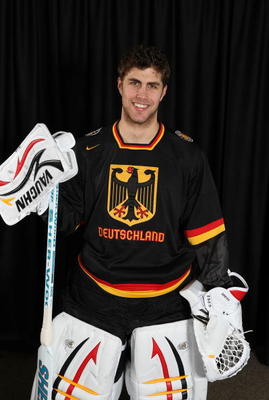 This game is looking like it may decide who will finish second in Group C. Germany is coming off a very disappointing 2006 Olympics where they finished in tenth place after going just 0-3-2.
The Germans have medaled just once, winning Bronze in 1932. They only have six players from the NHL including Marco Sturm and Christian Ehrhoff. The Germans don't look very talented, but do have a chance to make some noise.
Finland on the other hand is looking to win Gold after capturing Silver in 2006. This is the second game for each team. If Germany is able to upset Sweden in their first game, they may be able to win the Group with a win here.
The two teams last met in the 2006 Olympics which saw Finland win the Game 2-0.
Keep Reading