Button vs Kovalainen: Damage Limitation?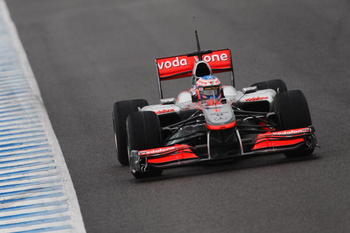 Jenson Button and Heikki Kovalainen have had alternative and differing careers up until now. Each has had moments of triumph yet accompanied these with a vaster tally of moments of dismay.
Now they both have moved to new teams to parnter drivers who are proven in quality for the 2010 season.
Therefore both Jenson and Heikki will now seek to emulate both their team mates and their former selves in their performance, their demeanour and in their credentials.
Failure to do so could be the end to a career.
So which one of the two is more able to succesfully achieve what we all expect them to falter at? Which driver could prove that he is no one hit wonder, and ultimately leave himself with a promising career in the aftermath?
Button's Previous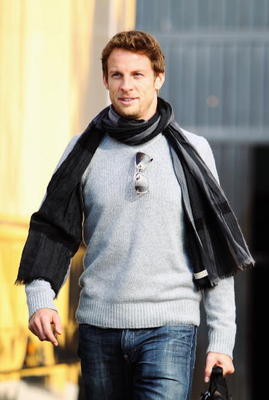 Obviously Jenson Button has a little bit of an advantage in his past successes. He is going into his first season at Mclaren as reigning champion, following a season of early title bliss where he could not be caught.
He was the No. 1 driver in the field, even despite damage limitation being his one and only game plan as he delved into the second half of the 2009 season.
We knew though beforehand that Button had that special something in him. It was however like Jaw's softer side; it didn't come out that often!
We will all remember his inspirational victory in difficult conditions in the Hungarian Grand Prix of 2006, which set an end to his wait for a first victory after various podium finishes in preceding seasons.
It was however his only moment of absolute glory before his unexpected big break at Brawn GP last year.
Kovalainen's Previous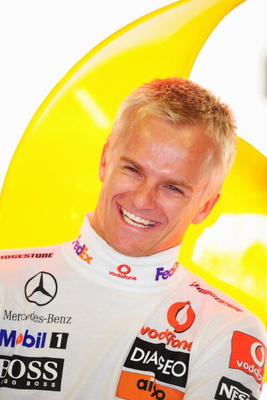 Heikki Kovalainen on the other hand had his, shall we say, lucky victory at the same track just a couple of years later. When Felipe Massa's emerging victory was cut short by a devastating engine failure in Hungary 2008, Heikki was gifted a win he did not really deserve.
Even more tragic for watching spectators was the fact that Heikki in winning the Grand Prix became the one hundredth racer to win in Formula One.
Not quite the landmark victory we all would have hoped for!
The win itself had followed almost two seasons of mediocre performance that gave little warrant for a furthering career. It is not surprising that Heikki has failed to add to his sole victory since that race.
Half Time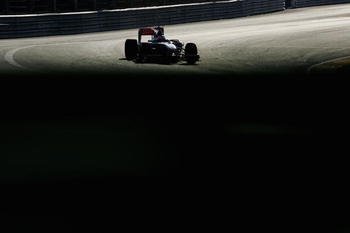 So although Button did indeed wait a lot longer for his first race victory it was mainly in part to him only having half decent machines beneath him. His cars rarely afforded him race winning opportunities and that should be taken into consideration.
Heikki, on the other hand, was offered race seats at two former and recent constructors winners, wasting various chances at both to put his name into the minds of ardent supporters.
Therefore you have to say that Button in being a more accomplished race winner will have the more competitive edge over Heikki. He is use to forcing the most out of his car when he has a car beneath him that is capable of greatness.
In any sport this will be a more accessible skill to hold than a competitor who portrays consistency only matched with mediocracy.
This, however, is only one side of the debate.
Although Button may indeed be more accomplished what also needs to be taken into account is the position of vulnerability that both drivers have put themselves in.
Both the team choice and team mate that accompanies their choice will have a large impact on the outcome of both drivers their seasons.
The Teammates
Jenson Button in many peoples opinions has shot himself in the foot. In a better car he could defeat better drivers from other teams. Yet in an equal car it was not always proven to be the case.
Ralf Schumacher, Giancarlo Fisichella and Rubens Barrichello have all shown on occasions that Button can be comprehensively outclassed by a teammate.
That, sadly, is our resultant vision of Button, but one that is backed up with countless seasons of misadventure and an overall performance that left him lagging.
So what was he thinking when he decided to partner Lewis Hamilton at Mclaren? Does he really believe that he can defeat Hamilton purely because he had a wonder season in a Brawn car that for the most part destroyed the comparative performance of the Mclaren and all other teams?
It is a harsh reality that may be disagreed with, yet his early preseason testing is showing that Button is running a high risk of damaging his current impressive reputation if he does not equal Hamilton's pace from the outset.
Hamilton is, after all, one of or if not the best rookie to have ever graced the sport and last year he added the essential skill of consistency to his impressive array of talents. That is of course if we forget his indescretion in Italy, but we knew that after his second half of the season Lewis was the most capable man on the track.
Button will need to reflect on this notion and use this to inspire his on track showing.
Heikki Kovalainen on the other hand has decided upon the returning Lotus team to continue his career. Away from the massive expectation that comes with driving for both Mclaren and Renault in the modern era he may seize an opportunity to suceed.
This opportunity was not one that with his statistics could be achieved at Mclaren or Renault.
His team mate Jarno Trulli is a credible partner none the less. Although not as wonderfully magnificent as Lewis Hamilton, Jarno is accompanied with consistent results and various podium finishes including a deserved solitary win in Monaco 2004.
To his detriment though, he is drawing towards the end of his illustrious career, and sadly we also know that he lacks the additional something that Hamilton possesses.
His inability to back up qualifying pace in race day conditions does not allow him to be as highly regarded as Lewis or the likes of Alonso or Raikkonen.
Yet Trulli is indeed capable of destroying Kovalainen on more occasions than not although the gap between himself and Heikki doesnt come close to the expected gap we may seen between Button and Hamilton.
We can hope that buoyed by his title winning season, Button will pull out all the stops in his defending campaign. If he does not it will not be clear where his continuing career will lead him to.
To expect him to remain at Mclaren long term if he cannot provide a respected comparison to Lewis's pace is a naive train of thought. So the heat is well and truly on.
Kovalainen is not off the hook either. If he partakes in a fourth season of limited success he may not be given a fifth, so he will need more fire in his belly if he is to continue acquiring race seats.
The Result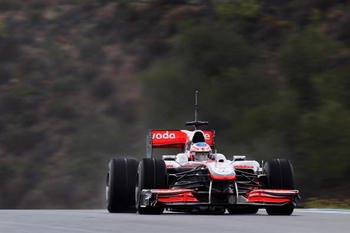 In the short term my conclusion and expectation is that Heikki has put himself in a more able position to deter any embarrassing scenes than Button.
This does differ however from longer term aspirations as Button is less likely to lose a continual career if results don't go his way. He has proven on occasions that he is more worthy than Heikki of a race seat and this will be his saving grace.
Keep Reading