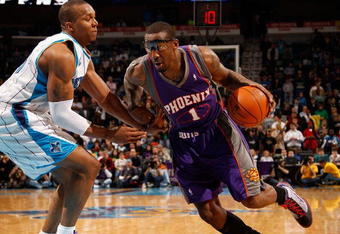 Chris Graythen/Getty Images
Who are this big names that are going to move this year. Amar'e, Jamison, Caron Butler, Bosh? No one will know until that circled and highlighted by every NBA executive 18th of February. Some teams will simply be looking to dump salary to enter the LBJ D-Wade Sweepstakes this summer. Some teams will be looking to bolster there roster for a run to the finals, and some teams will make a crazy move just to make every stop and stare in disbelief. Such as the Warriors waiving Speedy Claxton and his 5.2 million dollar expiring contract to create room for a D-Leaguer. Many of the teams in the drivers seat for playoff positioning will simply wait for vets to get bought out and sign them for the remainder of the season. Some teams will use their cap space (OKC, Portland, Sacramento) to squeeze draft picks out of teams over the cap. As for predictions on who's going where Houston and Phoenix both seem to want A.I. #2 (Iguodala). The Rockets can offer McGrady's 22 million dollar expiring contract but that would involve them back back salary such as Brand, Dalembert, or Jason Kapono who's deal will expire also. Amar'e has changed his stance and said he might not opt out which would sour some teams on trading for him since they want his 16.7 million to come off their books. Ray Allen could be on the move for a younger cheaper guard such as a swap with Chicago for Salmons and Brad Miller's expiring contract. Hinrich has been a hot name that could be on the move to especially among title contenders such as Boston and LA. His ability to play both guard spots and be a defender could be key for the stretch run. Tyrus Thomas will be gone from Chicago by the 18th. He could go to NYC for Harrington, Houston as part of a deal for McGrady. Whoever gets Thomas will get a skilled athlete but with some growing up to do. Jamison is a sure bet to go to Cleveland but JJ Hickson will have to be part of it along with Z's expiring deal. Amar'e could end up in south beach with grant hill for Q-Rich, Haslem, and Dorell Wright. Don't be surprised if the Pistons and Mavs both offer up players such as Prince, Josh Howard, and Richard Hamilton. This year will be busier than past years as everyone wants to clear as much as possible for the King.
This article is
What is the duplicate article?
Why is this article offensive?
Where is this article plagiarized from?
Why is this article poorly edited?

Detroit Pistons: Like this team?