Seahawks All-Offense: The Greatest of All Time
Before we get started, let me say that this is my list of the greatest Seahawks to ever play offense. I will try not to be biased based on my age and who I grew up watching. Many of these decisions were very tough to make, particularly at running back and full back.
The Seahawks were inaugurated in 1976 and with the likes of Jim Zorn, Steve Largent and Sherman Smith, the Seahawks were able to entertain, but never finished better than 9-7 in their first seven seasons.
It was in 1983 when the Seahawks truly captured the hearts of their fans. Finishing the regular season with a 9-7 record, the Seahawks made the playoffs for the first time in franchise history.
Led by Largent and the fresh legs of newcomer Curt Warner, the Seahawks just missed their first Super Bowl, falling short to the Raiders 30-14 in the AFC Championship.
This captured a feeling in Seattle that would never be forgotten. It would put Seattle on the map as a place talented free agents would want to come. It would eventually lead Seattle to Mike Holmgren and Matt Hasselbeck and...a trip to the Super Bowl.
These are the greatest offensive players in Seahawks history.
QB: Matt Hasselbeck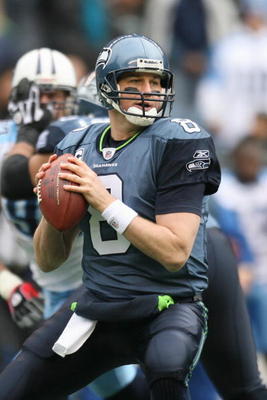 I have to admit, when Matt first arrived, I was not a fan. But Matt Hasselbeck's determination to succeed and leadership ultimately led the Seahawks to their first Super Bowl.
A sixth-round draft pick in 1998, Hasselbeck lurked behind the shadows of Brett Favre, soaking up everything he could.
Traded to Seattle in 2001, Hasselbeck backed up Dilfer his first year. He would get his shot in 2002 and the Seahawks never looked back. He holds the franchise record in several categories including:
Highest Passer Rating, Career (Min. 200 attempts) - 86.2
Highest Passer Rating, Season (Min. 200 attempts) - 98.2 (2005)
Most Pass Attempts, Season - 562 (2007)
Most Pass Attempts, Game - 55 (at San Francisco, 12/1/02)
Most Pass Completions, Season - 352 (2007)
Most Pass Completions, Game - 39 (vs Detroit, 11/08/09)
Most Pass Completions, Career
Most Passing Yards, Season - 3966 (2007)
Most Passing Yards, Game - 449 (at San Diego, 12/29/02)
Most 300+ Yard Passing Games, Career - 16
Most 300+ Yard Passing Games, Season - 4 (2002 and 2003)
Most 3000 Passing Yard Seasons, Career - 5
Most Consecutive Seasons, 3000 Yards Passing - 4 (2002-05)
Highest Completion %, Career (Min. 200 attempts) - 60.8%
Most Touchdown Passes, Game - 5 (tie w/5 other players)
Most Consecutive Attempts Without an Interception - 159 (2005)
Lowest Interception %, Career (Min. 200 attempts) - 2.7%
Only Seahawks QB with 13 wins in a season (13-3 in 2005)
Franchise Playoff Records
Most Pass Attempts - 325
Most Pass Completions - 189
Most Pass Completions, Game - 27 (1/8/05 vs. Rams)
Most Passing Yards - 2211
Most Passing Yards, Game - 341 (1/8/05 vs. Rams)
Most 300+ Yard Passing Games - 2
Most Touchdown Passes - 11
Highest Passer Rating - 79.9
Highest Completion % - 58.2%
Highest YPA - 6.80
Most Consecutive Games w/TD Pass - 8 (current)
Most Passes Intercepted - 8
Most Consecutive Passes Without Interception - 109 (2004-05)
How can you argue with that? Without a doubt he is the best in Seahawks history.
Honorable mention: Jim Zorn, Dave Krieg
RB: Shaun Alexander
Shaun Alexander was drafted by the Seahawks 19th overall in 2000. In Alexander's first season with the Seahawks, he gained only 313 yards and had 2 touchdowns as he saw limited action behind the great Ricky Watters. In 2001, Shawn would get his chance.
Named the featured back, Shaun Alexander did not disappoint. He rushed for 1,318 yards and 14 touchdowns, only behind Marshall Faulk for total touchdowns. He would follow in 2002 with 1,175 yards and 16 TD's. In 03', Shawn rushed for 1435 yards and had become a force in the National Football League.
He would continue to dominate over the next two seasons, finishing the 05 season with 1,880 yards and an NFL record 27 touchdowns and would be named the NFL's MVP.
The Seahawks have had some great running backs and these backs deserve honorable mention: Curt Warner, Derrick Fenner, Chris Warren
FB: Mack Strong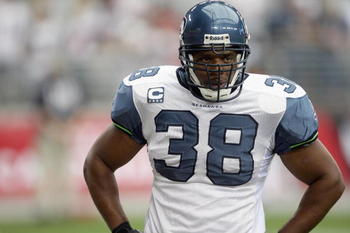 This was a tough choice. Mack Strong. The name says it all. Throughout the years, the Seattle Seahawks had a number of 1,000 yard running backs. Chris Warren, Ricky Watters and Shaun Alexander to name a few.
But the unsung hero, the warrior behind their success was fullback and lead blocker Mack Strong. He opened the holes; he cleared the way.
When asked upon, he would take the ball up the middle and smack someone in the mouth.
If you were to mold the perfect fullback, you would use Mack Strong as your basis. Tough, loyal, and a leader.
Mack Strong played his entire career as a Seahawk. All 15 seasons. Mack Strong was honored by his peers and invited to the Pro Bowl in 2005 and 2006.
Honorable Mention: John L. Williams (probably the most complete back to ever wear a Seahawks uniform. This was an extremely tough decision for me. John L. Williams was a great blocker and a terrific receiving back. He was more utilized in the Seahawks offense as a play making threat than Mack Strong, but it was a different time and offense. John L. Williams is my favorite Seahawks offensive player of all time, but 15 years and a Super Bowl give Mack the edge.)
LT: Walter Jones
Walter Jones....need I say more. Arguably the greatest left tackle in NFL history, let alone Seahawks history. Walter began his career in 1997 and dominated for a decade.
Hampered by injuries since 2007, the great Walter Jones may be at the end of the line. His void will never be filled.
LG: Steve Hutchinson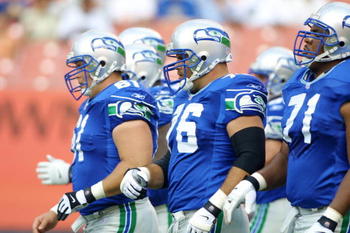 Alright. I know everyone is bitter about the Hutch deal. I am too. But you can't deny the fact that he was the most dominant left guard to ever wear Seattle blue.
The 2005 Seattle Seahawks offensive line was arguably one of the most dominant lines in NFL history. The Seahawks will be searching for another Hutchinson for along time.
Honorable mention: Edwin Bailey
C: Robbie Tobeck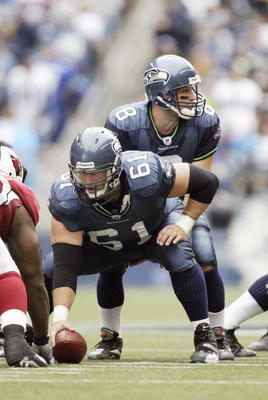 Robbie Tobeck joined the Seahawks in 2000. He had a limited role in his first season as a Hawk but started in 2001 and remained the started for the remainder of his career.
He is the only center in Seahawks history to be named to the Pro Bowl.
Honorable Mention: Blair Bush
RG: Chris Gray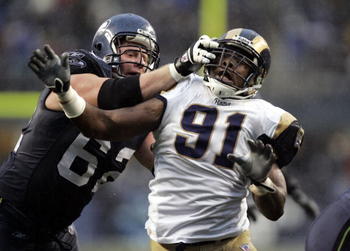 Chris Gray joined the Seattle Seahawks in 1998 and played 34 games at center. He moved to right guard in 2001 and stayed there until he retired.
Gray is the only Seahawk to have played every position on the offensive line. He also holds the club record with a streak of 121 consecutive starts at guard / center.
Honorable Mention: Pete Kendall
RT: Steve August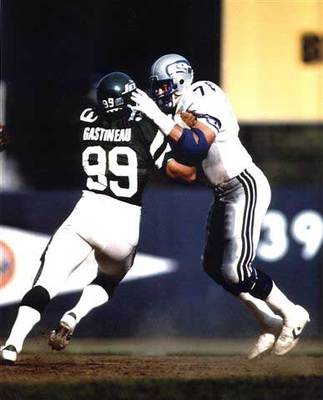 Steve August is the original right tackle of the Seattle Seahawks. Drafted in 1977 with the 14th pick overall, Steve August was responsible for protecting the left-handed Jim Zorn's blind side.
He started at right tackle until 1983. Undersized at 6' 4" 254 pounds, August relied on footwork and heart rather than physical dominance.
Honorable mention: Sean Locklear
WR: Steve Largent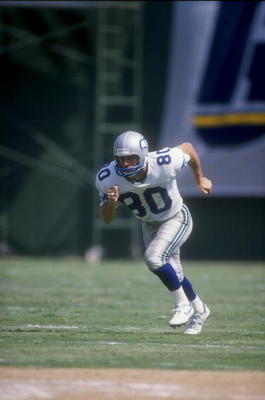 When you think of the great Seahawks, most think of Steve Largent first. His hard work, determination and integrity on and off the field epitomize the definition of a Seattle Seahawk.
So much, in fact, that the Steve Largent award was created after him. He is the only Seahawk to have his number retired.
When Largent retired, he held all major NFL receiving records, including: most receptions in a career (819), most receiving yards in a career (13,089), and most touchdown receptions (100).
He was also in possession of a then-record streak of 177 consecutive regular-season games with a reception.
Largent was inducted into the Pro Football Hall of Fame in 1995. In 1999, he was ranked No. 46 on The Sporting News' list of the 100 Greatest Football Players, the only Seahawk on the list.
WR: Brian Blades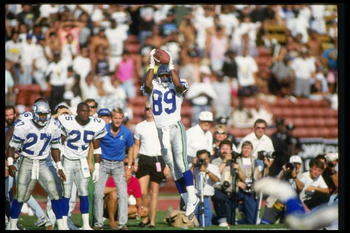 Brian Blades is one of the most electrifying receivers to ever put on a Seahawks uniform. His 581 receptions and 7,620 yards rank second most in franchise history.
Blades started his career in Seattle in 1988 as a second-round draft pick. He played his final season in Seattle in 1998. In terms of the best in Seahawks history, Blades deserves mention along with Largent.
WR: Bobby Engram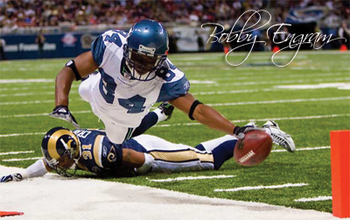 Bobby Engram was Mr. Clutch. 3rd down, throw the ball to Bobby. Matt Hasselbeck and Bobby Engram had a connection. Bobby Engram made more plays on third down than any player I can remember in Seahawks history.
Bobby had his best season in 2007 when he had 94 receptions. The slot is a tough spot to play. You can't have any fear going across the middle and that's what Bobby Engram did best.
Honorable mention: Joey Galloway, Koren Robinson, Darryl Jackson
As you probably noticed, I did not choose a tight end. There really wasn't one that stood out to me. Here are the tight ends deserving honorable mention: Itula Mili, Jeremy Stevens, Christian Fauria, John Carlson.
Don't get me wrong, I like Carlson, but what has he proven?
So there it is. The Seattle Seahawks All-Offensive Team. My apologies to any Seahawks who may have hurt feelings for not making this list.
Keep Reading

Seattle Seahawks: Like this team?