Hurricanes' Trip to Finland a Shrewd Move for the NHL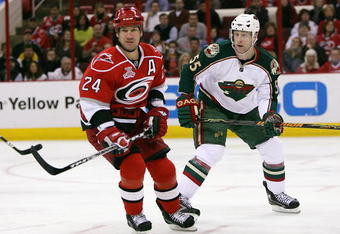 Kevin C. Cox/Getty Images
It will be a homecoming of sorts for Finns Jussi Jokinen, Joni Pitkanen, and Tuomo Ruutu of the Carolina Hurricanes at the beginning of the 2010-11 NHL season.
The league announced today that the 'Canes are heading to Helsinki to take on the Minnesota Wild at the fourth annual NHL Premiere from Europe. The NHL's decision to send the boys from Raleigh to Finland looks pretty clever due to Carolina having three Finns on its roster—but this, of course, isn't what made the decision sound.
At first glance, the NHL's choices of teams that will open the season across the pond may have left some longtime hockey fans scratching their heads. Of the six teams chosen to participate in this year's Premiere, four are from so-called nontraditional markets: the 'Canes, San Jose Sharks, Columbus Blue Jackets, and Phoenix Coyotes.
In an era in which the league appears to be attempting to ride the coattails of superstars to a return to national prominence, wouldn't sending a team like Sidney Crosby's Penguins to Europe make more sense? What about the internationally famous Montreal Canadiens and New York Rangers?
The truth is that showcasing well-known teams and superstars, while effective in some ways, has definite limits.
After the lockout of 2004-05, many outside observers were surprised at how quickly fans returned and how full most NHL arenas were every night. However, it was merely par for the course for those in the hockey world.
Even though the NHL has less support, in terms of the absolute number of fans in the United States, than the other major leagues, hockey fans tend to be fiercely loyal.
Most hockey fans have a different mindset from those of a league such as the NBA: You won't see a usually half-empty arena fill up for one night just because a star like Alexander Ovechkin is in town, similar to the effect caused by the likes of LeBron James and Kobe Bryant in the Association.
Rather, the focus tends to be on the home team; fans in traditional markets are particularly adept at reflecting this trend. Edmonton, for example, is dead last in the NHL standings at the time of this writing but has sold out every home game this season, regardless of the opponent.
The traditional markets have shown they can take care of themselves. They don't need flashy marketing or a host of superstar players to remain economically viable.
One of the main causes of the league's financial difficulties during the last decade or so has been the too-thin spread of teams across nontraditional markets. While most of these franchises are still stable, fan support (and therefore revenue) in some cities in the South, Lower Midwest, and West has been undoubtedly shakier than in older, well-established markets.
These are the places that truly deserved to be pushed into the spotlight—not because of difficulties they may be having, but to show that the NHL has a fantastic product in every city where it has a presence. People in Nashville, Tampa, or Phoenix won't become any more interested in their hometown skaters if all they see when they turn on NBC is yet another Penguins-Red Wings matchup.
In choosing four teams from nontraditional markets to participate in this year's NHL Premiere, the league is showing that it has its priorities where they should be: helping less-renowned teams entrench themselves further in their home communities and the overall landscape of the league—particularly the Coyotes, whose future in Arizona remains very uncertain.
Furthermore, European fans have turned out in force for the previous Premieres, including ones featuring lesser-known teams such as Florida and St. Louis. The NHL is considered the world's top-flight hockey league, and no Premiere will "fall flat" because the Kings are in town instead of the Maple Leafs.
Regardless, the point for these teams from nontraditional markets is media exposure, not how many fans attend two of their games in Europe.
Will having a European showcase of these teams be anything close to a panacea for the league's recent troubles? No. However, the decision is certainly a step in the right direction, as seeing a small-market team compete on an international stage will be much more effective at piquing the interest of local fans than constant exposure to the same players from teams hundreds of miles away.
Attendance and support will certainly improve in these cities if the NHL continues to focus on them with events like the Premiere. While Jokinen, Ruutu, and Pitkanen will almost certainly be happy to be playing back in their homeland in October, competing in front of a full house of 'Canes fans in Raleigh for each game during the regular season might just make every night feel like a homecoming to them.
This article is
What is the duplicate article?
Why is this article offensive?
Where is this article plagiarized from?
Why is this article poorly edited?

Carolina Hurricanes: Like this team?