The Future of the New York Rangers' Defense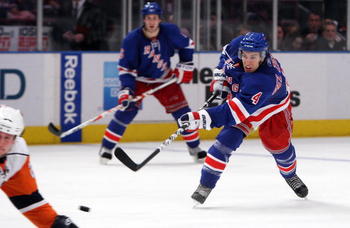 With the Olympics bearing down on the team and the trade deadline right behind it, the Rangers are getting to a point where they need to decide if they'll be buyers or sellers.
Will they try and sneak into the playoffs or give up and wait for next year?
While this year's team is flawed in many, many ways, the young defense and the Ranger defensive prospects do provide a ray of hope for the team, whether or not they decide to try and make a playoff push.
Let's take a look at the future of the Rangers defense.
Michael Del Zotto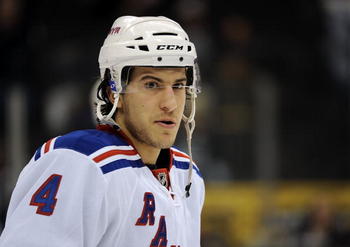 Del Zotto started the season strong but has cooled since, possibly due to the grind of the NHL season. Still, he's been the one bright spot on a sad team. Del Zotto never hesitates to join the rush and plays solid defense in his own end.
Del Zotto is only 19 and he's a key part of the Rangers' future. The skill and maturity he's showing at such a young age will only amplify as he gains more NHL experience.
Del Zotto has the potential to be an elite NHL offensive defenseman and the Rangers seem content to hold onto Del Zotto for as long as they can.
Matt Gilroy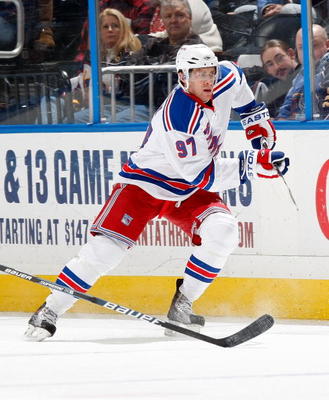 The Hobey Baker Award winner is, like Del Zotto, an offensive defenseman. Similarly, he doesn't hesitate to jump into plays. But unlike Del Zotto, he's struggled with defensive responsibilities, to the point where he was briefly sent down to the AHL to work on re-developing his defensive game.
Gilroy is a prime prospect but the Rangers might not be committed to him. His name was rumored to be in the mix during the Olli Jokinen trade negotiations, and while Gilroy ultimately wasn't moved, you have to wonder if the team sees more value in him as a trade chip than as a New York Rangers defenseman.
Marc Staal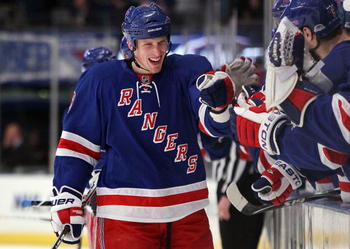 Staal is in his third NHL season, which is proving to be his best so far. He has already put up a career-high five goals and 17 assists.
The early part of Staal's Ranger career was defined by expectations that he would develop into an offensive defenseman, but he's proven to be more effective as more of a traditional defenseman. Helping this transition has been the rise of young talent, like Del Zotto and Gilroy.
While Staal is a solid NHL defenseman, the Rangers are probably most impressed by his pedigree. Staal is the brother of Pittsburgh's Jordan Staal and Carolina's Eric Staal, both of whom have won Stanley Cups.
Staal has yet to establish himself as a top-two defenseman, but the Rangers seem to believe he's close. Ostensibly, he's the Rangers top defenseman, but that's more of a default role.
Hopefully, by next season, he'll earn that top-two spot.
Bobby Sanguinetti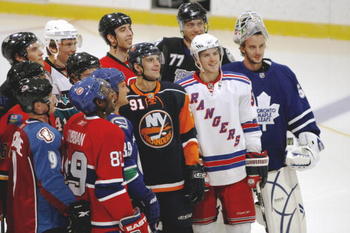 Sanguinetti plays in the Rangers' farm system, although he does have five NHL games under his belt.
Like Del Zotto, Sanguinetti is a puck-moving offensive defenseman. In fact, the two have a similar game. By the time Sanguinetti is ready for a full-time NHL job—probably next season—Del Zotto should prove to be a solid mentor and the two offensive defensemen will probably prove hard to defend, especially if they're not a part of the same pair.
Ryan McDonagh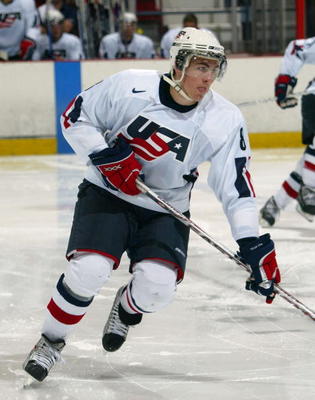 Currently playing for the University of Wisconsin, McDonagh came to the Rangers in the Scott Gomez trade.
McDonagh is years away from the NHL, but his reputation is that he is a quick skater with a surprisingly mature two-way game.
When McDonagh is ready to dress for the Rangers, he'll slide right into what should be an already impressive lineage of offensive Rangers defensemen.
Free Agency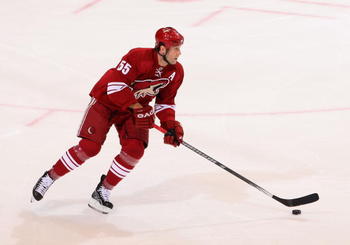 Rangers GM Glen Sather has always been a fan of experience on the blue line. While he's managed to accumulate an impressive array of young talent, he's always been attracted to older defensemen. The rest of the league took a pass on Wade Redden, but Sather wanted Redden and his experience.
The Redden experiment hasn't panned out for the Rangers, but you can be sure there will be more older defensemen passing through, serving as mentors to this young core.
Sheldon Souray should be available from Edmonton this offseason. Ed Jovanovski has long interested the Rangers and the team has a good relationship with Phoenix GM Don Maloney.
Maloney might be convinced to part with Jovanovski if the Rangers give up a non-essential defensive prospect—perhaps someone like defenseman Dan Girardi, who has struggled a few times in adapting to coach John Tortorella's system.
Keep Reading

New York Rangers: Like this team?