The Top 10 Active Playoff Quarterbacks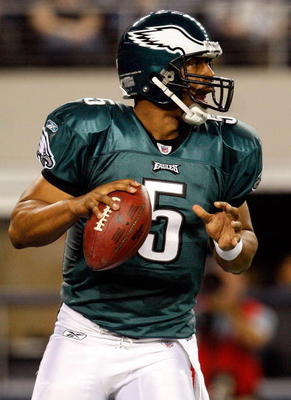 The playoffs need no real introduction. It's the time of year where everything comes down to one game, one drive, even one play.
It is a complete team effort, and redefines what a team game really is.
Despite this, it is the time of year where the quarterback position is also redefined. A legacy can be created or destroyed in a single game, drive, or play.
These are the guys you want under center when January rolls around. Here is my list of the top ten active playoff quarterbacks.
10. Joe Flacco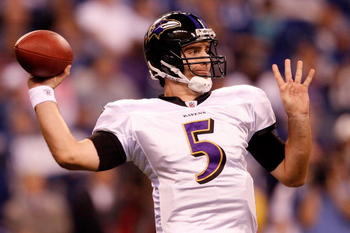 Playoff Record: (3-2)
Conference Championship Games: One
Super Bowls: Zero
Joe Flacco's winning playoff record is guilty of false advertising and certainly does not reflect Flacco's performance in the postseason.
Currently, Flacco's quarterback rating in the playoffs is a pathetic 46.5. He has only thrown one touchdown in five playoff starts, while he has six interceptions. However, it should be noted that three of those interceptions came in one game.
While Flacco is winning in the playoffs, it is clear he has very little to do with it. If he has any hopes of ever winning a Super Bowl, he will have to perform better in the playoffs.
9. Philip Rivers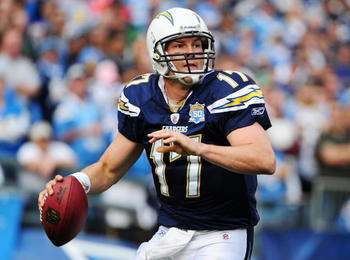 Playoff Record: (3-4)
Conference Championship Games: One
Super Bowls: Zero
Rivers's career rating in the playoffs is a mediocre 79.2, which is a fair reflection of his playoff production.
In four playoff games, he has thrown more interceptions than touchdowns, and has lost three of those games.
He has thrown eight playoff TD's compared to nine playoff INT's.
Rivers is one of the highest rated quarterbacks in NFL history, but he does not do well to translate that to the playoffs.
8. Eli Manning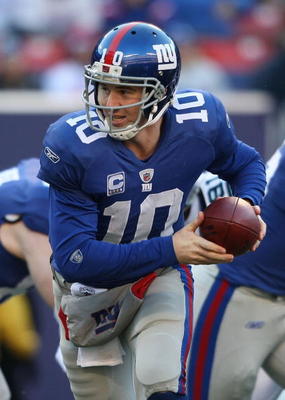 Playoff Record: (4-3)
Conference Championship Games: One
Super Bowls: One
Manning is another quarterback whose playoff record hides the true story of his performances. All four of his playoff victories came in their Super Bowl season. However, Manning turned in arguably the most unexpected playoff performance in NFL history.
In the 2007 playoffs, Manning only threw one interception and posted two games with a quarterback rating of over 100. It should also be noted that he played on the road in every single game.
Eli Manning is the only quarterback in NFL history to lead a game-winning fourth quarter drive in three consecutive postseason games
The reason he is only No.8 on this list is because he has been dismal in his other three playoff losses, having only one game in which his quarterback rating was above 40.
His career playoff rating is 77.6
7. Mark Sanchez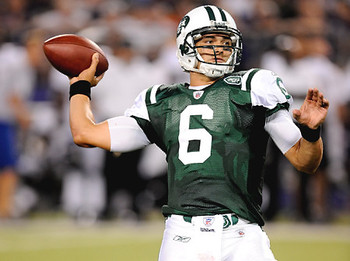 Playoff record: (2-1)
Conference Championship Games: One
Super Bowls: Zero
Sanchez turned in a horrible rookie season, but made up for it in the playoffs. In his first playoff start he posted a rating of 139.4 and a completion percentage of 80 percent on the road.
Currently, his playoff rating after just three games is 92.7—one of the highest on the entire list.
However, he needs to prove to me that this wasn't a fluke and that he can perform like this every January. Of course, if he continues to post regular season stats like last year, he won't even be making it back to January.
6. Peyton Manning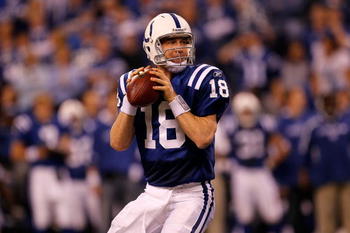 Playoff Record: (9-9)
Conference Championship Games: Three
Super Bowls: Two
Contrary to popular belief, Peyton Manning is not a complete playoff failure. He has a decent rating of 87.6 and has posted 28 touchdowns to 19 interceptions.
However, the stat that really holds Manning back is that six of his nine playoff losses have come in the first game, despite posting high ratings in three of those six losses.
Like his brother Eli, his 4-0 playoff run in 2006 has helped his legacy tremendously and given him a decent spot on my list.
5. Donovan McNabb
Playoff Record: (9-7)
Conference Championship Games: Five
Super Bowls: One
Donovan McNabb is one of the most consistent playoff performers in recent memory. He is 6-1 in the first game, his first loss coming this past season to Dallas.
McNabb's career playoff rating is an even 80. However, he has posted eight games with a rating of 90 or higher.
One of McNabb's most outstanding accomplishments is his series of four consecutive NFC Championship games.
In 16 playoff starts he has modest numbers of 24 TD's and 17 INT's.
4. Ben Roethlisberger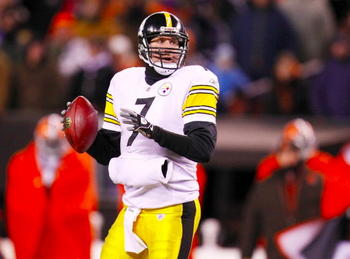 Playoff Record: (8-2)
Conference Championship games: Three
Super Bowls: Two
Roethlisberger has the highest winning percentage in the playoffs of any active quarterbacks. Surprisingly, he has not had the best of playoff stats. While he carries a very good rating of 87.2, his touchdowns-to-interceptions is a shocking stat.
Roethlisberger has thrown 15 TD's to 12 INT's.
Roethlisberger is extremely lucky in that he won his first Super Bowl despite posting some of the most embarrassing numbers in Super Bowl history—a rating of 22.6, a completion percentage of 42.9, and two interceptions.
It is difficult to put a quarterback with such poor stats any higher on this list, despite a marvelous 8-2 record. In five years, I expect Roethlisberger to do some special things with a great Steelers team.
3. Brett Favre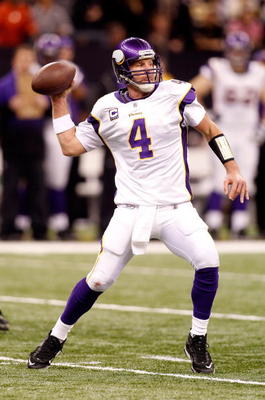 Playoff Record: (13-11)
Conference Championship games: Five
Super Bowls: Two
Brett Favre's playoff career is a very peculiar case. In the 90's, Favre's playoff record was an outstanding 9-5. However, since the turn of the decade Favre's record is a dismal 4-6. Those six losses also carry some of the most heartbreaking performances any quarterback can have, including three game-losing interceptions, Green Bay's first home playoff loss, and a playoff-record six interceptions against the Rams.
Despite his recent playoff woes, Favre still maintains a solid 86.3 quarterback rating with 44 TD's and 30 INT's.
Favre has also thrown a touchdown in 20 consecutive playoff games, an NFL record.
Also, Brett has only thrown more interceptions than touchdowns in six of his 24 playoff starts.
2. Drew Brees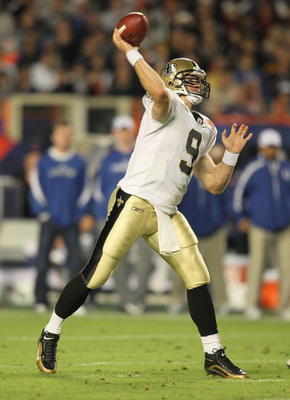 Playoff Record: (4-2)
Conference Championship games: Two
Super Bowls: One
Brees's playoff career is still in it's infancy, but there is almost no denying his production in the postseason. Brees's rating in six playoff games is a mind blowing 103.7. To go along with that is an incredibly impressive mark of 13 touchdowns and only two interceptions.
During the Saints Super Bowl run, Brees did not throw a single interception and had a rating over 100 in all three games.
If he continues to play with these kind of numbers in January, Canton may have to give Drew Brees a second glance.
With the top offense in the league and a bright future, it is almost scary to think of where Brees can go from here.
1. Tom Brady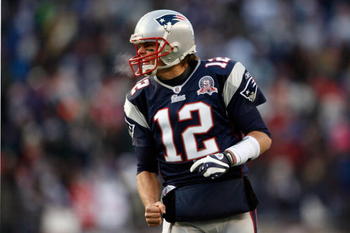 Playoff Record: (14-4)
Conference Championship games: Five
Super Bowls: Four
Tom Brady's playoff success is well-known and well-documented. His three Super Bowl rings are the highest among active quarterbacks, and his 14 playoff wins are tied for second all-time.
Brady's playoff rating is a surprisingly modest 85.5, with 28 touchdowns and 15 interceptions.
Of course, Brady is most known for his game-winning drives and his performances in the clutch—something that isn't always reflected in the stats.
Of all the active quarterbacks in the league, Tom Brady is the man I would want for the postseason run.
Keep Reading