History Was Made: Miami Teenager Sneaks Into the Super Bowl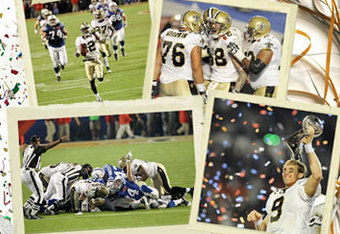 According to the United States Department of Homeland Security , $6 million was spent on security for Sunday's big day.
$6 million was not enough to prevent a kid with no ticket from getting in.
 A certain 18-year-old Miami teenager, attempted this amazing feat.
The perfect execution of the plan was needed.  No mistakes allowed.  He risked incarceration.
He came.  He snuck in.  And he became a legend.
He was quoted as saying that, "After the preliminary gate, there was no more security that could have stopped me."
This was not his first sneak-in.  The list includes:
'09 BCS National Championship Game
Three Orange Bowls
'10 Pro Bowl
March Madness
Sony Ericsson Open
Over 50 Miami Heat, Florida Marlins, Florida Panthers, and Miami Dolphins' games.
Dave Matthews Band Concert
Smashing Pumpkins Concert
Busch Gardens
Countless Hotels
And Many More
It was a great game.  And while everyone was watching Tracy Porter's pick-six, he was able to relish in the fact that he saw it live, for free.
He snuck in with two friends, and a camera for proof. 
They saw one of the most monumental plays in recent Super Bowl history.  They saw it on the 40-yard line, lower section. 
As many of their friends were watching the Super Bowl and got a text which told of their golden endeavors, everyone had the same responses:
1) I hope it is a blowout, (to rid of jealousy) 
2) I hope they ask for his tickets, and then gets kicked out,
3) He is missing some pretty good commercials.
He missed the commercials.  That is all anyone can say at this point.  That is, anyone who did not go with him.
And to address another issue, no one asked for his tickets.  Ever. 
One would think that the Super Bowl is an exclusive event, but apparently tickets are optional.
One would think that security would be strong for the biggest event of the year.  I guess not.
He said that he will end his career of sneaking in after Sunday, when he reached his ultimate goal. 
Let's just hope he is not the Brett Favre of sneaking in.
-------------------
The Legend himself contributed to this article
This article is
What is the duplicate article?
Why is this article offensive?
Where is this article plagiarized from?
Why is this article poorly edited?

New Orleans Saints: Like this team?