NBA Trade News: Five Reasons Why Brendan Haywood Should Come to the Rockets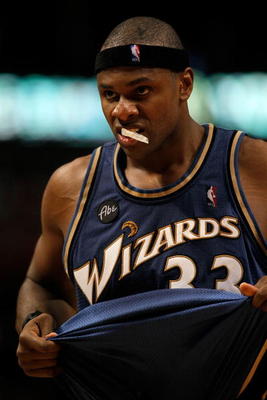 In my previous article on the Houston Rockets, I said how both Oklahoma City and Houston could use a valuable big man immediately.
In a vote on who needed a big man more, it was pretty one-sided in favor of the Rockets. You know your team isn't in a good position when your so called "big man" is often just as big as other teams small forwards.
They need to go after somebody with size and potential in order to make any kind of run towards the playoffs.
Brendan Haywood would be a perfect fit for Houston. Plus, I think Houston would be a perfect fit for Haywood. So much so, that I have compiled five reasons why Haywood needs to pack his bags and head south.
1. Size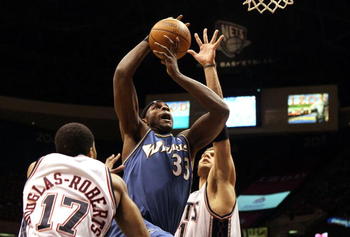 I honestly feel sorry for Chuck Hayes. What does he feel like when he goes up against pure centers? Does Andrew Bynum or Dwight Howard give a little chuckle when they go up against him?
Hayes is only 6'6", and has to be one of the shortest in the league at his position.
Haywood would bring in some size to the post. At seven feet tall, Haywood would actually be able to compete against the teams with the bigger players.
2. Experience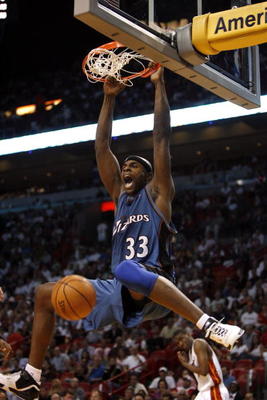 The Rockets have a pretty solid experienced group in the back court. They could add another veteran with Haywood and have a nasty trio down low with Battier, Scola, and Haywood.
Haywood could also mentor the young guards and help set them up the way he has helped Gilbert Arenas. You know he has learned some tricks to get Washington's leading scorer open.
Because of their age, the team could gel together easily and work hard for the same common goal.
The veterans could easily stop any of the younger players from getting too caught up in endorsements and contract extensions.
3. He's aggresive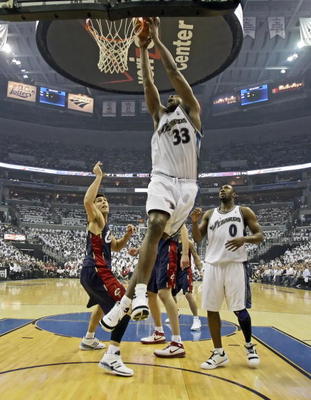 The guy is just a block monster.
He averages just over two blocks a game and often puts up double-doubles. Oh, and he averages only about 25 minutes a game.
He would clearly get more minutes in Houston and try and establish something close to what Yao was able to do: Make players think twice before driving down low.
Although he might be aggressive, he's always been smart on when to make a foul. Hayward has a very quick basketball instinct and knows what to do when the situation arises.
4. He's getting better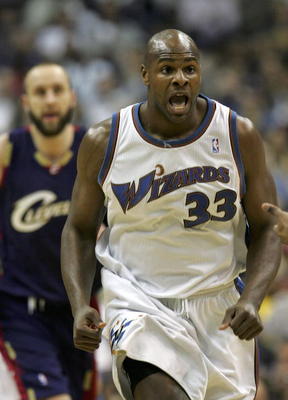 During his first three seasons in the league, he only had seven double-doubles. Over his last three seasons, he's had 31.
Every year, he gets better at scoring and rebounding.
He has a strong work ethic that could rub off on the rest of the Houston organization and help them get back into playoff contention.
Imagine him in a stronger line up with more minutes, the potential is extremely high for Haywood even at 30-years-old.
Playing with the Rockets will help him score more points. He'll have less attention on him that will put him in a better position to make plays.
5. Houston is a perfect fit for Haywood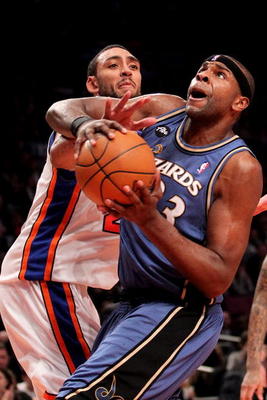 This was supposed to be the year Haywood and the rest of the Wizards made a run at the playoffs. They had a lot of the right pieces to the puzzle and the playoffs were supposedly in their near future.
Now that more controversy is surrounding the team, they are falling apart again.
Aside from the McGrady situation, Houston has always been relatively quiet. Not only that, they have always been in position to make a run in the playoffs.
As of Tuesday afternoon, the Rockets sit only a game and a half outside the eighth spot in the playoff standings.
Bringing in Haywood could help get the team back in a groove and possibly get a mid-seed when the regular season conclude.
Keep Reading

Houston Rockets: Like this team?