SEC Football Forecast: Ten Bold Predictions for 2010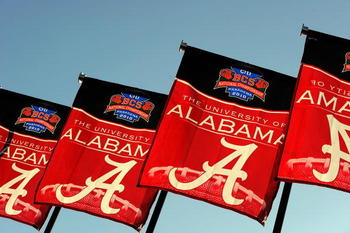 2009 is over. Kaput. In the books. DONE.
It was a great year for SEC fans, Alabama fans in particular, but 2010 marks a new chapter for which nothing is written in stone.
Last season, the Florida Gators brought back a ton of talent and a fierce leader in Tim Tebow. Their reward was the love (and by love I mean hate and ire) of 119 other teams.
Why? Because they were the chosen ones—No. 1s, that is.
As far as the eyes could see, and the ears could hear, no team was going to beat the Gators. They were too talented. Too good. Too strong. Add to that, they had Tebow and—voila—magic was bound to happen.
Well, we all know how that story ended and for a fair amount of people, the ending was no surprise. However, for a slew of others it meant that anything is possible and no team should take their pomp and circumstance for granted—it don't mean a thing, without the ring.
So, forgive the license. Or, shall I call it, the hangover I am suffering for bringing forth this grand crystal ball of massive preposterity (yes, it is a word, look it up) because the next ten items I am laying forth are not likely to be taken seriously or with a great deal of casual humor.
However, might I say that the very definition of "bold" is as follows: beyond the usual limits of conventional thought or action; imaginative.
So, here are the following reactions that are deemed acceptable at the outset, in the middle, or toward the end:
"You are an idiot, madam"
"The girl ain't wired right, I tell ya, she just ain't"
"She's a plum fool"
"Bless her little heart"
"This is the worst piece of (insert word here) I have ever read"
"She should have known better"
"Idiot"
"Blithering idiot"
....and so on and so forth.
Now that we have gotten that part out of the way, if I may be so bold....
Auburn Will Win the West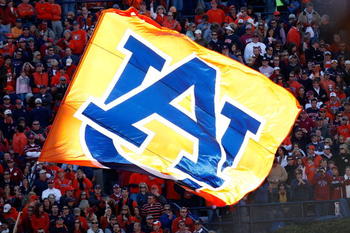 Last season, the Auburn Tigers got off to a hot start. They were 5-0 before anyone began to sit up and take notice. After we started taking notice, they fell apart, losing to Arkansas, Kentucky, and LSU—in that order.
Some might say that makes them suspect, especially since they won't have Ben Tate (RB), Antonio Coleman (DL), or Walter McFadden (DB) to lead the way for them next season.
How on earth could they get any better than last year? Plus, isn't Chris Todd gone now? No way they are going to get away with Neil Caudle or Kodi Burns—keep dreaming.
Well, here's the thing, Auburn has even better talent on the horizon for 2010 after pulling in a stellar recruiting class. Ben Tate was pretty good, but, Michael Dyer is going to be better—write that down. Michael Dyer will have over 1,000 yards rushing next season—book it. And when he's not carving his way through the SEC, there will be a little spark plug to help him out—forgetting Onterrio McCalebb would be a mistake.
If the quarterback is what you are most worried about, I have to pause and laugh a little because Chris Todd was, excuse the license here but, is going to look like a can of Spam in comparison to Cameron Newton—the No. 1 rated JUCO player in the nation for 2009.
Newton is a beast. He's 6'6" and 247 pounds with mobility. Think Ryan Mallett but minus the cement in the feet.
Seriously? No disrespect to what Chris Todd did last season, but I have seen Cameron Newton, and, ladies and gentleman, Chris Todd is no Cameron Newton.
The 2010 schedule is not going to be easy for the Tigers but they get the toughest ones at home this year—South Carolina, LSU, Arkansas, and Georgia all have to visit The Plains. The only hiccup could be Alabama and, even with the powerhouse that was Bama football in 2009, it took a last minute play by the Tide to seal the victory.
Auburn is going to see the tide turn in their favor next year and that will pave the way for their first trip to the SEC Championship game since 2004.
This Will Be Houston Nutt's Last Season at Ole Miss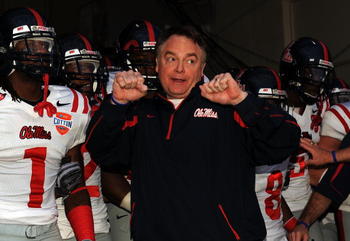 When Houston Nutt swooped into Oxford like a breath of fresh air. He came in talking about "fun" and "winning." He was in love with the "tradition" and was ready to bring the Rebels back from the dead.
Well, somewhere between the season of expected mediocrity (2007) and the season of expected success (2009), Houston Nutt started to look like he forgot what he went to Oxford for in the first place. By the end of the year, there were some doubts that he'd make it to 2010 at all. He flirted with the idea of going to——Kansas instead of staying with the Rebels—who does that, right?
Despite the promise that Randall Mackey (QB) will bring to Ole Miss in 2010, Nutt will bolt before 2011 has a chance to say "Hotty Toddy"—leaving in his wake a losing SEC season for the Rebels and a whole lot of angry, but well-dressed, co-eds on The Grove.
Kentucky Won't Win an SEC Game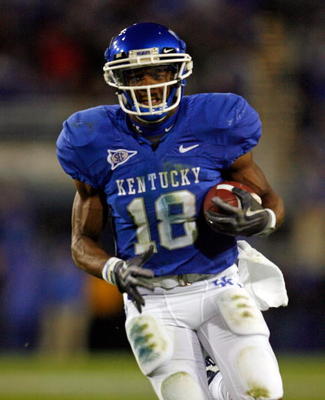 The prowess of Randall Cobb and Derrick Locke aside, the Wildcats still don't have a quarterback. They have been searching for one since some kid named Andre Woodson left for the NFL.
Last season they split time between Mike Hartline and Morgan Newton. Both had their moments but neither was lights out on a consistent basis—Kentucky didn't sign a quarterback in this years signing class.
Joker Philips is the new sheriff in town and he will no doubt bring fresh fire to the Wildcats blaze but, lets be honest here, Kentucky hasn't had a winning SEC season in recent memory and the lack of a clear-cut No. 1 at the quarterback spot won't help their cause in 2010.
The only shot they have at not going 0-8 is if they can steal a win from Vanderbilt or continue to flummox Georgia, but I think the Wildcats lost their most important player this season—Rich Brooks. No disrespect to Joker, but, until he has a season under his belt, he's just a rookie coach with a mountain to climb.
Ryan Mallett Will Be at the Heisman Ceremony
In case you didn't know it, Ryan Mallett was the best "quarterback" in the SEC last season.
I'm not talking about the size of his heart or the impressive look of his teams record. I'm talking purely about his ability as a pocket-passing, decision-making, deep ball throwing, quarterback. The kid is good.
He's probably as good, if not better, than any of the guys you will see in the NFL Draft this season. If I was a betting lad, I'd put Ryan at No. 1 next season for NFL quarterback prospects. Ahead of Houston's Case Keenum and Washington's Jake Locker—he's that good.
Now, I'm not forgetting how he ditched Big Blue after Rich Rod came into town—someone is no doubt thinking, "how good was he then"? Well, he wasn't worthy of conversation then because he wasn't in an offense that showcased his skills as a passer. He is now.
The Razorbacks, under Bobby Petrino, are lighting teams up. They scored 40 or more points in seven of their 13 games—three of those were against top-level SEC opposition. Mallett was a big reason for that offensive power as he ended his sophomore season with 3,624 yards, 30 touchdowns, and seven interceptions.
He's entering year two as the general of this offense and he has nowhere to go but up—expect to see him sitting in the front row come Heisman time and don't be the least bit surprised if he wins.
Mississippi State Will Go Bowling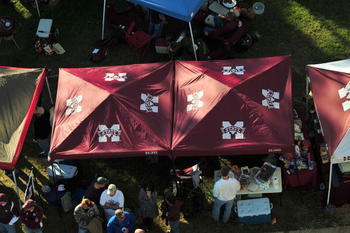 It hardly seems like a possibility that the Bulldogs would go bowling in 2010. After all, their schedule looks a lot like something out of a Quentin Tarantino film—vicious and uncalled-for.
Here's the thing, though, even with Anthony Dixon (RB) no longer be running the offense—literally and figuratively—the Bulldogs will be just fine. After all, they have a coach who is known for his passing game prowess, right? All that run game stuff was more a function of Tyson Lee's inability to do anything with the ball in the air than it was due to Dixon being their only offensive option.
Mullen has been stockpiling wide receivers for a reason and now, in Dylan Favre (yes, he is relation to that other Favre), he has the gunslinger he was looking for and I expect to see a lot more trickery on the part of the Bulldogs next season; enough trickery to perhaps catch some teams sleeping.
They went 5-7 last season and gave both Florida and LSU all they could handle in closer than expected games. They have some tough games, no question, but in year two, Dan Mullen is ready to start showing what his team can do in the SEC West.
Mullen and his staff have done a phenomenal job of getting the best players that the State of Mississippi has to offer and this will be the season that good recruiting and the presence of a better quarterback will pay off for him.
Keep an eye on sophomore Chad Bumpis (WR) and, new commit, Robert Johnson (WR) next season as both have impact potential.
Georgia Will Win the East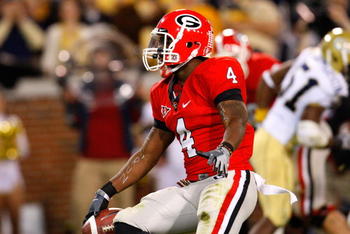 Georgia, to many, was a huge disappointment last season. They were 8-5, finished unranked, played in a lower-tier bowl game, and suffered losses to Kentucky and Tennessee—both in embarrassing fashion.
The post-season didn't bring any further hope to the Bulldogs as they appeared to shuffle through coaching hires and brought in a recruiting class that many felt was "nothing special."
Next season will change all of that as Georgia will right it's ship and reclaim the SEC East as their own. The immediate chant is "but they can't beat Florida." You don't have to look very far to see that the Dawgs have struggled mightily against the Gators over the last 20-years. Under Mark Richt, in particular, they have only beaten the Gators twice.
The rub is this, though, they don't HAVE to beat Florida to win the East. For all of Florida's defensive prowess last season, they will be breaking in a new group of playmakers next season and they have the misfortune of playing both Alabama and Tennessee, on the road, early. Both are potential losses.
Georgia, by contrast, gets South Carolina and Arkansas. Neither are gimme's—particularly the Gamecocks who always give the Dawgs fits. However, the Razorbacks come to Sanford and if the Dawgs can get by those two early, it's fairly smooth sailing until they meet up with Auburn in The Plains.
Last season saw an offense that featured a decent quarterback in Joe Cox but, this season, coach Bobo has sold his soul and his reputation as an offensive coordinator on Aaron Murray's ability. The Dawgs will likely flourish or fail on his talents and he has plenty. If he can do half of what he is expected to do, the Dawg's will have an offense that operates much more efficiently than it did with Cox under center.
The defense will have growing pains but that overlooked signing class chock full of 4-star talent will be better than last season and may surprise even Georgia fans.
I am sure that Florida will have a say in all this, but, what fun is there in predicting a Gator domination? Leave that to the rest of the SEC pundits.
John Brantley Will Be Better than Tim Tebow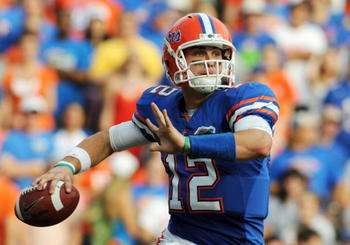 Before the fire and brimstone descend upon my head for having the audacity to state such a thing, understand something, I'm not knocking Tebow. We all know that Tebow will go down as one of the best quarterbacks in college football—ever. There is no question that he elevated the Gators to heights unknown while he was at the helm.
That said, John Brantley will bring back the passing game for the Gators in a big way. Expect a lot less of the quarterback sneak, or the QB dive, or designed runs on 3rd-and-short. Brantley is not THAT guy. John Brantley is a pocket-passer. He's not as mobile as Tebow and he does not have the sheer size of Tebow to make him a punisher on the line.
What he does have is great decision-making skills and an uncanny ability to get the ball downfield in a hurry. He's the real deal and he will make the Florida doubters stand up and ask: 'Tim who'?
Look for breakout seasons from both Andre Debose and Adrian Coxson as the spread really opens up more under Brantley. Also keep an eye on Mack Brown (RB)—those who thought his signing spelled the end of his run production will be shocked to find that Brantley's presence actually means the run game just got a boost.
Florida isn't dead without Tebow, they are just re-imagining their approach.
Trent Richardson WIll Be The SEC's Top Running Back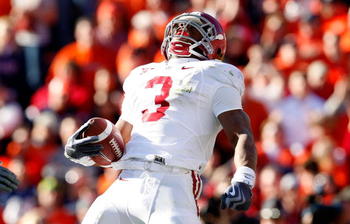 In case you missed him, Trent Richardson is pretty good. Dare I say, he's BETTER than Heisman winner, Mark Ingram? Well, I'm bold enough to say it—"yes he is."
No disrespect to what Ingram was able to accomplish last season but Richardson is poised for a breakout this year and I am all but ready to sell my SEC homer card to profess him to be the SEC's best back for 2010.
Last season he tallied up 751 yards and 8 touchdowns as a freshman. Look for him to double those numbers next season. And if you are wondering how he will do that if he has to share carries with Ingram, then you didn't read the last sentence of that first paragraph—he is BETTER than Ingram and it won't be long before the Heisman winner is playing second fiddle to the young phenom.
LSU Will Rebound in 2010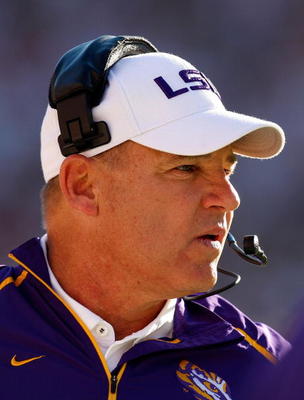 Les Miles had his fair share of woodshed beatings last season, more so in the press than on the field. It's not that the Tigers weren't good, they were. It's that they seemed to lack an offensive identity with Jordan Jefferson at the quarterback spot.
Some weeks he (Jefferson) looked poised to become the player that so many thought he could, while others, you wanted to see him watching the field from the sidelines—in street clothes.
Well, the Tigers persevered through the muck and the mud of a nasty SEC schedule to make an appearance in a bowl—a nasty loss to the Nittany Lions. However, between all the conversation about how great classes were brought in by Florida, Auburn, and Alabama, people seemed to overlook Les Miles' class (coming in at No. 6 by Rivals standards).
Some names to remember: Kadron Boone (WR) and Spencer Ware (ATH). Both are new but will be household names by the time the season is over. Ware, in particular, could emerge as a brutal presence at running back to replace the void left by both Charles Scott and Keiland Williams.
LSU won't win the SEC West but if Auburn slips, they have a shot at challenging Alabama for the crown and ending the talk—at least temporarily—of Les Miles being on any kind of a hot seat.
South Carolina Will Beat Florida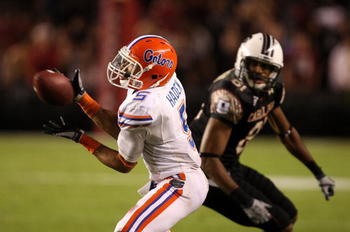 The addition of five-star running back Marcus Lattimore will be the deciding factor for the Gamecocks this coming season.
South Carolina's Stephen Garcia saw a quick maturation last season from average to amazing as he became the field general that the Ol' Ball Coach always envisioned him to be. But, even with his ability to make big plays when they mattered most, the Gamecocks still lacked a significant run game.
That changes this season as the Gamecocks will add Lattimore to the roster—the No. 1 rated tailback in the nation and just what the doctor ordered for South Carolina's offense.
No dig against 2009 freshman sensation, Kenny Miles, but Lattimore will add the thunder to his lightning. That will make the offense more balanced and even more difficult to contain.
Spurrier would like nothing better, I am sure, than to stick it to the Gators. This season he will do so in a big way.
Keep Reading

Georgia Bulldogs Football: Like this team?