Texas Longhorns Football 2010: Which QB Will Take The Reins?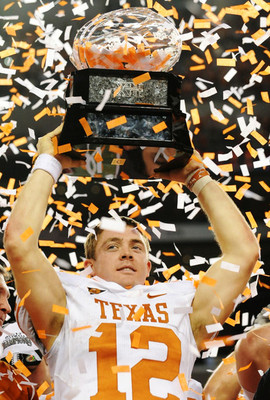 So often in today's college game we hear the term, "coach-speak", which generally refers to anything the coach says can, and usually will at some point, be changed to more aptly define what he really meant to say the first time.
In essence, the coach reserves the right to change his opinion and his decision at any time, and politely tell whomever is listening that they unfortunately misunderstood what he said originally.
Such is not the case in Austin, Texas where Head Football Coach Mack Brown stated during his National Signing Day Press Conference that he and his staff told the players that every position is there for the taking.
Want proof Brown means it? Go to mackbrown-texasfootball.com and look under 2010 Depth Chart. It reads as follows: "To be determined". No coach-speak there.
"We simply told all of our players, including the three from this year's recruiting class that are already enrolled and on campus, that each position is up for grabs," Brown said. "Spring Ball starts in three weeks and they know they have a chance to earn their starting jobs during the spring. "However," he furthered, "we have also told our incoming class that, since they won't be here in the Spring, a lot of 'em are going to get their shot at starting jobs in the summer. No job is safe here, at Texas."
Indeed.
That said, let's take a look at what some believe could be one of the more intriguing battles on The Forty Acres this Spring, the quarterback position. Slides will be in order of how I believe the depth chart will look come September 2010.
First String: Garrett Gilbert, Sophomore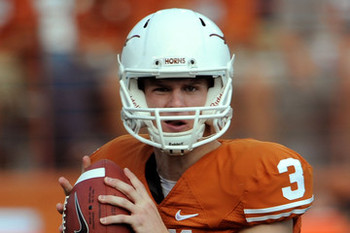 Regardless of what Coach Brown says, Garrett Gilbert is firmly entrenched as the No. 1 starter for the Longhorns. And frankly, despite the No. 4 ranked incoming class of quarterbacks in the country, I do not see anyone coming in that will unseat Gilbert.
Save for rising senior WR John Chiles, formerly McCoy's back-up and current third-string QB, Gilbert is the only QB on the roster who has played more than a few downs down outside of high school.
We all saw him against Alabama in what can be called a coming of age for young Gilbert. Despite a horrid first half, Gilbert regrouped to throw for 190 second-half yards and two TDs to Jordan Shipley, nearly leading a ferocious comeback against the nation's top team.
Once he settled down, Gilbert displayed what made him the nation's top QB recruit coming out of high school in 2009: poise, and an arm that can throw a football with the deadly precision of a laser from the U.S.S. Enterprise.
That experience alone will benefit both Gilbert and the Longhorns greatly. And with former Texas QB and Big XII Player of The Year Major Applewhite there to guide him, Gilbert should be the Texas starter until he decides to leave.
Second String: Sherrod Harris, Senior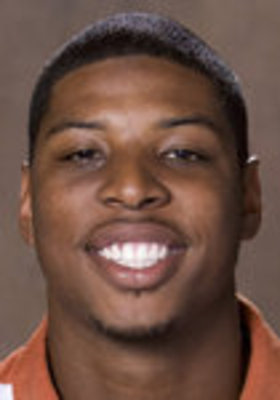 Rising senior Sherrod Harris is what people refer to as the kind of guy you love to have around your team. He is a selfless, hard-working young man who, as he states, "…came to Texas because I liked the academics, the atmosphere, and the location."
Red-shirted and running the scout team in 2006, Harris has learned Offensive Coordinator Greg Davis' system from the ground up and will, with the absence of the elder McCoy, become for Gilbert what Mark Brunell has become for Drew Brees, a mentor, a sounding board, and someone to lean on when necessary.
Harris, the 6'3", 215-pound kid from Bowie High School (Arlington, TX) is comfortable in his role as Gilbert's back up. Don't get me wrong. Every kid wants to play. But Harris knows Gilbert has a shot to play on Sundays and is, in fact, the best QB on this team.
Nicknamed by Brandon Foster as "The Golden Child", he is not a flashy guy. I don't know about you, but I am glad the 'Horns have a wise old man, If you will, like Sherrod Harris.
Indeed, it does take a village and, with a sophomore and two freshmen coming in, Harris is in an ideal position to really help this team by being a teacher in uniform
Third String: Connor Wood, Freshman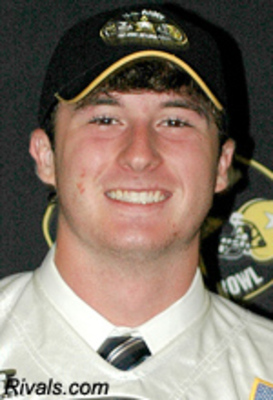 Connor Wood was ranked by Rivals.com as the third-best QB recruit in the nation in 2009.
At 6'4", 209-pounds, and an Army All-American in 2009, Wood is considered by most scouts to be a true Pro-style quarterback. He is a physically gifted athlete with a strong upper body and chest, but don't let his size fool you. With a 40-yard dash time of 4.6 seconds, and a shuffle of 4.32, he can also run well.
Wood was rated a Blue Chip prospect in all five QB categories (speed, size, strength, agility, and velocity) coming out of high school, where he threw for 8,417 yards and 73 TDs, and his recruiting scorecard indicates he has very few weaknesses at all.
He is extremely intelligent, having graduated early from Second Baptist High School in Houston, TX, is already enrolled in classes at UT, and will participate in Spring Drills later this month. But with Gilbert and Harris already possessing experience, he will not be pressured to play immediately.
That should bode well for him and for Texas, affording him an early start on learning the offense and getting used to the speed of the game at this level, especially since he is used to the competition at a smaller 2-A division school.
Make no mistake, folks. Barring injury, Wood will sit this year (behind Gilbert and Harris). However, should he develop quicker than expected, he may push Gilbert for the starting job in 2011, or possibly even transfer, as was the case with McCoy and former Longhorns and current Ole Miss QB Jevan Snead.
All indications are that Wood is definitely one to watch in the near future.
Redshirt: Case McCoy, Freshman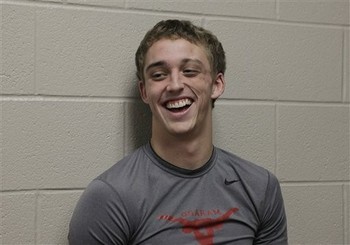 Standing 6'2", weighing 169 pounds, Case McCoy threw for 4,148 yards (276.5 yds/game) and 45 TDs, against only 12 interceptions, while leading his Graham High School (Graham, TX) team to a No. 2 state ranking in his senior season in 2009.
Sound Familiar? It should.
This is a younger, albeit slightly thinner version of his older brother, Colt. And if his numbers in high school are any indication, the previously mentioned Messrs. Gilbert and Wood, with all of their individual national accolades and rankings, had better not take this kid for granted.
Again, sound familiar? (See previous reference to former Longhorn Jevan Snead)
I have watched about 25-30 minutes of tape on McCoy and can tell you that, excluding the color in uniforms, watching him is similar to watching his older brother…eerily similar.
Like his brother, McCoy was labeled as "only" a 3-star QB, and he has all of the same intangibles his older sibling has: leadership, fearlessness, ultra-competitive spirit, and an innate, gift-from-God-above absolute love and reverence for the University of Texas at Austin.
And like his older brother was, the problem with McCoy right now, in my humble opinion, is his size. He comes in to Texas weighing eleven pounds less than did Colt. And that does not bode well playing on the level of the Big XII Conference
We shall see, but I am guessing Brown, Davis, and Applewhite will choose to red-shirt McCoy in 2010.
And yet, if history has told us anything about the men in the McCoy family, don't count Case out of the mix in 2011.
The Eyes of Texas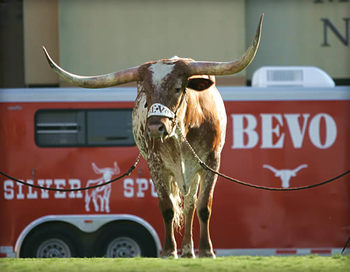 So, there you have it. The first listing of the 2010 Longhorns QB Depth Chart. Take it to the bank and deposit it.
Texas fans should be excited. Rather, you should be ecstatic about this group of quarterbacks in Austin.
You have nationally recognized talent in Gilbert and Wood. You have an intelligent, do-anything-for-the-team veteran back-up in Harris. And you have a player whose older brother is the winningest QB in NCAA FBS history.
But I have a message for all of these talented young men and, in particular, to Messrs. Wood and McCoy: You are now at a program that has produced bonafide stars the likes of Major Applewhite, Chris Simms, Vince Young, and Colt McCoy.
The bar has been set high, gentlemen. Extremely high.
And the eyes of Texas, indeed, the nation, are now fixed squarely upon you.
Keep Reading

Texas Longhorns Football: Like this team?