The Best and Worst of the Super Bowl Commercials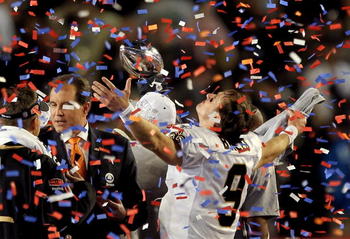 Super Bowl Sunday brought us great drama, punishing hits, suspense, feel-good stories, and even a couple of laughs.
Oh, and they also apparently played a football game.
But who cares! Here's the best and worst of the Super Bowl Commercials, as determined by a blue-ribbon panel composed of me, myself, and I.
Best: Betty White and Abe Vigoda (Snickers)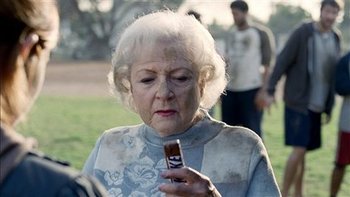 I don't know which was funnier: watching Betty White try to run an out, or watching her get nailed by a defender.
I don't know if that was pass interference, but it was entertaining nonetheless.
Worst: Boost Mobile Shuffle (Boost Mobile)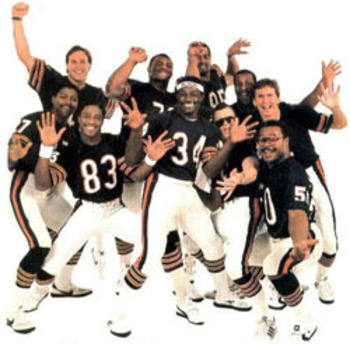 Way too many things wrong with this one.
Spray-on tans and guys in leopard-print thongs?
Sweetness is probably spinning in his grave right now.
Best: Brett Favre, 2020 MVP (Hyundai)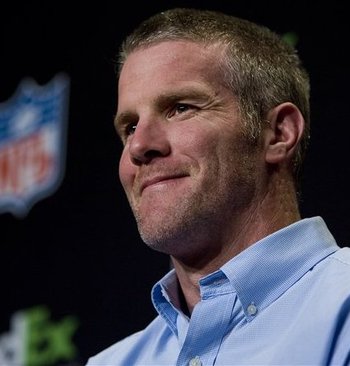 I had no idea this was a commercial for Hyundai, but seeing an even grayer Brett Favre contemplating retirement ten years from now was something that I loved watching now, but hope I don't actually have to see in 2020.
Worst: E*Trade Baby Commercials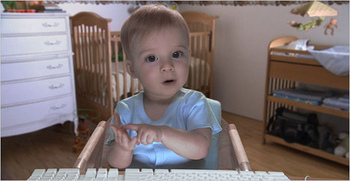 I know I'm in the minority on this one, but I LOATHE these commercials.
I have since the last Super Bowl, when one of the ads had the baby throw up on camera. What this is saying to me is that E*Trade as a company wants me to associate their product with baby vomit.
With the exception of the creation (or popularization, I'm not sure) of the word "shankapotamus," this series of commercials have provided nothing for their ubiquity, and certainly don't make me want to use E*Trade.
Best: Letterman, Oprah, and Leno (The Late Show)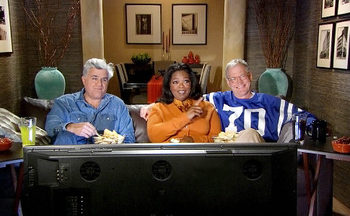 Despite being one of the shortest spots during the game, this one (for both the shock factor of seeing Letterman and Leno in the same room, and for being pretty funny) is easily one of the most memorable.
Worst: Danica Patrick (GoDaddy.com)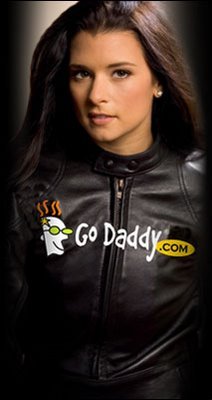 Danica's finally made the move to NASCAR, so now she'll go from not winning in a sport that only Europeans care about to not winning in a sport that only Southerners care about.
She's the racing equivalent of Anna Kournikova: a good but not great player, but because she just happens to be attractive, she is completely overexposed. This faux raunchy stuff she does for GoDaddy.com only serves to make her more of a sideshow.
The GoDaddy.com Girl idea was a brilliant idea for a meager startup; it garnered a lot of exposure and put the company on the map.
But now the whole concept is played out and no longer carries the shock value. It's time to put a stop to these commercials.
Best: How to Impress A French Woman (Google)
I know the Super Bowl is supposed to be about beer, pizza, nachos, and all things man, but I thought this commercial was really cute, telling the story of a man meeting a girl in Paris, falling in love, getting married, and having a child, all by using the Google interface.
It was easily the most well-thought-out commercial that aired during the Super Bowl, and yet was beautiful in its simplicity.
To be honest, it may have been my personal favorite.
Worst: Megan Fox (Motorola)
I'll bet dollars to doughnuts you had no idea this was a Motorola commercial, did you?
And that is why this fails as an ad. Like the aforementioned Danica Patrick, Megan Fox is completely overexposed for being such a mediocre actress.
Yes, I completely understand how attractive she is, but that doesn't mean she can make a good sales pitch.
In fact, it makes it worse; more focus on the spokesperson means less focus on the product, which, unless you're selling something of poor quality, is definitely not what you want as a company.
Best: Budweiser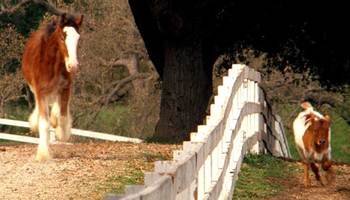 From the Clydesdale and the Longhorn to the house made of beer, the Lost parody, and the planetarium, Budweiser put up plenty of winners from the silly to the sentimental.
Worst: Doritos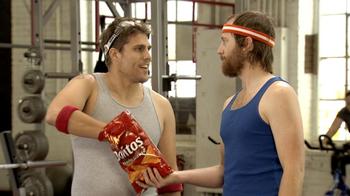 With the exception of the "Kid Slaps Man" ad, I thought most of Doritos' spots were a miss this year. Then again, I was always more of a Sun Chips man to begin with.
Best: Griswold Vacation (HomeAway.com)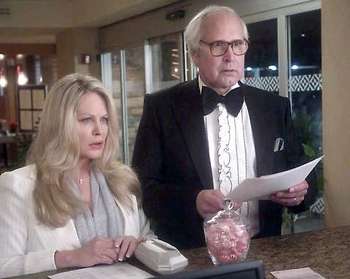 Maybe this is a sentimental pick based on my love for the old Vacation movies, but I thought this one was pretty memorable. And funny.
And forgive me if this is creepy, but Beverly D'Angelo looks pretty good for a woman in her late 50s.
Worst: Charles Barkley (Taco Bell)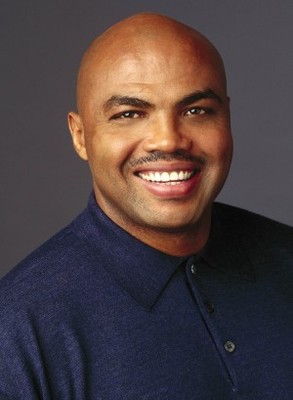 Now, I love Sir Charles as much as the next guy, but as the man himself would say, that commercial was "turrible."
Not that I'm an expert on raps, but the rhymes made no sense (which meant that the corresponding images while he was saying the rhymes made no sense), and in certain places weren't even really rhymes.
Also, Charles, not being a musician, seemed to lack an internal metronome, and so his rap wasn't really keeping time with the beat.
All together, this commercial went about as well as one of Charles' golf outings.
Best Group: Trailers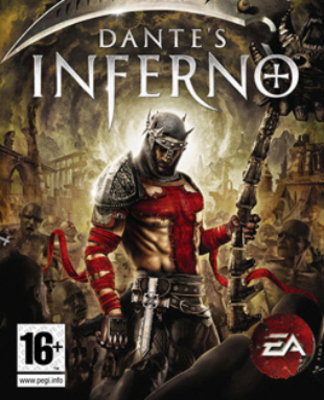 Whether it was a movie (Robin Hood, Tim Burton's Alice in Wonderland, The Wolfman, and Shutter Island, the former two of which had their trailers make their premiere during the Super Bowl), a video game (the pictured Dante's Inferno, whose use of Bill Withers' "Ain't No Sunshine" was reminiscent of the famous "Mad World" Gears of War ad), or a movie based on a video game (Prince of Persia), all of the trailers were very impressive this year.
Worst Group: People In Their Underwear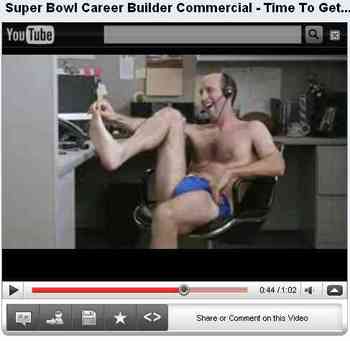 Both Dockers and CareerBuilder.com tried this, and neither was anything more than disturbing.
The only way it would have been worse was if it were Abe Vigoda and Betty White in their underwear.
Best: Monty Loses Everything (Coca Cola)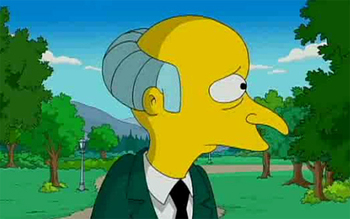 Coca-Cola regularly puts up some of the most heartwarming ads (e.g., the polar bears).
This one proves that even the heartless C. Montgomery Burns can be a sympathetic figure, as he shares a Coke with some of the more lovable Simpsons characters.
Worst: Punxsutawney Polamalu (TruTV)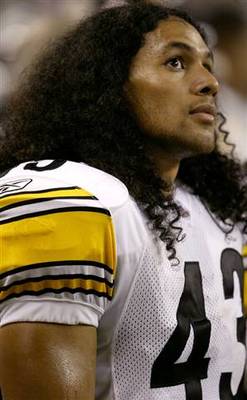 This is another athlete who made a very poor decision when it came to appearing in a commercial.
This time, Troy Polamalu appears as an 18-inch tall gremlin who sees his shadow to announce six more weeks of football (as Punxsutawney Phil, the groundhog, sees his shadow to announce six more weeks of winter).
A couple of the guys I was watching the Super Bowl with got a chuckle out of this one, but I just don't see the appeal of what is in essence a living bobblehead doll.
And that concludes my official review. There were a few more good ones I wish I could have put on here, but if I kept going I felt like I wouldn't stop until I had mentioned every commercial.
All in all, there were more good than bad, but more neutral than good, as it is I believe with every set of Super Bowl commercials.
I know that I'm probably going to get some comments disagreeing, perhaps strongly, with some of my choices, but this is just my personal list, and is intended in humor. I would rather not get into a heated discussion about the relative merits of talking babies as spokespeople as opposed to boring-looking regular people, if I can avoid it.
Keep Reading