You Can't Tell Charlie Weis Nothing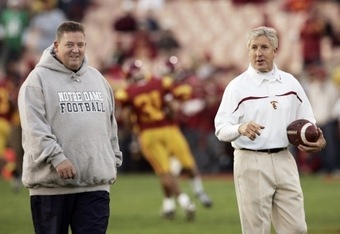 Kanye West's "Can't Tell Me Nothing" constantly plays on radios and iPods around the country.
For anyone familiar with Notre Dame football, the title perfectly describes head coach Charlie Weis.
After three years of angering fans from East Lansing to the sticks of northern Mississippi and back, Kanye's song could easily be Weis' theme.
But Weis' arrogance, which has been blown out in the open this season, has been a part of his tenure from the jump in South Bend.
Take Notre Dame and Michigan State's 2005 battle for the "Megaphone Trophy" as an example. According to Spartan fans, the Irish decided to leave the trophy in its case in the Joyce Center because they believed they were going to win the game without any struggle.
And to add fuel to the flames, during a pep rally, "Fat Boy" Weis said he would be looking for people after the Irish ran their record up to 5-0. This made for great locker-room material for the Spartans, who also came into the game undefeated.
The Spartans ended up beating the Irish at Notre Dame Stadium for their fifth win in a row in South Bend. Instead of hoisting up the "Megaphone Trophy," they planted a large Spartan flag in Notre Dame's turf.
But, as they say in those infomercials, there's more to the arrogance of Charlie Weis.
In the summer of 2006, Weis went on a goodwill trip to various Irish booster clubs and said that his team would never lose to Michigan State again. He later denied this, saying the only people he talks to during the summer are his children and his wife.
That's pretty hard to believe, since coaches have to attend recruiting trips and speaking engagements.
This season has shown Weis at his best. After being whitewashed by Michigan (a team that was in the hole back in September), he said the Irish were going back to training camp to prepare for Michigan State.
Well, let's just say that the promise of never losing again to Michigan State went unfulfilled, as the Spartans became the first team to win their sixth straight game in South Bend.
When Notre Dame beat UCLA, they had to rely on the grace of God. They didn't savor the victory humbly, either—they managed to play the alma mater three times after the game to remind everyone in the Rose Bowl that they're still Notre Dame.
And instead of relying on the grace of God, and maybe Grace Givens or Grace Walker, the Irish ended up looking more and more like Memphis Northside against Melrose as they got whitewashed by USC at home.
They now enter the game against Air Force with the longest home losing streak in school history.
And to make matters worse, the Irish, in all their arrogance, pissed away a chance to extend their dominance against the Naval Academy because Weis had no faith in kicker Brandon Walker.
So much for confidence.
The Irish found themselves with a carton of eggs on their faces as the Midshipmen took advantage of their possession in overtime to put another dent in the mystique of Notre Dame football.
After that loss, the almighty Weis continued to display his arrogance by saying he didn't care about the 44-game streak against Navy, just the losing streak at home.
But with an angry fan base and three more games left in the season, the need to worry about the end of a streak as old as my mother should be at the bottom of the totem pole.
There are other things for Weis to worry about—things that are way bigger than his ego.
Hopefully Duke will be able to tell Weis something.
This article is
What is the duplicate article?
Why is this article offensive?
Where is this article plagiarized from?
Why is this article poorly edited?

Notre Dame Football: Like this team?