Hold the Coronation: Five Things Purdue Can Do to Pull MSU Back to the Pack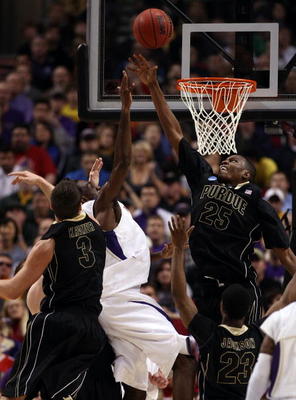 With Michigan State suffering back-to-back losses to Wisconsin and Illinois, what looked like a runaway for the Big Ten regular-season title has tightened into a legitimate race.
The Purdue Boilermakers, a team that knows the sting of a three-game losing streak themselves, will attempt to send Sparty to their third straight defeat on Tuesday night in the Breslin Center.
You've read Adam Biggers's assessment of MSU's priorities for the game. Now, here are five (and only five) things that Purdue needs to do to cut Michigan State's conference lead to a half-game.
No. 1--Test Kalin Lucas Early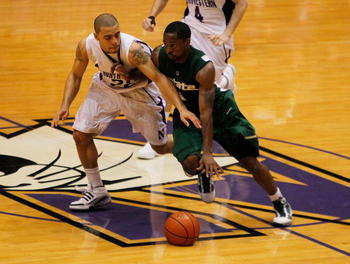 Kalin Lucas was helped off the Kohl Center court last week with a sprained ankle, and racked up a DNP against Illinois. He expects to play against Purdue, but at the moment, his ankle is the most scrutinized one in all of sports outside of Dwight Freeney's.
If Lucas does play, it's likely that he'll be matched up against Purdue's least fearsome backcourt offensive weapon, that being Chris Kramer.
Boiler coach Matt Painter needs to put some motion in the offense to send Kramer dashing all over the court, making Lucas give chase. If Tom Izzo switches to zone, the motion will still create floods in certain areas, potentially creating open paths to the basket for E'Twaun Moore or open shots for Robbie Hummel.
Either way, Purdue must target Lucas's ankle and make him run as much as they possibly can on the defensive end of the court.
No. 2--Involve JaJuan Johnson Early and Constantly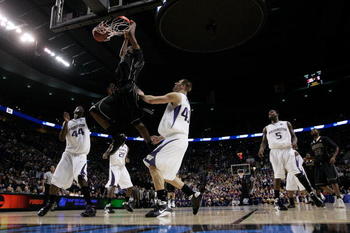 Michigan State's usual low-post options are 6'8" Raymar Morgan, 6'8" Delvon Roe, and 6'6" Draymond Green.
Purdue's lanky 6'10" all-conference big man, JaJuan Johnson, has a height and length advantage that must be exploited. Johnson has scored over 20 points in three of Purdue's five consecutive wins. He's knocked down 33 of 40 free throws since going 2-of-8 during the Boilers' three-game losing skid. Getting Sparty's big men in foul trouble will be nothing but a bonus for JJ.
Illinois center Mike Tisdale, one of the few players in the Big Ten who can look down on Johnson, was forced to foul out in only 20 minutes of action on January 19 in Champaign, and Johnson took advantage to the tune of 24 points and 12 rebounds.
Johnson's biggest task may be to stay out of foul trouble himself, as the Spartans will try to establish Morgan and Green offensively and make Johnson challenge their shots. They have to hope that JJ doesn't take advantage of the opportunity to throw a block party.
No. 3--Force Korie Lucious to Handle Mismatches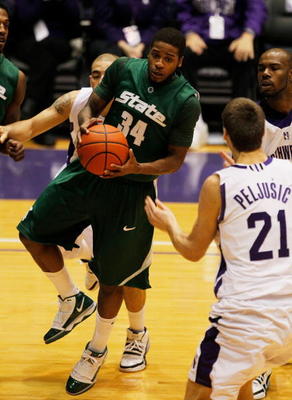 5'11" sophomore Korie Lucious had a difficult time against the bigger guards of Illinois, and Purdue has players of similar size who can make Lucious's life just as miserable.
If it's not heralded defensive stopper Chris Kramer, maybe it's the underrated quick hands of E'Twaun Moore. Or maybe it's the live-wire athleticism of 6'5" Kelsey Barlow. Purdue's returning floor general Lewis Jackson may even get a few minutes to match quickness for quickness with Lucious.
Whoever gets charged with slowing down Kalin Lucas's understudy, the pressure will still be palpable as Lucious tries to repair the goodwill lost with his six-turnover, 1-for-5 shooting performance from Saturday night.
No. 4--Smart Shot Selection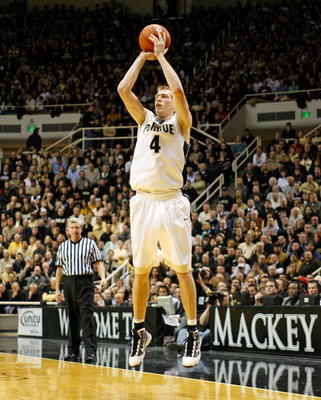 The Spartans allow opponents to shoot only 31.6 percent from three-point range. Coincidentally, that's almost exactly the percentage that Purdue's offense manages from downtown.
Choosing good shots goes hand-in-hand with establishing the inside game, but Purdue cannot simply settle for the first long-range look that they see unless they have the time to get set for uncontested shots. Unfortunately, those kind are often in short supply against MSU.
If Robbie Hummel and E'Twaun Moore can get good enough looks to equal their 6-of-9 combined three-point performance against Penn State, the Boilermakers will have a big leg up on winning this game.
If the two look more like the guys who went 4-for-13 against Indiana, Purdue will have an extremely difficult time getting out of the Breslin Center with a win.
No. 5--Silence the Izzone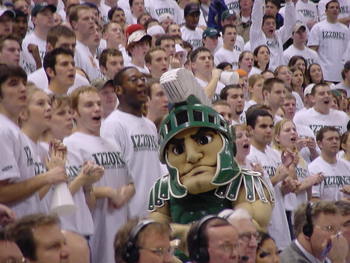 Michigan State is 13-0 at home this season, and the rowdy crowd creates a difficult atmosphere for the opponents to handle.
With the Spartans on the ropes and the Big Ten lead at stake, listen for the MSU crowd to redouble efforts to will their team to a win.
Purdue barely survived against an undermanned Indiana squad that was carried to a great performance by the energy of its crowd. Michigan State's talented team will be that much more difficult to overcome in front of a crowd that has even more motivation than just an age-old rivalry.
Picking a Winner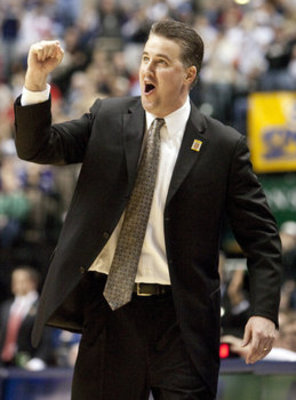 Coach Painter looks so excited here, I barely have the heart to tell him that it's difficult to pick Purdue in this game.
Tom Izzo's decision to sit Kalin Lucas out of the Illinois game appears to have been made for two reasons.
One would be out of confidence that the Spartans could handle the Illini even without Lucas, as Illinois appeared a bit of a paper tiger coming in. Six of their seven conference wins had come at the expense of Big Ten weak sisters Penn State, Iowa, and Indiana.
The other would have been to make sure Lucas got as much time as possible to heal for this game. While there are other teams knocking on MSU's back door right now, Wisconsin, Illinois, and Ohio State did not join Sparty in the national preseason Top Ten.
We can say what we like about Wisconsin's team game and Evan Turner's dominance at Ohio State, but simply put, this Tuesday's game will pit the Big Ten's two best teams against each other. Michigan State needs to avoid the same kind of three-game skid that sent Purdue tumbling down the national rankings and, provided they have a rested and healthy Lucas, it's hard not to expect that they will.
MSU 73, Purdue 71.
However, if Lucas is still hobbling, the Izzone will go home greatly disappointed.
Keep Reading

Purdue Basketball: Like this team?