Ten Prospects for Texans to Watch Closely at Combine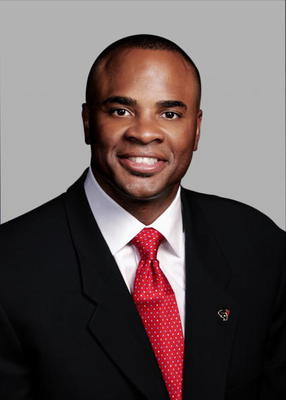 The battle for division supremacy will be an uphill battle anytime Peyton Manning plays in it.
However, the Houston Texans were within about six to eight feet of forcing overtimes—and probably a playoff berth—with their division-rivals. Although they still finished 9-7 overall, Texans Kicker Kris Brown saw field goals sail wide of the post, not once, but twice in consecutive weeks against the Colts and Titans. Even with those wasted opportunities, stellar play from Matt Schaub and Andre Johnson coupled with a young, budding defense guided the Texans to a 9-7 finish.
It's easy to review their performance and predict plenty of playoff appearances for a team on the up-swing. However, a closer look reveals a few definite deficiencies. Most notably at cornerback, defensive tackle, free safety, running back and offensive tackle—not to mention a possible replacement at Kicker.
General Manager Rick Smith has stuck to his philosophy of building through the draft. Smith has done a fine job since assuming the job in 2006. He's respected as having a keen eye for talent, a skill he honed during his time running the Denver Broncos pro personnel group.
With eight picks in the 2010 draft (extra sixth round pick from San Diego), Smith and his staff will likely pay extra close attention to a handful of prospects at the combine from February 24 to March 2.
Before we look at which players may be in that list, here's a quick review of the talent level of Texans incumbents on both sides of the ball revealing where their attention should be directed.
DEFENSE
Defensive Line
On defense the team has a stable of undeniably talented—and fairly young—playmakers.
Starting up front with Mario Williams on one end and at the other end spot is the steady Antonio Smith. The former Arizona Cardinals fifth-round pick, Antonio Smith signed a five-year $35 million deal. He was decent this year with 4.5 sacks and two forced fumbles.
The Texans have the luxury of rotating in last year's draft pick and former Cincinnati Bearcat, Connor Barwin. Fans may not have initially gushed over the pick but Barwin is a special talent. In fact, he didn't even begin learning the defensive end position until 2008 when he recorded 11 sacks and 16 tackles-for-loss. The former Bearcat basketball player was a tight end prior to Coach Brian Kelly's decision to switch his position.
Whenever a Matt Millen draft pick is in a starting lineup—there's likely to be holes. Shaun Cody is the Texans starting defensive tackle which means an upgrade is in order at one of the inside positions.
Lining up next to him is the highly regarded Amobi Okoye. After a strong debut (5.5 sacks) in his rookie season, Okoye has noticeably regressed every year since. However, it's still too early to pull the plug on him. Cody is nothing more than a backup.
Despite production from the defensive end position, their lack of a disruptive run-stuffing presence is a handicap.
Linebacker
Texans fans will enjoy one of the best linebacker tandems for years to come with 2007 and 2009 NFL Defensive Rookies of the Year, Demeco Ryans and Brian Cushing.
While Cushing often hid in the shadows of the spotlight often shined on teammate Rey Maualuga. The intense, relentless play of Cushing (134 tackles, 5 sacks & 2 forced fumbles) was the next logical step—after finding a playmaking pass rusher—for longtime assistant, and now current, defensive coordinator Frank Bush's lineup.
Secondary
Failing to generate consistent pressure had a direct impact on receivers being able to run their full routes at will. Combine this with an average secondary except for strong safety Bernard Pollard and you have a vulnerable defense allowing teams to strike quickly through the air. All this led to a below average defense—17th and 18th overall against the pass and points allowed, respectively.
Speaking of Pollard, when he's not giving Patriots fans panic attacks or causing ACL and MCL tears to their star players (i.e., Tom Brady AND Wes Welker), he's a rugged force manning the secondary. The 2006 second round pick from Purdue led the team with four interceptions and tallied 104 tackles last year.
Dunta Robinson hasn't lived up to expectations at one of the cornerback spots and Quinn Glover is only a placeholder until better talent arrives but could be a steady nickel cover and first option as a reserve.
John Busing is not the answer at Free Safety.
OFFENSE
Offensive Line
On offense it's pretty clear where the team needs a talent upgrade. Besides Schaub and Johnson and to a lesser extent, tackle Duane Brown, the Texans desperately need to concentrate on establishing a respectable running game.
Eric Winston, Antoine Caldwell, Kasey Stoddard and Chris Myers fill out the rest of the line. It's a bit early to make major adjustments because it's still a very young group with the potential to gel as a unit in due time. However, Chris Myers is in the lower tier of starting Centers and may need to be replaced.
An abysmal rushing attack (30th overall in YPG) can be contributed to a finesse offensive line not suited to maul defenders or salt away games. A quick check reveals a line that is sized more like an ACC—not AFC—team. Besides Brown, they all weigh in around 300 pounds at the most.
Caldwell, a third-round pick last year from Alabama looks like he could be a fixture but there's still enough need to warrant a day one or two pick on at least one lineman.
Wide Receiver / Tight End
Despite constant double and triple-teams, Andre Johnson is a Top Three talent at his position with the production to boot. However, the offensive would be that much more reminiscent of an efficient, well-oiled machine if their number two option was more of a threat than current poor-man's version of Wes Welker with Kevin Walter.
As it stands now, the team relies on quick strikes and not a balanced, time of possession-eating unit.
It's not that he's a liability since he generally grabs most passes thrown his way but he's not enough of a threat to alleviate some of the pressure off Johnson. He's better suited to line up in the slot. A physical receiver who can stretch the field and fearlessly go over the middle is something Texans scouts will be on the lookout for at the combine.
The Texans surprised everyone by drafting two tight ends in the latter parts of the '09 draft with Anthony Hill and James Casey. Of the two, Casey has the potential to an upper-tier player in two or three years. Almost every elite quarterback has an upper echelon safety valve to rely on and if Casey never materializes, Smith may make it a priority in future drafts.
Running Back
The consensus is the Texans are in dire need of a physical, chain-moving addition to their current group of small and quick backs.
Bigger things were expected out of Steve Slaton after he wowed coaches and fantasy owners alike with nine touchdowns and almost 5.0 yards per carry his rookie season. His average dropped almost a full two yards and a recurring case of fumble-itis drove Coach Gary Kubiak crazy enough to bench him.
However, he improved as a receiver and I can't help but wonder if the Chris Brown and Ryan Moats experiments are really necessary.
Brown is not the same runner who occasionally flashed ability but was very brittle. Moats is a nice change-of-pace back and deserves a backup role to Slaton. He fell into Kubiak's doghouse, but the former Mountaineer should bounce back in 2010 so long as Smith commits to finding a thunder to Slaton's lightning somewhat early in the draft.
Here's a list of 10 players the Texans should pay special attention to at the NFL Combine based on their five highest-need areas.
Dan Williams —Tennessee—6'2", 325 lbs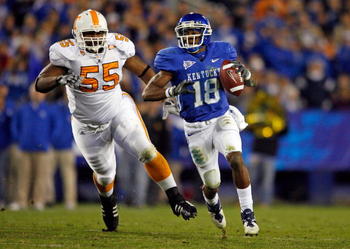 Even though the Vols had a disappointing season, they fielded a steady defense led by Williams and Eric Berry.
Some scouts may wish he was two or three inches taller. But his build is stout and he uses it to his advantage to gain leverage on his opponent. Williams is somewhat of a trimmed-down Shaun Rogers and his value to a defense won't always show up on the stat sheet.
Williams can provide the Texans with a presence they just don't have at their disposal heading into the draft. He consistently clogs up the middle of the field taking on constant double—even triple—teams in the process allowing his linebacker and defensive end teammates to finish plays off.
Besides his massive size and quickness, Williams earns high regards for his work ethic and high character.
Round—Late 1st
Terrence Cody—Alabama—6'4", 370 lbs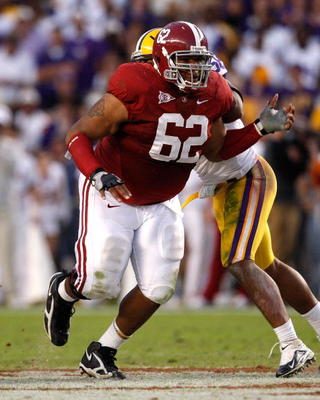 Showing up to the Senior Bowl almost 20 pounds heavier than scouts and advisers wished he would weigh-in at is hopefully an aberration in judgment. The only thing stopping Cody from being a sure-fire first round pick are speculations about conditioning warranting a niche role in the NFL and a propensity to possibly eat his way out of the league.
The encouraging news is both of those concerns are fixable. He runs out of gas early but before he does he's possibly the most dominating nose tackle in the draft. Nobody can handle him one-on-one and he requires more than a chip from a running back in pass protection let alone a second lineman already helping double-team Cody.
Put it this way, Cody will collapse more pockets and generate more production in 25 snaps than the Texans current Cody, Shaun, could accomplish in four full games.
Round—Mid 2nd
Morgan Burnett—Georgia Tech—6'1", 210 lbs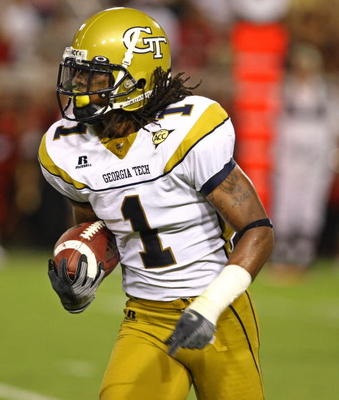 Early-entry prospect was a productive member of the Yellow Jackets defense for three years. Even with an extra year to go, Burnett leaves the program tied for second place all-time in interceptions at Georgia Tech.
He roams, even stalks, the secondary looking to make plays. While Taylor Mays will be drafted ahead of him, I think Burnett will quickly establish himself as the better of the two.
The Texans have needs at cornerback and free safety and landing a player like Burnett instantly upgrades both spots since he will cover up more mistakes by cornerbacks than Busing is capable of.
If Houston decides to spend what would likely require their second-round pick on Burnett, it might serve them well to at least wait two or three rounds before grabbing a corner. Of course, that all goes out the window when management is in the War Room under the pressure of the clock.
Round—Late 2nd
Kam Chancellor—Virginia Tech—6'3", 232 lbs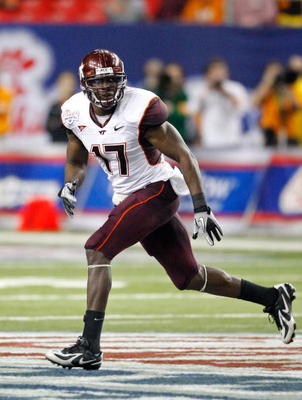 Hokie defensive backs have failed to live up to expectations in the NFL in recent years. The hard-hitting safety is a good bet to buck that trend.
A reliable tackler with decent speed, Chancellor is able to deliver crushing blows adding a level of intimidation the Texans don't have behind Cushing and Ryans. He has been asked to play both safety spots which will add an extra level of versatility.
Round—Late 3rd or Early 4th
Jonathan Dwyer—Georgia Tech—5'11", 235 lbs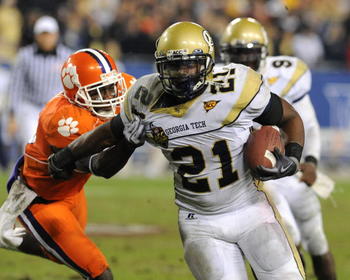 Even if Steve Slaton returns to his rookie form he's not built to absorb NFL-type hits on every down. He's also too talented to be simply relegated to a "third-down" role.
To keep him fresh, Houston needs to find a bowling-ball type back but not with a plodding, three yard grinder. Instead they can select Dwyer who uses a rare combination of size (built like a fullback) and speed (4.47).
If Slaton can't successfully petition the league to use superglue on his palms and forearms, Dwyer is capable of handling an every-down load.
He also gives new offensive coordinator Rick Dennison a short-yardage and goal line option.
Round—Late 1st
Anthony Dixon—Mississippi State—6'1", 245 lbs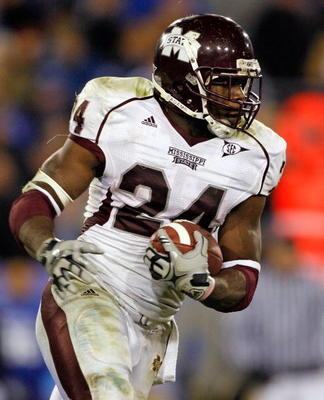 A best case scenario for Dixon would be a Brandon Jacobs or Jerome Bettis-type career. Worst case is a decent goal line and short-yardage specialist defenders hate tackling.
Surprisingly nimble for a man his size, Dixon saved his best year for last rushing for at least 80 yards in every game this season. Depending on their point of view, scouts may view his 900-plus carriers in college as a sign of durability—others as cause for concern about remaining tread on his tires.
Dixon does a couple of the secondary traits well as a blocker and receiver out of the backfield.
Round—4th
Patrick Robinson—Florida State—5'11", 190 lbs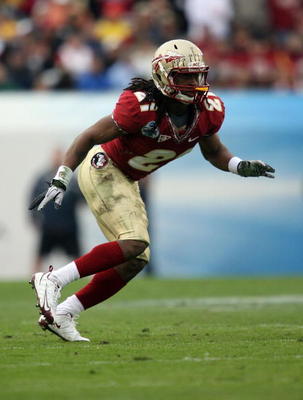 Penn State may be Linebacker U but FSU deserves consideration as DB University. Robinson is the next in a long line of acclaimed cornerbacks for the Seminoles.
Robinson has everything teams want in terms of prototypical speed in the low 4.4 range. A few claim he's capable of running in the 4.3 range.
Nobody doubts his skill-set but many question his ability to transfer it to games. Under Mickey Andrews defensive schemes Robinson was often asked to play a physical man-to-man style, in which he usually excelled. He doesn't always play with a chip on his shoulder but he's normally a reliable tackler. Robinson has terrific leaping ability which will translate well against some of the taller receivers in the league.
Round—2nd
Chris Cook—Virginia—6'2", 207 lbs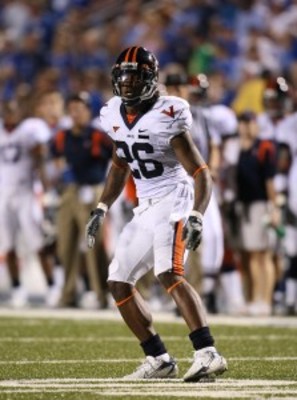 This Cavalier is a quick-rising prospect with ideal size and strength.
Cook is primed to excel in the NFL, especially as a cover-2 corner who can support against the run. After being ruled academically ineligible, he earned his way back onto the team and was even voted team captain.
Guys like Joe Haden, Robinson, Devin McCourty and a few others will likely go much higher, Cook has a chance to start from Day one in Houston.
Round—4th to 5th
Maurkice Pouncey—Florida—6'5", 320 lbs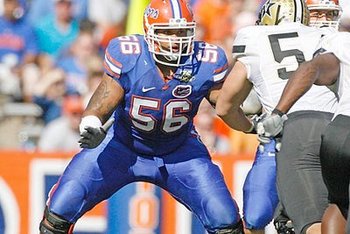 The 2009 Rimington trophy winner (given annually to the nation's top center), Pouncey is one of many early-entry players to declare, including one of five from the Gators alone.
He has the opportunity to come in and be a top-flight center right away. Sheer strength and unusual speed—for what it's worth as lineman standards go—have positioned Pouncey to be a first day selection.
Don't think you're experiencing déjà vu in the 2011 draft as Mike Pouncey—his twin brother—will likely be a first or second pick as well.
Round—2nd
John Estes—Hawaii—6'2", 300 lbs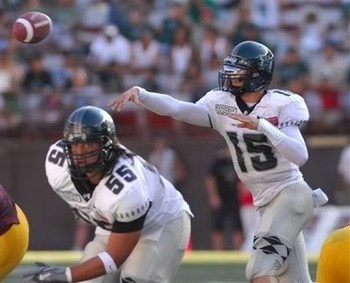 Estes has flown under the radar for maybe no other reason than the school he played for being known as a gimmicky offense and rainbows. He owns the NCAA record for career, and consecutive starts (54) while captaining the Warriors and earning Team MVP honors.
He's known as a tough, quick and agile center, not uncommon characteristics for any college lineman preparing to play at the next level.
What separates Estes from other centers are his intelligence and leadership qualities offensive line coaches covet out of his position. He would instantly challenge Chris Myers for the starting gig in a couple years if not sooner.
Round—5th
Keep Reading

Houston Texans: Like this team?