Five Random Super Bowl Observations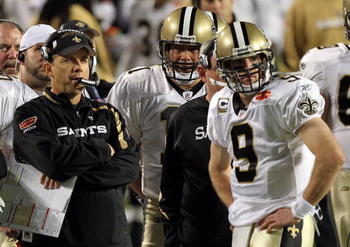 Another Super Bowl has come and gone, and for us football fans, it's another seemingly endless wait until the start of the next regular season. Sure, baseball is starting soon, so that'll keep us busy for the time being.
I'm not here to brag about how one of my five bold preseason predictions (the Super Bowl winner will be a first-time winner) came true. Instead, I'm going to give some random notes on the most watched sporting event in America.
You're not going to get game analysis from this article. You're going to get the road less-traveled, full of random observations that should be at least mildly entertaining.
So in no particular order, here are five random observations about Super Bowl XLIV.
The Insanity of the Second Half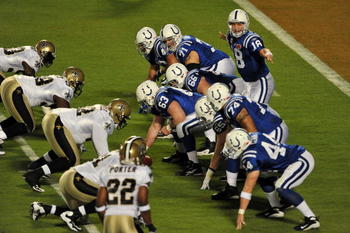 Ok, I lied. There's going to be a little analysis.
The first half was pretty boring. Admit it. It was conventional, nobody was taking risks, and it was exactly what the analysts said would happen. Peyton Manning was hitting his receivers for some amazing completions, the Colts defense was making a mockery of the Saints offense, and there wasn't much scoring to keep us entertained.
Saints head coach Sean Payton must have pounded Red Bull or something during halftime, because that onside kick to open the half was about the ballsiest thing I've ever seen in the big game. Really, it's like he punched out Bill Cowher and stole his playbook.
Back and forth scoring made it a much more watchable game, but it was Tracy Porter's pick-six off Peyton Manning that really caused excitement. Unfortunately, the game was almost over.
Overall, not anywhere near the best Super Bowl I've ever seen, and it's good to see the Saints win.
Especially since I jumped on their bandwagon after the Panthers got stomped in Week One.
Divine Intervention?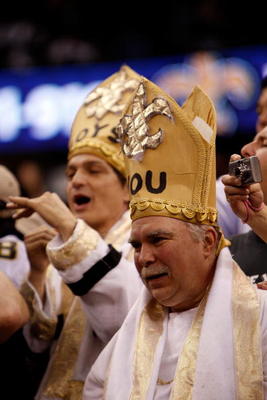 For anyone that watched the pregame on ESPN this morning, you already know exactly where this is going. For those that didn't, I'll enlighten you.
Famous chef, and adopted native of New Orleans, Emeril Lagasse was interviewed by Chris Berman and happened to drop the knowledge that not only had at least one particular Catholic church in New Orleans have their priest rocking a Drew Brees jersey, but that the Vatican was flying the flag of the Saints today.
You read that right. The Pope was on board and put the support of the Big Man Upstairs in favor of the Saints. In a sports world where curses are the norm, a blessing from the Pope just seems crazy.
But it was crazy enough to work.
I'm not saying God stepped in and made Peyton throw that interception, but come on,the Saints finally reached the Super Bowl. If you're a religious man (or woman), the smart money was on the Saints the whole time.
Reality really is stranger than fiction. Don't be shocked if the Cubs try to buy a curse-reversing indulgence in the next few weeks. If they do, you heard it here first.
Who Dat? Really, What Happened to the Halftime Show?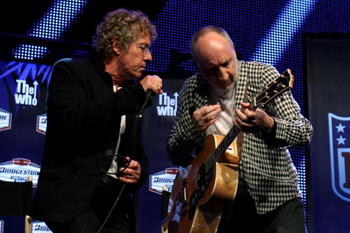 Don't get me wrong. I like the trend of bringing classic rock into the halftime shows because no real football fan wants to see Justin Timberlake dancing around onstage during one of the manliest days of the year.
I thought Springsteen was awesome last year, and even enjoyed Sir Paul McCartney's performance. But somebody please explain to me what on Earth happened to The Who.
First of all, I know you can't replace Keith Moon, but the guy on the drums was phoning it in. He was too mechanical, too spaced out. You've got to have some soul and emotion to play rock music (or at least you did back in the day), and I think a zombified version of Moon would have done a better job.
Also, Roger Daltrey was terrible. He looks like time has beaten him with an aging stick and had the pipes to match. I know it's been a few decades since they were making records, but the guy doesn't sound anything at all like he used to.
At least Ozzy still sounds the same as he did in 1970. What was Daltrey's excuse?
He sounded like he was recovering from strep throat. The vocals were monotone when he wasn't trying to shout them.
When Keith Richards has held up better than you, it's time to call it quits. Just stop before you embarrass yourself more.
It was so bad I actually decided clipping my toenails was a better use of my time than watching the so-called "concert." Also, I pulled steaks out of the freezer and started thawing them. That managed to take my mind off of how bad the band sounded.
CBS: Edgy? I Think Not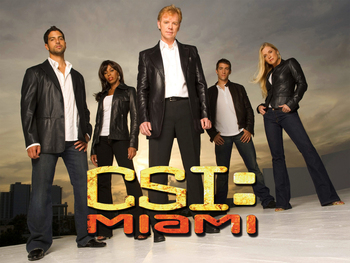 CBS claims to be America's most-watched network. Well, considering you can still pick it up (along with ABC, NBC, and FOX) on rabbit ears without paying a dime, duh.
I don't care how good their ratings are. Every single commercial they ran for one of their own shows was trying desperately to be cool and refreshing.
Attention to those who made those commercials: they came off like a kid from the chess team trying to hang out with cool kids. You tried too hard and it was an utter trainwreck to watch.
Again, don't get me wrong. I watch and enjoy How I Met Your Mother and NCIS. But trying to plug 60 Minutes as a news show that asks questions that come off as punches to the face and CSI as a show with original plotlines is laughable at best.
When it's not football season, I'd be willing to bet 90 percent of CBS' viewing audience are people too lazy to turn the channel after the Price is Right or people in their 30s trying to recapture the youth of their 20s.
Not even Spike is an edgy network anymore. Get with the times and don't falsely advertise what you really are: just another run of the mill network with cookie cutter crime shows and tired sitcoms with hackneyed writing.
More Sub-Par Commercials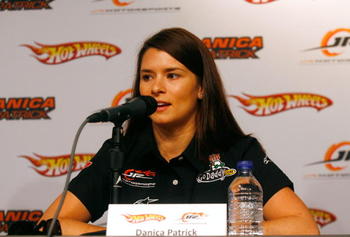 This always happens when the Super Bowl airs on CBS. The commercials suck.
Only Anheuser-Busch and Doritos had anything creative or funny. The rest was the same nonsense we've seen over and over again.
The talking babies on E-Trade weren't funny in the first place, and now they're so beyond annoying I'd go out of my way to use another site just to not give E-Trade my business. If I did any stock trading, that is.
GoDaddy.com commercials do nothing but whore out Danica Patrick, who isn't really good at racing (you know, the thing she first got famous for) in the first place, as a method to sell more domain names. Yes, the site is cheap and convenient, but all people know GoDaddy.com for is having random floozies removing their shirt and promising more if you go to their website.
The Simpsons hasn't been funny in more than ten years, the Vizio commercial ripped off some of the oldest memes on the internet (see: Dramatic Chipmunk, Numa Numa Kid), Miller High Life commercials are boring and badly written (not to mention that guy that goes around stealing beer mispronounced "praline"), and that Boost Mobile Super Bowl Shuffle reboot was possibly the worst thing ever connected to football.
Even counting the ordeal with O.J. Simpson and Al Davis' recent draft choices.
Conclusion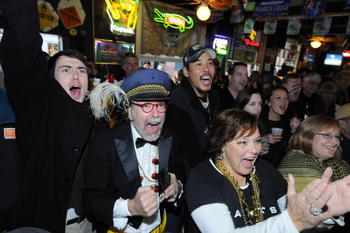 Having to suffer through all of that again, this really was one of the worst Super Bowls I've ever seen. The only thing that keeps it better than the terribly boring Eagles vs Patriots game of a few years ago was the second-half onside kick.
It also made me realize something. The Super Bowl is only fun to watch if you really hate one of the teams playing. If you hate both (as with Eagles vs Patriots), it's even more boring to watch than if you want both teams to win for various reasons.
Good for New Orleans. Bad for the rest of us. I'll try to block this one out of my mind and pretend it didn't happen.
Keep Reading

New Orleans Saints: Like this team?