My Top 5 Greatest Games
February 7, 2010
Kevork Djansezian/Getty Images
My Top 5 Greatest Games
I wrote this blog on Sportingnews.com but since I have joined this site, I thought I'd share it with you all as well. This includes all sports except hockey, I do not like hockey. A great game has to have drama, and a spectacular ending. Im a little bias here, but you'll get over it. So lets start it off...
5.
Ohio State vs Purdue 2002- Holy Buckeye
, With Purdue clinging to a 6-3 lead Craig Krenzel finds Micheal Jenkins on a 4thand 1 for a 36 yard TD with 1:38 remaining! That came propelled us to the NC that year.
4.
Carolina Panthers vs New England Patriots 2005 Super Bowl
- The game all tied up after my Panthers just scored. But probably the biggest choke ever in the Super Bowl, John Kasey kicks the ball out of bounds on the ensuing kickoff. Tom Brady gets Vinatari into field goal range, money. Pats win, but it was a huge step for Carolina. Also some video tapping might have happend which would have impact the outcome.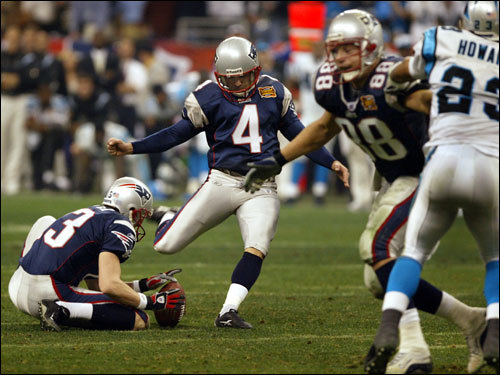 3.
Ohio State vs Miami National Championship 2002
- Ohio States defense absolutely dominated until late in the game Miami game back with a vengence. The game goes into 2 OT's and a pass interference call that was correctly called setup Ohio States winning score. Then Cie Grant on 4th and 1 pressure on Ken Dorsey gave Ohio State it's first NC since 1968 and a perfect 14-0 record, which hasn't been matched since. Heres the pass interference that was obvious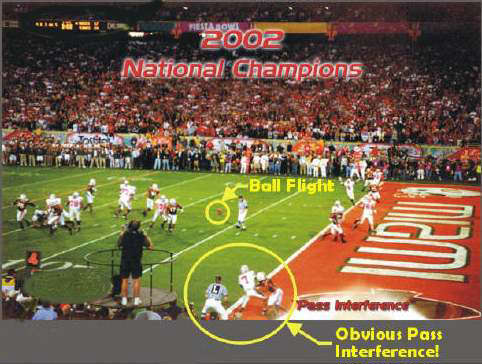 2.
Duke vs Kentucky 1992
- After Kentucky hits a miracle runner Duke calls timeout. Grant Hill is the the inbounder who has noone around him heaves the ball all the way to the other foul line were Christian Laettner makes the biggest shot at the buzzer in the best college basketball game of all time.
1.
Texas vs USC 2006 National Championship
- Game played at the Rose Bowl. USC was up 12 with 6:36 left and got a quick score. USC failed on a 4th and 1 so it set the stage for Vince Young. He marched the LongHorns down the field and on 4th and 5 from the 8, Vince took off and scored the winning touchdown. It was the single greatest performance by anyone in the National Championship. Vince threw for 267 and rushed for 200 and 3 td's. Truely a great game.