NHL Trade Deadline: Five Players Who Won't Be Traded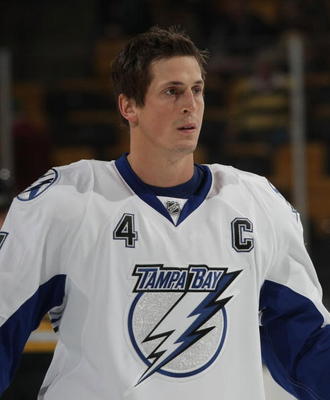 Everyone is so fixated on all of the players who are going to be dealt on or before March 3—which just so happens to be my birthday—that I figured I'd give you a list of five players who won't be going anywhere this season.
Also, before we get into the list, I would like to send my condolences to Toronto's GM Brian Burke and his family. Brian's 21-year-old son Brendan was killed in a car accident on Friday in Indiana.
Brian is a first-class GM and a great hockey guy. He has done wonders for the sport, and it doesn't need to be said what a tragedy this is.
Vincent Lecavalier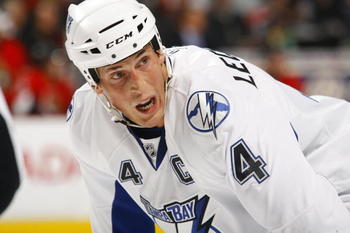 If I had a nickel for every time I heard that Lecavalier was going to be traded, then I'd probably have enough to finance the New York Islanders' new "Light House" project.
Critics have said that he does not look like he has in the past, and he is not scoring as much, and blah, blah, blah.
The bottom line is that Lecavalier is still averaging about a point per game, and after a slow start it looks like he got his goal-scoring touch back. I watched him blast a slap shot past Dwayne Roloson on Thursday night, and if the Tampa Bay Lightning want to trade that kind of shot, then they are out of their minds.
Lecavalier has been the captain in Tampa for just under 10 years and has really been the face of that organization since he was drafted first overall in 1998.
And let's not forget that the Lightning have been playing some great hockey as of late and are currently sitting in the seventh position in the Eastern Conference. My thinking is that any team that makes the playoffs has a chance at the Cup—so why trade one of your key components?
Just like last year, expect to hear Lecavalier's name a lot up until March 3. And just like last year, he will be staying put.
Kristian Huselius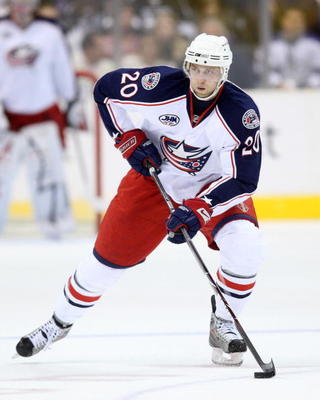 My friend's uncle's brother-in-law's dog used to be trained by a girl who went out with the Columbus Blue Jacket's equipment manager for a few months—and so it is through this reliable source that I have been informed that Huselius may be traded to a contender in return for a few prospects.
But in all seriousness, Huselius isn't going anywhere.
He is having one of the best seasons of his career and would be a perfect second-line weapon for any contender to add to their roster in the hopes of a Cup run. However, after this season, he still has two years left on a fairly expensive contract.
Most contenders are going to be close to the salary cap to begin with, and a $4.75 million contract is not the easiest thing to throw into the mix.
In a trade for Huselius, there is no doubt that the Jackets would like at least one, if not two, prospects from the other team involved. The Philadelphia Flyers did not want to give up Claude Giroux or James Van Riemsdyk for Ilya Kovalchuk, so why would any team want to give up a potential all-star for Huselius? At least that's my thinking.
Kris Versteeg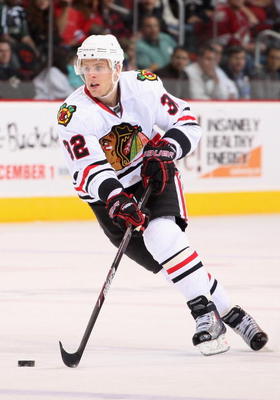 I love rumors. They just make the trade deadline worthwhile.
Freeing up a little cap space might not be the worst thing for the Chicago Blackhawks. Versteeg has two years left on a contract that pays him just over $3 million per season, and that is $3 million that Chicago is considering getting rid of.
Versteeg had a brilliant rookie campaign, putting up 53 points in Chicago's breakout season, but this year has been quite a disappointment for the young Hawk. He has been a roller coaster all season, but Versteeg has just one point in his last 11 games.
Right now the Blackhawks are third in the NHL and appear to be headed for a very deep playoff run. Therefore, there is no way a contender like Chicago can get rid of a player like Versteeg, especially since he had 12 points in 17 playoff games last year.
An easier way to explain why the Blackhawks won't trade Versteeg: "Don't fix what's not broken."
Jack Johnson
This is a tough one because every sign points to Johnson not being in a Los Angeles Kings' uniform at the end of the season.
The third pick in the 2005 draft has certainly disappointed up until now. In 176 career games Johnson is an atrocious minus-58. He had just 22 points coming into this season, but it appears he might slowly be turning his game around.
After a slow start, Johnson has begun to put some valuable points on the board. He had his first four-point game Thursday night in a 6-4 win over Anaheim.
Johnson, however, does have a very tempting contract for suitors. With just one year left at $1.425 million and the restricted free-agency period that follows, Los Angeles might get some strong offers for the young defenseman.
But the Kings are having a fantastic season and are currently in the midst of a franchise-record nine-game winning streak. So I'm going to have to apply the same explanation here as I did with Kris Versteeg: "Don't fix what's not broken."
Jose Theodore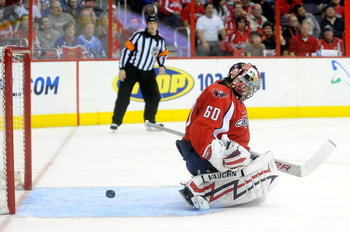 Theodore presents us with a very interesting situation. He plays for the Washington Capitals, currently the best team in the NHL. His numbers are slightly below average—a 2.84 GAA and a .909 save percentage.
Theodore also has two very capable backup goalies in Simeon Varlamov and Michal Neuvirth. Also, Varlamov ended up being a very important part of the Caps' playoff run last season when Theodore couldn't handle the workload.
And on top of all that, his contract is up at the end of this season. So with two other goalies waiting for a shot, I'm sure that Washington would like to get something for the veteran net-minder while they still can, right?
While Varlamov might be the better goaltender, he is having an extremely difficult time staying healthy.
Also, and I'll give the first person who can finish what I am about to say a high-five and some major kudos: "Don't fix…"
Keep Reading