2010 NFL Draft: Top Ten DL Prospects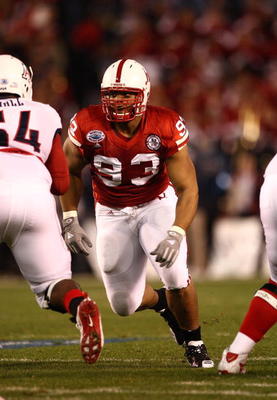 The defensive line group might have the most impact players of any group in this years draft. There could be ten or more defensive linemen taken in the first round of this years draft by far the most of any positional group in this draft. I group all of the defensive linemen together rather than getting bogged down in the specialized position contained with in the the group.
1. Ndamuknog Suh
6'4" 305 lbs- Suh is the consensus number one prospect in this draft. He is a dominant pass rusher, gets good penatration through run gaps and gets his hands into passing lanes tipping balls and ocassionally making an interseptions.
2. Gerald McCoy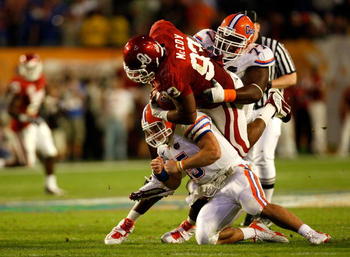 6'4" 295 lbs- McCoy is a solid and versatile prospect who can play a 4-3 defansive tackle or a 3-4 defensive end. His interior pass rush is his calling card but he is a well rounded player who can very disruptive against the run.
3. Derrick Morgan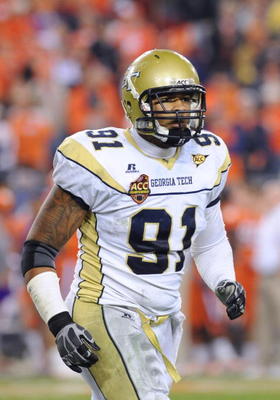 6'4'' 270 lbs- Morgan's value is derived from his complete game. Stout against the run and high motor for getting after the quarter back is what makes Derrick the defensive end prospect in this draft.
4. Everson Griffen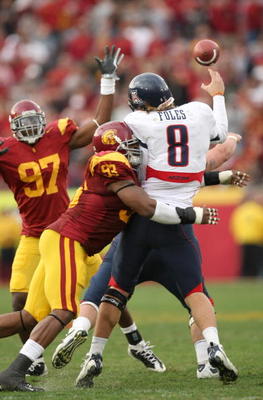 6'3'' 280 lbs- Griffen never quite lived up to lofty expectations at USC but he has the all of the tools to be successful in the NFL.
5. Brian Price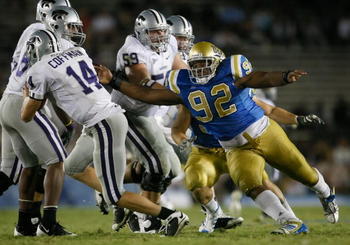 6'2'' 300 lbs- Price is excellent at shooting gaps and is a tackle for loss machine. At UCLA Price seemed to spend the majority of his time in the opposing teams back field.
6. Carlos Dunlap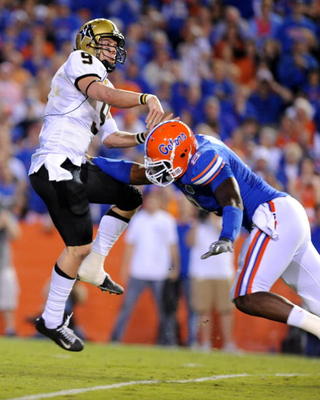 6'6'' 280 lbs- There is no questions about Carlos Dunlap's skills. The questions of maturity are what will trouble teams. His long frame and athleticism will make him a nightmare to block in passing situations.
7. Dan Williams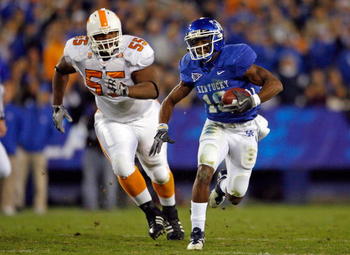 6'2'' 330- The best nose tackle prospect in this draft and will be high on every 3-4 teams wish list. Williams is big enough to take on mulitple blockers and athletic enough to make a play on the ball carrier.
8. Brandon Graham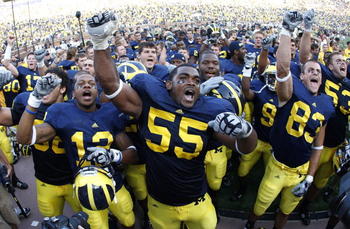 6'1'' 260 lbs- Graham improved his stock a great deal with a monster performance in the senior. He is a high motor guy with a knack for getting to the QB.
9. Jason Pierre-Paul
6'6'' 265 lbs- Pierre-Paul is an extremly athletically gifted player who reminds a bit of Vernon Gholston. He will be a high risk high reward draft pick.
10. Terrence Cody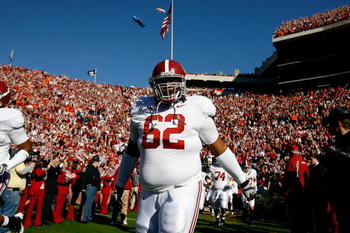 6'4'' 370 lbs- The massive Cody might be a bit to big for his on good but the rarity of good nose tackles will keep his stock high.
Keep Reading