NBA Trade Rumors: Five Possible Trades Sacramento Kings Should Look Into
The most rumored player to be moved out of Sacramento this year has been Kevin Martin. Despite the fact Martin has been the only mildly bright spot of the other wise bleak few seasons, he also plays a similar position to rookie teammate Tyreke Evans.
Evans is making a strong bid for Rookie of the Year and many would peg him the future of this Kings team. A title that has been somewhat removed from Martin. But due to constant injuries and questionable leadership capabilities, many thought that Martin was an expendable player.
His incredibly efficient scoring coupled with a ruthless and physical slashing player in Evans makes him potentially more valuable than ever. If the two can learn to play off of each other, the Kings could very well have the highest scoring backcourt in the NBA for a while.
That is to say that Martin is around past the February 18th deadline.
According to a report published on ESPN.com Rumor Central, the Kings are not looking to move Martin. But that doesn't stop me from putting on my GM hat like any NBA fan likes to do and toss out some trade ideas. Here are five ideas that could, or maybe should fly.
5. Sacramento trades Andreas Nocioni and Ime Udoka to Boston for Brian Scalabrine, Marquis Daniels and Eddie House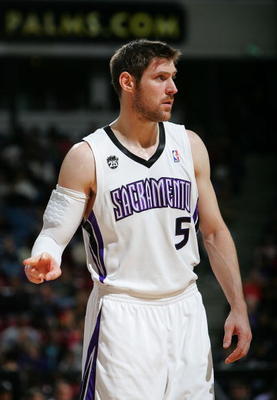 The Celtics get a tough swingman/swing forward in Nocioni (who they were looking to acquire last season) and the Kings get a lot of expiring contracts. The Celtics even get Udoka who is a solid role player and someone that I'm somewhat surprised they did not pursue in the off-season.
Sacramento lands a bevy of expiring contracts and gets rid of a bad contract. Nocioni is not getting a ton of playing time because of how well Omri Casspi has been playing and will be just sitting on the bench of a team that is going with a youth movement.
The Kings could cut Daniels/House perhaps to resign with the Celtics if that is what they desire or the Kings are given some sort of incentive, perhaps a second round pick or even a trade exemption.
The trade could also go through without Udoka who I do not consider someone the Kings need to or should move. Anyway, lets continue, there are bigger fish to fry.
4. Sacramento trades Kevin Martin to Dallas for Josh Howard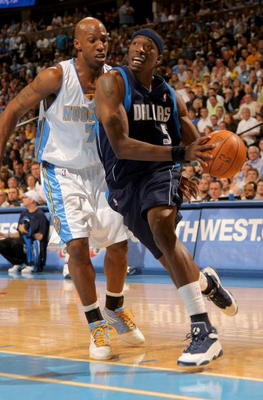 I'm not crazy about this trade, this idea has been swirling around for a while. But, Howard, when playing at full strength (whether or not he can do that again) is a great small forward. He is a solid rebounder, can be a pretty good shooter and is a pretty good defensive player.
But this year Howard has regressed significantly after having an injury plagued year last year, and Dallas does not seem to miss him much. Certainly a healthy Howard is valuable, but Shawn Marion has been a nice addition to this team.
Dallas gets a great spot up shooter in Martin and someone who can run with their fast break lineup. The Kings get a player that may turn it around on a different team and someone who's contract is up in 2011, which is thought to be another significant year for free agents.
3. Sacramento trades Kevin Martin, Kenny Thomas, Spencer Hawes, 2010 First Round Draft pick to Philadelphia for Andre Iguodala and Samuel Dalembert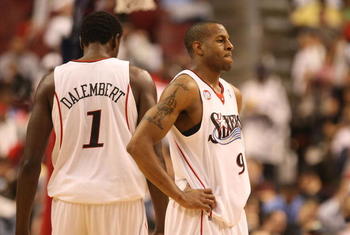 This is more or less a pipe dream on my part. So why not shoot for the stars! But, I think the Sixers get a lot from this trade, and Sacramento may even be forfeiting a lot to make this trade happen.
First off, Sacramento gets a great perimeter player in Iguodala, probably the only player in the league to lead his team in scoring and guard the opposing teams best player on a nightly basis.
Dalembert is inconsistent and is struggling a bit this season, but on a team with no interior toughness aside from Maybe Jon Brockman, Dalembert would be swatting balls away and grabbing boards like nobodies business.
The Sixers get rid of Dalemberts contract, get a a better shooter in Martin (something they desperately need) and around 9 million dollars in expiring salary from Thomas. And I have not even mentioned Hawes.
He has been a bit of a disappointment for the Kings thus far, but he is still pretty young and still has potential to be a pretty decent NBA player if nothing else.
Plus Philly gets a lottery pick to go along with their lottery pick. Some real opportunity to build a good team there.
2. Sacramento trades Hilton Armstrong and Sean May to Chicago for Tyrus Thomas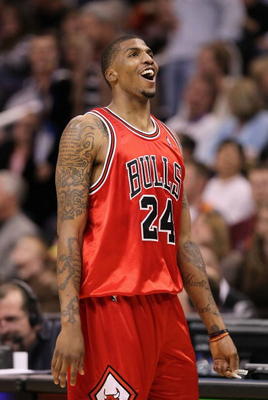 The Bulls are apparently not shopping Thomas, but this is something they may want to consider.
The Kings get an ultra athletic big who can run the floor, block shots and rebound when motivated. In the Kings system he would be ideal. Imagine Evans pushing the fastbreak with Thomas, Thompson, Casspi and Greene? That would be an amazing lineup, aside from Evans no one would be shorter than 6'9''.
The Bulls only take on expiring contracts in Armstrong and May and provide size in return. The Bulls were looking for a little extra size down low and the two could provide an adequate gap stop for this season.
But, considering the Bulls are playing very well now, the odds of a trade are unlikely. Unlikely unless Thomas' downgraded role becomes a distraction to the rest of the team, as the former LSU product now comes off the bench.
Thomas is fighting for minutes between Joakim Noah, Brad Miller, Taj Gibson, and James Johnson. And he was just suspended for one game due to conduct detrimental to the team.
Maybe a trade is more possible than it seems.
1. Sacramento trades Kevin Martin and Spencer Hawes to Minnesota for Al Jefferson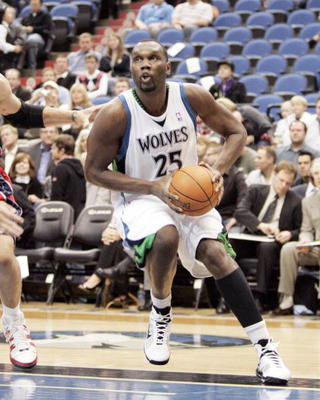 This is the ultimate trade that really doesn't have a chance.
Minnesota gets a perimeter scorer that they desperately need and lack in Martin, and they get perhaps a more ideal big man in Hawes to play along side Kevin Love.
Sacramento clearly gets a great deal out of this by having a post presence that they've missed since Chris Webber's knee blew out. Jefferson is not the best post defender, but he can at least hold his own down low.
Minnesota has no intention of trading Jefferson from all reports, but they may be willing to take a chance and deal him out for the right price. But this is a trade that would benefit both parties.
Who knows, anything could happen at the deadline, but most of the time nothing does.
Keep Reading

Sacramento Kings: Like this team?