Top 5 Greatest Lakers of All Time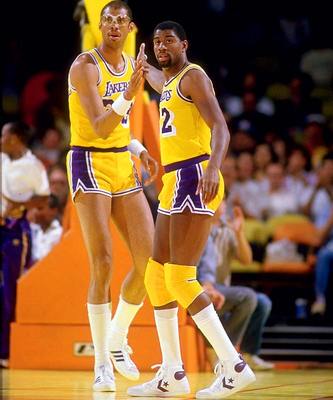 When Kobe Bryant became the Lakers all time leading scorer this past week, a lot of debate raged on who actually is the greatest Laker of all time.
Now, every player on my list has a strong argument in regards to being the greatest player in franchise history, but it's my list, and there has to be a clear cut favorite.
5. Elgin Baylor (1958-1971)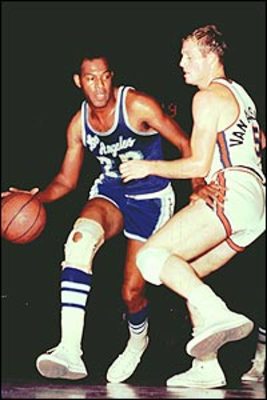 Although this article is not based on championship rings, inevitably it does either hurt or help your legacy, this is no truer than with Elgin Baylor.
Elgin, the 14-year NBA veteran, played with the Minneapolis and Los Angeles Lakers. He averaged 27 points and 13 rebounds a game; and in 134 playoff games, Baylor averaged 27 points and 12 rebounds.
Playing with Jerry West for most of his career, Baylor was seen as one of the most fluid and well rounded players to play in the NBA.
His Lakers teams reached the NBA finals 8 times. For 3 seasons, from 1960-1961,1961-1962, 1962-1963, Baylor averaged over 34 points a game and during the 1962 season, he became the first player in NBA history to finish in the top 5 in 4 major statistical categories (Scoring, Rebounding, Assists, and Free throw percentage)
4. Wilt Chamberlain (1968-1973)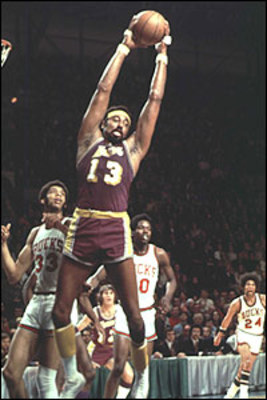 Chamberlain might have been the most productive player in NBA history. Just looking at his stats, you can not help but be in awe on just how dominant he actually was.
Of course, his record 100 points in a game still stands, but he also holds the record for most rebounds (55), and consecutive field goals made (18).
During the 1961-1962 season, Wilt averaged a whopping 50.4 points a game. He retired as the leagues all time leading scorer, and he had a lot of great years with the Warriors and 76ers.
Chamberlain finished his final five years of his career with the Lakers, winning one title with the team.
3. Kareem Abdul-Jabbar (1975-1989)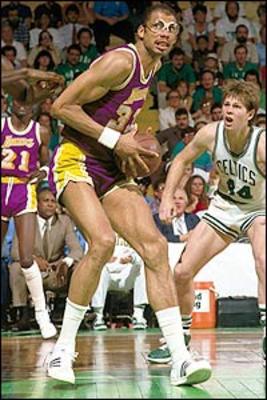 The NBA's all time leading scorer was with the Lakers for 14 years before retiring, and this part of my list was one of the more difficult in deciding.
Abdul-Jabbar is widely considered one of the greatest basketball players that ever lived; no one has finished with more MVP's, more rebounds, more All Star Games, more points, or more seasons that Kareem did.
He did not open up about himself until the twilight of his career. And it was not until a 6'9 point guard from Michigan State, that he and the Lakers flourished.
Kareem had won one title with Milwaukee, and five with Los Angeles.
2. Jerry West (1960-1974)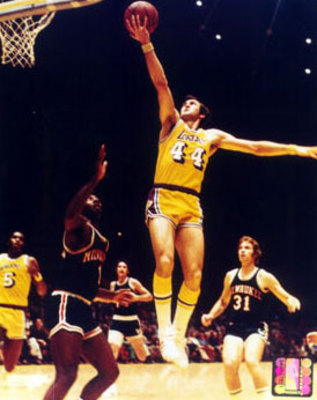 In my eyes, he is "Mr. Laker". How could you argue with a guy with over 25,000 points, 14 All Star Games (every year of his NBA career), and he led the Lakers to nine Finals appearances.
Well, I would ask if you want me to go on, but I just will. Jerry West is so much NBA, he IS the NBA logo.
His 31.2 points a game are the highest for a player over the age of 30. Although he lost more titles than he won (lost eight, 6 of which to the hated Celtics), Mr. West was always driving to be the best there was. His lone title was 1972.
1. Earvin "Magic" Johnson (1979-1991)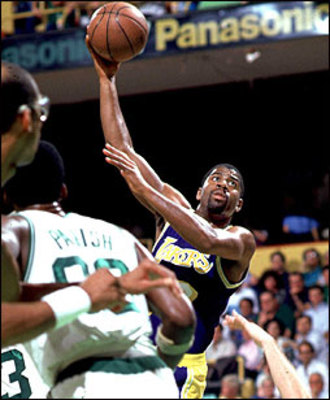 Most would agree, some would disagree. Think what you may; Magic was the greatest.
Not only was he great, but he made his teammates great. The first time I watched Magic was when he dominated Game 5 of the 1980 NBA Finals against the 76ers.
The 20-year-old rookie stepped in for the injured Abdul-Jabbar and posted a 42 point, 15 rebound effort in the important game; L.A went on to win the series in 6.
Just glimpses of what Magic provided the Lakers for over 13 years. Over 17,000 points, over 10,000 assists, and nearly 6,600 rebounds.
If you don't believe me that he is one of the greatest, this is what Larry Bird had to say about Johnson, "Magic is head-and-shoulders above everybody else, I've never seen [anybody] as good as him."
Keep Reading

Los Angeles Lakers: Like this team?