Kevin McHale vs. Kevin Garnett: The Tale of the Tape
Two men that will forever be linked, and with Garnett's acquisition by Boston in 2007, they are now fair to compare as two of the greatest power forwards to ever play basketball in Boston.
One has three title rings and always played supporting act to another legendary front court player. The other has one title and is the spiritual leader of the current roster.Garnett has a 20/10.9 average while McHale has a career average of 17.9/7.3.
Both can be considered defensive stalwarts with injuries decimating their athletic talents but never defeating their spirit nor impact on their teammates.
It is virtually impossible to give an absolute determination on who is the better power forward, teammate, leader or overall player. They both possess too many intangibles to translate to print.
In factoring who would be on the Celtics all-time team at the power forward position, a few factors need to considered. I will look at winning ways, statistics, defense and clutch play in determining which player will have the most indelible legacy in Celtics history.
The key factor in this assessment of legacy is the player's impact as a member of the Boston Celtics. Though these two basketball icons will forever be linked because of their associations in Minnesota, a player's lasting legacy comes from the team's he/she won championships with.
McHale spent his entire playing career (13 seasons) in Boston while Garnett didn't get to Bean-town until his 12th season.
Though Garnett played majority of his career as a Timber wolf, it is fair to say that he will best be remembered as a player who learned how to cope with a decade of losing with only a glimmer of greatness in 2004 and, at the twilight of his career, changed his role and mentality to cultivate a championship culture in Boston.
Statistics: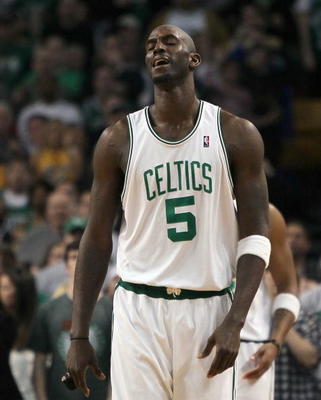 Kevin Garnett:
Statistically, Kevin Garnett dominates McHale in points, rebounds and assists. McHale edges Garnett in free throw percentage, field-goal percentage, and blocked shots. Kevin Garnett found his offensive stride in 1997 and compiled nearly a decade of 20/10 play. Garnett is a 13 time all-star and led the league in rebounding in 2004 through 2007.
He was league MVP in 2004 and Defensive Player of the Year in 2008.Garnett received All-NBA honors 9 times and All-Defense Team 10 times. Garnett led his team's in Minnesota and Boston to the playoffs 10 of his 15 year playing career. Despite Garnett's dominating statistics in Minnesota, he failed to make it out of the first round of the playoffs in his first seven attempts.
In 2004, after being named league MVP, Garnett finally broke out of his playoff futility by leading his Wolves to the Conference Finals. The team lost to the Los Angeles Lakers 4-2. Garnett, struck with a team with diminishing talents, failed to make the playoffs during his next three seasons in Minnesota and ultimately figured into the end of his tenure there.
In 2008, the Boston Celtics acquired Garnett in a trade that ironically involved former teammates and friends, Danny Ainge and Kevin McHale. Garnett, showing his versatility and desire to win a title, re-invented his role on a team now stacked with all-stars.
Along with Paul Pierce and Ray Allen, KevinGarnett led his Celtics to the NBA championship in 2008. In defense of his title in 2009, the years of wear and tear on KG's body began to erode his domination of the game but never diminished his character nor impact. Garnett's body broke down midway through the season and he failed to make an appearance during the 2009 playoffs.
The Celtics would bow out in the seventh game of the second round to the eventual Eastern Conference champion Orlando Magic. During Garnett's injury, his teammates called for him to make an appearance on the bench for moral support.
Garnett, reluctant to do so, would watch most games from the locker room but when he did sit court-side, his teammates would rise to the occasion and draw inspiration from Garnett's new role as a spectator. The man's mere presence in the audience inspired his teammates and underscored his intangible leadership qualities.
Kevin McHale:
Kevin McHale played 13 NBA season. though statistically McHale does not notch the same impressive numbers as Garnett, his Celtics did make the playoffs each of his 13 seasons in the league. The Celtics appeared in the Eastern Conference Finals seven times, winning the the Eastern Conference championship five times and the Larry O'Brien trophy three times.
McHale's body of work in the postseason makes up for any lacking he may have on the stats sheet. It's worth noting that from 1984 through 1991, KevinMcHale was virtually unstoppable in the post. McHale re-invented the sixth man position early on in his career and returned to that role as his career winded down in the early '90s.
Kevin was Sixth Man of the Year in 1984 and 1985 and third in line for that honor in 1991. He led the league in field goal percentage in 1987 and 1988 and it needs to be mentioned that these shots were not all layups.
Possessing seven distinctive moves on the block, KevinMcHale is recognized as the best post player ever to play the game.
I would have to say, having watched both players during their careers, that Kevin McHale was a more deadly scorer than Garnett. McHale had six seasons where he scored 20+ points per game, highlighted by the 1987 season where McHale averaged 26.1 points per contest.
During a long stretch in that season, McHale averaged 30.7 points and 10 rebounds per game while shooting a staggering 71.7 percent from the floor. McHale's stat sheet is highlighted by being the first player in twenty years to finish in the top 10 in field goal percentage (seventh) and free throw percentage (fifth) in the same season.
McHale was always surrounded by Superstar talent where as Garnett had to put his team in Minnesota on his broad shoulders year after year. With that in mind, I must give the statistical category to Kevin Garnett.
Statistics: Kevin Garnett
Defense:
Kevin McHale:
Kevin McHale is underrated for his defensive abilities. McHale's long arms and quick feet always made his assignment to guard the opposing team's best front court player. McHale was a six time first or second team All-Defense player. He was also top 10 in blocked shots five times in his career.
Kevin Garnett:
Kevin Garnett is widely recognized as one of the best defensive players of his generation. Not only possessing inhuman man to man defense, his long arms enables him to block shots and more importantly alter shots on a consistent basis.
Garnett is an eight time All-Defensive first team member and three other times he finished All-Defense second or third team. He led the league in defensive rebounding five times and is No. 1 among active players in that category.Garnett's greatest defensive attributes are those that cannot be put in print.
His leadership on the defensive end of the floor is now legendary and when he is not in the line-up, the Celtics defense looks broken and out of place. Garnett holds his teammates accountable defensively and intimidates opponents. That is why Garnett gets the nod on my Defensive category as well.
Defense: Kevin Garnett
Winning Ways: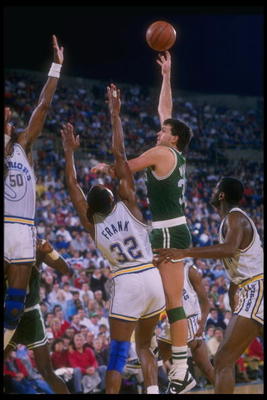 Kevin McHale vs. Kevin Garnett:
Winning two more titles, making four more Finals appearances and five more Eastern Conference Finals births puts McHale miles ahead of Garnett in the winning category. During McHale's 13 season career, the Celtics won 61+ games six times in McHale's career and never registered a losing season.
Of course, McHale had a far superior team than Garnett ever did but the fact that McHale was had the ability to score 30+ points on any night while sharing the ball with Larry Bird, Robert Parish and Dennis Johnson in a tribute in it's own right.
Winning Ways: Kevin McHale
Clutch Play: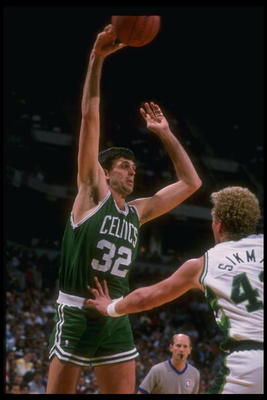 Kevin McHale vs. Kevin Garnett
Though McHale had his share of big shots, on a team with Larry Bird and Dennis Johnson, it was rare that McHale would have to launch buzzer beaters or game winners. That did not stop McHale from always showing up HUGE in pivotal games.
McHale especially shined in his 13 appearances in the playoffs. Opposing team's feared playing McHale in the low post and Kevin regularly made them pay. Kevin McHale will always be remembered for elevating his game during the playoffs.
Though Garnett also has an impressive list of clutch performances, his post season success cannot be fairly compared to McHale's.
Clutch Play: Kevin McHale
In Closing...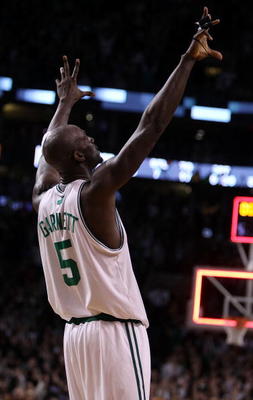 Kevin Garnett's leadership skill have not been seen in Boston since the final seasons of Larry Bird's career. He can be considered the most important cog in the Celtics' wheel without ever scoring a point. He is the undisputed emotional, spiritual and vocal leader of the Boston Celtics.
His current ability to play through the pain of a knee injury has equaled McHale's high threshold for pain but McHale was always a very potent role player on a team with Bird as the first option.
Though Garnett is not the first option on offense, he does contribute an enormous amount in the way of his ability to find the open man and deliver a perfect pass. He also holds his teammates accountable and is more vocal than McHale ever was.
Kevin McHale was undeniably a player that led and inspired his teammates through his performance and willingness to sacrifice his body to get the W. Garnett, however, doubles up as an on-court coach and his absence in the line-up on any given night exposes the Celtics weaknesses.
The same could not be said about Kevin McHale as his team could always rely on Larry-Legend to pick up the pieces.
I feel that when all is said and done, Kevin Garnett will be remembered as the player who brought Celtics-Pride back to Boston. His influence on the franchise's culture and mentality has been undeniable.
Though McHale played in Boston longer and will always be a player close to the heart's of fans, Garnett can be considered a "modern-day Bill Russell" to this franchise and that in itself answers the question. Kevin Garnett will leave behind a more endearing legacy in Boston.
As McHale has split the categories 2-2 against Garnett, I would love to know who you feel is better...
Keep Reading

Boston Celtics: Like this team?